Jump to Recipe
I can't get enough of this homemade fruit tart. My favorite fruits on top of a yummy smooth cream cheese frosting, on top of an amazing shortbread cookie base. What is not to like? The short answer…nothing.
This fruit tart with its shiny glaze is perfect for spring or summer. If you want to bring a tasty and awesome looking dessert to a party, then look no further. Your friends and family are sure to love this. I always get the request to make this for Easter. And the best part is they are super easy to make. If I can do it, you can do it. Let's get baking!
Step 1: Gather the tools and the ingredients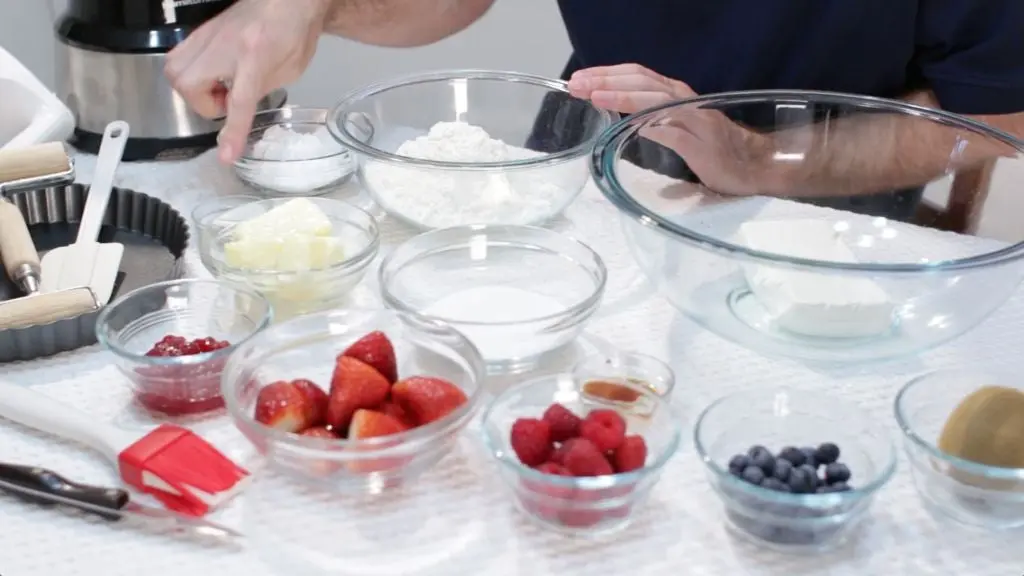 In order to make this tasty fruit tart recipe you will need the following ingredients and tools:
Pastry Dough
Flour – All-purpose/plain flour is used in making the shortbread cookie base for this tart.
Powdered sugar – Also known as confectioners or icing sugar. This will add a hint of sweetness to the base.
Granulated Sugar – The sugar will also add sweetness to the tart and aid in browning.
Butter – Room temp softened butter is used to bind the ingredients together.
Cream Cheese Filling
Cream cheese – Make sure to use softened room temp cream cheese. If you forget to take it out of the fridge, it can be softened in the microwave on the defrost setting. Fruit and cream cheese is a winning combination.
Sugar – White granulated sugar is used to sweeten up the cream cheese. The amount can be adjusted according to your tastes.
Vanilla Extract – This will add flavor as well as enhance the flavor of the cream cheese.
Fruit Toppings and Glaze
Kiwi, Blueberries, Strawberries, raspberries, etc.
Melted strawberry jelly/preserves (or any flavored jelly)
Tools
Step 2: How to make a Fruit Tart at home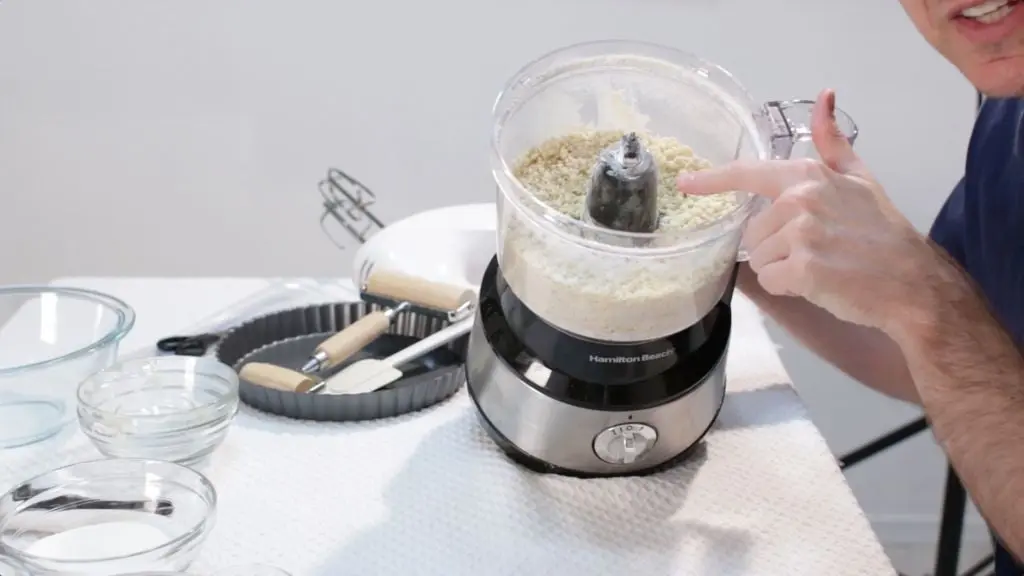 Preheat the oven to 350 F/176 C. Now it is time to make the homemade fruit tart crust. This pastry crust is pretty much a shortbread. Add the butter, powdered sugar, white granulated sugar, and flour to a food processor. Pulse until the mixture is well combined and is crumbly.
Step 3: Finish off the fruit tart crust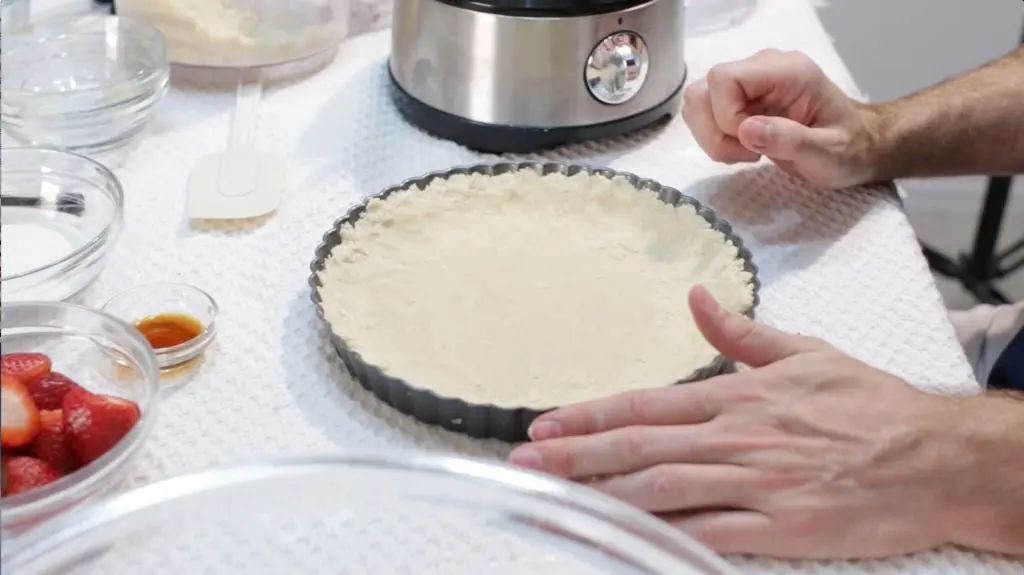 Now add the crumbs to a tart pan. If you are using a 9-inch tart pan this recipe is too much so don't put it all in. You can add the leftovers to individual muffin cups. It will make about 6 of those. Or you could just make a bunch of mini fruit tarts if you don't have a tart pan.
Use clean hands and press down the dough until it is packed and even. A pastry roller is very helpful for this. Now bake the fruit tart crust in the oven for 10 to 15 minutes until it gets slightly golden brown.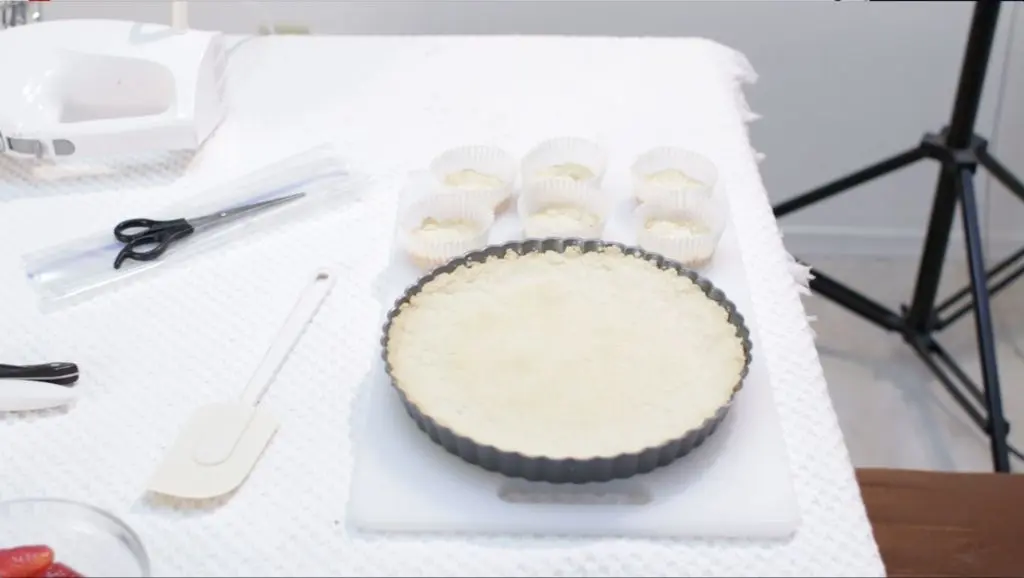 Once it comes out of the oven allow it to cool completely. This will take around 25 to 30 minutes.
Step 4: Create the Cream Cheese Frosting Filling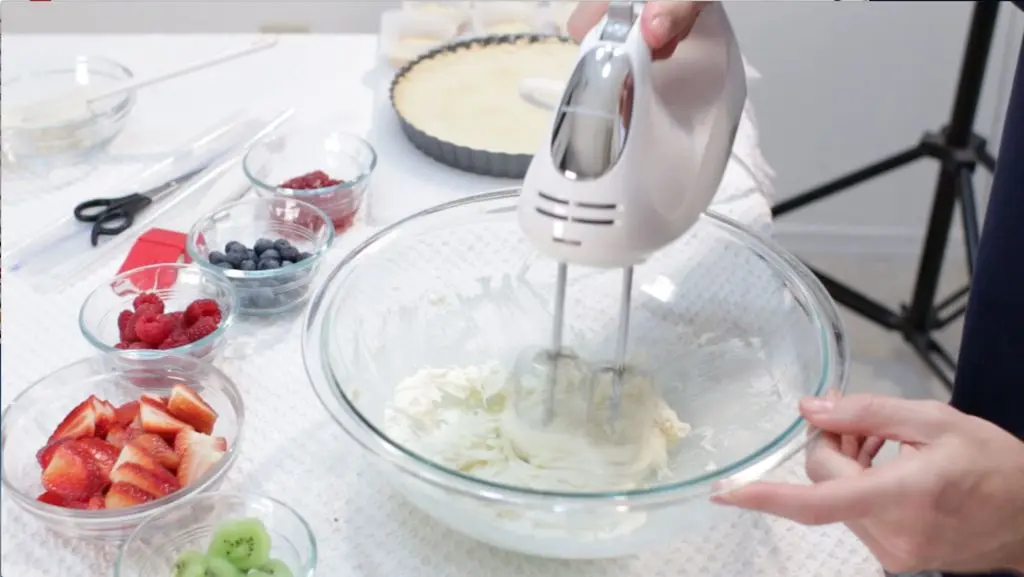 There are a variety of fillings that you can make for this tart, but I really like the combination of fruit and sweetened cream cheese. Add the softened cream cheese, sugar, and vanilla extract to a large bowl and mix with a hand mixer until well combined. A classic custard or vanilla or chocolate pudding would also work well for this easy fruit tart.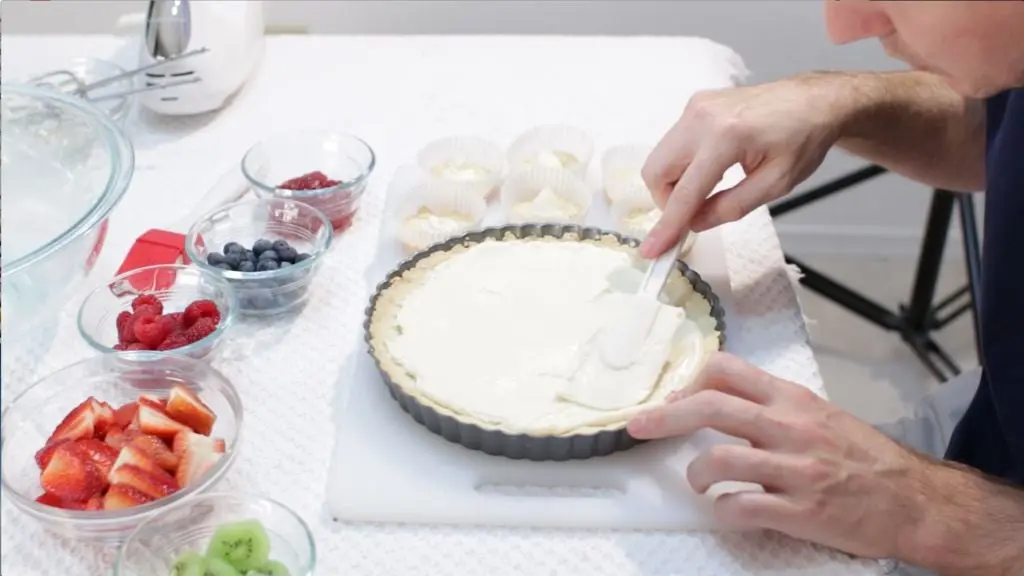 Now spread the cream cheese frosting onto the shortbread cookie base. Sometimes I will use a piping bag and pipe it on first and then spread it. But that isn't necessary. Make it as smooth and as level as you can. If you have some mini fruit tart shells make sure you add some cream cheese to those as well.
Step 5: Add the fruit to the homemade fruit tart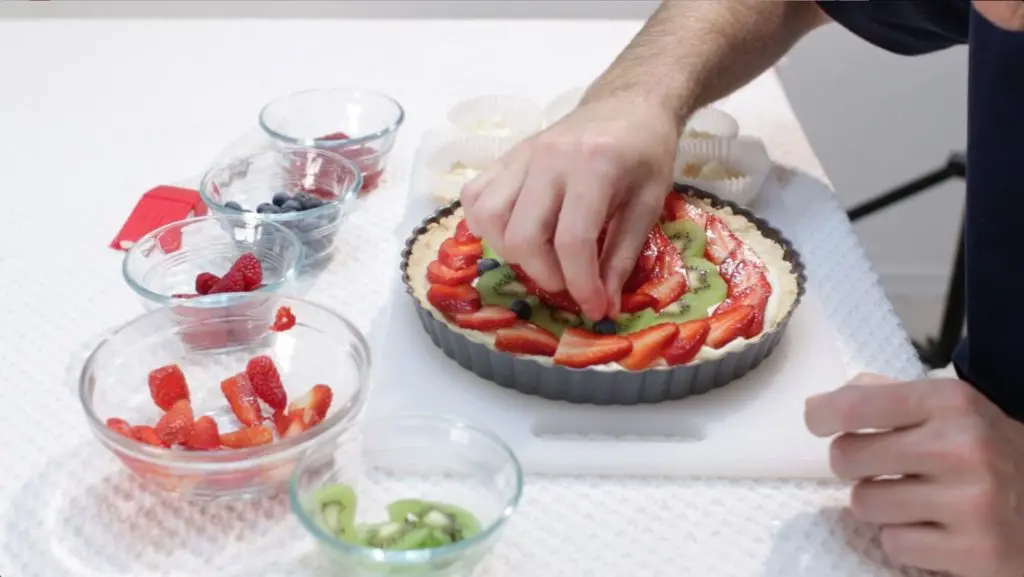 Now it is time to add the fruit. You can use a number of different fruits, but the classics are strawberries, raspberries, blackberries, kiwi, blueberries, etc. You can start in the middle and work out or start on the outer edge and work in. But you can arrange the fruit however you like.
Step 6: Easy Fruit Tart glaze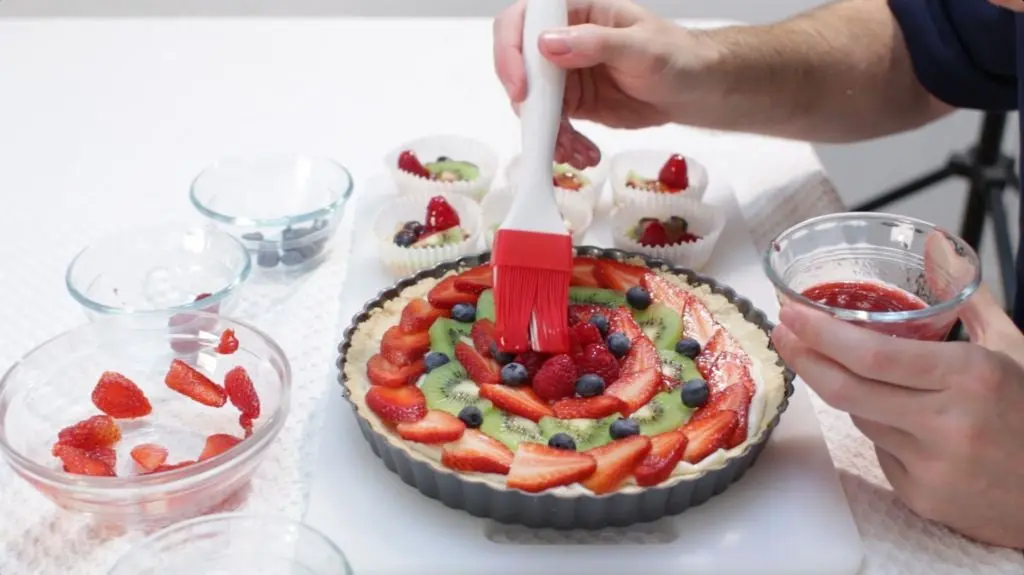 Finish the fruit tart off by adding a glaze on top. This will add flavor as well as a shine to that fruit. The glaze is simple. Take some jelly or jam and heat it in the microwave or on the stovetop for a few seconds until it melts. Then just brush it on the top of the fruit with a basting brush.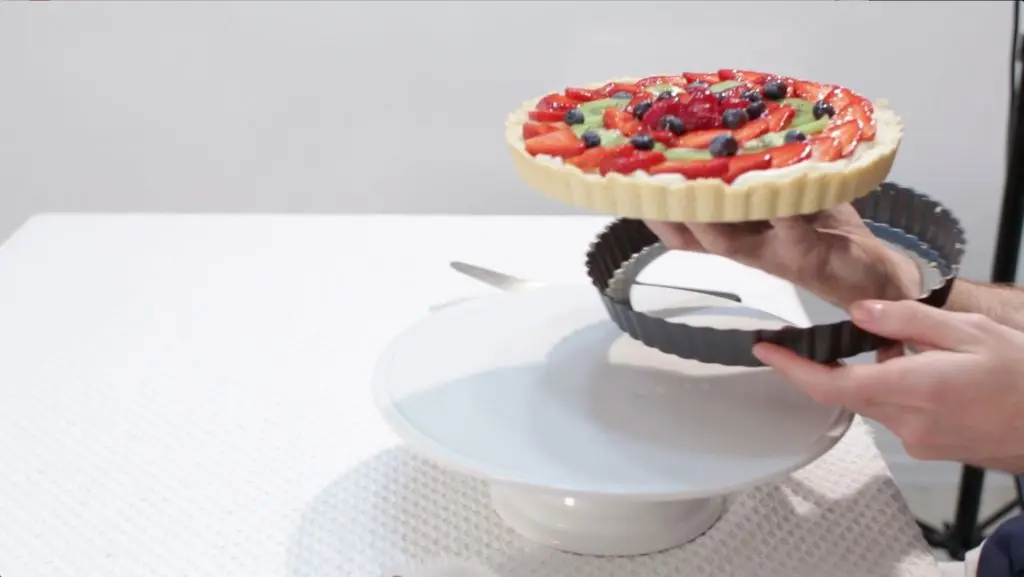 Place the fruit tart in the fridge until it is time to serve it. To remove it from the tart pan, just hold the middle of the tart and the outer ring will come right off. Slice and serve. Enjoy!
How long do fresh fruit tarts last?
You can cover them with plastic wrap and store in the fridge for a day or two. They are best when eaten the same day. After that the fruit starts to break down. I have had some last up to three days in the fridge, while they still tasted fine, they didn't look as nice by that point.
Fruit Tart
I love a good homemade fruit tart. What is not to like when you have tasty fresh fruit on top of a cream cheese filling on top of a shortbread cookie base. So yummy! And it is super easy to make.
Equipment
food processor (optional)

hand or stand mixer

9″ or 12″ Tart Pan

Pastry Roller (optional)

Rubber spatula

Scissors

Bag

Knife

Basting brush
Ingredients
Pastry Dough/Shortbread
1 1/2

cups

of all-purpose/plain flour

180g

1/2

cup

of powdered sugar

confectioners (60g)

1

Tbsp

of granulated sugar

13g

3/4

cup

of unsalted softened butter

1 stick plus 1/2 (170g)
Cream Cheese Frosting Filling
8

ounces

of cream cheese

softened (225g)

1/2

cup

of granulated sugar

100g

1

tsp

of vanilla extract

4ml
Fruit Toppings
Kiwi, blueberries, raspberries, strawberries, blackberries, etc.

3

tbsp

Melted Strawberry preserves

or your favorite jelly/preserves (40g)
Instructions
First, make the fruit tart shortbread cookie base. Preheat the oven to 350 F/176 C.

In a food processor add the butter, sugars, and flour. Pulse until well combined. You can also use a fork or hand pastry blender to do this.

Add the dough to a 9 or 12-inch tart pan. If using a 9-inch you won't need all of it. So put the remainder into 6 muffin cups. Spread out the dough and press it down until packed and even in the pan.

Bake the cookie base for 12 to 15 minutes until it is slightly golden brown on top. Once it has baked remove it from the oven and allow the tart shell to cool completely.

To make the cream cheese filling add the softened room temp cream cheese to a large bowl along with the sugar and vanilla extract. Use a hand mixer and mix until smooth. You can also use custard or pudding for the filling.

Spread the filling across the top of the tart shell/s.

Arrange the fruit however you like on top of the cream cheese filling. I like to start on the outside and work in.

Prepare the glaze by adding the jelly or preserves to a small bowl and melting it in the microwave or on the stovetop for a few seconds. Then baste it on top of the fruit. This is optional but really makes the fruit shine.

Cover loosely with plastic wrap and store in the fridge until ready to serve. It is best fresh but can keep a few days in the fridge. Enjoy!
Video
How to Make a Fruit Tart | Easy Fruit Tart Recipe
Notes
Nutrition
Do you like this recipe? Please give it a rating and comment down below, I really appreciate it. If you make it tag me on Instagram @inthekitchenwithmatt. Also, sign up for the newsletter so you won't miss out on any of my new posts and recipes.
Here are a few more recipes you may like: