Jump to Recipe
These homemade fudgesicles, also called fudge pops, are the perfect chocolate cold sweet treats on a hot summer day or any time of year you are craving them.
I love popsicles and I love chocolate and chocolate recipes. This fudgesicle recipe is an amazing from scratch treat to satisfy my chocolate cravings. They are kind of a nostalgic treat for me as well. We used to get them from the grocery store when I was young.
Fudge pops for fudgesicles are super easy to make and the kids will love them and pretty much any chocolate lovers. If I can do it, you can do it. Let's get started!
TIP: Hit the "jump to recipe" above to take you straight to the printable recipe card.
Step 1: Gather the ingredients
In order to make some yummy homemade fudgesicles you need just a handful of simple ingredients and some specific tools:
Ingredients
Milk – Preferably whole milk, but 2% or 1% will work as well. Almond milk will work as well for these fudge pops. For extra creamy fudgesicles use cream or half and half instead of milk.
Sugar – The white granulated sugar will add sweetness and counter the bitterness from the unsweetened cocoa powder.
Cornstarch – Cornstarch is used to thicken up the popsicle liquid and get the right consistency.
Unsweetened cocoa powder – Make sure you are using true cocoa powder and not the kind for chocolate milk. The cocoa powder is what gives the fudgesicles their rich chocolate flavor.
Vanilla extract – The vanilla will add flavor as well as enhance the flavor of the other ingredients. Vanilla powder will work well too.
Butter – I love butter! The butter will add richness to the flavor. You can never go wrong with butter. Use salted or unsalted butter.
Tools
And then you need a handful of tools. A medium pot and a whisk and of course you need some awesome popsicle molds. You can buy the plastic kind or silicone molds.
Popsicle molds are amazing, you can find all kinds of them online or at Walmart, Target, etc. You can get the kind that looks like rockets, or the classic kind, or a number of other shapes.
Do your kids like dinosaurs? Try out these dino pop molds. There are so many awesome possibilities. If you don't have the kind that have a lid with a stick, you can use pretty much any mold and use a standard popsicle stick or wooden stick.
Now that you have your ingredients gathered, let's make some fudge pops!
Step 2: How to make homemade fudgesicles or fudge pops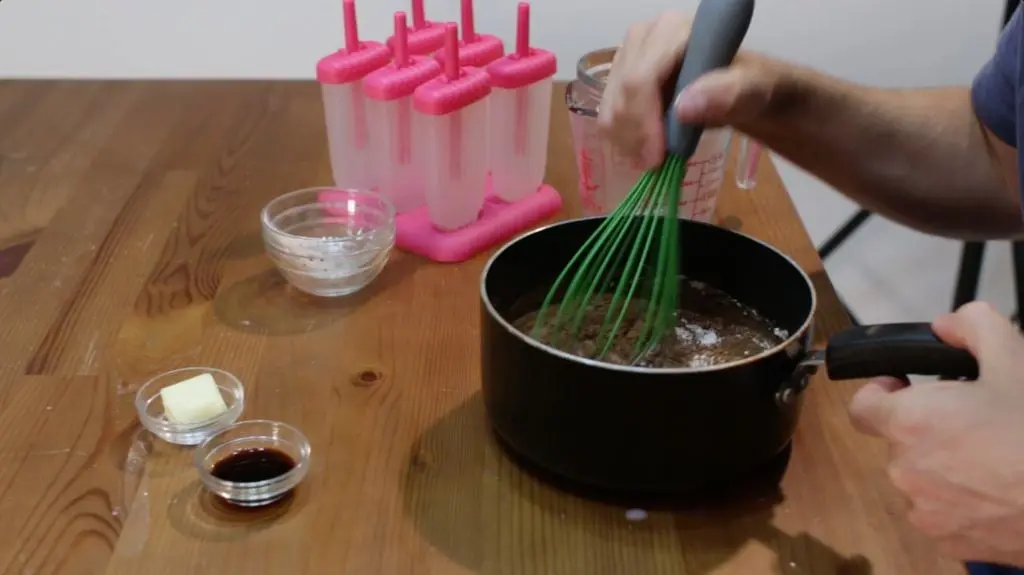 Begin by adding the milk, white granulated sugar, and cornstarch to a medium sauce pot and whisk them together.
The cocoa powder won't really dissolve very well yet in the milk, but that is totally fine, not to worry. If your cocoa powder is especially clumpy, add it along with the cornstarch to a sifter and sift it in.
NOTE: You can also pour those ingredients into a high-speed blender and blend them.
Step 3: Dissolving the ingredients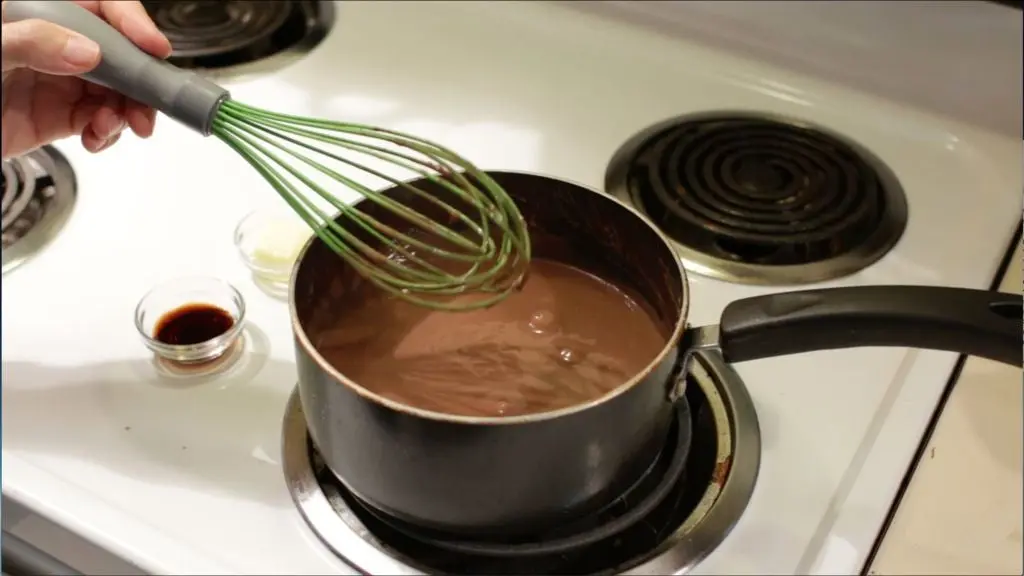 Add the medium pop full of those ingredients to a stovetop burner. Set the heat to medium heat. Now all you need to do is heat and stir the chocolate mixture until it gets nice and thick. Fairly similar to making homemade chocolate pudding.
You will notice that the cocoa powder will dissolve and the cornstarch will thicken it up. Once the fudgesicle mixture is the consistency of thick chocolate milk it is ready to go. This process will take 10 to 15 minutes.
Time to amp up that flavor. Remove the pot from the heat and add in the butter and vanilla extract. Stir it really well with a whisk or wooden spoon until the butter is completely melted and you are left with a nice creamy texture. Have I told you how much I love butter yet?
And there you go the fudge pop or fudgesiscle base is finished and ready to go. Pretty simple right?
Step 4: Fudgesicles molds
Now it is time to fill up your favorite molds. Use a spoon or ladle you fill them up, you could also use a funnel with a spout that fits in the mold or you could try using a piping bag.
Be careful the fudge pop liquid will be hot. Maybe you don't have any popsicle molds? Have no fear you can make really small fudge pops with an ice cube tray! Or you can use a muffin pan with paper cups. Or you can also try dixie cups with wooden sticks. Lots of options available to you.
Step 5: Freeze those homemade fudge pops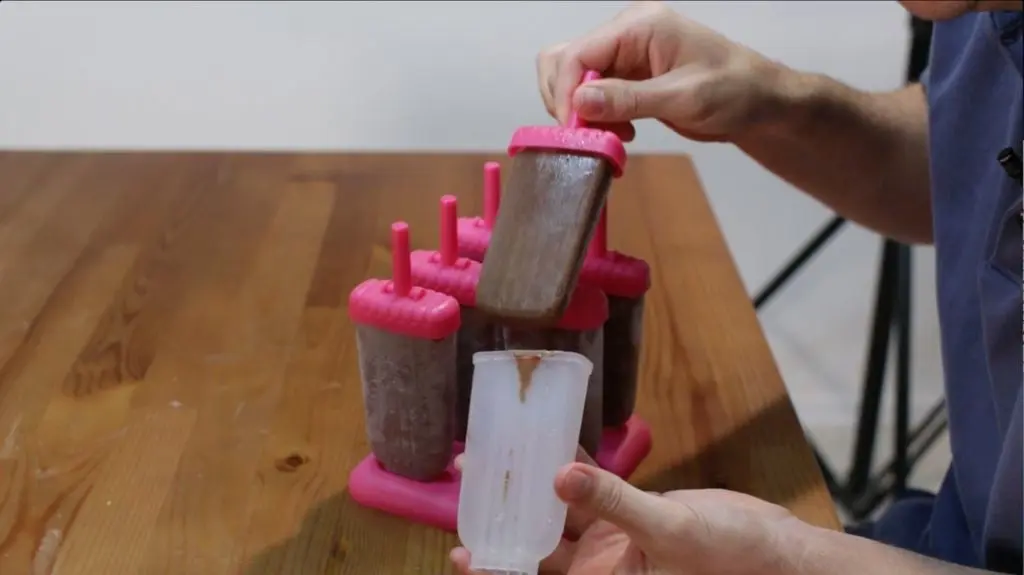 Place them in the freezer and freeze them for at least 4 hours. Overnight really works the best, but I am usually too impatient to wait that long.
When you want to serve them, run a little warm water over the outside of the mold and it will loosen them right up for you. Enjoy those homemade fudgesicles!
How long will these fudge pops last?
These fudge popsicles will last several months in the freezer. Although, I doubt they will last that long.
Can I make this homemade fudgesicles recipe dairy-free?
Sure! Try just swapping out the regular milk with almond milk or something like full-fat coconut milk.
Here are a few more recipes you may like:
Fudgesicles
These homemade fudgesicles are the perfect cold chocolate treat for the summer or whenever you want. They are incredibly easy to make with just a few ingredients.
Equipment
Popsicle Mold

saucepan

Whisk

spoon

Freezer
Ingredients
2 1/2

cups

of milk

600 ml

1/2

cup

of white granulated sugar

100 g

2

Tbsp

of cornstarch

16 g

2

Tbsp

of cocoa powder

14.5 g

1

tsp

of vanilla extract

5 ml

1

Tbsp

of butter

14 g
Instructions
Begin by adding the milk, sugar, cornstarch, and unsweetened cocoa powder to a medium saucepot. If your cocoa powder is really lumpy add it to a sifter with the cornstarch first and sift it into the pot with the milk and sugar. Use a whisk to whisk everything together.

Set the burner to medium heat and whisk and stir the mixture as it heats up. Stir occasionally until it gets nice and thick and resembles thick chocolate milk. It will take around 10 to 15 minutes.

Remove it from the heat and add in the butter and vanilla extract. Stir until the butter melts completely. Allow it to cool for just a few minutes.

Pour carefully or use a ladle or spoon, and add the fudgesicle mixture to the individual popsicle molds. They will expand when they freeze so don't fill it up to the very top leave about a quarter-inch from the top.

Place the fudge pops into the freezer and allow them to freeze for at least 4 hours. When you want to eat them, run the popsicle mold under some warm water which will help loosen up the fudgesicle. Enjoy!
Video
How to make Fudge Popsicles Fudgesicles - Easy Homemade Fudge Pops Recipe
Notes
Nutrition
Do you like this homemade fudgesicle recipe? Please give it a rating and comment down below, I really appreciate it.  If you make it tag me on Instagram @inthekitchenwithmatt. Also, sign up for the newsletter so you won't miss out on any of my new posts and recipes.