If you are a fan of chewing ice and like it when it is soft, crunchy, and small then you have got to try nugget ice also known as pellet ice. Do you like the ice that you get at Sonic? The very popular American fast food chain. If so, you are in luck, because you can make the same type of ice at home with a Gevi Nugget Ice Maker.
In this review, I talk all about the Gevi Household 2.0 Countertop Nugget Ice Maker. I mention the background of nugget ice, how well this particular nugget ice maker produces the ice, how long it takes, how large it is, how to use it, how to clean it, and the cost. On to the review!
NOTE: This is a sponsored post but all viewpoints are my own.
Why is Nugget Ice so popular? Where did it come from?
Nugget ice, Sonic Ice, or Pellet ice is so popular because people love chewing it. It is soft, super crunchy, and incredibly easy to eat. It also blends extremely easily in blenders, so it is perfect for making drinks. Much easier than classic cubed ice, or the larger ice you buy in big bags and at the grocery store.
Nugget ice was invented by Scotsman Ice Systems which is a division of an International company, called Scotsman Industries. It began as a company called Queen Stove Works, which originally produced camp stoves, then later they added kitchen stoves, space heaters, and other products.
They later bought the American Gas Machine company which manufactured things like heaters, ice chests, lanterns, and a model of commercial ice machine. They used the term "Scotsman" to market the commercial ice machines. There is more to the story which you can find here if you are interested.
The popularity of nugget ice is most attributed to Sonic. The ice is so versatile, it is no wonder people love it so much. And that is where the household countertop ice makers come in. There are several of them on the market, and this review is about the 2.0 Countertop Gevi Nugget Ice Maker.
Gevi Household 2.0 Countertop Nugget Ice Maker
Gevi reached out to me and asked if I wanted to review their Gevi Household 2.0 Nugget Ice Maker and I said sure, I would be happy to review it.
The first thing I noticed when I pulled the Nugget Ice Maker out of the box is that it has a very cool and sleek-looking design. It kind of reminds me of a desktop computer tower which I totally dig. It also fits well with my other kitchen appliances which are all stainless steel and black.
Also, I noticed how heavy the countertop ice machine is. It weighs right around 30 pounds. So that can be a turn-off potentially for people who have a hard time lifting heavier objects.
The size is just shy of 17 inches tall by 9 1/2 inches wide by 17 inches long.
It will fit under most standard-height cabinets which usually rest 17 1/2 to 18 inches above the counter. This ice maker as well as others is designed to rest on your counter under the cabinets.
The cord is fairly long so it can reach further outlets, but if it is right next to the outlet you would just need to bunch it up and tie it with a twisty tie, so the cord isn't hanging all over the place on the counter.
Now that I have it out of the box and on the counter, how do you use it and does it do a good job making the nugget ice?
How to use it? How fast does the Gevi Nugget Ice Maker make nugget ice?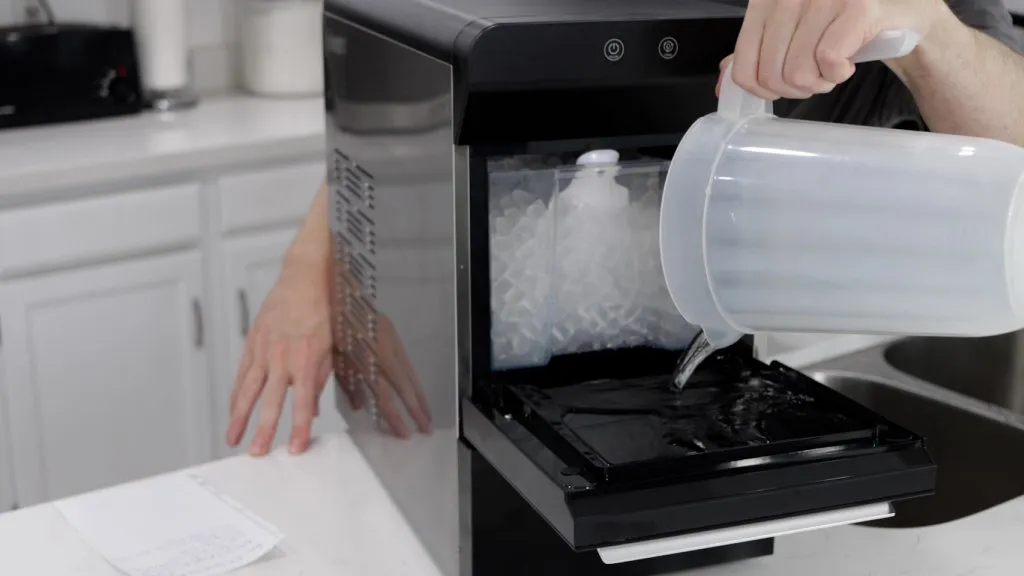 This nugget ice maker is extremely easy to use. There are not all kinds of buttons to press, only two of them. One for making the ice and one for cleaning the ice machine.
When you want to make some ice, you pour water into the bottom of the ice maker until it reaches the line. I love how with this ice maker you can just pour it on the door and it just runs down where it needs to be. I also like how the basket of ice has holes in the bottom so if the ice melts, it just goes right into the bottom which in turn it can be made into ice again, pretty cool.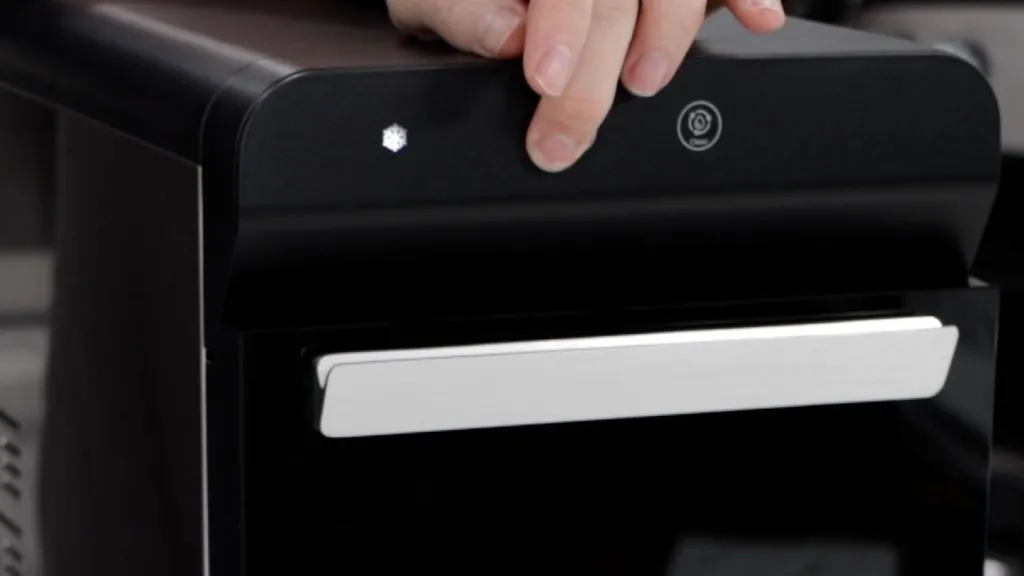 Then you just plug in the ice machine and press the on/off button which will turn the ice machine on and it will start making ice. I was skeptical about how long it would take to make ice. The box said it would make ice in 15 to 30 minutes.
And guess what, within 25 minutes I had enough ice for a drink! That is super fast, I was thoroughly impressed. That is much faster than my ice cube trays in my freezer, haha. It takes about 2 to 2 1/2 hours to fill up the basket with the "Sonic" ice. And the ice is so awesome. Exactly how you want your nugget ice to be. It is super easy to chew, small, and perfect.
Once the basket is full it weighs right around 5 lbs. So this machine produces roughly 5 lbs of nugget ice between 2 and 3 hours or so. Not bad. And if you are going to need more than that amount for a party. You can store it as you make it in your main freezer. But you can also just keep this ice maker going throughout the party and it will continually make ice as long as you have enough water in there.
It is extremely well-insulated as well. So even if you unplug the ice maker, the ice inside will last nearly 24 hours before it completely melts. And again if it does melt, the water can just be used to make more ice.
The ice maker has three other indicator lights beside the on/off button and the cleaning button. It has a blinking light on the far left that shows that it is on. It has a light that comes on when the ice tray is full, the machine will shut off at that time, and there is a light that comes on when you need to add more water.
So as long as you check up on it once in a while, you can have enough nugget ice throughout the day for all your drinks, smoothies, chewing, and needs.
How loud is the Gevi Nugget Ice Maker?
One of my concerns with the ice maker is that it would be extremely loud. Kind of like when the compressor on your refrigerator turns on. This ice maker isn't super loud. It does make a constant sound, however, and is definitely noticeable. You can hear it in action in my video further down in the article. It isn't loud enough to where it bothers me.
There is some pretty sophisticated technology happening inside the machine which is needed to create the ice as well as what causes the noise.
How do you clean the Gevi Household 2.0 Nugget Ice Maker?
It is recommended to clean the ice machine about once a week depending on how much it is used. They are very easy to clean. You begin by pulling the tubes out from the back and letting the water drain into the kitchen sink. Then replace the tubes.
Fill up a pitcher of water and add some cleaning solution to it which you can find here.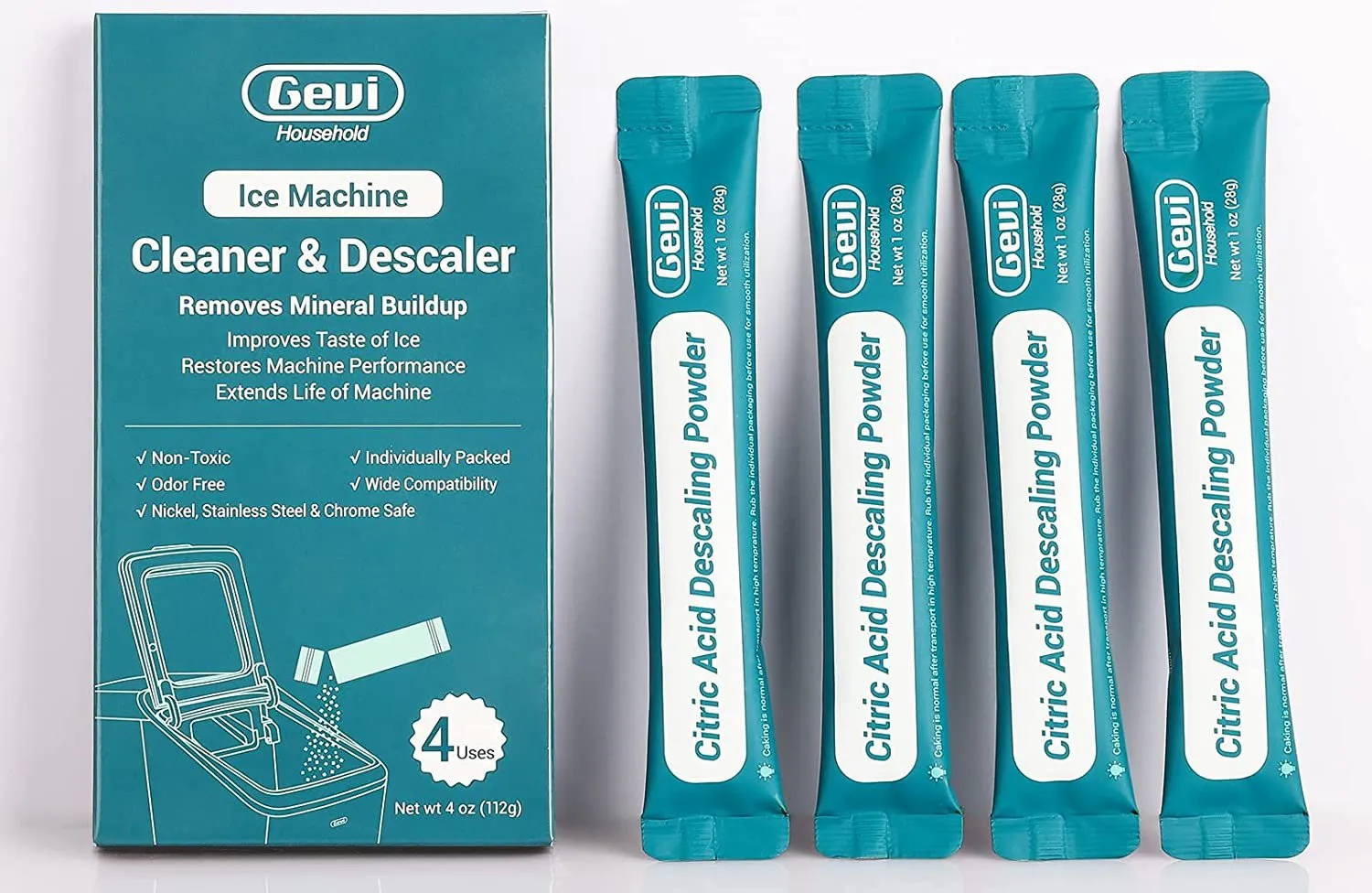 Then you pour the water in and fill up the bottom of the machine to the line. Now all you need to do is press the cleaning button, and then it cleans. It only takes about 5 minutes. Then drain it and repeat, this time only using water. You repeat the cycle a few times to get rid of any cleaning solution residue.
Now you are ready to make more ice.
How much does the Gevi Household Nugget Icemaker cost? Where to buy it?
I am not going to sugarcoat anything, countertop nugget ice machines are fairly expensive. They range from $200 to $800 plus. The professional ones that go under the counter by Scotsman are $2500 to $3500.
This particular machine is right around $550 as of the posting of this review.
You can buy Gevi Nugget Ice Maker here.
Final Thoughts
I am a fan of nugget ice. It is fun to chew and works so well in drinks and for making smoothies. If you love ice, love chewing it, love hosting parties, love making drinks that require ice, you may just fall in love with this Gevi nugget ice maker.
They are fairly expensive because of the sophisticated technology happening on the inside that produces those wonderful little nuggets of ice.
In my honest opinion, this little kitchen gadget is worth it if you are an ice lover. If you don't eat ice very often and you are fine with standard bags of ice and crushed ice you can get from the supermarket, or the tray ice in your freezer, or the ice that comes out of your combo fridge/freezer, then an expensive gadget like this may not be worth it.
It is also worth mentioning, it is completely portable. As long as you have access to electricity you can run this machine and have ice. So if you have an RV, this would come in handy.
Watch this machine in action in my video review!
Here are some of my other review videos and recipes you may like: