Jump to Recipe
This homemade grilled cheese sandwich recipe is spot on. It is the perfect sandwich to go with a bowl of yummy easy homemade tomato soup.
If you grew up in the United States chances are you have eaten a few or many grilled cheese sandwiches in your day. Did you know that the grilled cheese sandwich is one of the most, if not the most popular sandwich in the US? I can see why, they are simple to make, tasty, and require very few ingredients.
I have fond memories eating these while growing up. Back then two slices of white wonder bread, some butter, but usually margarine because it was cheaper, and a slice of American cheese made up our sandwiches. Oh the memories.
It is hard to claim you have the best grilled cheese out there because there are so many variations that you can do with it, but this grilled cheese sandwich recipe will put you on the right track and in my mind it is perfect. If I can do it, you can do it. Let's get started!
Step 1: Gather the ingredients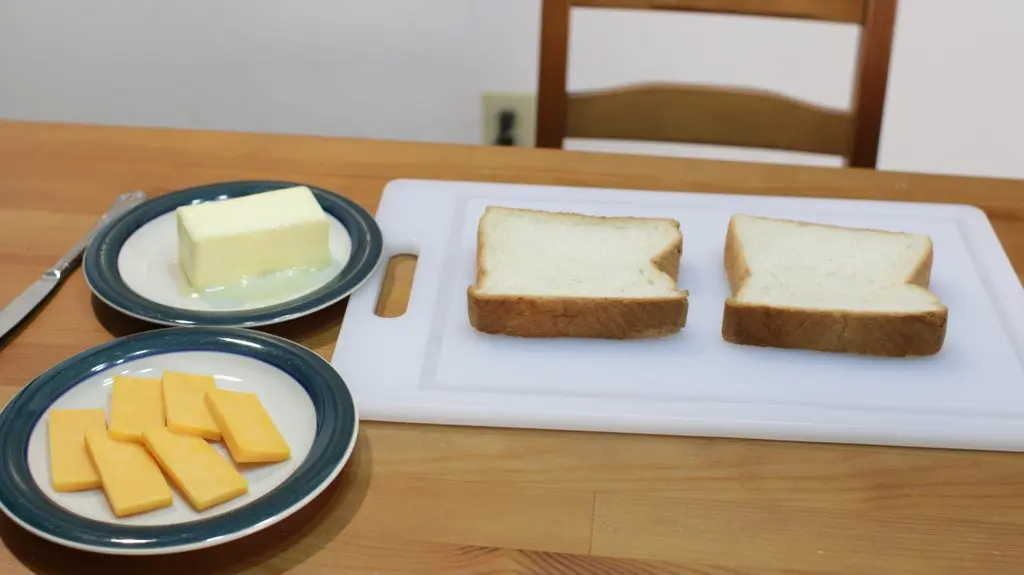 In order to make a grilled cheese sandwich you need just a few ingredients:
Bread – You can use whatever kind of bread that you want, whole wheat, white, sourdough, etc. I like to use the thick Texas Toast style of bread, personal preference, or my amazing homemade white bread. If you want less bread use a thinner slice. Have fun with it and experiment with different types of bread.
Cheese – This topic has been debated by many grilled cheese aficionados. The truth of the matter is, use the cheese that you like. I love cheddar cheese so that is my favorite to use. Other cheeses that work wonderfully are American, Gruyere, Manchego, Brie, Jack, Colby, Provolone, Muenster, and even Blue cheese. Or how is an idea, use a couple of slices of different cheeses.
Butter – Or you can use margarine or even mayonnaise. Mayo is great to use, it always spreads on thin, and you don't have a strong mayo taste from it. I LOVE the taste of butter, so 9 times out of 10 I use softened unsalted butter.
Tools
Skillet – Cast iron or non-stick
Spatula
Butter knife
Despite being called a grilled cheese, most of the time they are cooked in a pan. With that said you can definitely cook these on a barbecue grill if you like. It will give you some excellent grill marks. Or use something like a cast iron grill pan indoors.
Step 2: How to make an amazing grilled cheese sandwich at home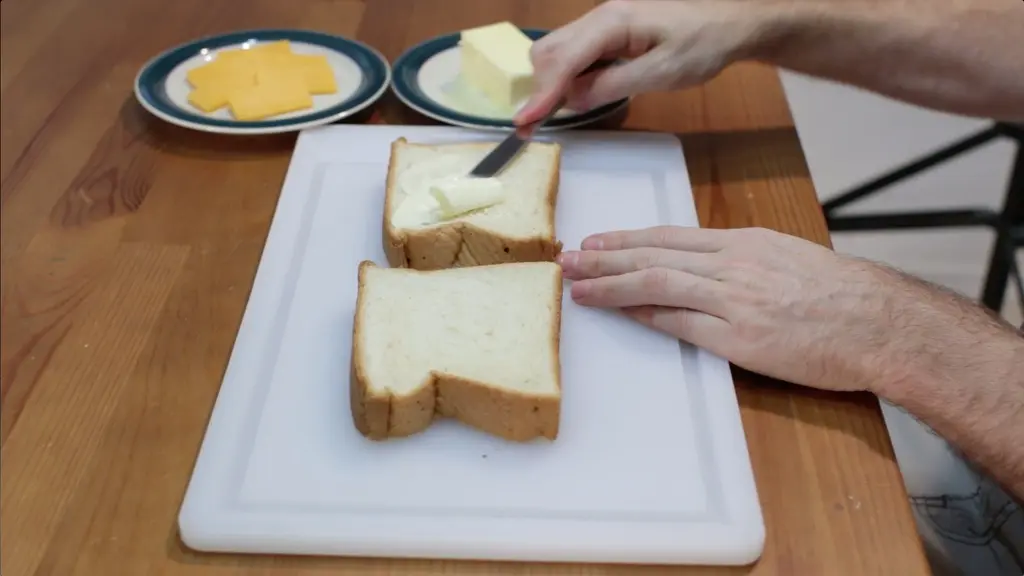 Begin by taking you cast iron skillet or non-stick pan or even griddle and set the heat to medium heat (350 F/176 C). While the pan is heating up slice the cheese and butter one side of the each slice of bread.
Again use your favorite sandwich bread for this. If you want to use mayo use that. If you want to make it a little healthier you can add a couple of teaspoons of olive oil to the pan instead of spreading butter or mayo on the bread.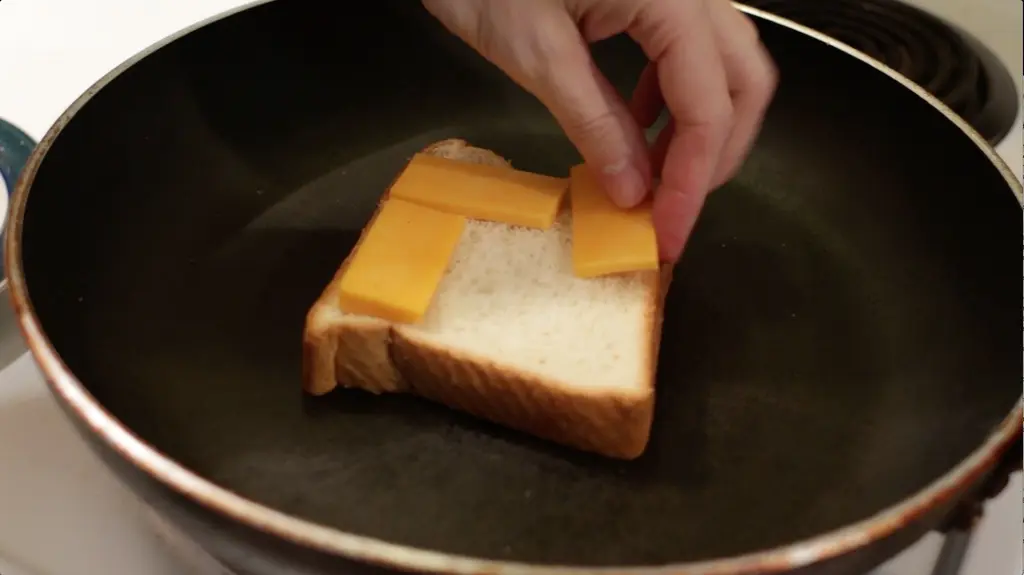 Place the buttered side of one slice of bread down on the pan. Then lay the slices of cheese on top, covering the whole piece of bread.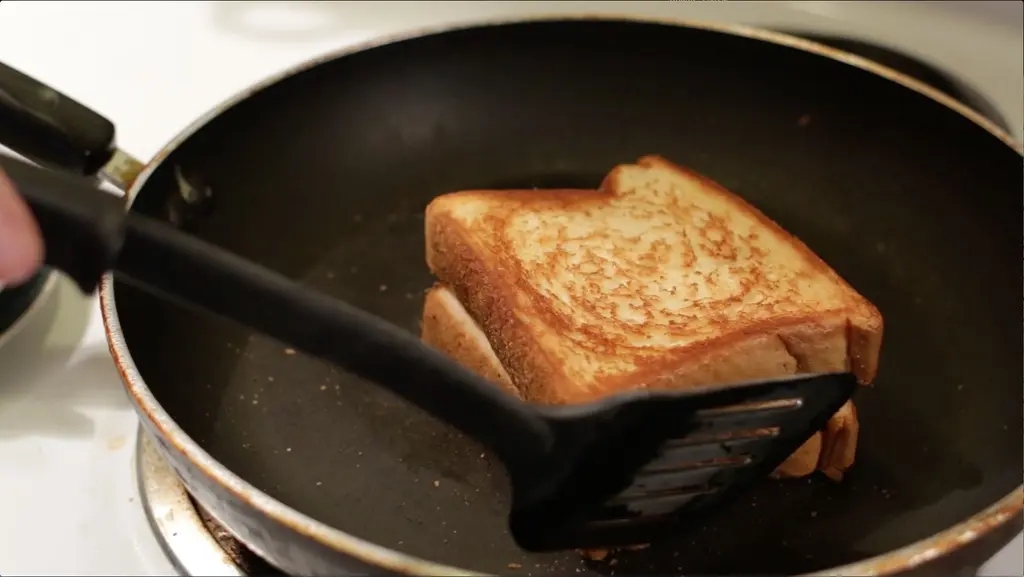 Place the other slice of bread on top with the butter side on top. Cook each side for a few minutes until nice and golden brown. It will only take a few minutes per side. This will give enough time for the bread to get crispy and the cheese to melt.
Use a spatula to flip the grilled cheese sandwich over and cook the other side.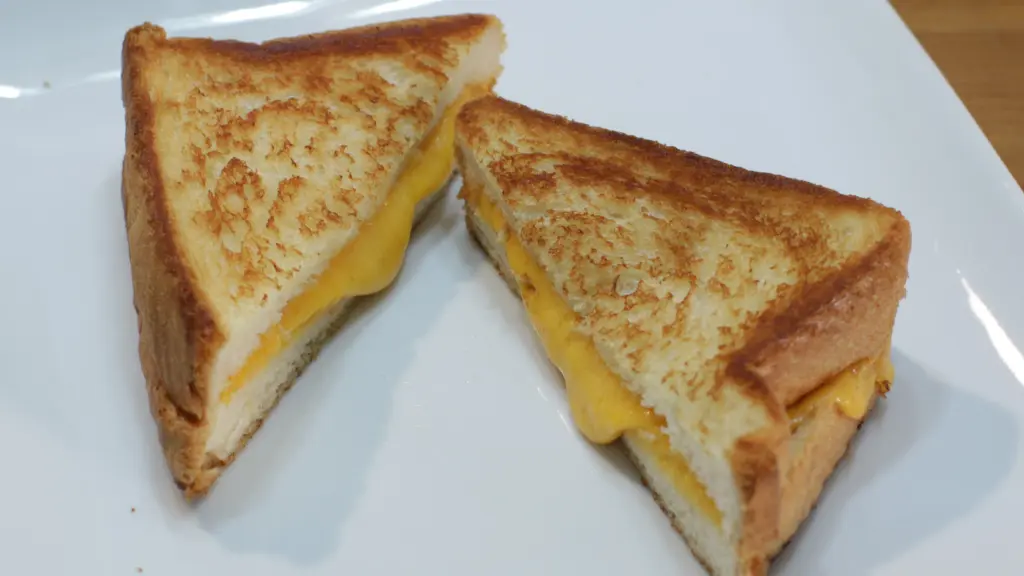 Remove the sandwich from the skillet. Allow it to cool for a few minutes then if you like slice it in half and serve. I love serving it with a bowl of my favorite homemade tomato soup. Talk about the ultimate comfort food combo! Enjoy!
How long does a grilled cheese sandwich last?
It is best to eat the sandwich right after making it. With that said you can save leftover sandwiches for a few days in an airtight container in the fridge. Reheat them in the pan, toaster oven, or in the actual oven. I don't recommend microwaving them.
Here are a few more recipes you may like:
Grilled Cheese Sandwich
This homemade grilled cheese sandwich is so easy to make and so yummy. Time to make a classic and one of the most popular sandwiches in the United States.
Equipment
Non-stick skillet, cast iron pan, griddle, or George Foreman grill

Spatula

Butter knife
Ingredients
2

slices

bread

Use your favorite bread, white, whole wheat, sour dough, etc.

1

slice

cheese

Use enough to fill the bread. Cheddar, American, Colby, Jack, etc.

1

tbsp

butter, margarine, mayonnaise, etc.

(15g) Or a few tsp. of olive oil in the pan.
Instructions
Add a nonstick skillet or cast iron pan to the stovetop burner and set the heat to medium. Or use a griddle and set it to 350 F/176 C.

Now take two slices of bread and spread some butter on one side of each slice. Or use mayo, margarine, or a butter substitute.

Slice the cheese as thin as you want, or use presliced cheese.

Now place one slice, buttered side down, in the pan. Then add enough cheese to cover the slice of bread. Place the other slice buttered side up.

Cook the bread a few minutes until golden brown on that side. Then flip it over with a spatula, and cook the other side until golden brown and the cheese melts.

Remove the sandwich and allow it to cool for a few minutes before serving. Eat it by itself, with some chips, or my favorite a bowl of tomato soup. Enjoy!
Video
How to Make the Perfect Grilled Cheese Sandwich | Easy Grilled Cheese Sandwich Recipe
Notes
Note: The nutritional facts will vary depending on the bread, cheese, and spread that you use. This reflects 2 slices of thick white bread, 1 slice of cheddar cheese, and real butter.
Nutrition
Do you like this recipe? Please give it a rating and comment down below, I really appreciate it. If you make it tag me on Instagram @inthekitchenwithmatt. Also, sign up for the newsletter so you won't miss out on any of my new posts and recipes.