Jump to Recipe
Calling all peanut butter cup lovers! I am addicted to homemade peanut butter cups. Eat your heart out, Reese's, because these are so much better than store-bought. And what better way to celebrate Halloween than with homemade Halloween peanut butter cups.
This recipe is very similar to the heart-shaped peanut butter cup recipe here on my blog. In fact, you can do this with pretty much any shape that you want, it is so easily adapted. But in this case, I am showing you how to make Halloween peanut butter cups, because why not.
I love how you can change the chocolate to be whatever you want it to be, and the filling is so easy to make. These are sure to impress your friends and family and your kids will love them! If I can do it, you can do it. Let's get started!
Step 1: Gather the ingredients
These Halloween peanut butter cups are incredibly simple to make with only 5 ingredients. You will need the following ingredients and tools:
Peanut butter – I always use smooth peanut butter. You can use this homemade peanut butter or store-bought. And almond butter or other nut butters will work too.
Powdered sugar – Don't use granulated sugar, definitely use powdered. You can make homemade powdered sugar if you need to.
Salt – Just a bit of salt to balance out the sweetness
Butter – Use salted or unsalted butter.
Chocolate – There is all kinds of different kinds of chocolate that you can use. Semi-sweet, milk, dark, white chocolate chips or bars, candy melts, chocolate wafers, etc. If they are going to sit out at room temperature for awhile, I recommend using chocolate candy melts, so you don't need to temper the chocolate.
Tools
Halloween Molds – You can find plastic ones or silicone ones. The thin ones I used in this post still work, but they are pretty small.
Step 2: How to make Halloween peanut butter cups from scratch
You will first need to purchase a Halloween-theme mold of some kind. The plastic one I used here I bought at my supermarket after Halloween several years ago, was marked down to a dollar, score! But you can easily find a variety of good molds online. If your supermarket doesn't have any.
Time to make the peanut butter cup filling. Add the peanut butter or other nut butter to a bowl along with the salt and butter then stir with a spoon.
Next, add about half of the powdered sugar and mix that in. Then add more as needed, and mix, until the consistency becomes like playdough. It should not be super sticky.
Time to melt the chocolate. You can use a variety of different types of chocolate or a combination of them too if you like. In this example, I am using milk chocolate chips and a milk chocolate Hershey's bar.
Place the chocolate in a microwave-safe bowl and microwave on high for about 30 seconds, then give it a stir. Repeat until the chocolate is melted.
Alternatively, use the double-boiler method on the stovetop, if you don't want to use the microwave.
Step 3: Fill the Halloween mold with chocolate
After the chocolate is melted, take a spoon and spoon a little bit of chocolate into the mold cavities. Only fill it up about halfway or so, with a small mold like the one picture, it isn't very much, like half of a teaspoon.
Once all the cavities have some chocolate in them, give the mold a good tap on the counter or table so it flattens and evens out. Place in the fridge for 10 to 15 minutes to allow the chocolate to set. This is more important to do with shallow molds. With thicker molds, no need to put it in the fridge at this point.
Time to add the peanut butter filling. Take a small pinch of the filling and flatten it out with your fingers as best as you can to make the shape of the pumpkin, ghost, etc.
TIP: If the mixture is too sticky to work with, add a little more powdered sugar. You can also chill the peanut butter filling to make it easier to work with.
Step 4: Finish the Halloween peanut butter cups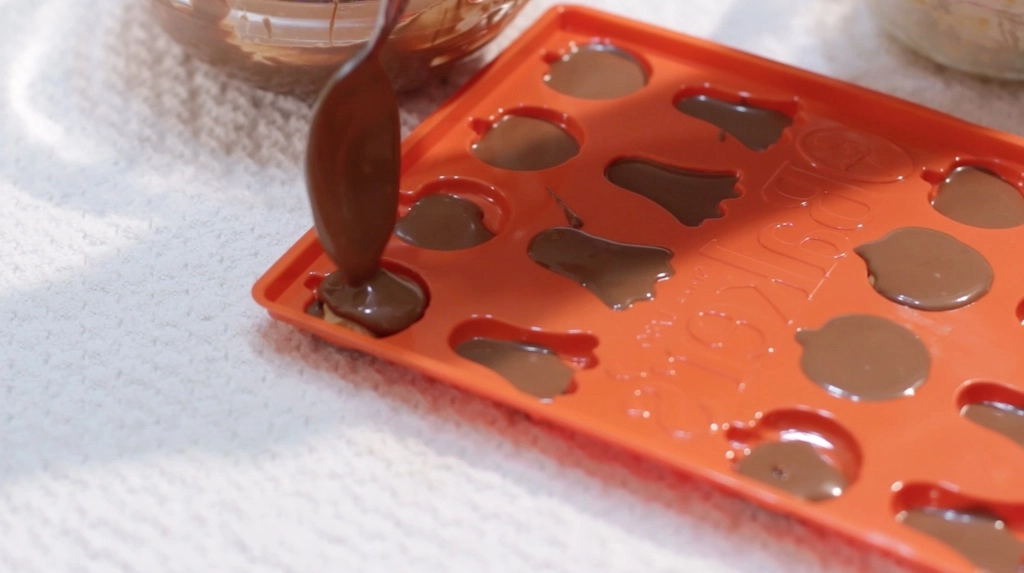 Once you have the peanut butter filling in all of the cavities, drizzle a bit of melted chocolate over it, enough to cover it. Tap the mold once again on the table so the chocolate levels out.
Place the molds of Halloween peanut butter cups in the fridge for 20 to 30 minutes so they can set.
Once set, remove those Halloween peanut butter cups from the mold. Simple as that. Serve them up and enjoy!
NOTE: Depending on the chocolate you use, will depend on how the chocolate reacts to room temperature. The chocolate I used here (regular candy bar, and chocolate chips) will melt a little at room temperature over time because I didn't temper the chocolate. So keep them in the fridge. You can also buy the chocolate candy melts, if you use them the candy will not melt as easily at room temperature. Chocolate candy melts don't need to be tempered. They both taste great, however.
How long do Halloween peanut butter cups last?
These desserts will last several days if stored in the fridge. They can also be frozen for several weeks.
Here are other recipes you may be interested in:
Halloween Peanut Butter Cups
Love Halloween and peanut butter cups? Time to combine the two and make Halloween-themed peanut butter cups at home. They are so yummy and super easy to make.
Equipment
Halloween Molds

Bowls

spoon
Ingredients
1/4

cup

of Peanut Butter

65 g

1/4

cup

+ 1Tbs of powdered sugar

35g

1/8

tsp

of salt

less than 1 g

2

tsp

of softened butter

28 g

5.5

oz

of chocolate

chips, bars, candy melts, etc. (about 160g) It doesn't have to be exact
Instructions
In a small bowl mix together the peanut butter, butter, and salt.

Add the powdered sugar a little at a time, mixing it in, until the consistency is like playdough, and not super sticky. If you need more powdered sugar, add more.

Place the chocolate chips, bars, etc. in a microwave-safe bowl and melt the chocolate using bursts of 30 seconds and stirring in between, until melted. Or use the double-boiler method on the stovetop.

Fill each cavity of the mold about 1/3 to 1/2 of the way. Tap the mold so it flattens and evens out. If the mold is thin, place the mold in the fridge so the bottom layer of chocolate can set.

Take a small pinch of peanut butter filling and flatten it out in your clean fingers and then set it on top of the bottom layer of chocolate.

Pour a top layer of chocolate just so it covers the peanut butter filling. Tap the mold again to flatten the chocolate out.

Place the mold with the Halloween peanut butter cups in the fridge and let it chill for 20 to 30 minutes.

Once the chocolate has set up, you can remove the peanut butter cups from the molds. And they are ready to serve. Enjoy! Happy Halloween!
Video
How to Make Peanut Butter Cups - Easy Halloween Shaped Peanut Butter Cups Recipe
Notes
Note: These are for very small peanut butter cups like the ones picture, with a bigger mold this recipe will probably only make 12, so double the calories and nutritional facts for those.
Note: Store in the fridge or for long-term storage you can freeze them. 
Nutrition
Do you like the recipe? Please give it a rating and comment down below, I really appreciate it. If you make it tag me on Instagram @inthekitchenwithmatt. Also, sign up for the newsletter so you won't miss out on any of my new posts and recipes.
Check out my other website 101 Creative Dates for fun date ideas. Food and dating go hand in hand!