Jump to Recipe
One of my fondest memories of eating treats growing up is when my mom would make Almond Roca around Christmas and the holidays. I am not sure why she didn't make it year-round, but I always looked forward to it. Homemade Almond Roca is so delicious!
What is Almond Roca? Almond Roca is a brand of candy that is basically chocolate-covered toffee with almonds sprinkled on top and almonds are usually in the toffee as well. How can you go wrong with chocolate, almonds, and toffee? You can't! The combination is amazing and perfect for any sweet tooth. If you love chocolate and love toffee give this homemade candy a try, you won't be disappointed. Homemade Almond Roca is easy to make, if I can do it, you can do it. Let's get started!
Step 1: Gather the ingredients and tools
In order to make homemade Almond Roca you need just a few ingredients and tools:
Butter – I generally use unsalted butter but you can use butter with salt in it if you like. Butter an essential ingredient. The butter prevents the sugar from crystalizing allowing for a smooth and breakable texture. And it adds immense flavor.
Water – I generally use good filtered water, since my tap water tastes gross.
Corn syrup – Corn syrup is commonly used in toffee making because it helps prevent the sugar from forming crystals and produces a smooth texture similar to butter.
White Granulated Sugar – Sugar is the main sweet element in this candy. You can't really make toffee without the sugar.
Almonds – You can't have Homemade Almond Roca without the almonds. Although you could substitute for other nuts if you like. Then you can call it Peanut Roca, or Cashew Roca, haha.
Chocolate – I generally use milk chocolate chips, but, you can use dark chocolate or semi-sweet chocolate if you like. Either the bars or the chips.
Tools
Sheet pan (11×17 works great)
Spatula
Large pot
Oven mitts
Butter knife to break up the Almond Roca
Butter or shortening to grease the pan, I generally use butter
Step 2: How to Make Homemade Almond Roca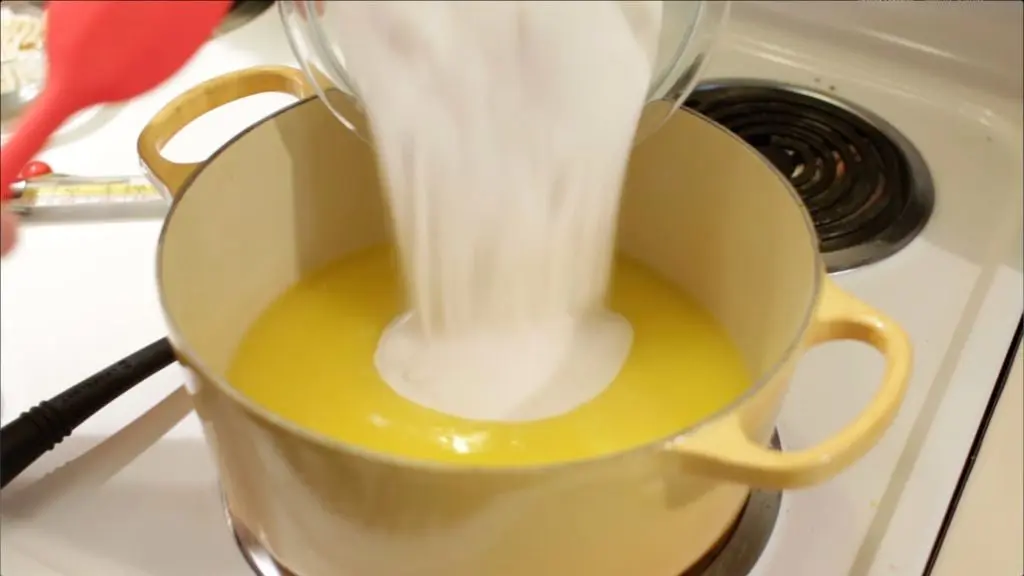 Begin by placing a large pot on the stovetop. Set the burner to medium heat. Then add in the butter. Stir occasionally with a silicone spoon or wooden spoon so the butter doesn't burn. Once the butter has melted add the water, corn syrup, and white granulated sugar. This will complete the ingredients for the toffee base. Stir occasionally so the candy doesn't burn. As I mentioned earlier Almond Roca is basically a toffee covered with chocolate.
Step 3: Heat it to the right temp to form the Almond Roca or Toffee base
Keep stirring the mixture and heating it until it reaches just below the hard crack point, 290 F/143 C. You really need a candy thermometer for this. Getting the right temperature is essential when making toffee. The color will turn to beige color. Make sure to stir constantly after the temperature reaches 200 F. The whole process will take several minutes. Plan on standing next to the oven for 25 to 35 minutes. Once you reach the right temperature you can turn off the heat and stir in the slivered almonds.
Step 4: Add the Toffee/Almond Roca to a pan
Pour out the toffee onto a sheet pan with sides that have been greased with butter or shortening. An 11×17-inch pan will give you a good thickness for the candy. The pot and pan will get really hot so make sure to use oven mitts when handling either.
Step 5: Adding that yummy chocolate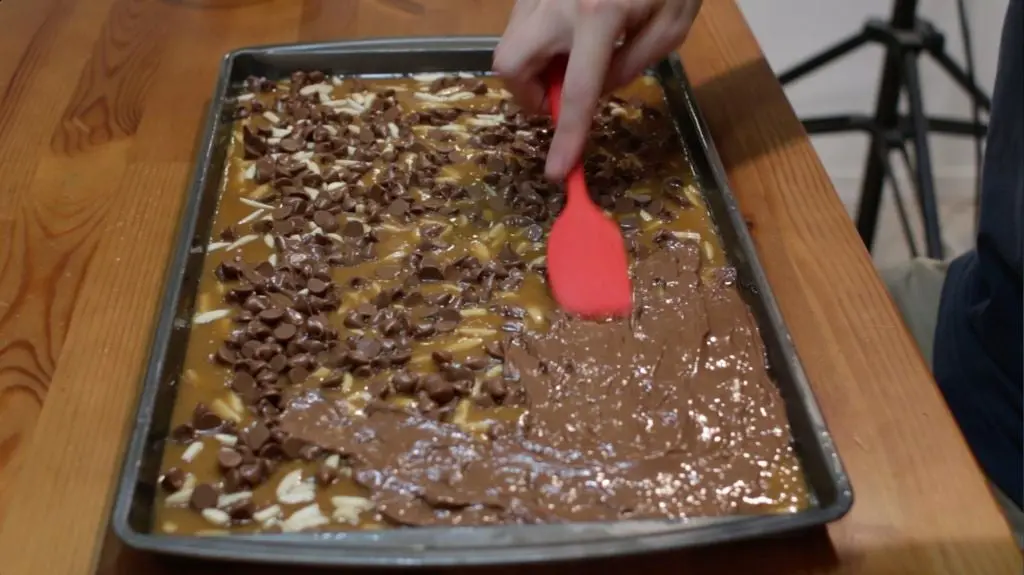 Now for my favorite part. While the homemade Almond Roca is still hot, sprinkle on the chocolate chips or crushed-up chocolate bar. Then, let the chocolate sit for 5 minutes. The heat from the hot toffee will melt the chocolate. After that, you can use a spatula to spread out the chocolate on the top. Next just sprinkle on the crushed or chopped-up almonds. You can push them down a bit into the chocolate if you like with the spatula. Allow the Almond Roca to cool for 15 to 20 minutes at room temperature. Then place it in the fridge to set it completely. This will take 45 minutes to 90 minutes.
Step 6: I love you, but it is time for us to break up.
Once the candy has been set, remove it from the fridge. Grab a butter knife and slide it on the edge of the Almond Roca. Lift up the edge and you will be able to break up the candy. Break it up into whatever sizes you like. Now all you need to do is bite into one. These make great gifts or you can just enjoy them all yourself.
What is the difference between Toffee and Almond Roca?
There isn't a huge difference. Almond Roca is a type of Toffee first created by a company called Brown & Haley. It is toffee with almonds in it as well as covered in chocolate and topped with almonds.
Why did my toffee separate?
Sometimes when making toffee the butter can separate from the sugar. This is often caused by a quick temperature change. Heating up the mixture gradually is key. Is your stovetop heat set too high? Medium heat is ideal. Another cause is stirring to quickly, stir constantly but gently if that makes sense. Make sure to use a candy thermometer.
How long will the homemade Almond Roca last?
Not very long! You will gobble it up I am sure. But if you store it in an airtight container it will last 4 to 6 weeks. I generally store mine in the fridge but it can be kept at room temp as well.
Homemade Almond Roca
Almond Roca is an amazing candy. Toffee with almonds in it covered with chocolate and almonds on top. It is a party in the mouth with every bite. Almond Roca makes a great gift, something other than homemade cookies.
Equipment
sheet pan (11×17 works great) (greased, I use butter)

Spatula

Large Pot

oven mitts

Butter knife

Candy Thermometer
Ingredients
1

pound

of butter

4 sticks (450g)

1/3

cup

of water

80mL

2

Tbsp.

of light corn syrup

40g

2

cups

of white granulated sugar

450g

1

cup

of almonds

I use 1/2 cup slivered and 1/2 cup roasted

11.5

ounces

of milk chocolate chips

or dark, semi-sweet (330g)
Instructions
Begin by adding the butter to a large pot. Melt the butter at medium heat. Stir occasionally so the butter doesn't burn.

Once the butter is melted add the water, corn syrup, and white granulated sugar. Stir to mix those ingredients together. This is will be the toffee base.

Heat the ingredients to 290 F/143 C. This is just slightly below the hard crack point. The mixture will turn from a pale yellow color to a nice beige color. Stir gently but constantly after the 200 F mark, again we don't want the base to burn. Use a candy thermometer.

After reaching the temp, turn the burner off and add in the slivered almonds.

Pour the toffee onto a buttered sheet pan and allow it to spread out level. I generally use an 11×17 inch pan for this. Sprinkle the chocolate chips on top and let it sit for 5 minutes.

Spread out the chocolate with a spatula thinly so it covers the top of the Almond Roca/toffee. Then sprinkle on the chopped roasted almonds.

Let it cool at room temp for about 20 minutes before placing it in the fridge to set completely, usually another 45 to 90 minutes. After it has set you can use a butter knife to break it apart. Enjoy! 🙂
Video
How to Make Almond Roca | Homemade Almond Roca Recipe
Notes
These nutritional facts are based on 20 servings which are fairly good sized pieces. 
Nutrition
Do you like the recipe? Please give it a rating and comment down below, I really appreciate it. If you make it tag me on Instagram @inthekitchenwithmatt. Also, sign up for the newsletter so you won't miss out on any of my new posts and recipes.
Here are a few more recipes you may like: