Jump to Recipe
I just love this homemade applesauce recipe. It is so fresh tasting, slightly sweet with yummy cinnamon flavor, and it is incredibly easy to make with just four ingredients!
Growing up my mom would make homemade applesauce and can it, it was so nice eat it. My dad's favorite dinner was pork chops and applesauce. Fond memories for sure! To this day I still love eating it and making applesauce at home.
Also what I love about making applesauce at home is you get to choose what apples you like. Do you like Gala, Granny Smith, Washington, Pink Lady, Fuji the best? Can't decide? Then you can use a mixture of some or all of them. You can use whatever apples you want.
It is so simple to make if I can do it, you can do it. Let's get started!
Step 1: Gather the ingredients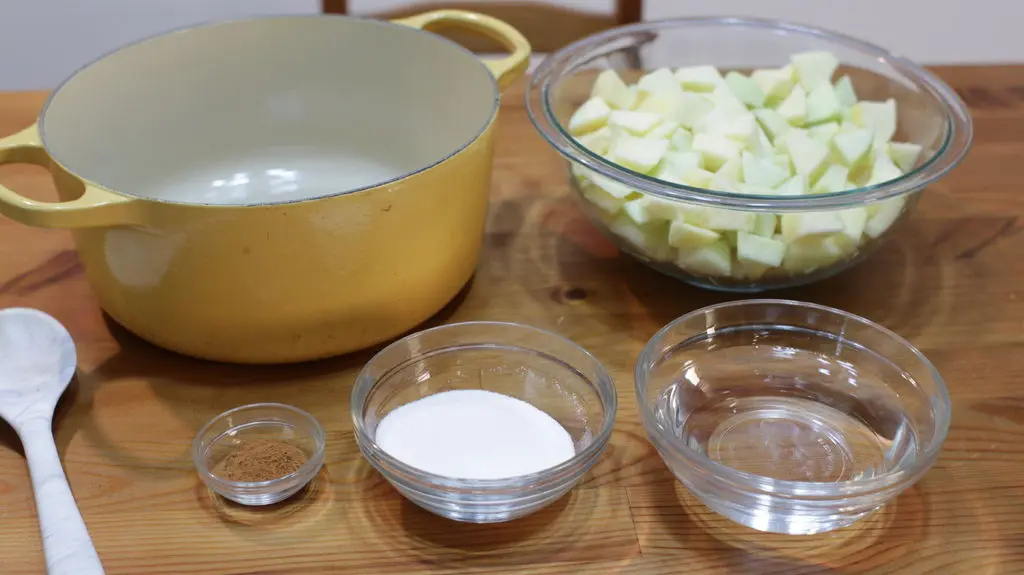 In order to make homemade applesauce you only need four ingredients, well technically you can make it with only two, but I like to add the sugar and the cinnamon.
You will need:
Apples – Use your favorite kind of apple or a combination of apples. Sweet, tart, you name it.
Water – I always use filtered water, because my tap water tastes gross.
Sugar – If your apples are already really sweet you may use less sugar, and if they are tart you may want to use more, the amount is entirely up to you. You can even leave it out all together.
Cinnamon – I love cinnamon, so I always add it, but you can leave it out too if you don't like cinnamon.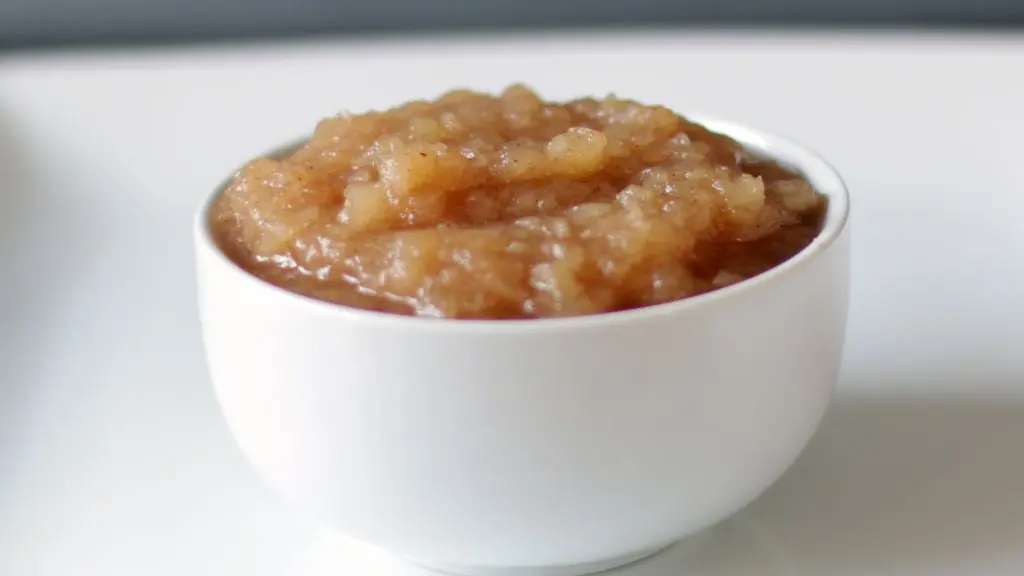 Tools
Step 2: How to make homemade applesauce
Begin by washing, peeling, and coring the apples. You can use a simple hand peeler if you want or you can use a nifty apple corer/peeler. I recommend one if you want to make this all the time and also like making apple pie, apple crisp, or other apple dishes.
Cut the apples into chunks and place them in the pot. Add the water, sugar, and cinnamon as well.
Step 3: Cooking the apples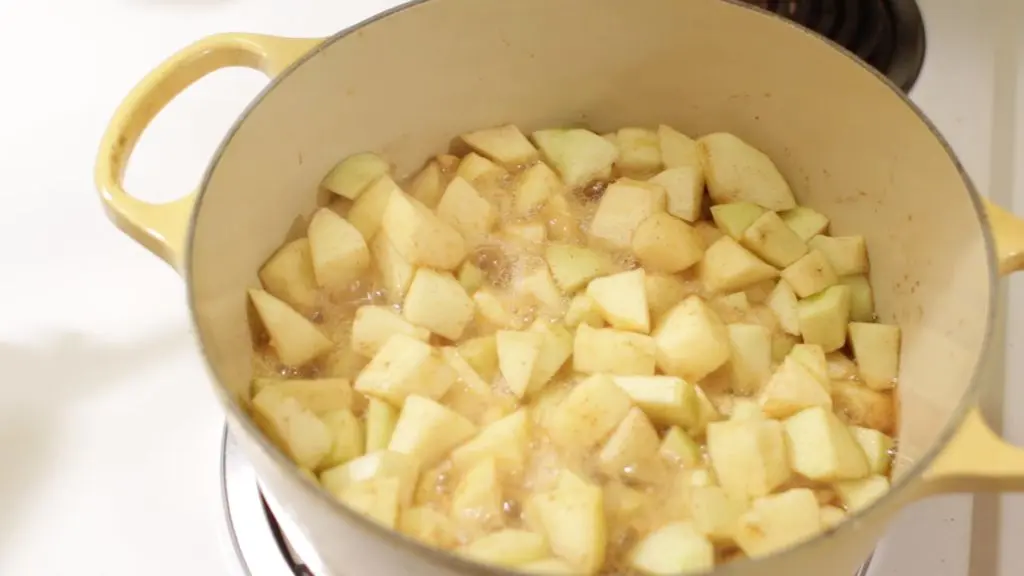 Place the pot on the stovetop burner and set the heat to medium-high. Stir occasionally while the apples heat up. Once it comes to a boil, you can turn the heat down to medium-low and place a lid on the pot.
Cook the apples with a simmer for 20 to 25 minutes.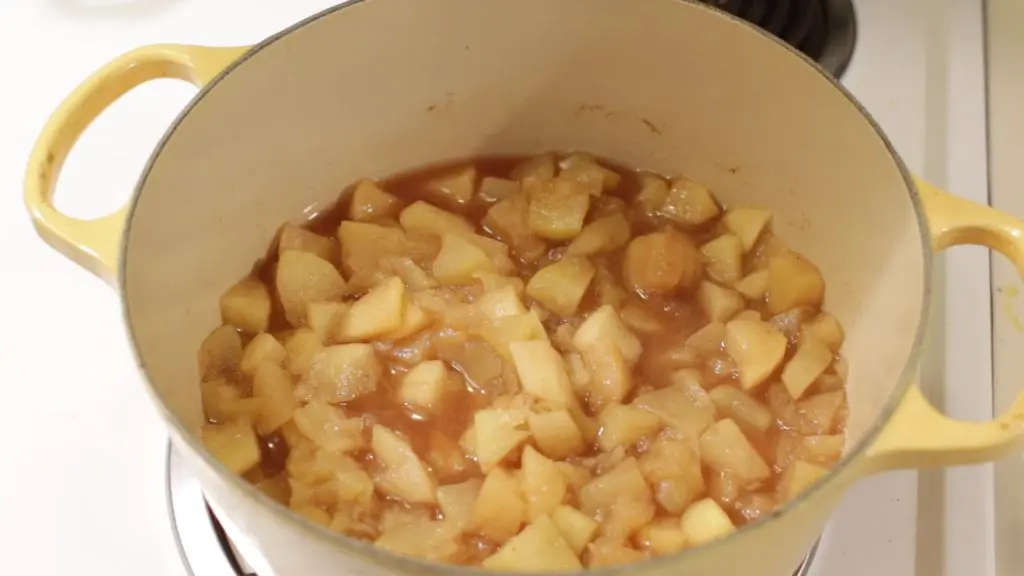 The apples should be really soft when you are done cooking them. Some of them will even look a bit translucent. Once cooked, you can remove the pot from the heat and allow the cooked apples to cool for about 5 minutes.
Step: 4 Mash the apples to finish the homemade applesauce
Now it is time to mash those apples and turn it into applesauce. There are a variety of ways that you can mash them. You can use a fork if you like. One of my favorite things to use is a potato masher.
Or you can use an immersion blender or put it all in a blender or a food processor. It may be too much to add it all to a food processor, so I recommend doing it half at a time.
I like my homemade applesauce to be a little bit chunky, so the potato masher is perfect. If you want it super smooth, then I recommend using one of the other techniques.
Once you are done you can serve it warm, with a scoop of vanilla ice cream, serve it plain, or use it in a number of dishes. Enjoy!
How long does homemade applesauce last?
After the applesauce cools completely, place it in a mason jar, or other airtight container with a lid and store it in the fridge for a couple of weeks, or freeze it for long term storage. You can also can it if you like.
Here are some other recipes you may like:
Homemade Applesauce
This homemade applesauce recipe is so yummy and easy to make with just four ingredients. It comes together in about 45 minutes. Use whatever kind of apples you want! If I can do it, you can do it.
Equipment
Apple Corer/Peeler (optional)

Knife

Cutting board

Large pot with lid

Potato masher, fork, or immersion blender
Ingredients
6

medium to large apples

Gala, Granny Smith, Washington, etc.

1

cup

water

237ml

1/3

cup

sugar

68g (You may use less if you want)

1

tsp.

ground cinnamon

3g (optional)
Instructions
Wash, peel, core, and cut the apples into chunks.

Add the apples, water, sugar, and cinnamon to a large pot and place it on the stovetop burner. Set the heat to medium-high heat and bring to a boil, stirring occasionally. Once it boils reduce the heat to medium-low and put a lid on the top. Continue cooking for 20 to 25 minutes until the apples get soft.

Once the apples have cooked, some of them may look a bit translucent, that is perfect. Remove them from the heat and allow them to cool for 5 minutes. Then mash them into applesauce. Use a fork, potato masher, pastry blender, blender, food processor, or immersion blender. Keep mashing until you get the consistency you want.

Serve it warm, chilled, or use it in a number of other recipes. Once it has cooled completely place it in an airtight container like a mason jar and store in the fridge for up to 2 weeks, or it can be frozen, or canned. Enjoy!
Video
How to Make Applesauce | Easy Amazing Homemade Applesauce Recipe
Notes
Nutrition
Do you like this recipe? Please give it a rating and comment down below, I really appreciate it. If you make it tag me on Instagram @inthekitchenwithmatt. Also, sign up for the newsletter so you won't miss out on any of my new posts and recipes.