Jump to Recipe
I love waffles and those yummy pockets that hold different kinds of syrup making each bite scrumptious. Growing up we made homemade Belgian waffles all the time, usually on a Saturday morning.
We would switch between those and pancakes or my favorite, bacon, eggs, and hash browns. It is hard to beat homemade waffles topped with strawberry syrup and whipped cream however, IHOP has nothing on these. Time to elevate your breakfast game with these amazing waffles.
For more awesome breakfast recipes click here.
Step 1: Gather ingredients and tools for the waffles
First, while we head up the waffle iron lets gather the ingredients. We will need the following:
All-purpose flour
Eggs – with the yolks separated from the whites.
Milk – I like to use whole milk with waffles, but you can use whatever kind of milk you like.
White granulated sugar
Butter – I generally use unsalted butter, if you use salted reduce the amount of added salt in half.
Vanilla extract – Vanilla extract gives the homemade Belgian waffles a very nice flavor.
Salt – make sure to use table salt, don't use coarse salt.
Baking powder – the baking powder along with the eggs will provide the leavening for the waffles and help to get nice and thick.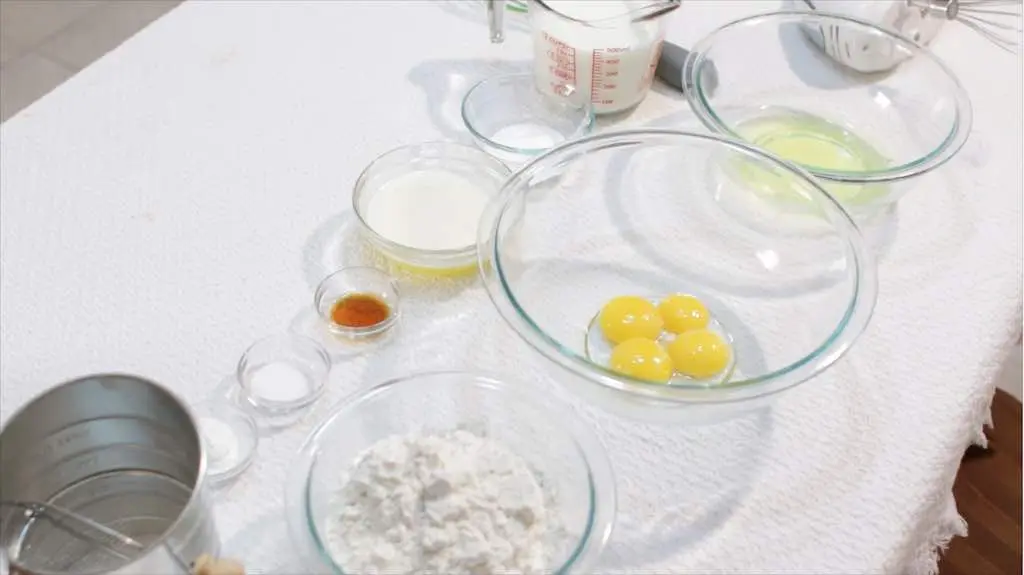 Tools
For the tools you will need:
Good deep pocket waffle iron – This one is nice because it has double sides. The one I have and use is a professional restaurant-style waffle iron.
Bowls
Sifter
Whisk
Hand mixer – we will use this to beat the egg whites.
Spatula
Step 2: Sugar and eggs and the rest of the liquids.
Separate your egg yolks from the egg whites and place the yolks in one large bowl and the egg whites in a medium bowl.
Then add the sugar to the egg yolks and blend them together until well combined. Now add the melted butter, vanilla extract, and milk. Then using a mixer or whisk, blend everything together.
Step 3: Sift and add the dry waffle ingredients
Now we add the dry ingredients. I like to use a sifter, but it is not absolutely necessary. First, add the flour, then the salt and baking powder. Sift or mix it together.
If you don't use a mixer, it is a good idea to mix all the dry ingredients with a whisk in another bowl first, before adding it to the liquid mixture.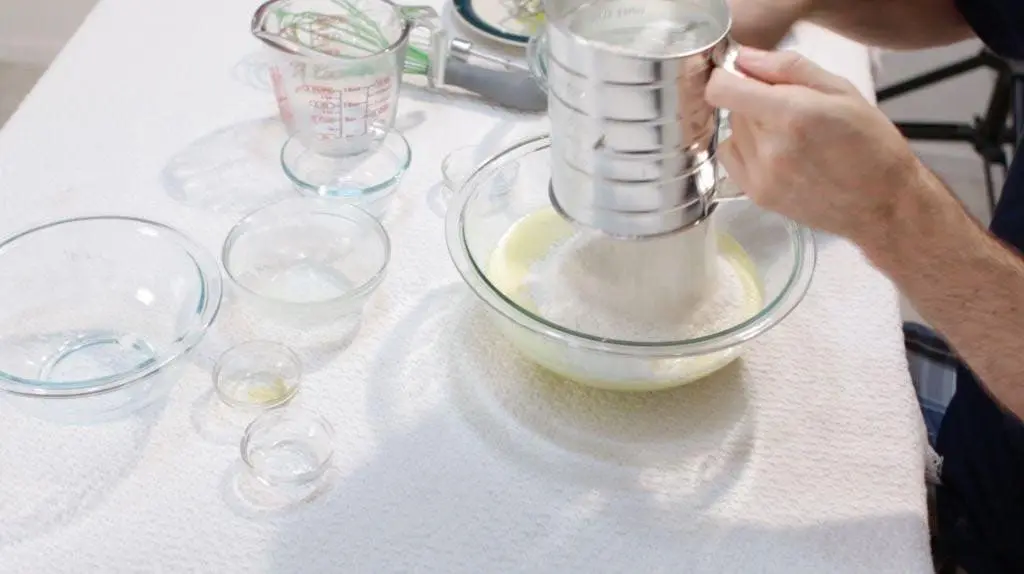 Step 4: Mix in the dry ingredients to the Belgian waffles batter
Next, use a whisk to mix in the dry ingredients. We don't want to use a mixer at this point, because we don't want to over mix the batter.
So just use a whisk or spatula or wooden spoon to blend the ingredients together. Set the batter aside for now.
Step 5: Whisk those egg whites
Next using a stand mixer or if you are brave enough try using a whisk and whisk the egg whites until peaks form. This helps to create a lighter batter. It isn't absolutely necessary to get it all the way to the stiff peaks phase, however.
Step 6: Fold in the egg whites
Next just gently fold in the egg whites using a spatula. Don't want to over mix the batter and ruin those nice bubbles that were created in the egg whites.
The reason why we have the egg whites separated from the egg yolks is that it helps to make the waffles bigger and fluffier and makes the texture that much better.
If you watch the video tutorial you will notice I was lazy and used a whisk to fold in the egg whites instead of getting a spatula, I also didn't beat the egg whites long enough only got them to the "frothy" stage.
Again though it doesn't matter a whole lot, but if you can take the extra time to get those stiff peaks then I recommend doing it.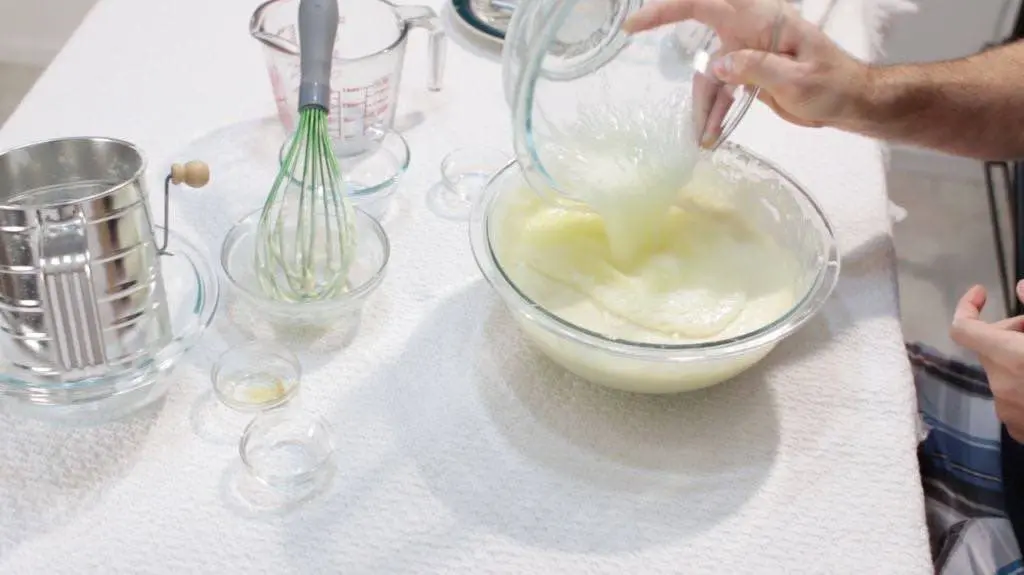 Step 7: Cook those Homemade Belgian Waffles
Now just use your favorite waffle iron and complete your homemade Belgian waffles. Mine is pretty fancy, it cost close to 80 dollars, but I figured it was worth it since I make waffles a lot.
Next, they are even more expensive since you can't find them at the stores anymore. You can use any waffle iron. But to get the bigger style waffles, you want the deep irons like mine, they have cheaper Belgian waffle irons as well.
Mine has an indicator light when the waffle iron is heated up and beeps when the waffles are done (nice golden brown).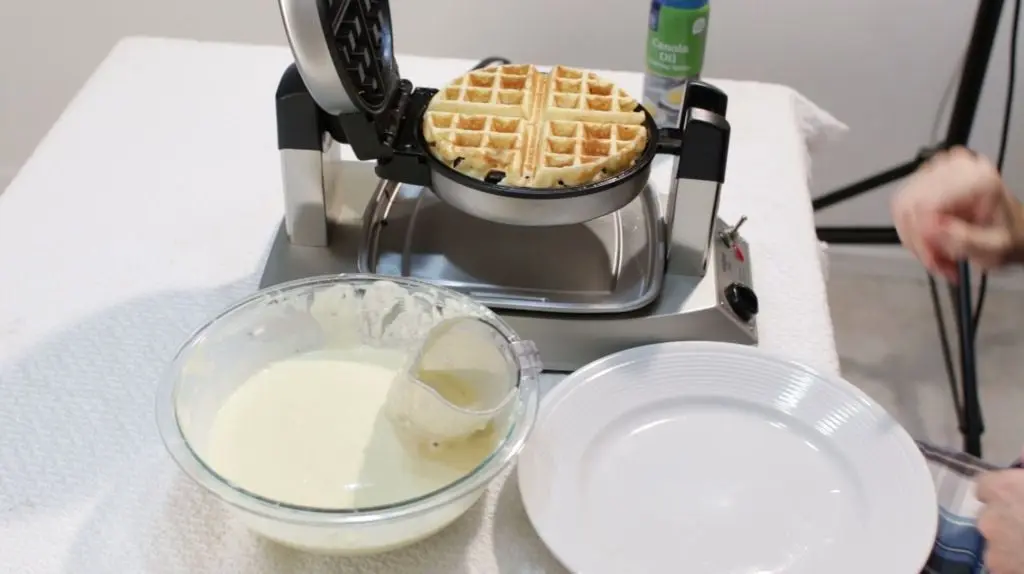 Make sure to use cooking spray on your iron, the first time. I find with this batch (6 waffles) I only need to spray the iron at the beginning. No need to spray in between each waffle, unless your iron is beat up and the waffles keep sticking.
Step 8: Homemade Belgian Waffles toppings time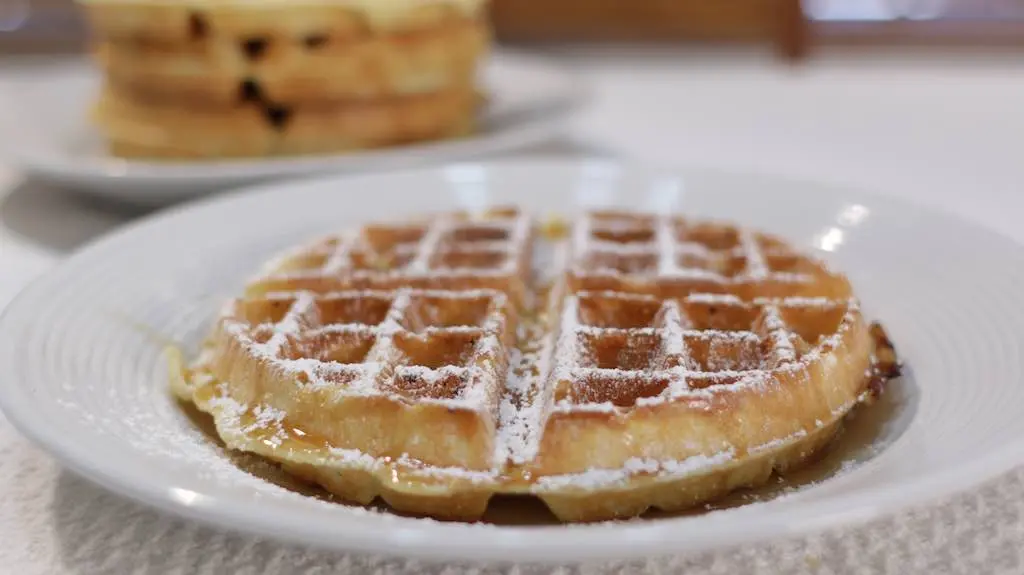 For this waffle, I just used the classic maple sugar and powdered sugar. There are all kinds of topping choices that you can use: strawberries, whipped cream, blueberries, chocolate chips, raspberries, blackberries, Nutella, bananas, etc. frozen yogurt, ice cream, snickers bars, Kit Kats, and M&Ms.
Okay, now I am just being silly. You can fold in bananas and other fruits into the batter, and they make awesome fruity waffles that way too. 🙂
Another classic breakfast I love is homemade crepes they are super yummy.
Check out the Homemade Belgian Waffles Video Tutorial I Made
Homemade Restaurant Style Belgian Waffles
I love making homemade waffles and these waffles are some of my favorite. They are thick and fluffy with deep pockets to hold all of that melted butter and syrup. Top them off with strawberries and whipped cream and you have a party in the mouth with every bite.
Equipment
Waffle Iron

Sifter

Spatula

Whisk

Bowls
Ingredients
2

cups

of flour

(240g)

4

eggs

separated

2

cups

of milk

(474ml)

2

Tbs

of sugar

(25g)

1/2

stick or 4 Tbs of unsalted butter, melted

(56g)

1/2

tsp

of vanilla extract

(2ml)

1/2

tsp

of salt

(2g)

2

tsp

of baking powder

(10g)
Instructions
First separate the eggs putting the egg whites in one medium bowl and the egg yolks in another bowl. Add the sugar to the bowl with the egg yolks and mix together with a mixer or whisk.

Next add the melted butter, vanilla extract and milk. Mix again until blended.

Sift the dry ingredients together then place into the bowl and stir them into the batter with a spatula or wooden spoon. Don't use the mixer we don't want to over mix the batter.

Mix the egg whites with a mixer until peaks form. Then fold the egg whites in with the waffle batter. Don't stir the batter because that will ruin all the nice air you created into the egg whites. The batter is complete.

Using your favorite waffle iron pour in the amount will vary depending on the size of your iron. Close the lid and cook those waffles until nice and golden brown. Oh yeah. Top them off with your favorite toppings. Enjoy!
Notes
Note these nutritional facts are only for the waffle by itself, it will vary depending on the toppings you put on it. 
Nutrition
Do you like the recipe? Please give it a rating and comment down below, I really appreciate it. 🙂 If you make it tag me on Instagram @inthekitchenwithmatt. Also, sign up for the newsletter so you won't miss out on any of my new posts and recipes.
Here are a few other recipes you may like:
Soft Chewy Chocolate Chip Cookies