Jump to Recipe
This homemade blueberry muffins recipe is so amazing! Blueberry muffins are my favorite muffins of all time and I love it with a yummy crumble on top.
Did you know that blueberry muffins are the top flavor of muffins in the United States, according to this article and several others?
I can see why. Homemade blueberry muffins are the best. They are so easy to make from scratch as well. If I can do it, you can do it. Let's get baking!
Step 1: Gather the ingredients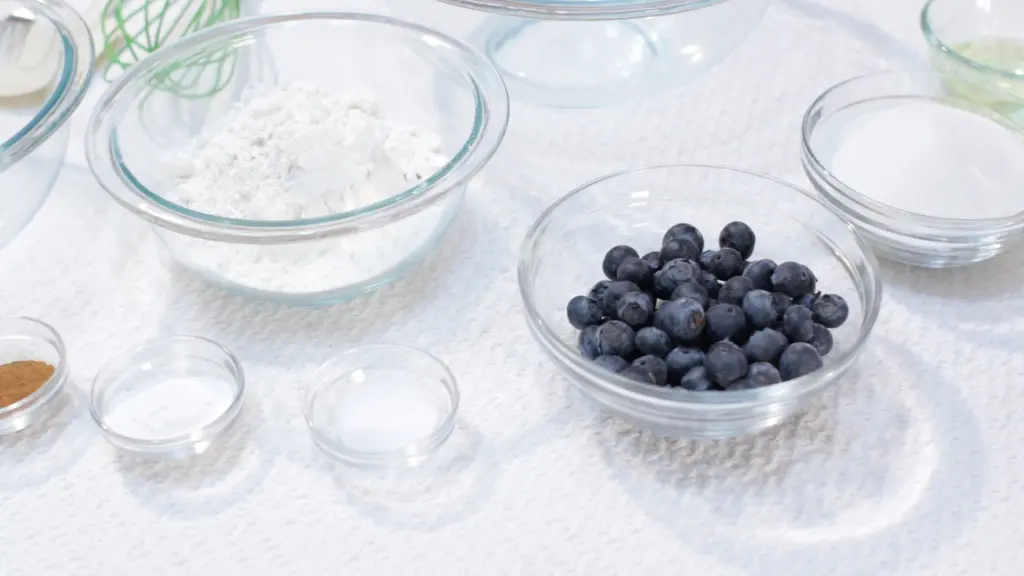 In order to make these delicious homemade blueberry muffins you need a handful of easy to find ingredients:
Flour – All purpose/plain flour
Sugar
Salt
Baking powder
Oil – Canola, vegetable, coconut, avocado, etc.
Egg
Milk – I generally use whole milk, but any milk will work including almond, soy, etc. Buttermilk works great too.
Vanilla extract – This is optional.
Blueberries – Fresh if you can get them, but frozen works as well.
Topping
Sugar
Flour – All purpose/plain flour
Butter – Salted or unsalted butter
Ground cinnamon
Tools
Whisk or electric mixer
Spatula
Fork
Spoon
Bowls
Muffin pan
Paper cups
Step 2: How to make homemade blueberry muffins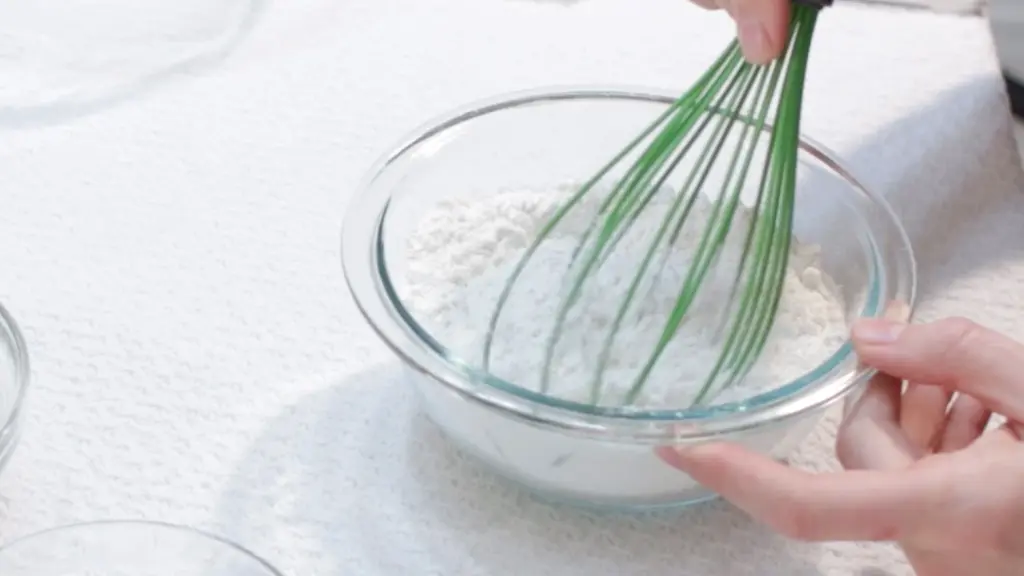 Preheat the oven to 400 F (204 C) with the rack in the middle position.
In a small bowl whisk together the flour, salt, and baking powder. You can also use a sifter if you like.
NOTE: Remember to only use the flour listed for the batter, extra flour is used for the crumble topping.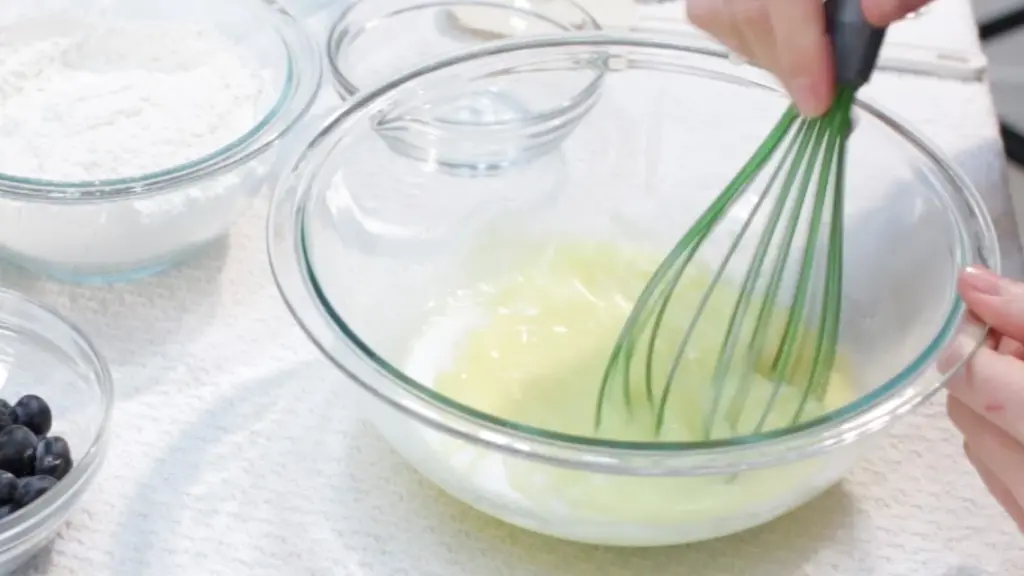 In a larger bowl whisk together the egg, oil, and milk. Then add in the sugar and vanilla extract if you are using that and whisk to combine. Alternatively, you can use a hand or stand mixer.
NOTE: Like the flour there are two sets of sugar amounts, one for the batter and one for the crumble.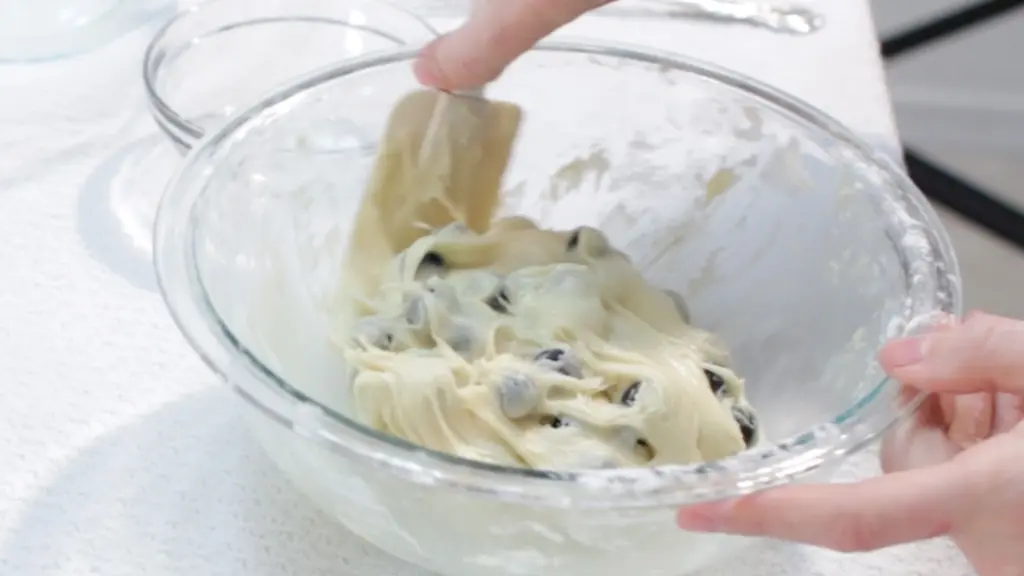 Now, add in the flour mixture about a third of it at a time, using a sturdy whisk or wooden spoon or your mixer. Most likely it will get too thick for a whisk. Scape the sides of the bowl as needed to ensure everything is incorporated.
Fold in the blueberries into the batter, completely the homemade blueberry muffins batter.
TIP: I prefer to use fresh blueberries, but frozen works perfectly fine as well. If you use frozen, no need to thaw them out first.
Step 3: Bake the homemade blueberry muffins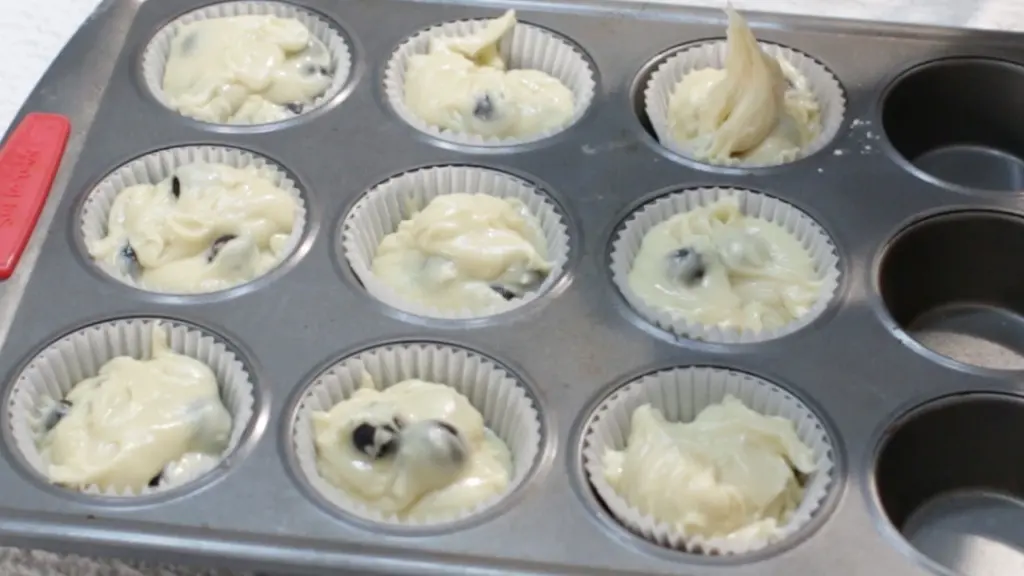 Prepare a standard muffin pan with paper cups. This recipe makes 9 to 12 muffins. I like really large ones so I normally do only 9. For 12 muffins fill the cups 2/3rds full, for 9 muffins fill them about 3/4ths of the way full. Use a spoon or spatula to pour the batter into each cup.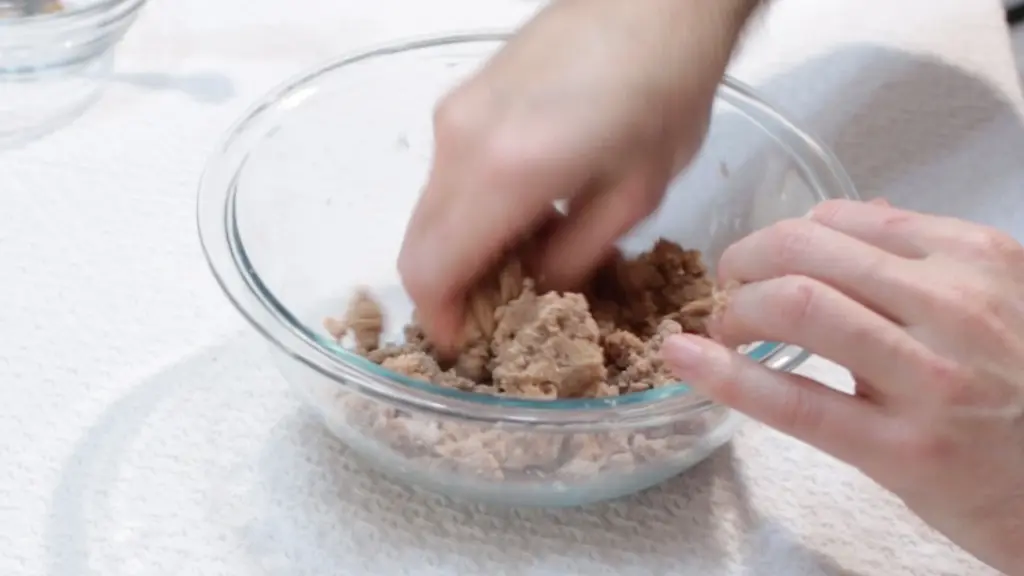 The crumble topping is optional, but I always like to add it. In a small bowl mix together the flour, cinnamon, sugar, and softened butter. A fork works great to mix it, or you can mix it with really clean hands. A pastry blend works great as well.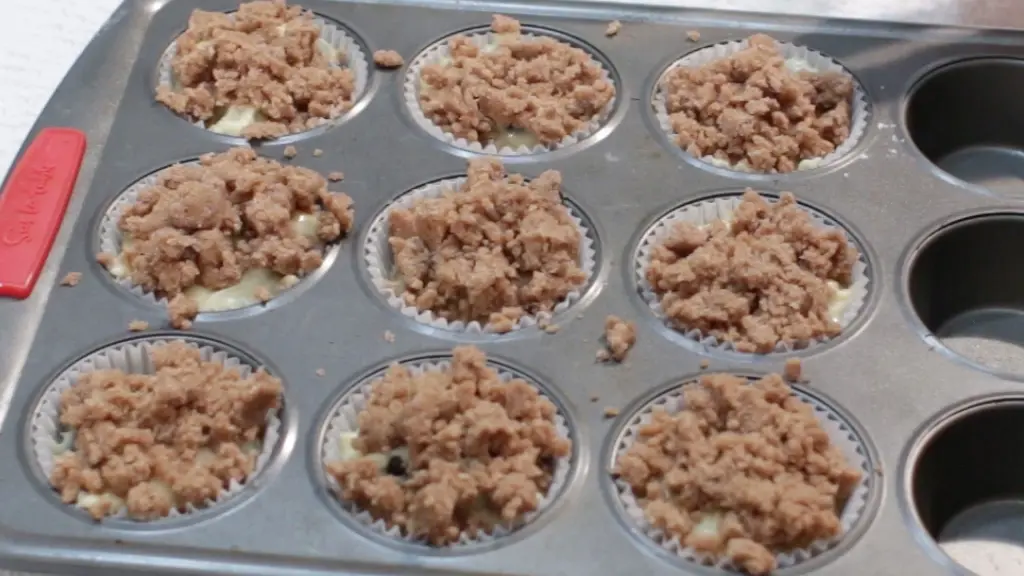 Sprinkle the crumble onto the homemade blueberry muffins. Then place the muffin pan on the middle rack and bake them for 20 to 25 minutes, until a toothpick comes out clean when inserted in the middle.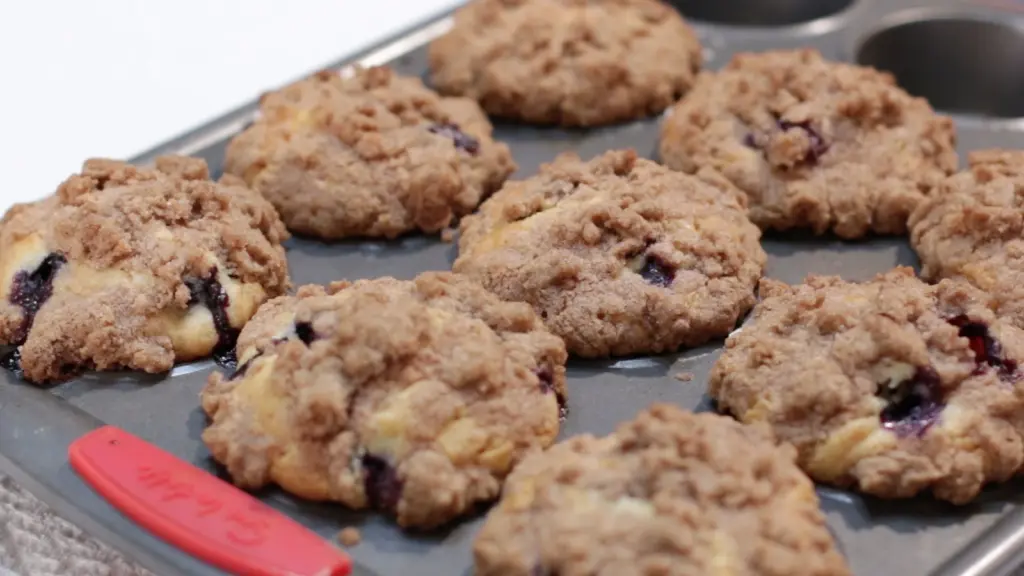 When they come out of the oven they will have a nice crusted crumble and some of the blueberries may have oozed a bit, but that is perfectly normal. Allow them to cool for 5 to 10 minutes before serving. Enjoy!
How long do homemade blueberry muffins last?
You can store the blueberry muffins at room temperature in an airtight container or bag for about 2 days. Or if you place them in the fridge they will last 6 to 7 days. You can also freeze them if you like, they freeze great and will last a few months.
Here are some other muffin recipes you may like:
Homemade Blueberry Muffins
These homemade blueberry muffins are my favorite muffins of all time. They are so yummy, especially with the crumble on top. If you like muffins, you have go to try these!
Equipment
Whisk or Mixer

Spatula

Fork

spoon

Bowls

Muffin pan

Paper cups
Ingredients
Batter
1 1/2

cups

flour

all-purpose (188 g)

3/4

cup

of granulated sugar

150 g

1/2

tsp

of salt

2 g

2

tsp

of baking powder

8 g

1/3

cup

of canola oil

75 ml

1

large egg

1/3

cup

of milk

78 ml

1/2

tsp

vanilla extract

optional (2 ml)

1

cup

of fresh blueberries

100 g
Crumble Topping
1/2

cup

granulated sugar

100 g

1/3

cup

of all-purpose flour

42 g

1/4

cup

of softened butter

57 g

1 1/2

tsp

of ground cinnamon

4 g
Instructions
Preheat the oven to 400 degrees F. (204 C) Mix the salt, baking, powder, and flour together. I just use a whisk to do this. A sifter works well too.

In a large bowl, whisk together the egg and the milk, then add in the oil, vanilla extract, and the sugar and mix it all together. You can use an electric mixer as well.

Add the flour mixture a third of it at a time to the wet ingredient mixture until completely mixed in. If you are using a whisk, you will need to switch to a wooden spoon or something, most likely.

Gently fold in the blueberries with a spatula. If you are using frozen blueberries don't thaw them out, just use them frozen.

Line a muffin pan with 9 to 12 muffin cups. If you want them larger, use 9, or regular size, use 12. Use a spoon and fill the cups 2/3 to 3/4 full. If you don't have muffin cups, you can spray the pan with cooking spray.

Time to make the crumble topping. Mix together the flour, cinnamon, sugar, and softened butter. First, start with a fork or pastry blender and mix it together. Then you can use your clean fingers which works really well!

Sprinkle the crumble evenly across all the muffins. Then bake on the middle rack for 20 to 25 minutes until a toothpick comes out clean. Allow them to cool for a few minutes before serving. Enjoy!
Video
How to Make Blueberry Muffins - Amazing Homemade Blueberry Muffins Recipe
Notes
Nutrition
Do you like this recipe? Share and Pin it! Please give it a rating and comment down below, I really appreciate it. If you make it tag me on Instagram @inthekitchenwithmatt. Also, sign up for the newsletter so you won't miss out on any of my new posts and recipes.