Jump to Recipe
Do you love chocolate ice cream like me? Homemade chocolate ice cream is super yummy! And it is incredibly easy to make using just a few ingredients. And this recipe doesn't have any eggs in it. We also won't be using an ice cream machine. Isn't that cool?
I have a love affair with chocolate, I won't hide it. Me and chocolate go together like peanut butter and jelly, no wait, peanut butter, and chocolate! Ice cream is one of my favorite treats to eat so naturally I would love chocolate ice cream. There are a variety of recipes out there for homemade chocolate ice cream, this is just a simple one that can be made pretty quickly. It tastes amazing, so full of chocolate flavor, and it is made in a bag! Pretty awesome, if I do say so myself. If I can do it, you can do it, let's get started!
Step 1: Gather the ingredients and the tools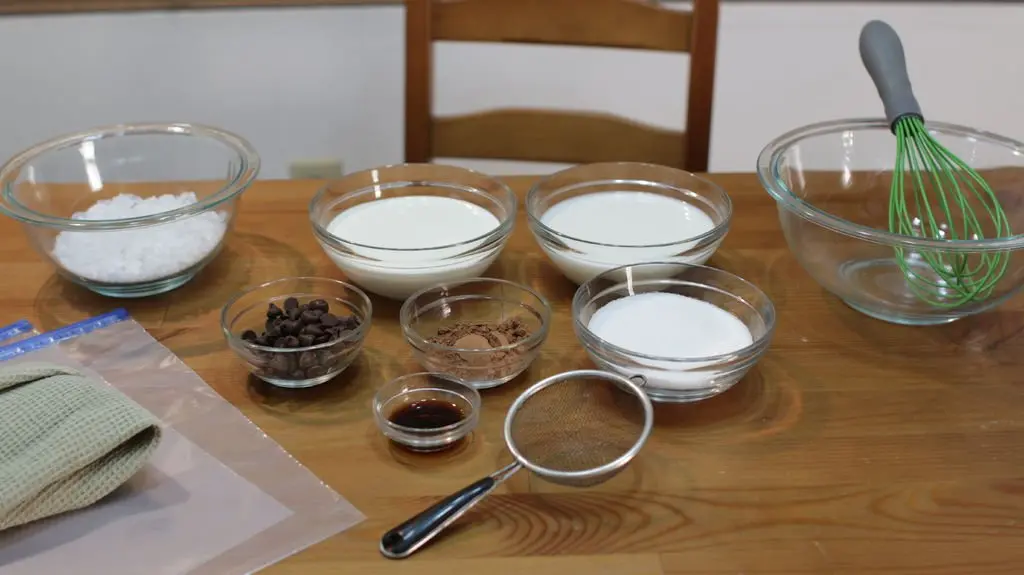 In order to make homemade chocolate ice cream you need just a handful of ingredients and tools:
Heavy Whipping Cream – You need cream to make ice cream.
Whole Milk – Adding both cream and milk will help the ice cream be more smooth and light.
White granulated sugar – The sugar will be the main sweet element.
Chocolate chips – I generally use semi-sweet but you can use milk chocolate and dark chocolate.
Unsweetened Cocoa powder – For extra chocolate flavor, oh yeah, love me some chocolate flavor.
Vanilla extract – The vanilla will add flavor and enhance the other flavors.
Tools
Rock salt or ice cream salt
Ziplock bags – I generally use the gallon size.
Sieve or sifter
Towels
Large Bowl
Whisk
Container to store the homemade chocolate ice cream in.
Step 2: How to make homemade chocolate ice cream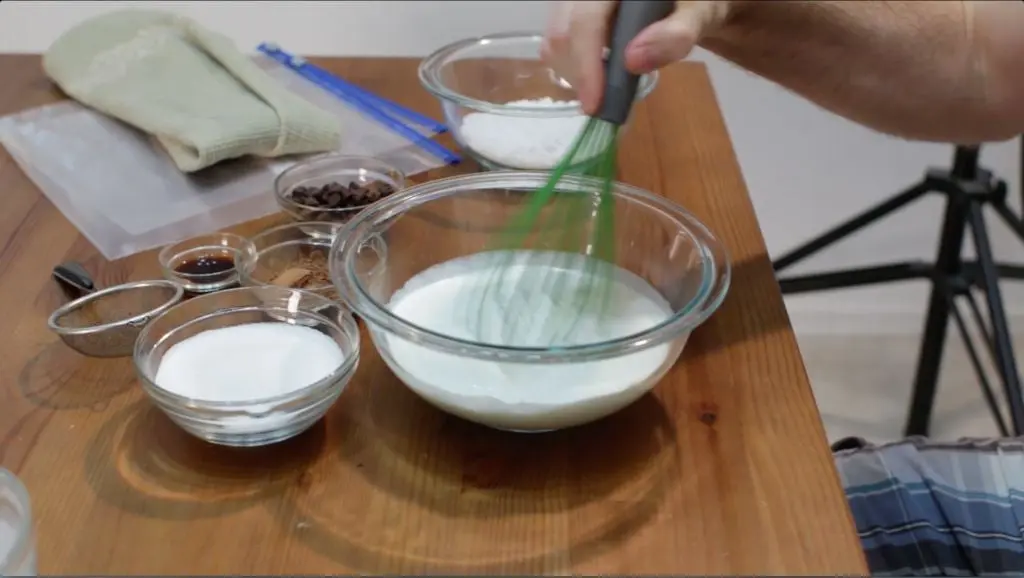 Begin by combining the milk and the cream in a medium bowl. Use a whisk to mix them together. Next, heat up the milk and cream until it is really hot, but not boiling. I generally just put the bowl in the microwave for 1 minute to 1 minute and 30 seconds. Or heat it up in a pot on the stovetop.
Step 3: Add that yummy chocolate
Next, add in the chocolate chips, they will melt in the hot liquid. Also, add the sugar and cocoa powder. It is a good idea to use a sieve or sifter with the cocoa powder to get the lumps out.
Stir it a little bit and then let it sit for 5 to 10 minutes and allow it to melt the chocolate chips. The hot liquid will also "bloom" the cocoa powder bringing out the chocolate flavor even more.
Step 4: Whisk that chocolate ice cream base
Next, add in the vanilla extract and stir everything together really well until it is all combined. At this point, the sugar will have dissolved and the chocolate chips will have melted. You will be left with a nice smooth chocolate ice cream base. Let the ice cream base cool to room temp or place it in the fridge to cool for about 30 minutes. It is important that the ice cream base isn't warm when we try to do the next step, otherwise, it will take much longer to harden up.
Step 5: No ice cream machine needed, time to double bag it.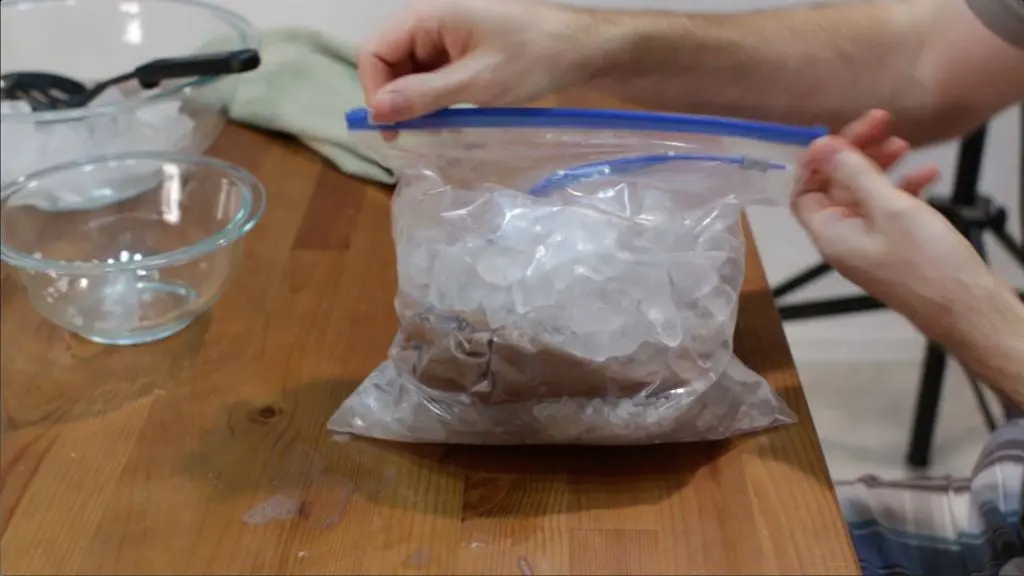 If you have an ice cream machine definitely use it. But, most people don't have one so they can use the two bag method instead. Add the homemade chocolate ice cream base to a ziplock bag and get the extra air out of it before sealing it. Take another ziplock bag and add some ice to it. Then place the bag with the ice cream base in it. Add more ice. Next, add about a half-cup to a cup of rock salt or ice cream salt. The salt will make the ice really cold. When the ice melts the rock salt lowers the temp of the water, even more, making a perfect ice cream making condition.
And there you have it, a homemade ice cream machine. Wrap it in a towel then shake it until the base hardens up. It will take 5 to 10 minutes of shaking. This is an awesome way to burn some calories before eating that delicious ice cream.
Step 6: Chill the homemade chocolate ice cream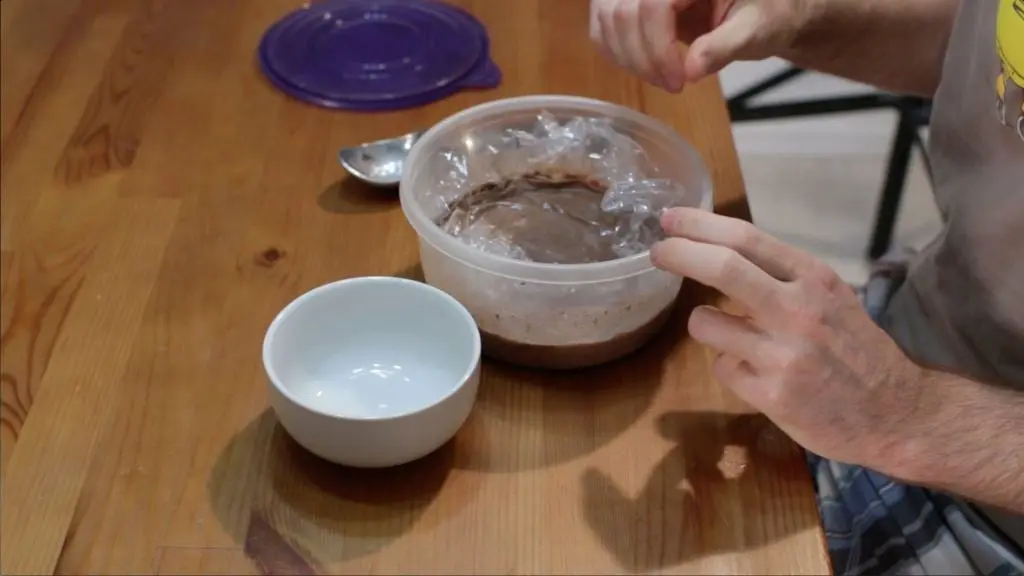 Now, just leave the ice cream in a bag or transfer it to a freezer-safe container. If using a container, add a piece of plastic wrap on tap so it touches the top of the ice cream. This will make sure little ice crystals don't form on the top. You can eat it at this stage, but it is more of soft-serve ice cream right now. Place it in the freezer for four to six hours or overnight before serving.
Step 6: Scoop it up!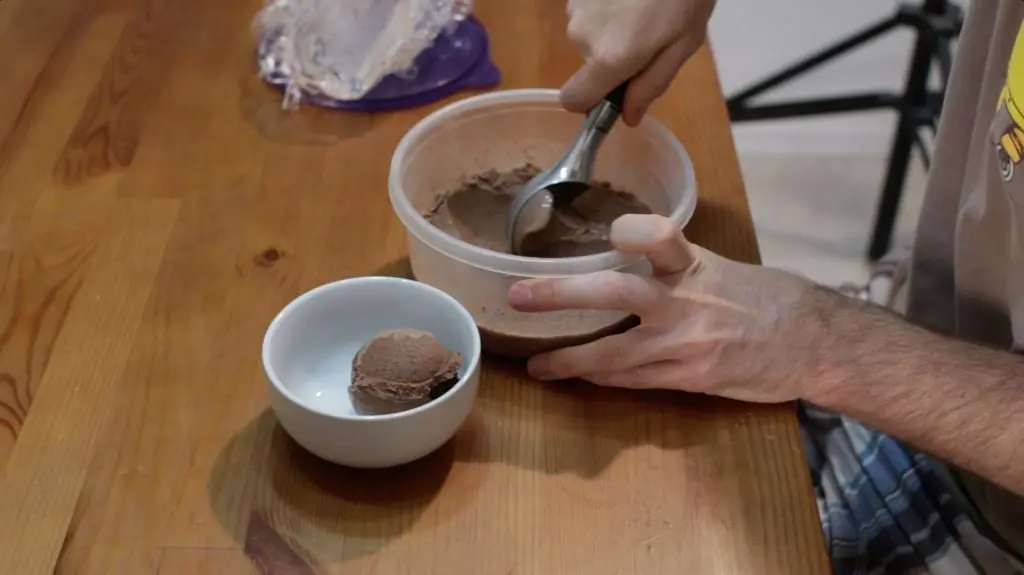 Once the chocolate ice cream has hardened up, scoop some into a bowl and serve it! Wasn't that easy? Enjoy.
How long will homemade chocolate ice cream last in the freezer?
Not very long because you will eat it so quickly. It will last about a week or up to 10 to 20 weeks depending on the temperature of the freezer. The warmer the freezer the sooner ice crystals will form on the ice cream. Eat it quickly or crank that freezer down to -5 F/-20 C.
Can I use this same ice cream base in my ice cream machine?
Yep, you certainly can!
Homemade Chocolate Ice Cream
This homemade chocolate ice cream is so easy to make using very few ingredients. Also, we won't be using any eggs, and no ice cream machine needed.
Equipment
Rock salt (about 1 cup)

Zip Lock bags, I am using 1 Gallon size

Sieve

Towels

Large bowl

Whisk
Ingredients
1

cup

of heavy whipping cream

240mL

1

cup

of whole milk

240mL

1/2

cup

of white granulated sugar

100g

1/4

cup

of semi sweet chocolate chips

40g

2

Tbsp.

of unsweetened cocoa powder

15g

1

tsp.

of vanilla extract

5mL
Instructions
Combine the milk and cream together in a medium bowl. Heat it in the microwave for 1 to 1.5 minutes, until very hot. Or pour it into a pot and use the stovetop.

Add the chocolate chips, sugar, and use a sifter or sieve to add the cocoa powder. Gently mix the ingredients and then just let it sit for 5 to 10 minutes. This will allow the sugar to dissolve and the chocolate chips to melt.

Add the vanilla extract and whisk the mixture well until all combined and the mixture is smooth. Cool the mixture down to room temp or place in the fridge to cool down. If it is warm it will take much longer to harden up, in the homemade ice cream maker.

Make the homemade ice cream maker by pouring the ice cream base into a ziplock freezer bag. Then place ice in another freezer bag. Place the ice cream bag inside that bag and then pile on more ice. Add a half of a cup of rock salt and close it up. Then, wrap it with a towel, since it will be really cold, and shake for 5 to 10 minutes until it hardens. It won't get completely hard, but more of a soft-serve consistency.

Place the ice cream into a freezer-safe container and add a bit of plastic wrap to the top. Press it down right on the top. This will keep ice crystals from forming. Freeze for 4 to 6 hours or overnight before serving. Enjoy!
Video
How to Make Chocolate Ice Cream | Easy Chocolate Ice Cream recipe in a bag no eggs
Notes
Nutrition
Do you like the recipe? Please give it a rating and comment down below, I really appreciate it. If you make it tag me on Instagram @inthekitchenwithmatt. Also, sign up for the newsletter so you won't miss out on any of my new posts and recipes.
Here are a few more recipes you may like:
Better Than Reese's Peanut Butter Cups