Jump to Recipe
That classic crunch from Nestle crunch bars is enjoyed by millions of people worldwide. Did you know you can make your own homemade crunch bars?
I love all things chocolate especially chocolate with texture and crunch. This homemade crunch bar recipe is so incredibly easy to make using only 2 basic ingredients.
And the awesome thing is you can use your favorite kind of chocolate, so there is a variety of crunch bars you can make. If I can do it, you can do it. Let's get started!
Step 1: Gather the ingredients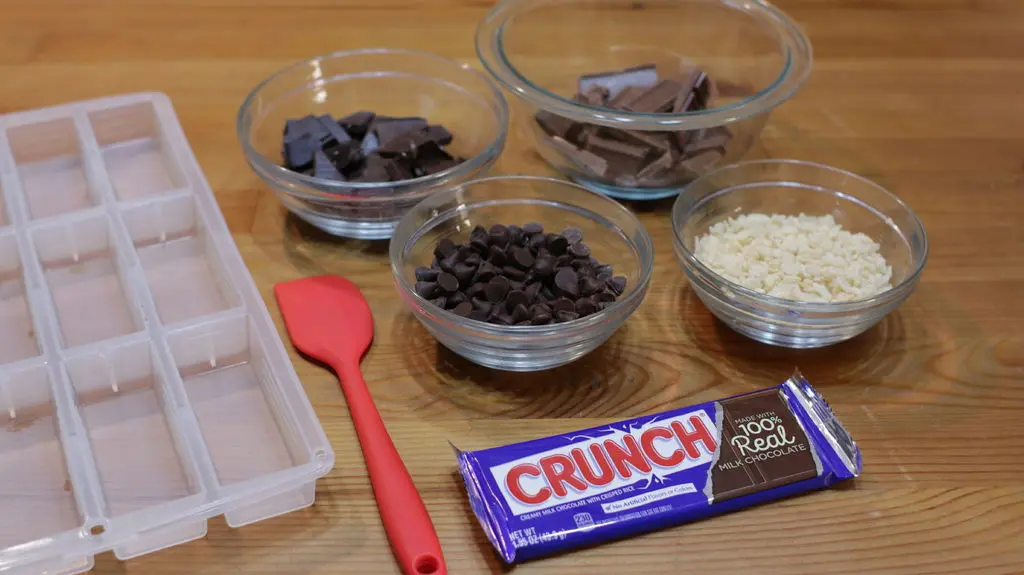 In order to make these homemade crunch bars you need to basic ingredients:
Chocolate – You can use whatever kind of chocolate that you like to make all kinds of flavors of crunch bar.
Rice Krispies – Rice Krispies or generic crisped rice is used to get that classic texture and crunch in the chocolate bar.
Tools
Bowls
Spoon
Silicone mat or parchment paper
Step 2: How to make homemade crunch bars
To begin you need to melt the chocolate. What kind of chocolate do you want to use? What kind of crunch bar do you want to make? Do you want a classic milk chocolate crunch bar? Go for it.
Maybe you want a semi-sweet crunch bar, use semi-sweet chocolate chips and go fo it! Or how about a Lindt 78% cocoa dark chocolate crunch bar? Go for it!
You get the idea, there are so many combinations and flavors that you can try out. Candy melts also work great especially if you will be leaving them out at room temperature.
Place the chocolate in a microwave-safe bowl and melt the chocolate in the microwave using the defrost setting for 45 seconds and then stir, 45 seconds, then stir, etc. until melted. Or on high for 25 seconds then stir, etc.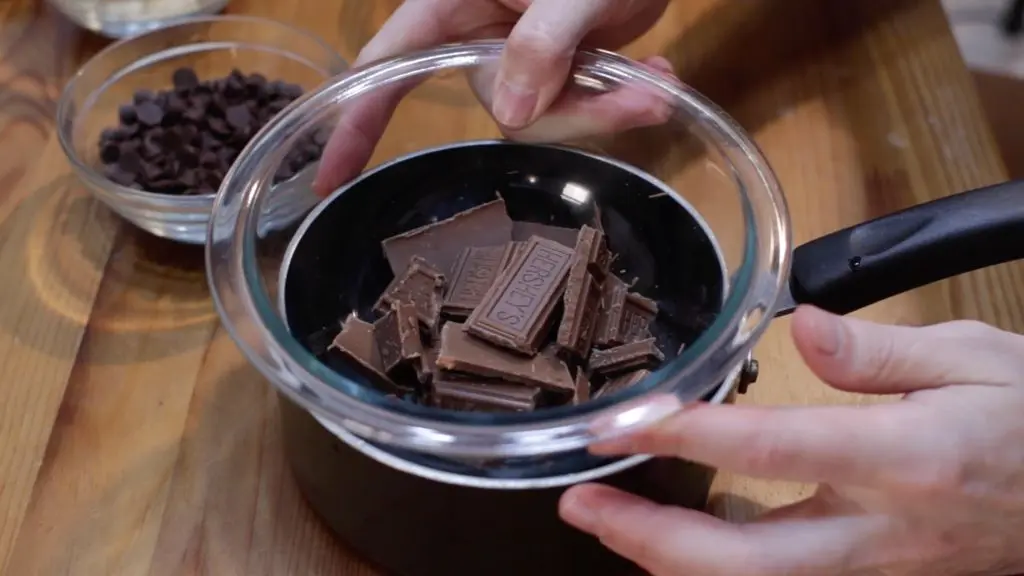 Or if you don't want to use a microwave you can melt the chocolate with the double boiler method. Place a medium bowl of chocolate on top of a small pot with about 1 cup of water.
Set the heat to medium and as the water heats up the steam will heat the bottom of the bowl and gently melted the chocolate.
So there are a few options you can use to melt the chocolate.
Note: I don't usually temper the chocolate because I just store the candy bars in the fridge. But you can temper the chocolate if you like.
Step 3: Getting that classic crunch bar crunch
How do we get that classic crunch with the homemade crunch bars? With crisped rice cereal or Rice Krispies. I find a 1 to 1 ratio of Rice Krispies to chocolate works great. But it doesn't have to be exact.
If you like more crisped rice add more, if you want a higher ratio of chocolate then use less crisped rice. It is totally up to you.
Add the Rice Krispies cereal to the melted chocolate and then fold and stir gently until evenly covered. Don't stir to hard otherwise you may damage the cereal.
Step 4: Homemade crunch bar pan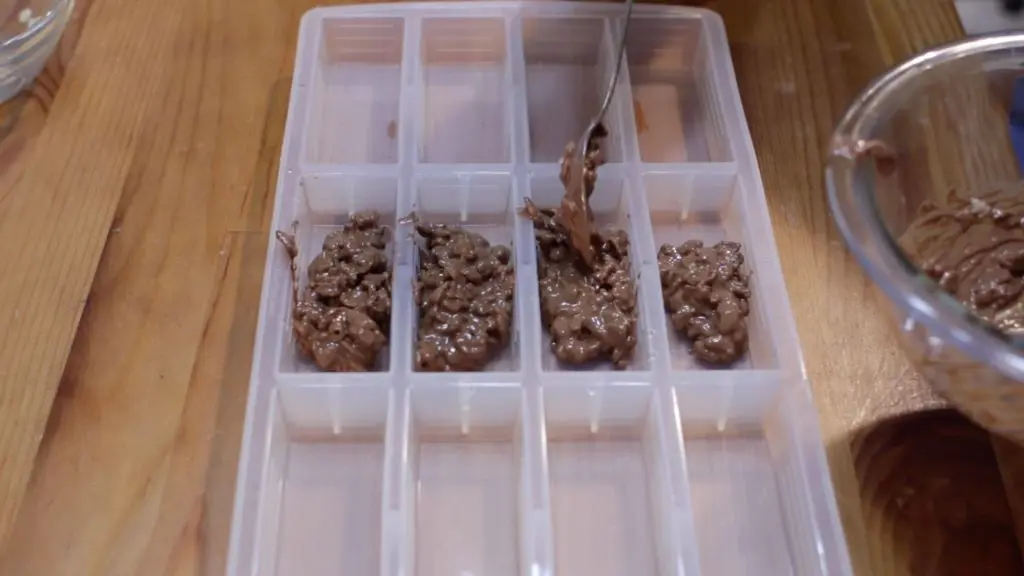 In order to get a nice candy bar shape I like to use either a candy bar pan or my granola bar pan. Scoop in the chocolate candy bar mixture evenly into the cavities of the pan. With this amount I can get 4 good sized candy bars or about 5 thinner ones.
Once you are done filling them up, smooth out the top a bit with the back of the spoon or a small narrow spatula. Give the pan a good tap on the table to settle the chocolate and the crisped rice.
The above picture has 3 batches with three different flavors. I used an almond blueberry chocolate bar on the left, a Symphony milk chocolate bar in the middle, and semi-sweet chocolate chips on the right.
 Alternatively if you don't have the candy bar molds, you can just scoop out the crunch bar mixture onto a sheet pan lined with parchment paper and shape them into bar shapes, or leave as mounds. The may not look pretty, but they will taste the same!
Place the homemade crunch bars in the fridge and allow the chocolate to set for about 30 minutes.
Step 5: Enjoy those crunch bars!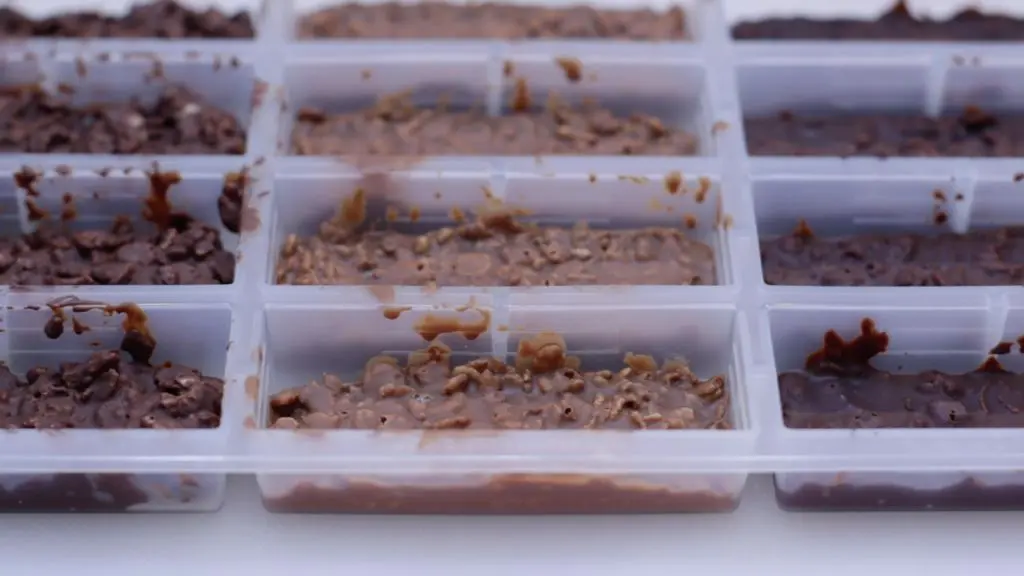 Once the chocolate has set it is time to eat those homemade crunch bars. Tug or squeeze on the sides of the silicone mold and push up on the bottom to release the candy bar.
The bottoms are really smooth and then you can see the texture on top. If you had a mold with a design, then that would show up as well, just like a classic store-bought Nestle crunch bar.
Take a bit and hear the crunch and see the texture on the inside. So yummy! The Symphony milk chocolate ones taste almost identical to the store-bought ones, although I like the homemade crunch bars a little bit more.
Homemade crunch bar vs Nestle Crunch bar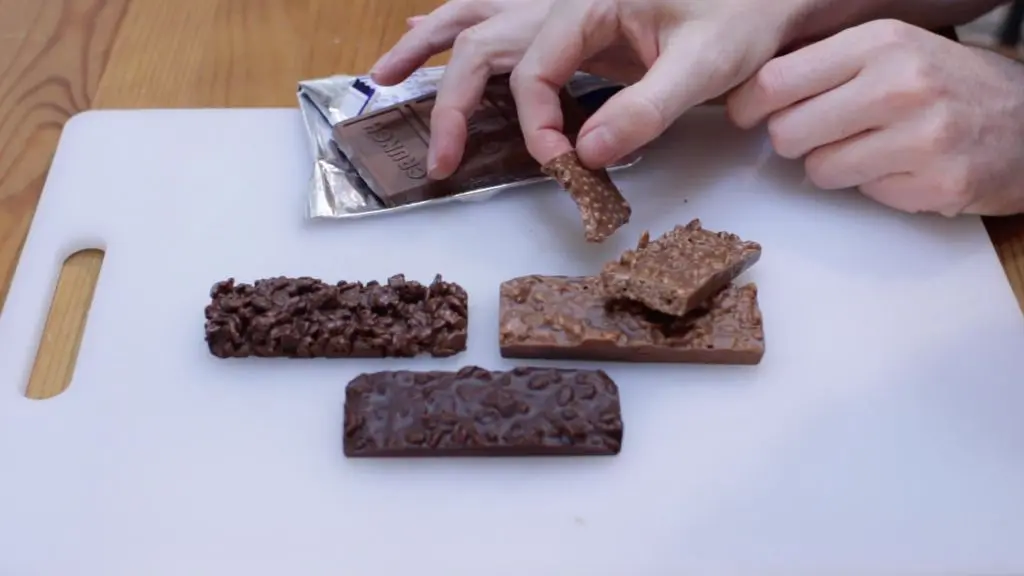 Now for a little comparison between the two candy bars. The Nestle one is a little wider but also thinner than the homemade one, although that really has to do with the pan I used. The crisped rice is a little different but taste pretty close to the same. Same great crunch!
Bottom line if you love eating chocolate candy bars and love the classic crunch bars, try making them at home and see what you think. I love them!
How long will homemade crunch bars last?
I store them in the fridge where they will keep for 2 to 3 weeks. You may also freeze them for several months.
Homemade Crunch Bars
These homemade crunch bars taste identical to the Nestle Crunch bars although I think the homemade ones are better. Plus you can make all kinds of different kinds of crunch bars with different chocolate. 🙂 You only need two ingredients! They are super easy to make, if I can do it, you can do it.
Equipment
Silicone Granola Bar pan or Candy Bar pan

Bowls

spoon

Silicone Mat or parchment paper (optional, if you don't have the candy bar mold)
Ingredients
1/2

cup

of chocolate

doesn't have to be exact (chocolate bars, chocolate chips, candy melts) (110g)

1/2

cup

Rice Krispies or Crisped Rice

doesn't have to be exact (13g)
Instructions
Begin by melting your favorite kind of chocolate. You can melt it in the microwave in a microwave-safe bowl using the defrost mode for 45 seconds then stir the chocolate, then defrost for 45 seconds, until melted. Or use the standard high setting for 25 seconds, stirring in between.

You may also use the double boiler method. Place the bowl of chocolate on top of a small pot with water in the bottom. Set the burner to medium heat and as the water heats up the steam will warm the bottom of the bowl gently melting the chocolate.

Gently mix together the crisped rice (Rice Krispies) in the bowl of melted chocolate. Fold and stir gently until all incorporated.

Evenly spoon the crunch bar mixture into your candy bar molds, making them as thick as you like. I like them fairly thin about 1/4 of an inch. Smooth out the top a bit with the back of the spoon or narrow spatula. Then chill them in the fridge for 30 minutes.

If you don't have a candy bar mold, just spoon the chocolate mixture onto a sheet pan or cookie sheet lined with parchment paper and shape them how you like.

Once they are chilled and the chocolate has set. Remove one from the mold and eat it! Notice that classic crunch. Enjoy!

Store them in the pan in the fridge, or remove them and store them in a single layer in a plastic bag. You can individually wrap them in parchment paper as well if you like.
Video
How to Make Chocolate Crunch Bars | Nestle Crunch Bar Copycat Recipe
Notes
The nutritional facts will vary depending on the type of chocolate you use.
Nutrition
Do you like this recipe? Please give it a rating and comment down below, I really appreciate it.  If you make it tag me on Instagram @inthekitchenwithmatt. Also, sign up for the newsletter so you won't miss out on any of my new posts and recipes.
Here are a few more recipes you may like:
Cheesecake Stuffed Chocolate Dipped Strawberries
Better Than Reese's Peanut Butter Cups