Jump to Recipe
Would you like some homemade french fries with that? As a kid I had a slight obsession with french fries, in fact, I still do. The salty slightly crisp on the outside, perfect on the inside bit of potato dipped in ketchup is the perfect side to any burger or sandwich.
Homemade french fries can be a bit tricky to get that perfect restaurant quality taste but with this step-by-step recipe guide, you will be making amazing homemade french fries in no time. These fries closely resemble the kind of fries that they serve at Five Guys.
Step 1: Gather the ingredients and tools
In order to make these homemade french fries you need a few ingredients and tools. You will need the following:
Potatoes (I use Russets, they work really well)
Oil (I like to use peanut oil, but any high smoke point oil should work, lard works great too)
Salt
Cold water – The cold water is going to help remove the starch from the potatoes.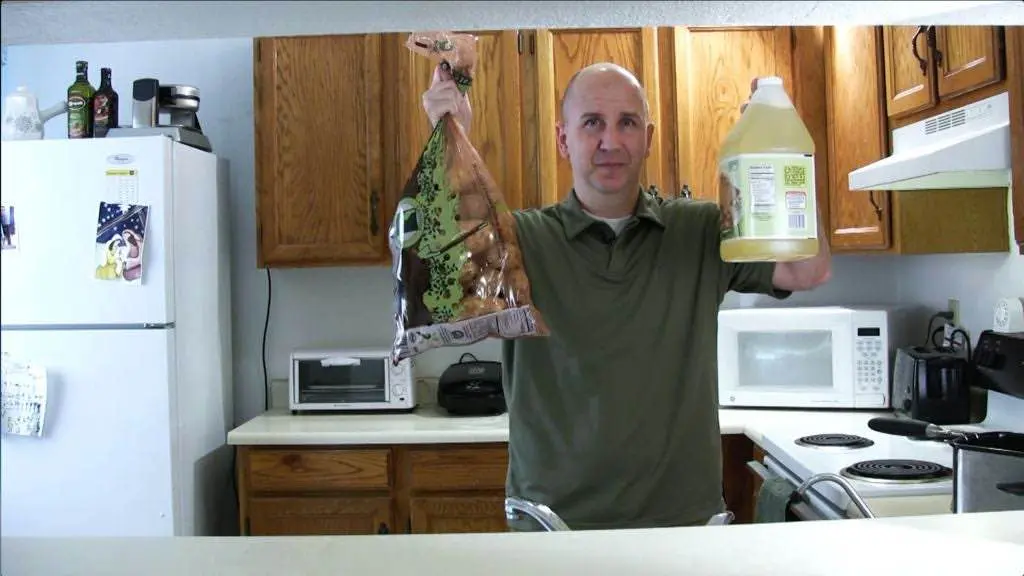 Tools
Step 2: How to make homemade french fries
Wash the potatoes really well. After they are washed you can peel them if you like. I don't peel mine. It's just a personal preference. I like the rustic homemade look the peels give them.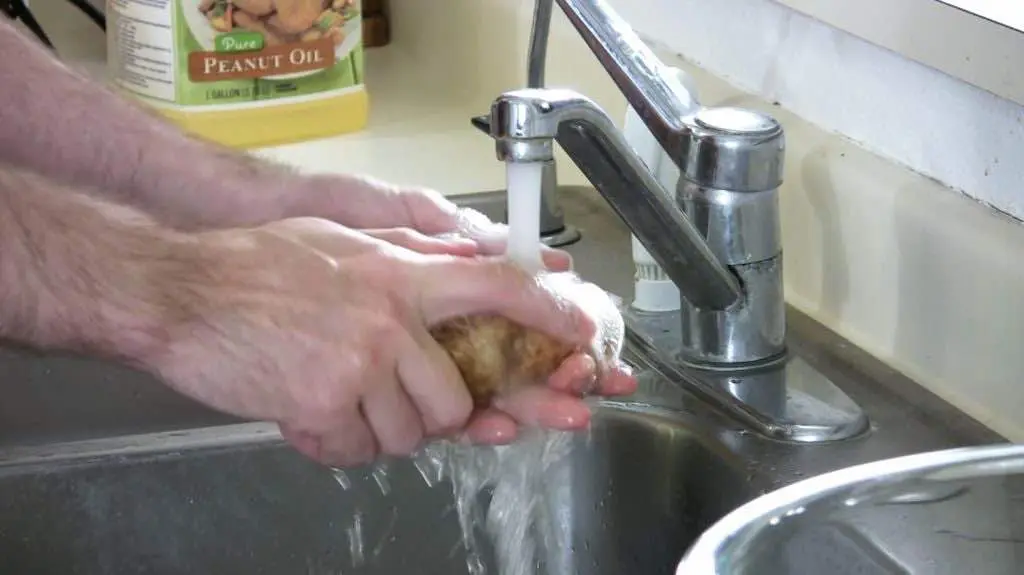 Step 3: Cut the potatoes for that homemade french fries shape
Now it is time to cut the potatoes into the classic fry shape. I have a handy fry cutter that I really like. It saves a bunch of time, but you can certainly just use a knife.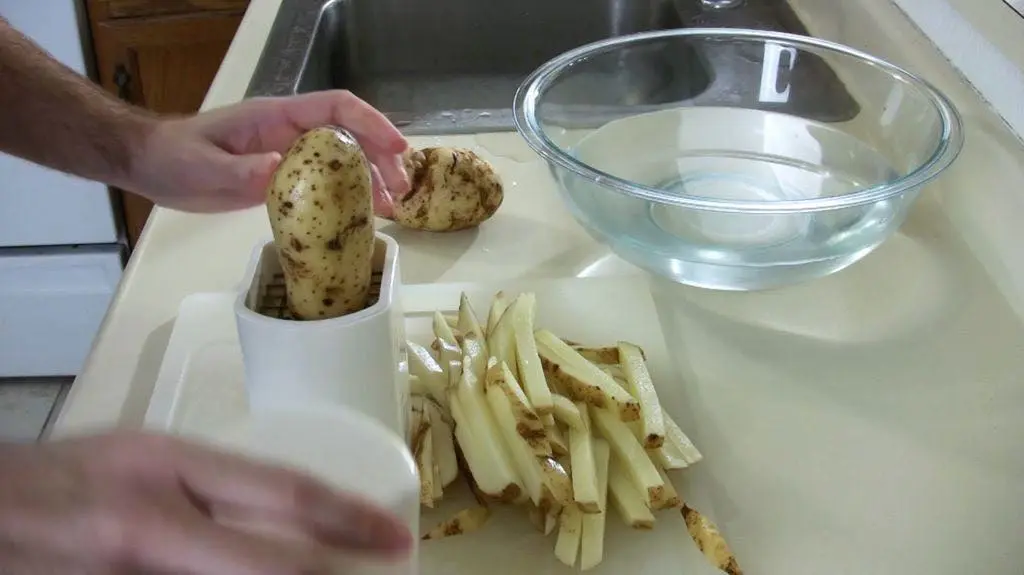 Step 4: Soak the potatoes
Next place the potatoes slices into a large bowl with really cold water. Make sure to add a couple of teaspoons of table salt as well.
Why do we do this? This process helps to remove the starch from those potatoes, resulting in a much tastier french fry. And it helps to prevent the fries from getting too brown.
The sugar in the starch tends to brown/burn easily in hot oil. Soak them for about 20 minutes.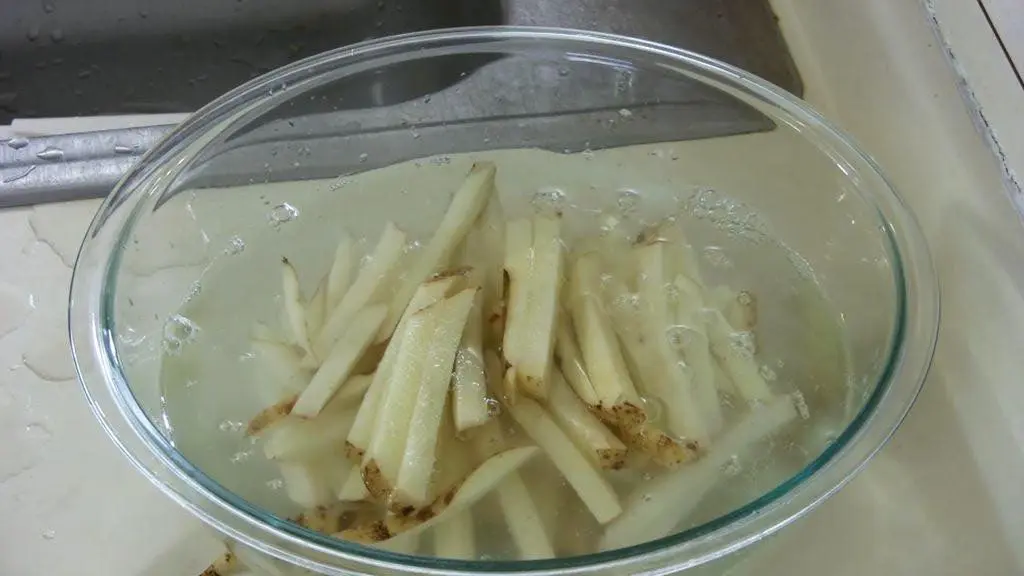 Step 5: Heat the oil
While the potatoes are soaking get the oil started. For large batches of homemade french fries, I generally use a deep fryer, which I really like, however a pot and candy thermometer will work just fine.
Heat the oil for the "first fry" to 320 degrees F. (160 C) You will wind up frying the potatoes twice.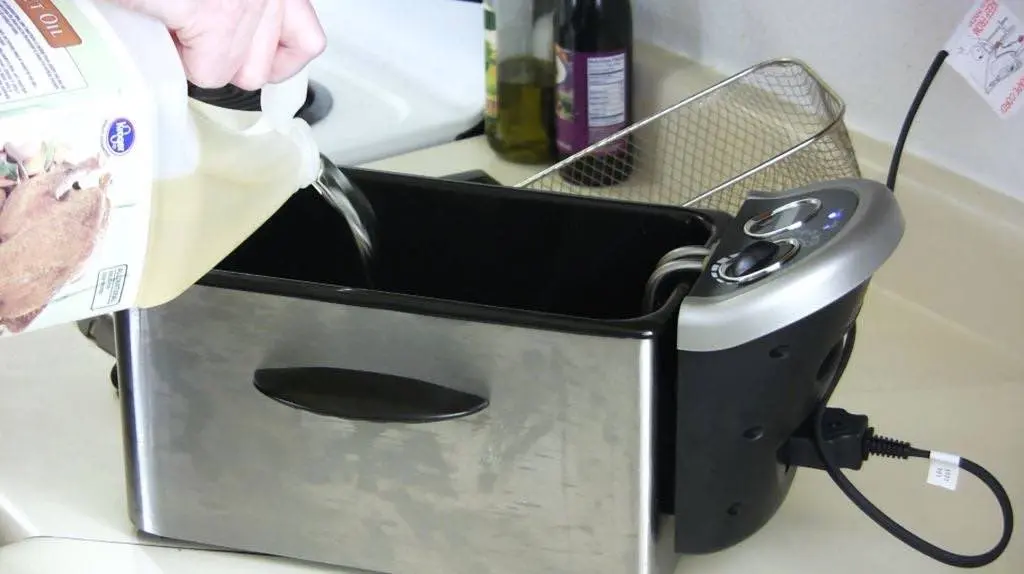 Step 6: Drain and dry the potatoes
Next, drain the water from the potatoes and place them on a paper towel. Use another paper towel to pat the potatoes dry. We want them fairly dry because water and hot oil do not play nicely together. 🙂
Step 7: First fry (low heat) then freeze them
Now place a small batch of potatoes into the deep fryer or pot and fry them on a lower heat around 320 degrees F (160 C) for 4 to 6 minutes until they are blonde in color.
You will probably need to wait a few minutes after a few batches and let the oil come back up to temperature.
Once they are done place them on a paper towel to dry, then place in freezer bags or Tupperware, to freeze them.
If you don't have time to freeze them, you can go to the next step. I like to freeze mine so I can make a ton upfront, and then freeze the ones I am not going to eat to fry up later.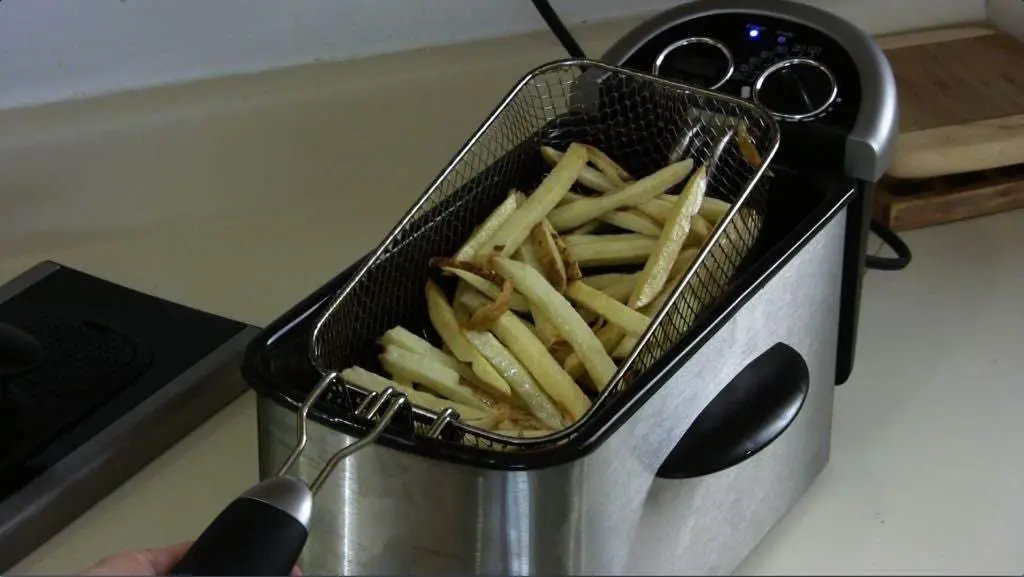 Step 8: High temp fry to finish the homemade french fries
Now once we have frozen our fries, let's turn up our heat to 400 to 425 degrees F. (205 C to 218 C). Or if your deep fryer doesn't go that high, put it on its highest setting.
Then comes our "Second" fry or "High Heat" fry. Take a batch of fries and place them in the hot oil, this time we will only be frying them for around a minute or so until they turn a nice golden brown.
Take them out and place them on a paper towel to drain the excess oil off and salt those fries up! Enjoy!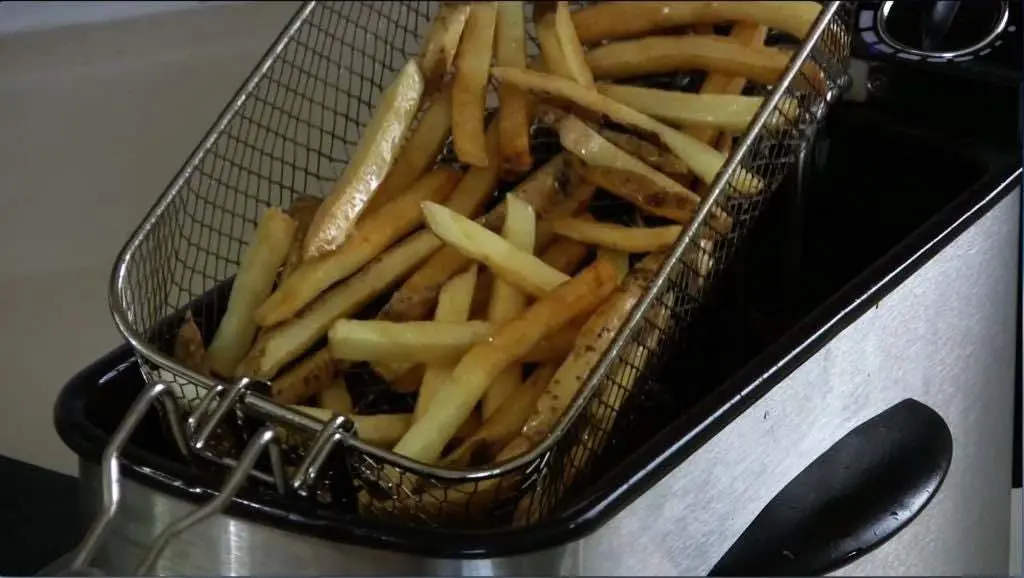 ***Note about the "Two-Fry Method" This is not a new method, nor my own method, it has been around for ages. The first fry will cook them almost completely without over-browning them, the second fry will cook them the rest of the way and crisp them up.
Can the oil be re-used for future french fries?
Yes! The oil can be used over and over again several times. But don't use it for something like chicken, only potatoes, chips, and fries. Store the oil after it cools down, back in its container it came in. Place it in a dark pantry, but not in the fridge.
Homemade Restaurant Quality French Fries
These homemade french fries are awesome! They taste very similar to the fries that you get a burger joints like Five Guys. Next time you make hamburgers don't forget to make some of these yummy french fries.
Equipment
Fry Cutter or knife

Deep fryer or deep pot

Candy Thermometer

Bowl

Paper towels
Ingredients
4

Potatoes

I use Russets, they work really well

Oil

I like to use peanut oil, but any high smoke point oil should work, lard works great too

Salt

to taste

Cold water

filtered water if possible
Instructions
Wash then peel (optional) the potatoes.

Cut the potatoes using a fry cutter or knife to get that classic fry shape.

Soak the potatoes in a large bowl of cold water with a few tsp. of salt for 20 to 30 minutes. This briny water will remove the starch from the potatoes.

As the potatoes are soaking heat up the oil to 320 F (160 C). Use a candy thermometer if you are using a pot or just use the setting on your deep fryer.

Drain and dry the potatoes on paper towel. It is important to get them as dry as possible. The water will react rather violently with the oil.

Place the fries in small batches in the oil and cook for 4 to 6 minutes until they are lightly blonde in color. Then set aside until the rest are done or place in a bag or Tupperware to freeze for later once they have cooled.

Next we heat the oil to 400 to 425 F (205 to 218 C.) If your deep fryer doesn't go that high just set it to its highest setting. This will be the second fry. Again cook the potatoes we just fried except this time only cook them for 1 minute or so. The "first fry" cooked them all the way through this "second fry" will crisp them up. Place on a plate with paper towel. Then enjoy!
Video
How to Make French Fries - Easy Amazing French Fries Recipe
Notes
*Note the nutritional facts will vary depending on the size of potatoes you use. This is based about using 4 medium sized Russet potatoes. 
Nutrition
Do you like this recipe? Please give it a rating and comment down below, I really appreciate it. If you make it tag me on Instagram @inthekitchenwithmatt. Also, sign up for the newsletter so you won't miss out on any of my new posts and recipes.
Here are a few more recipes you may like:
Soft Chewy Chocolate Chip Cookies