Jump to Recipe
Are you a hot dog lover? Do you enjoy baking bread? I love making and eating hot dogs that have homemade hot dog buns. They are incredibly light, fluffy, and super yummy.
Maybe you don't want to eat hot dogs? This recipe can also be used to make homemade hamburger buns if you like. Or you can make a combination of the two and make everyone in the family happy. They are really easy to make, if I can do it, you can do it. Let's get baking!
Step 1: Gather the tools and the ingredients
In order to make these homemade hot dog buns you just need a handful of everyday ingredients. Chances are you already have them in your pantry. You will need the following:
Water – I always use filtered water when cookie and baking, because my tap water tastes terrible.
Sugar – Sugar will be used for the yeast as well as to flavor the buns.
Active dry yeast – You can use rapid rise or instant yeast as well.
Oil – I generally use olive oil for these but vegetable or canola oil will work too. The fat in the oil helps to make the buns more tender.
Egg – The egg will aid in the rising of the dough as well as aid in creating a lighter softer texture.
Flour – Bread flour works really well with this recipe but you can use all-purpose/plain flour as well.
Salt – The salt will balance out the flavor and enhance the flavors of the other ingredients.
Butter – Butter will be used to baste on top of the buns.
Tools
Bowl
Plastic wrap or cloth
Sheet pan or cooking sheet
Parchment paper or silicone mat
Dough cutter or knife
Step 2: How to Make Homemade Hot Dog Buns
Begin by prepping the yeast. In a medium bowl combine the hot water (105 to 115F/40 to 44 C) and about 1 tsp. (5g) of the sugar. Then add the yeast. Mix them a bit with a fork and then allow the mixture to sit undisturbed for 5 to 10 minutes until it gets nice and foamy/frothy. If after 10 minutes you don't have any foam or froth, start all over, the yeast may be old or bad or the water was too hot or not hot enough.
Step 3: Add in oil, sugar, and egg
Once the yeast has been activated add in the oil, rest of the sugar, and whisk the egg and pour that in. Whisk all those ingredients together well. If these turn out a little too sweet once you make them the first time, you can reduce the sugar by half.
Step 4: Finish making the hot dog buns dough
Now in a separate bowl combine the flour with salt. Next add a cup of the flour to the bowl with the wet ingredients. Use a wooden spoon or a stand mixer to do this. Once that cup of flour has been incorporated do another cup, etc. Until the dough forms. You will have somewhere between 1/4th of a cup of flour and 1/2 cup of a flour left over. Pour that out onto the counter to add in while you knead the dough.
Step 5: Knead that homemade hot dog bun dough
Place the dough on a floured surface. Then knead the dough for 8 to 10 minutes. Add extra flour when it gets too sticky. To knead the dough place your hands on the dough and press down and out stretching the dough. Then fold it over onto itself and turn it one quarter of a turn. Repeat. Keep dough that.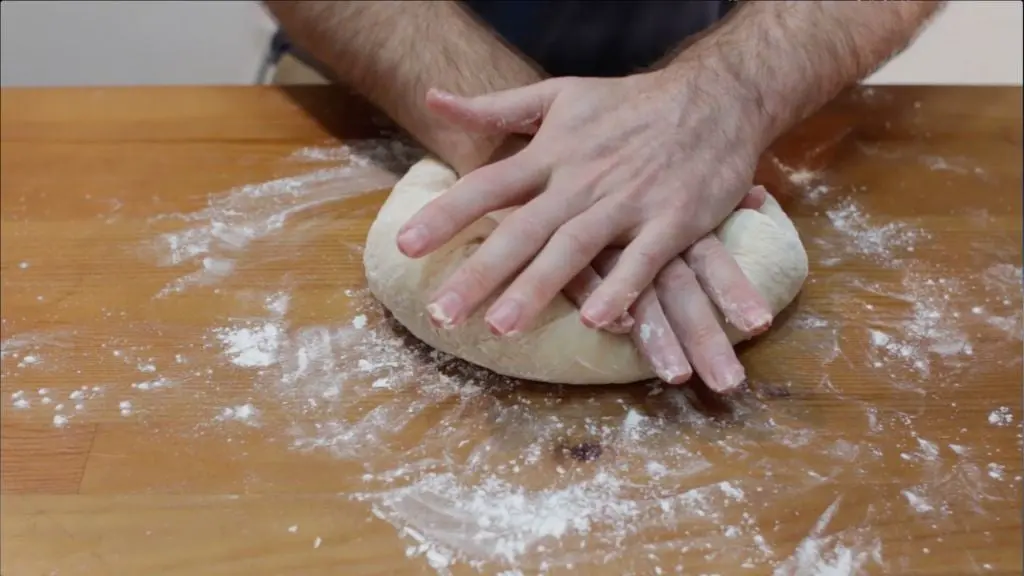 If you have a stand mixer with a dough hook you can use that too if you like. Once the dough has been kneaded take a large bowl and spray the inside with kitchen spray or use a little bit of oil. Place the dough in it and cover it with a damp cloth and allow it to rise for an hour until it doubles in size.
Step 6: Shape and cut the dough
Next punch down the homemade hot dog buns dough and place it on the floured surface. Divide the dough into equal pieces. You should be able to get 16 standard size hot dog buns or 10 to 12 really large buns. If you want to be really precise use a scale to weigh the total amount of dough first then divide it in equal parts by weight.
Shape the dough pieces into balls first and then roll them out into long hot dog shapes. Another method is to roll them flat and then fold in the dough into thirds. Flipping the dough over and placing it seam side down. Shape the dough however you like. Once done place the dough on a sheet pan lined with parchment paper or a silicone mat.
Baste the tops of the buns with melted butter. Then cover them loosely with plastic wrap and then a damp towel over the plastic wrap. Allow them to rise another 30 minutes.
Step 7: Bake and cool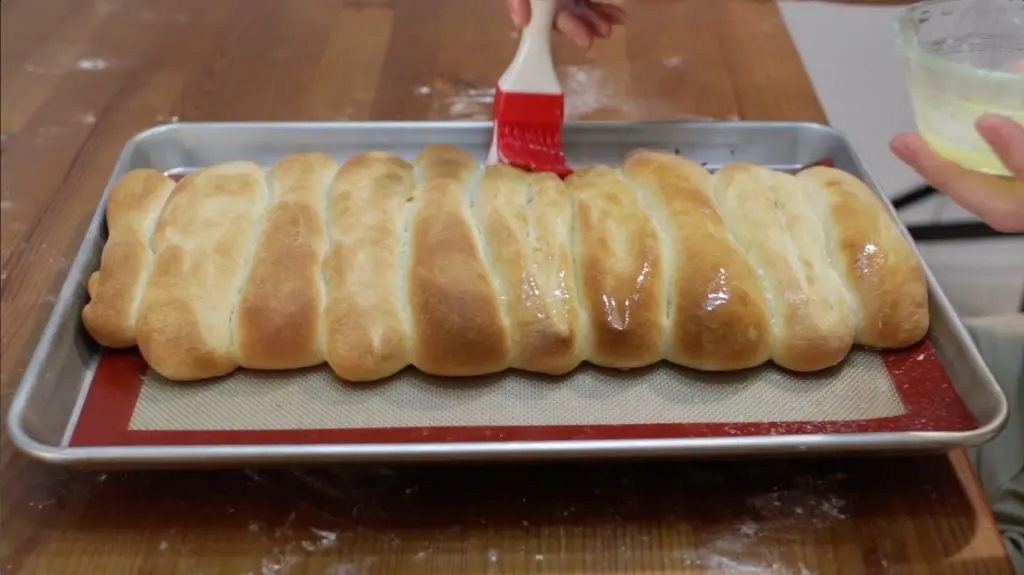 Once the hot dog buns have risen, preheat the oven to 375 F/190 C. Bake them for 20 to 25 minutes until they are nice and golden brown. After you remove them from the oven baste them again with melted butter on the top. Allow them to cool a bit before slicing them and serving. Enjoy!
Can I freeze homemade hot dog buns?
Yes you can freeze the homemade hot dog buns. Place them in a plastic bag and deflate as much air out as possible, then tie it with a twisty tie. Place them in the freezer where they will last up to 3 months.
Can I use this recipe for homemade hamburger buns?
Yes you can use this same exact recipe for homemade hamburger buns.
Homemade Hot Dog Buns
These homemade hot dog buns are awesome. They are light and fluffy and can be made as large or as small as you want. Also, you can make hamburger buns out of them as well if you like. They are also incredibly easy to make.
Servings:
16
hot dog buns
Equipment
Bowl

Plastic wrap or cloth

Sheet pan or cooking sheet

parchment paper or a silicone mat

Basting brush
Ingredients
1 1/8

cups

of water

I use filtered (267mL)

1

Tbsp.

active dry yeast

8g

1/3

cup

oil

olive, vegetable, etc. (71g)

3

Tbsp.

of white granulated sugar

38g

1

large egg

3 to 3 1/3

cups

of bread flour

or all-purpose/plain flour (360 to 400g)

1

tsp.

salt

4g

Butter for basting
Instructions
First, get the yeast started. Add the hot water (105 to 115F) to a large bowl. Next, add a pinch of the sugar to the water. Now add in the active dry yeast. Agitate the yeast in the water a little bit and then let it sit until it gets foamy (5 to 10 mins).

Now add in the oil and sugar. Beat an egg in a separate bowl and then add that in as well. Combine all those ingredients together well with a whisk.

Whisk together the flour and the salt then add in a cup at a time to the large bowl of other ingredients. Use a wooden spoon or dough hook on a stand mixer from this point on. Continue stirring or mixing and adding the flour until a nice dough forms. You will have some flour left over.

Knead the dough by hand or with a stand mixer for 8 to 10 minutes add the extra flour as necessary.

Cover the dough with a damp towel and or plastic wrap and let it rise for 1 hour or until doubled.

After the dough has risen, punch down the dough and cut it into 16 equal pieces or if you want them larger into 12 equal pieces. Roll them out into hot dog bun shapes or hamburger bun shapes. Place them on a sheet pan lined with parchment paper or a silicone mat.

Baste the tops of the homemade hot dog buns with butter and then cover them loosely with plastic wrap and a damp towel. Let them rise for about 30 minutes. Remove the plastic wrap and towel.

Preheat the oven to 375 F/176 C. Then bake the hot dog buns for 20 to 25 minutes until golden brown on top. Again baste them with butter and then allow them to cool before serving. Enjoy!
Video
How to Make Hot Dog Buns | Easy Homemade Hot Dog Bun Recipe
Notes
Nutritional facts based on the smaller sized hot dog bun. 
Nutrition
Do you like this recipe? Please give it a rating and comment down below, I really appreciate it. If you make it tag me on Instagram @inthekitchenwithmatt. Also, sign up for the newsletter so you won't miss out on any of my new posts and recipes.
Here are a few more recipes you may like: