Jump to Recipe
Kit Kats are one of my favorite candy bars. These homemade Kit Kats bars are a super easy copycat version of the originals. And the cool thing is you can do all kinds of different flavors.
Do you want a chocolate wafer cookie Kit Kat? You can make one! Do you want a strawberry Kit Kat? You can make one! I love the variety of flavors that you can make at home. These cookie bars are so easy to make, if I can do it, you can do it. No baking required. Let's get started!
Give me a break, give me a break, break me off a piece of that Kit Kat bar…
Step 1: Gather the ingredients and tools
All you need to make these copycat homemade Kit Kats are a few ingredients and tools:
Wafers – These pre-made wafer cookies are easy to find at places like Walmart. There are a variety of brands and flavors that you can buy. They are usually extremely cheap as well.
Chocolate – I usually use candy melts because you don't need to temper the chocolate and they can stay out on a plate longer before getting soft. With that said, you can use different flavors of chocolate if you want, milk chocolate chips, semi-sweet, dark chocolate, etc.
Tools
Bowl
Fork
Spoon
Sheet pan or cookie sheet
Parchment paper or silicon mat
Knife
Step 2: How to make homemade kit kats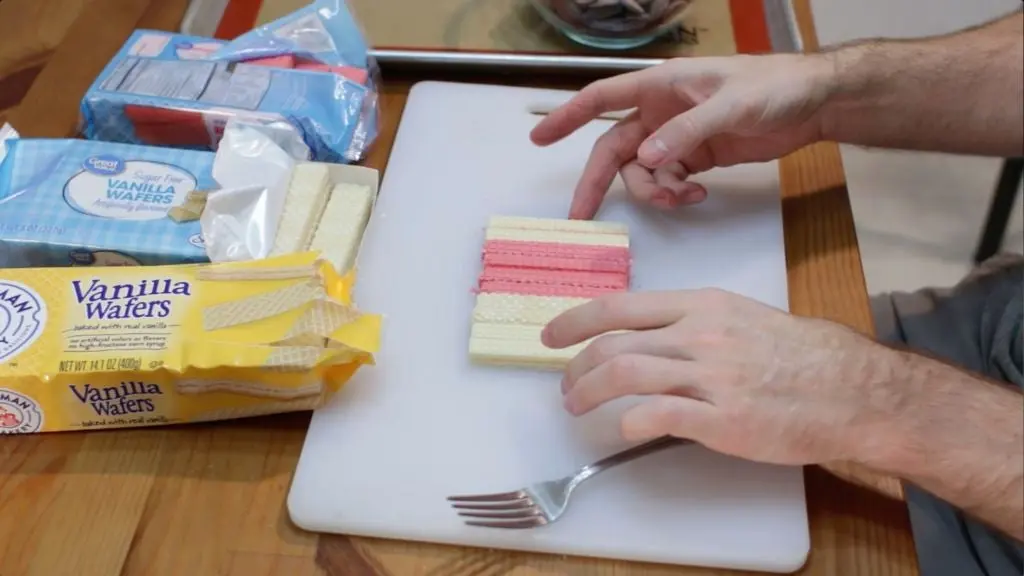 Begin by taking your wafer cookies and cutting them in half lengthwise. If you don't cut them in half they will be too wide and won't resemble Kit Kats. This is where you can pick different flavors of wafers. They generally have vanilla, strawberry, and chocolate wafer cookies. These bags of wafers are extremely cheap.
Step 3: Melt and Dip
Take your chocolate candy melts, chocolate chips, chocolate bars, and place them in a microwave safe bowl. Melt them in the microwave with bursts of 30 seconds, stirring in between until the melts. You may also use the double boiler method on the stovetop to melt the chocolate.
Go crazy with the chocolate flavors if you want. Make some dark chocolate homemade Kit Kats, milk chocolate ones, semi-sweet, and then switch up the flavors of wafer cookie to make several different combinations of copy cat Kit Kats.
Dip the wafer in the chocolate with a fork, allow the excess chocolate to drip off, and then place it on a silicone mat lined sheet pan, or use parchment paper.
Step 4: Chill those homemade Kit Kats
Once you have them all dipped, place the pan in the fridge and allow the chocolate to set. This takes about 20 to 30 minutes.
Once chilled those homemade Kit Kats bars are ready to eat. If you are taking them to a party the chocolate candy melts work great, since you can leave them out at room temp without worrying that the chocolate will melt. But normal chocolate works great too especially for those amazing flavor combinations. Serve them up and enjoy!
How long do homemade Kit Kats last?
Not long at my house, I gobble these candy bars up. If stored in an airtight container in the fridge they will last 2 to 3 weeks. You can freeze them for a much longer shelf life.
Homemade Kit Kats
Kit Kats are one of my favorite candy bars. I love these homemade kit kats copycat versions. There are so many variations and flavors that you can do. So yummy! Plus they only require 2 ingredients, how easy is that?
Equipment
Bowl

Fork

spoon

Sheet pan or cookie sheet

parchment paper or silicone mat

Knife
Ingredients
10

Wafers

chocolate, vanilla, strawberry

1 1/2

cup

Chocolate

candy melts, chocolate chips, etc.
Instructions
First, cut the wafers lengthwise in half. Use whatever flavors of wafers that you want. They usually have vanilla, strawberry, and chocolate.

Melt the chocolate in the microwave or use the double boiler method. If using the microwave use bursts of 30 seconds and stir the chocolate in between until it is melted. On the stovetop place a small pot with about 1 inch of water in it. Place a bowl on top of that pot and set the chocolate in that. Boil the water. As the steam from the water hits the bowl above it, the bowl will heat up slowly melting the chocolate.

Dip the wafer halves in the chocolate and allow the excess to drain. Place the dipped wafers on a parchment paper-lined sheet pan or silicone mat lined pan.

Chill in the fridge until the chocolate sets, about 20 to 30 minutes. Enjoy!
Video
How to Make Kit Kat Bars | Easy 2 Ingredient Kit Kats
Notes
These nutritional facts are based on having 2 of the homemade kit kats.
Nutrition
Do you like this recipe? Please give it a rating and comment down below, I really appreciate it. If you make it tag me on Instagram @inthekitchenwithmatt. Also, sign up for the newsletter so you won't miss out on any of my new posts and recipes.
Here are a few more recipes you may like: