Jump to Recipe
Homemade Rock Candy is awesome! It really is food science working at its finest. Not only is it a fun science experiment to do but the end result is so tasty.
Using just a few ingredients you can make rock candy at home. It would make a great activity to do with the kids as well. Maybe someone needs to conduct a science experiment for school? This would work perfectly for that. It is easy to do, if I can do it, you can do it. Let's get started!
Step 1: Gather the ingredients and tools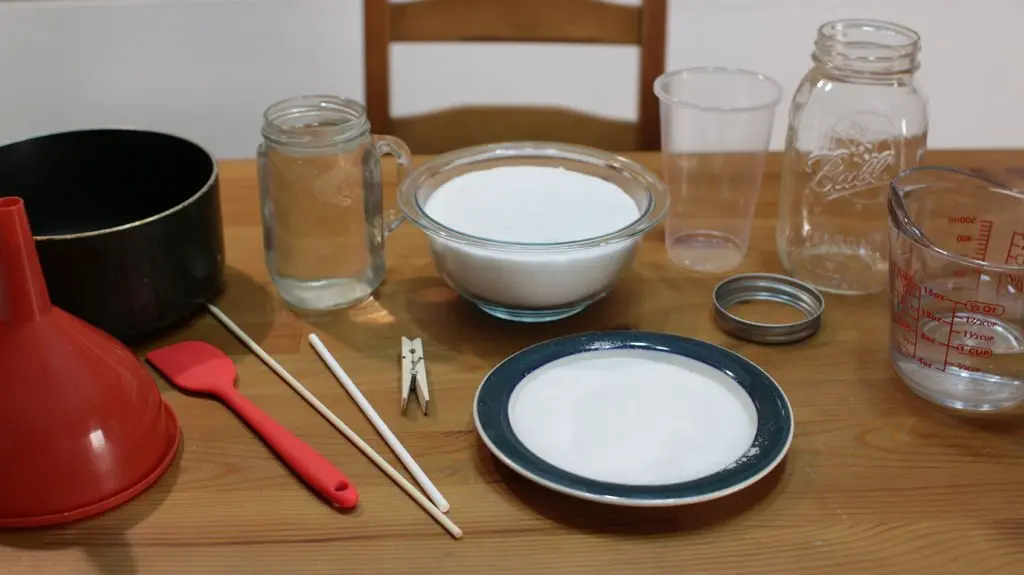 Homemade rock candy only requires a few simple ingredients. You will need:
Water – I generally use filtered water, since my tap water tastes gross.
White granulated sugar – White sugar is the star of the dish. You can't make rock candy without the sugar.
Food coloring – This is an optional ingredient. It is great for making all kinds of different colors.
Flavoring – There are a variety of flavorings that you can put in your rocky candy. So you can make all one flavor or many different flavors of candy.
Tools
Pot
Wooden spoon or spatula
Lollipop sticks, bamboo skewers, strings, popsicle sticks, etc.
Wide glasses or mason jars
Clothespins
NOTE: A candy thermometer is not needed to make this homemade rock candy recipe.
Step 2: How to make homemade rock candy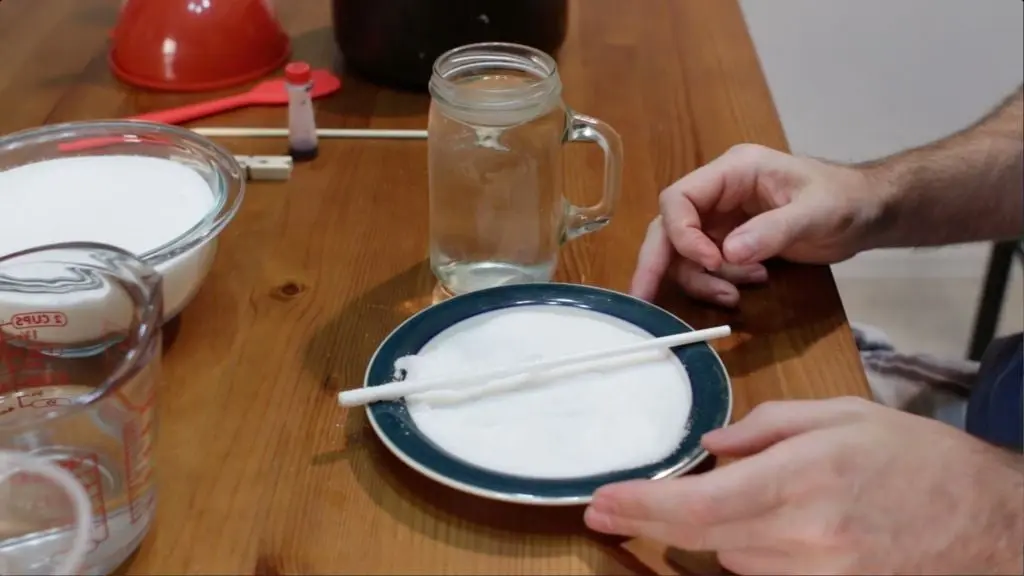 To begin you need something for the rock candy crystals to form on. I generally use cake pop or lollipop sticks, strings are used frequently. I have also used bamboo skewers as well. You can also try using a popsicle stick.
Dip the stick in water and then roll it into a plate that has some white granulated sugar on it. Little sugar crystals will stick to the stick. These are what are called "seed crystals." The other crystals will attach themselves to these. Once the sticks are coated allow them to dry for 25 to 30 minutes.
Step 3: Create the sugar solution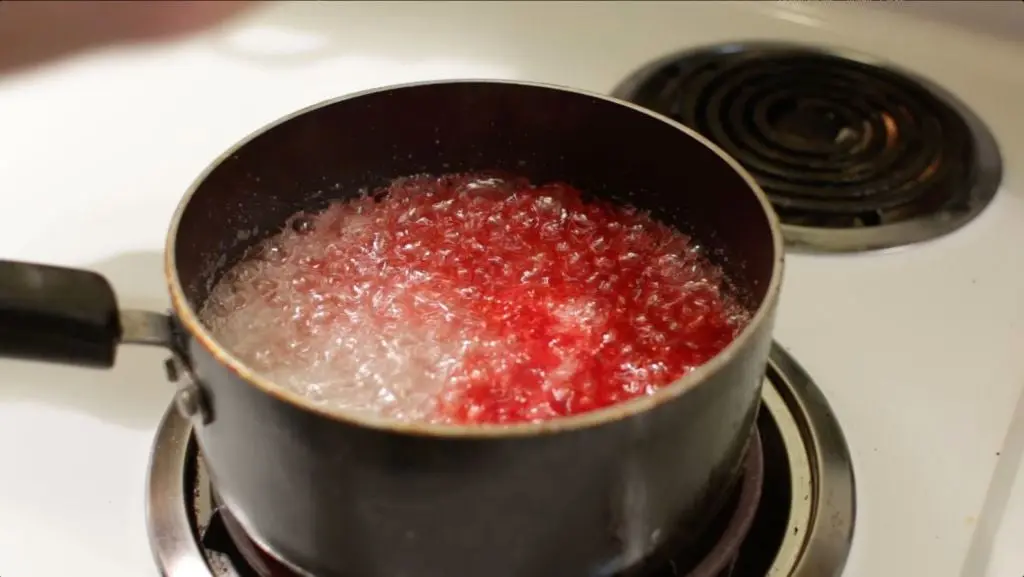 Time to make the sugar solution. Take a medium saucepot and add in the water. Place it on the stovetop and turn the heat to medium. You can use between medium heat and medium-high heat will work fine for this sugar mixture.
Once the water starts to simmer add in one of the cups of white sugar. After that sugar dissolves add in another cup and repeat with the last cup of sugar. In total, there will be 3 cups of sugar. Stir the mixture and bring it to a boil. There is no need to use a candy thermometer. We don't have to get a specific temperature, just need to get it to a rolling boil.
Once it comes to a rolling boil add in drops of food coloring until you get the desired color and any hard candy flavoring oil that you may have. Mix it in and then turn off the heat.
Allow the hot sugar solution to cool for 20 minutes until it reaches about room temperature, if it is too hot the sugar on the rock candy sticks will just melt right off. This is the base solution for hard candy rock crystals.
Note: Please do not touch the liquid or the pot it is extremely hot and will burn you. Young children should have adult supervision when making rock candy at home.
Step 4: Containers for the DIY Rock Candy to grow in
Next, you need some sort of container to put the solution in. The container shouldn't be too narrow it needs to be wide enough to allow for crystal growth without sticking to the sides.
I generally use a large mason jar or other glass jars for my rock candy (800 ml size). That size jar will make one large rock candy. Or can can try it with smaller containers. Honestly, all you need is some sort of empty jar to make this. I have even used clear plastic cups as well.
Use a funnel so it is easier to fill up the jar. Leave about an inch to an inch to two inches of space from the top. Add a circular ring to the top of the jar and then dip one of your sugar sticks in it and attach it with a clothespin.
Make sure there is an inch and a half of space between the bottom of the jar/container and the stick. If you want to make a few different colors and different flavors of candy, don't add the food coloring and flavoring oil while the solution is heating. You can add it to the individual jars instead.
Now it is time to wait for those sugar crystals to develop and yes it will require a little bit of patience. Unfortunately, you just can't rush food science. It takes as long as it takes which is usually 5 to 7 days for a good amount of crystals to form making that awesome rock candy.
Step 5: Homemade Rock Candy has formed!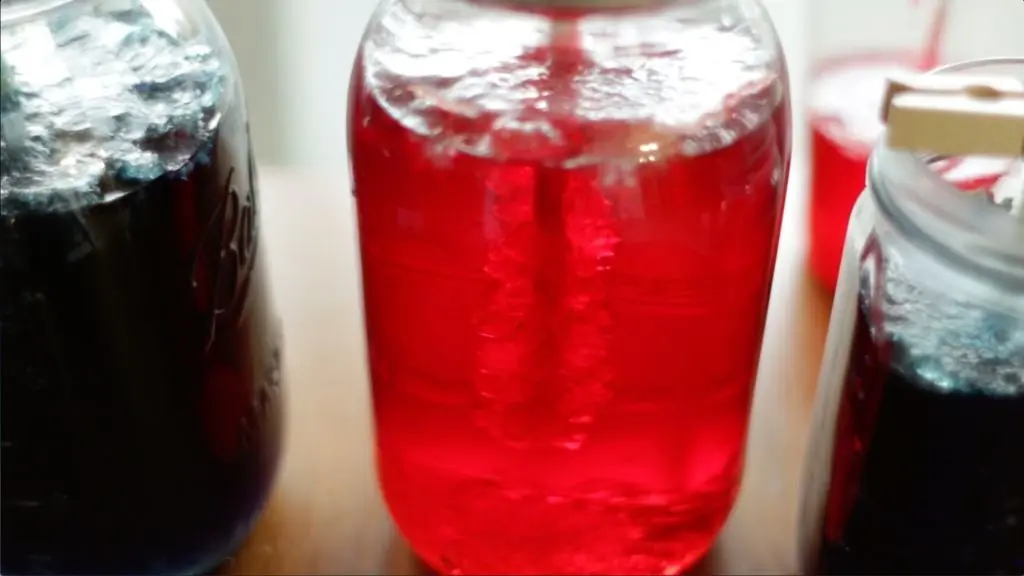 After a few days, you will be able to see the progress of rock candy. Notice the film of sugar that has grown on the very top surface of the sugar solution, this is normal. Time to remove the candy from the solution.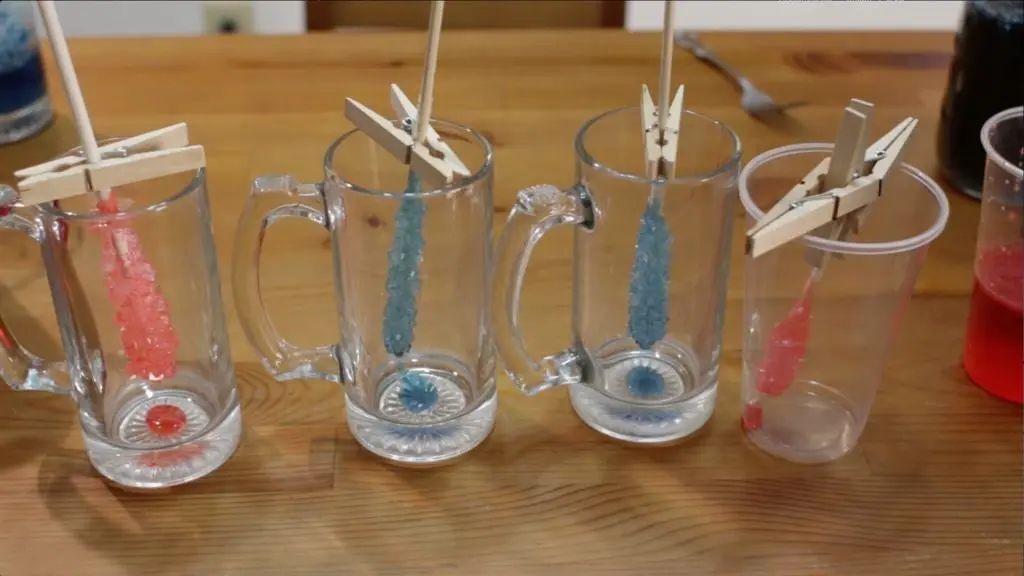 Use a fork and gently break apart the thin layer of sugar crystals on the top. Pull the stick with the rock candy out of the solution and place it on another glass to dry.
This will allow any dripping sugar water to be contained. Let them dry for about 4 hours. The longer you allow them to sit in the water the larger the crystals will grow. Don't they look awesome? You just made your very own rock candy.
While this is an easy recipe it isn't foolproof. It is a food science experiment so you are bound to run into a few issues the first few times you try it. Below are some common issues and how to solve them.
Rock Candy Troubleshooting Tips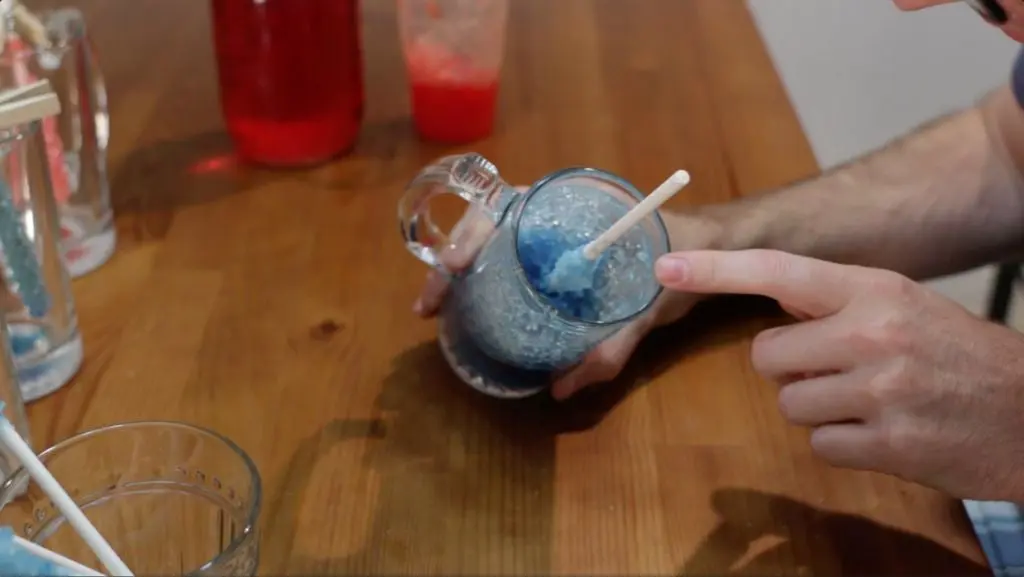 It is possible that so many crystals will grow in the glass or cup up the sides of the jar and the stick will get stuck. This glass is a little too narrow of a glass. This is science but not always an exact science, meaning sometimes the sugar crystals just don't grow how you want them to.
I have found an 800 ml size mason jar that works great, it is about 3.5 inches wide and 6.5 inches tall. But it will only make one large candy with this recipe. The cool thing is the science still worked.
Sugar crystals did form, just too well, because the stick won't come out. Sometimes you can run hot water on the bottom of the glass to release the stick.
Why are my rock candy crystals so small?
Was your glass or container cold by chance? When pouring the hot liquid into the container it may have cooled quicker causing the development of smaller crystals. One way to avoid this is the heat the jar up on the outside with hot water before adding the sugar solution. Or just a metal container like a wide thermos.
How long can I store the rock candy?
Rock candy, if stored in a dry place, can last for up to a whole year.
Can I reuse the leftover liquid?
Yes, you can reuse the leftover sugar syrup. If you want to make more rock candy, just heat it up with an additional cup of sugar, to replace the sugar that grew on the previous stick.
How do I clean the mason jar or glass after growing the rock candy?
Sometimes when you make rock candy the whole bottom of the glass gets covered with crystals, and they seem to grow everywhere but on the stick, haha.
It can be a little bit of a pain to clean the glass. I find running incredibly hot water in the glass for a few minutes will melt the sugar enough to get it out of the glass. If you use something like a plastic cup, you can just throw it out.
Can I make rock candy with powdered sugar or brown sugar?
No powdered sugar will not work very well for making the candy. However, brown sugar will work. The very best thing to use is just plain old white granulated sugar.
Homemade Rock Candy
Making rock candy at home is a fun science experiment that you can eat! You can experiment with different colors and flavors. It is a great activity to do with the kids. It is extremely easy to make using just a few ingredients. Remember though this is a science experiment more than it is an exact recipe. Sometimes you can do everything right and the crystals just don't behave, haha.
Equipment
pot

wooden spoon or spatula

lollipop sticks or bamboo skewers

wide glasses or mason jars (400 to 800ml) or wide metal thermos

clothespins
Ingredients
1

cup

of water

240 ml

3

cups

of white granulated sugar

600 g

1 – 2

tsp

flavoring
Instructions
Begin by dipping the sticks in water and then rolling them in sugar. A plate works well to hold the sugar. I only dip it where I want the sugar crystals to grow. Set the sticks aside and allow them to dry. These are the seed crystals that the other crystals will grow on.

Add a large pot to the stovetop and set to medium heat. Pour in the water and bring it to a simmer. Then add in the sugar a cup at a time, stirring it to dissolve the sugar. Bring it to a boil. If you are only using one color and flavor you can add it in right when it boils.

Remove the pot from the heat and allow the sugar solution to cool for 20 minutes.

After 20 minutes run the tap water until it gets really hot, let the water run over the glass or mason jar to heat it up until really warm. Make sure to use a wide glass or mason jar like the 800ml kind if you want larger candies, but you will get fewer of them, with this amount of liquid you will get 1 large one. Smaller mason jars or glasses for smaller candies, but you will get more of them. 2 to 3 of them.

Pour the hot sugar solution into the containers. If you are using a metal thermos no need to heat it up. If you want different colors now would be the time to add those colors and flavors.

Attach a clothespin to a sugar stick and set it in the solution. If necessary use a metal ring on top of the mason jar so the clothespin can sit on it. Try and keep the stick in the very middle of the glass and at least 1.5 inches from the bottom. If it is too close to the bottom the crystals might fill up the bottom.

Let the crystals form for 3 to 5 days. Use a fork and gently break away any thin layer of sugar that has formed on the surface of the solution. Then pull out the rock candy and place in another container to dry for 4 hours. That's it! Enjoy!
Notes
1.) Each jar of the solution has much more solution than the resulting piece of rock candy. You may reuse the solution, but you will need to reheat it and add another cup or so of sugar to replace the sugar loss.
2.) The amounts of candies will totally vary depending on what size container you use, you can make smaller candies with smaller containers, bigger containers/jars will hold more liquid making fewer candies.
Nutrition
Do you like the recipe? Please give it a rating and comment down below, I really appreciate it. If you make it tag me on Instagram @inthekitchenwithmatt. Also, sign up for the newsletter so you won't miss out on any of my new posts and recipes.
Here are a few more recipes you may like: