I love all things citrus and one of my favorite citruses is pomelo. There are several varieties of pomelo, Siamese Pink, Siamese Sweet, Chandler, Oroblanco, Tahitian, and a handful of others one of which is a classic pink pomelo that is green on the outside and pink in the middle. In this article, I will talk all about the Honey Pomelo.
Learn all about the amazing Honey Pomelo, where it comes from and where it grows, what the nutritional benefits are, how to eat it, and what it tastes like. It is one awesome citrus. On to the information!
Where does the Honey Pomelo come from and where does it grow?
The pomelo (citrus maxima) is the largest of the citrus in the family Rutaceae. Pomelos are natural and not a hybrid fruit. They are also known as Pummelo, Shaddock, Jabong, Jambola, Bhogate, and Chakota, in different countries. They grow all around the world but are native to Southeast Asia.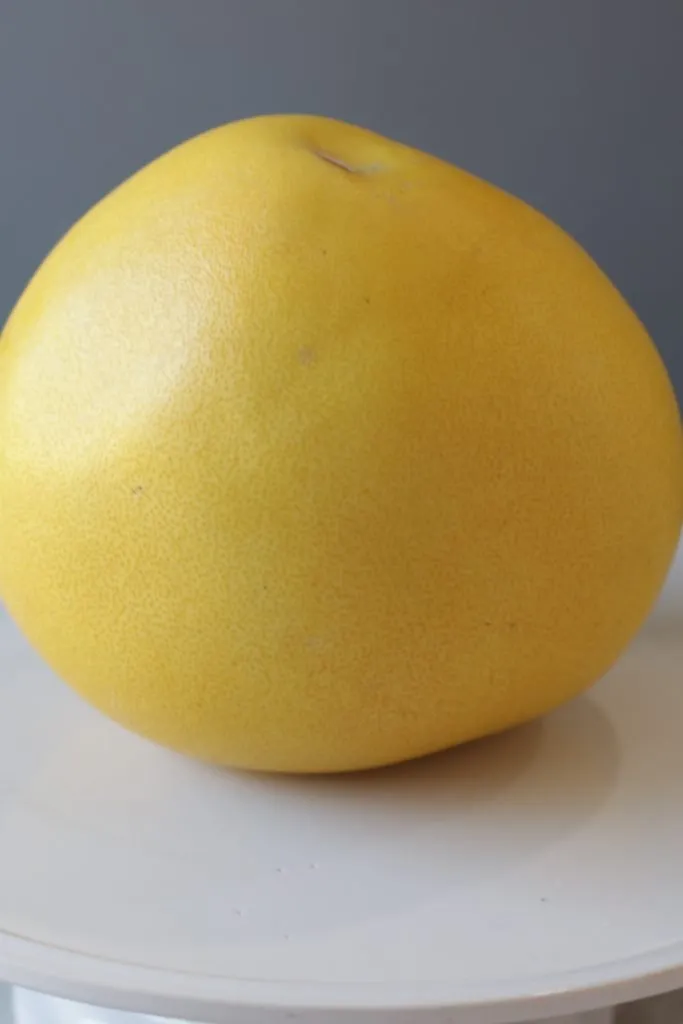 The Honey pomelo variety is also native to Southeast Asia. It is widely cultivated in China and many tropical regions in the world as well as places in the United States like California, Florida, Hawaii, Texas, and Arizona. I read somewhere that the US is now the largest producer of pomelo.
The particular honey pomelo shown here in my article came from China. The common household grower can grow these in US Department of Agriculture zones 9 and above.
The trees grow from 15 to 50 feet in height.
What are the nutritional benefits?
As indicated in the image above there are several health benefits that come with this titan of citrus fruit. They are highly nutritious:
Excellent source of Vitamin C, Copper, and Potassium
Powerful antioxidant
Helps regulate fluid balance and blood pressure
Full of fiber
May help promote weight loss
May boost heart health
These and more benefits can be on Healthline.
How to eat Honey Pomelo
In order to eat the honey pomelo and other pomelos you can't just peel it like you would an orange or lemon. The peel and pith (white part) combined are really thick. So there are a few techniques for eating several of which I outline in this pink pomelo article.
Begin by cutting the top off of the honey pomelo. It usually has a bit of a dome on the top side and isn't completely a sphere. And this is where the stem was connected to the fruit. Just go down about half of an inch and slice it off.
Next, take your knife and slice down about 1-quarter of an inch into the fruit the whole length of it. Do this 4 or 5 times around the pomelo, similar to how you eat a pomegranate.
Now use your thumbs to detach the top of the peel and pith from the fruit and press and pull down to remove it from the fruit. Do that with all of the segments.
Now you are left with a "flower" shape. Completely remove the peels from the bottom of the fruit. Then put your thumbs in the top hole and grab the fruit and pull it in half.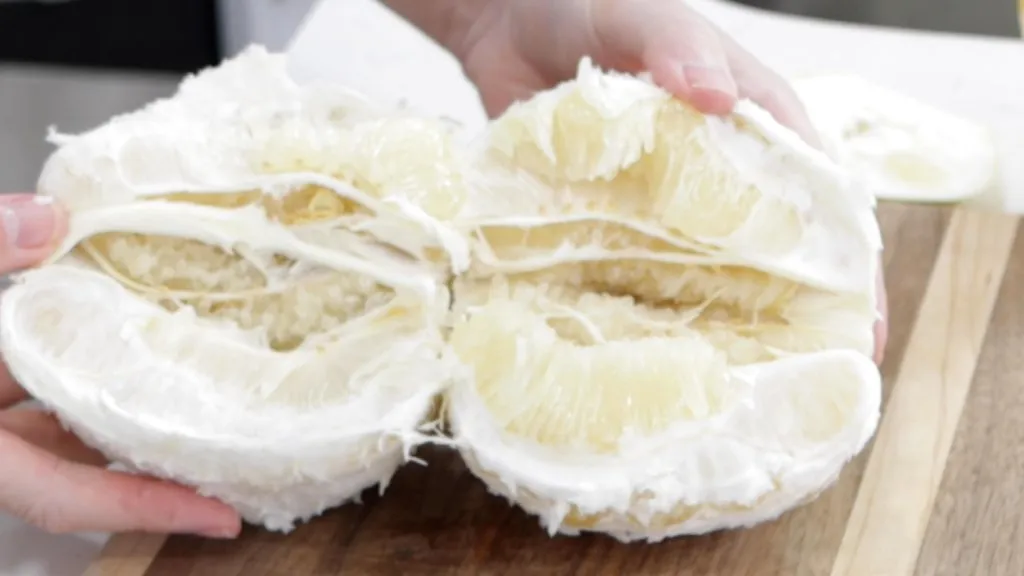 Now you can see the inside of the fruit and its vesicles which are what you eat. I don't recommend eating the white part or pith. It is very bitter, although it is edible and you certainly can eat it if you wish.
Now all you need to do is pull away a segment and then peel the remaining pith from the vesicles. One thing you will notice is you won't get a bunch of juice everywhere. The texture is fairly dry which is interesting. You will rarely if ever squirt juice in your eye when opening honey pomelos up.
You can eat it as is, put it in a fruit salad, or on top of a classic salad, you can also throw it in your juicer.
What does honey pomelo taste like?
First of all, if you love grapefruit you are going to love the Honey pomelo. It is not super juicy, but still has a bit of a juicy taste. It is not at all bitter like grapefruits can be. And there is a slight hint of a honey taste and is actually pretty sweet.
They are also very filling, once one of them is completely peeled and the vesicles removed, it fills up a large bowl. It easily makes about 4 servings.
The honey pomelo is very pleasant to eat and is among my favorite citrus. If you get the chance, pick yourself up one and give it a try. They can be fairly expensive. I pay anywhere from $5 to $8 for one fruit and usually find them at my local H-Mart which is an international supermarket chain here in the United States. Enjoy!
Watch the video I made about the Honey Pomelo!
Here are other interesting fruit articles that you may be interested in: