Jump to Recipe
I am not going to lie, bacon is one of my all-time favorite foods and has been since I was a little kid. Give me bacon and I am one happy camper. There are so many ways to cook it. Cooking bacon in the oven allows it to cook evenly and it is so easy to get your desired crispiness. And it allows for super easy cleanup.
If you want to kick that flavor up a notch, try adding a bit of brown sugar on top. Oh my, give it a try if you haven't! I love cooking a few slices with that on top, so delish.
I love eating oven-baked bacon with perfectly poached eggs, homestyle country potatoes, twice-baked potatoes, pancakes, crepes, and much more. Bacon for me can be eaten for breakfast, second breakfast, elevenses, luncheon, dinner, supper, etc. haha.
Why cook bacon in the oven?
There are several reasons why cooking bacon in the oven is advantageous to traditional skillet-cooked bacon. The main reason is the oven-baked bacon is cooked evenly and perfectly crispy. When using a skillet sometimes the bacon strips are too long for the pan and curl up the sides, and the burner isn't large enough, and they just don't cook as evenly.
If you have ever cooked bacon in a skillet, you know what I mean, parts of it are nice and cooked and other parts aren't. You have to keep flipping and turning it, pushing it to the side so it gets the less-cooked parts cooked.
Still to this day, however, stovetop, skillet-cooked bacon is probably the most common. Bacon cooked in the air fryer is getting more and more common as well. I actually like air fryer bacon too. Let's be honest, I like bacon no matter how it is cooked, haha.
Another drawback to cooking bacon in the skillet on the stovetop or even on a pancake griddle is the oil splatters everywhere sometimes even splatters on your hands, and just makes a bit of a mess.
Cooking bacon in the oven solves all of these issues, and you can do several slices at a time! Many more than you can do in a skillet. Also, this frees up that skillet and burner to be used to cook something else, like your eggs, hashbrowns, etc.
What kind of bacon should I use?
Honestly, you can't go wrong with whatever bacon that you choose. I have cooked so many different kinds and brands and am rarely disappointed.
I will say my all-time favorite to buy and cook is Wright Applewood Thick-Sliced Bacon. They have it readily available at my supermarket and it can be found online as well.
You can cook turkey bacon this as well, so don't fret, if turkey bacon is your thing.
How to Cook Bacon in the Oven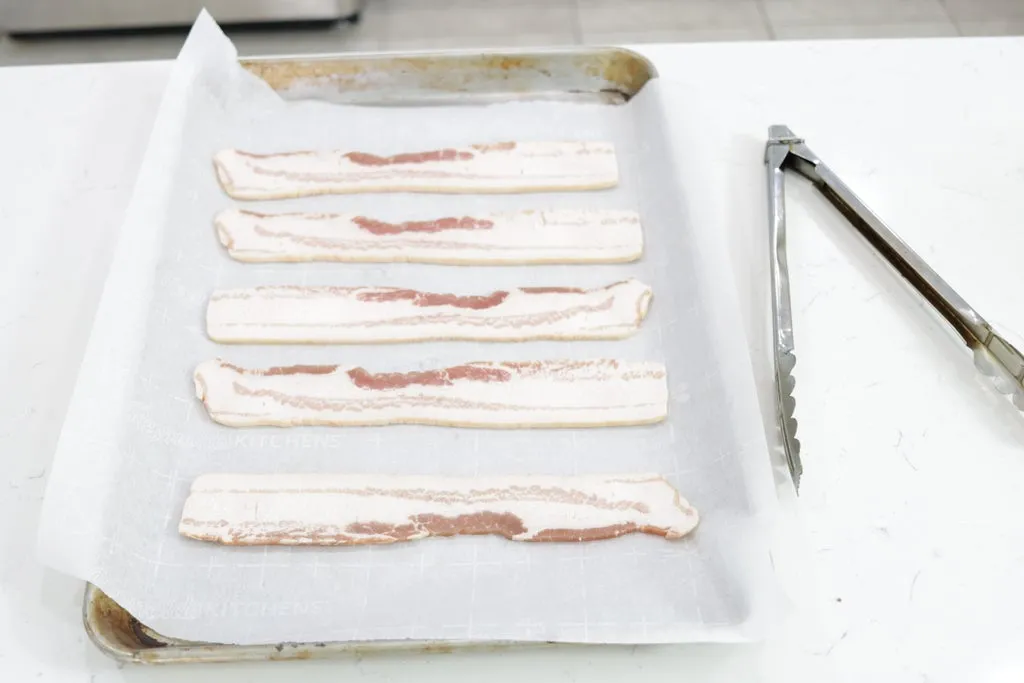 Now it is time to learn exactly how to cook bacon in the oven. Shh, here is a secret, it is super duper easy!
Are you more of a visual learner than a reader? If so watch this video tutorial:
Step 1 Cooking Bacon in the Oven
Begin by preheating the oven to 400F/205 C.
Next, line a sheet pan with parchment paper, a silicone baking mat, or aluminum foil. You can also just use the sheet pan as is, but cleanup won't be as easy.
Layout the strips of bacon on the pan, they can be fairly close together, which allows for several strips at once.
For a bit of sweetness (trust me, try this with at least a few slices) sprinkle on about a tsp or two of brown sugar on top of the slices. This is of course optional, but I like doing a few this way, it turns out so yummy.
NOTE: Some people put the bacon on top of an oven-safe wire rack which goes on top of the parchment paper and pan.
Step 2 Hear that sizzling bacon
Now place the pan of bacon in the oven and allow it to cook for 15 to 18 minutes until you have your desired crispiness. The thicker the cut of bacon the longer it will need, and of course the thinner the bacon the less time it will need.
If you have really thin bacon it may only need 13 to 15 minutes.
No need to turn it or anything while in the oven, just let it do its thing. Another beautiful thing about cooking bacon in the oven. It just works well, is super easy to do, and doesn't require any flipping, turning, etc.
Step 3 Dry that oven-baked bacon
Once the bacon comes out of the oven, let it sit for a few minutes. Then use tongs to remove it and place it on a paper towel. Pat the bacon dry, which will soak up the excess grease.
NOTE: You need to be careful with the brown sugar-coated bacon, just barely pat it, and DON'T let it sit on the paper towel it is sticky from the melted sugar and the paper towel will stick to it.
Time to serve that bacon. 🙂 Enjoy!
I want to point out that the bacon cooked with brown sugar on top will be a little darker because of the melted sugar, as seen in the above photo. But it should be cooked at the same time as the others.
What to do with leftover bacon grease after cooking it in the oven
First and foremost don't throw the leftover bacon grease down the kitchen sink, haha. This has the potential to cause problems later on. The grease will solidify as it cools and will get sticky. Sticky grease will allow other debris to stick to it, which can over time clog the drain.
I ALWAYS save my leftover bacon grease, regardless of whether I cook bacon in the oven, air fryer, or in a skillet on the stovetop.
The leftover bacon grease can be used to make yummy gravy as I show in this totchos recipe. You can use it to cook other foods like eggs, veggies, etc. It also can be added to soups to add flavor.
Once the grease cools a little but not all the way, pour it through a strainer/sieve into a leftover soup can or mason jar. Then store in a cool place or in the fridge. The grease will last about 4 to 6 months in the fridge.
How long does bacon cooked in the oven last?
Cooked bacon, regardless of how it is cooked will last 3 to 4 days if placed in a bag, or airtight container in the fridge. You can also freeze it if you like for a month or two.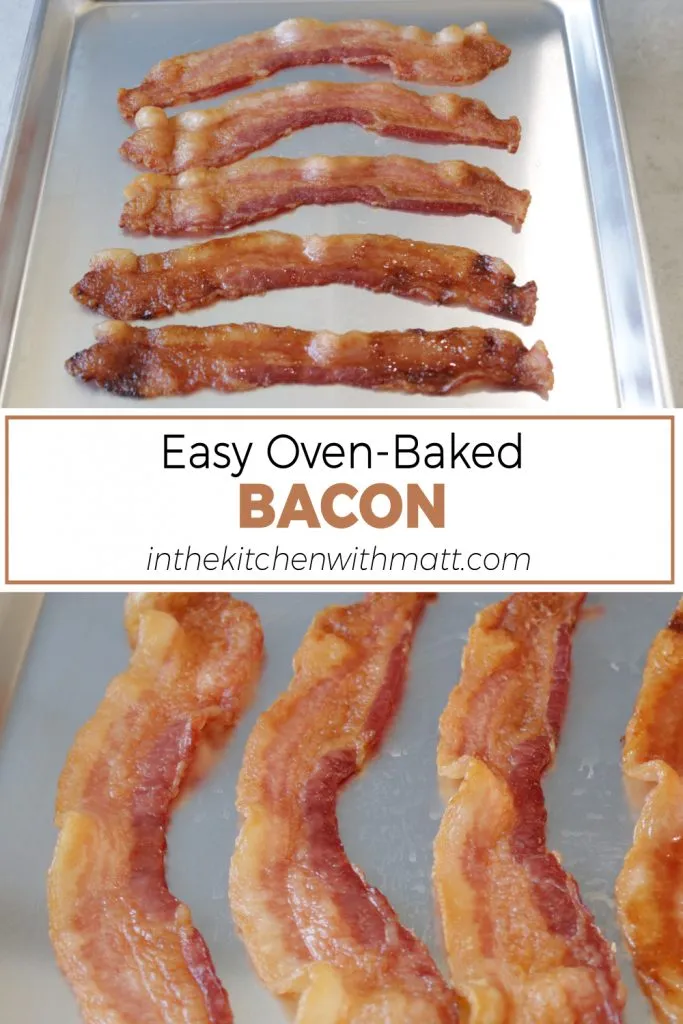 Here are other recipes that you may like:
How to Cook Bacon in the Oven
Cooking bacon in the oven is super easy and allows it to cook evenly and get nice and crispy. And the cleanup is super easy!
Equipment
sheet pan

parchment paper, silicone baking mat, or aluminum foil

Tongs

Paper Towel
Ingredients
6

slices

of bacon

2 to 3 per person

1

tsp

Brown sugar per slice

optional
Instructions
Preheat the oven to 400F/205 C with the main rack in the middle position.

Line a sheet pan with parchment paper, a silicone baking mat, or aluminum foil.

Arrange the bacon strips flat on the pan with a little space in between.

Sprinkle on some brown sugar if desired, optional. It is really yummy, try it at least on one slice to see how you like it.

Cook bacon in the oven for 15 to 18 minutes depending on the thickness and desired crispiness. If the bacon is really thin it may only take 12 to 14 minutes.

Remove pan of bacon and allow to cool for a few minutes. Then transfer to a paper towel to try. Pat the top dry with a paper towel. Be careful with the brown sugar bacon. Don't leave it on the paper towel and be gentle when patting it, the paper towel will probably stick to it.

Serve that bacon with whatever meal you like. Enjoy!
Notes
Note: The nutritional facts are for 2 slices per person with 1 tsp of brown sugar sprinkled on top before baking.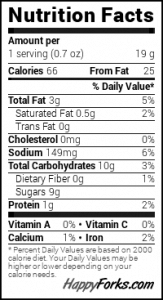 Nutrition
Do you like the recipe? Please give it a rating and comment down below, I really appreciate it. If you make it tag me on Instagram @inthekitchenwithmatt. Also, sign up for the newsletter so you won't miss out on any of my new posts and recipes.
Check out my other website 101 Creative Dates for fun date ideas. Food and dating go hand in hand!