Jump to Recipe
I love a good icebox cake. They are perfect for hot summer days when you don't want to turn on the oven. And they are relatively low in calories compared to actual cakes. One of my favorites has got to be this chocolate icebox cake. It only requires 3 ingredients and takes less than 10 minutes to put together, then you just wait for it to chill. Awesome!
If you love strawberries then also check out this strawberry icebox cake. It is pretty much the same but different graham crackers are used and fresh strawberries are used instead of chocolate shavings.
This chocolate icebox cake is so incredibly easy to make, let's get started!
Ingredients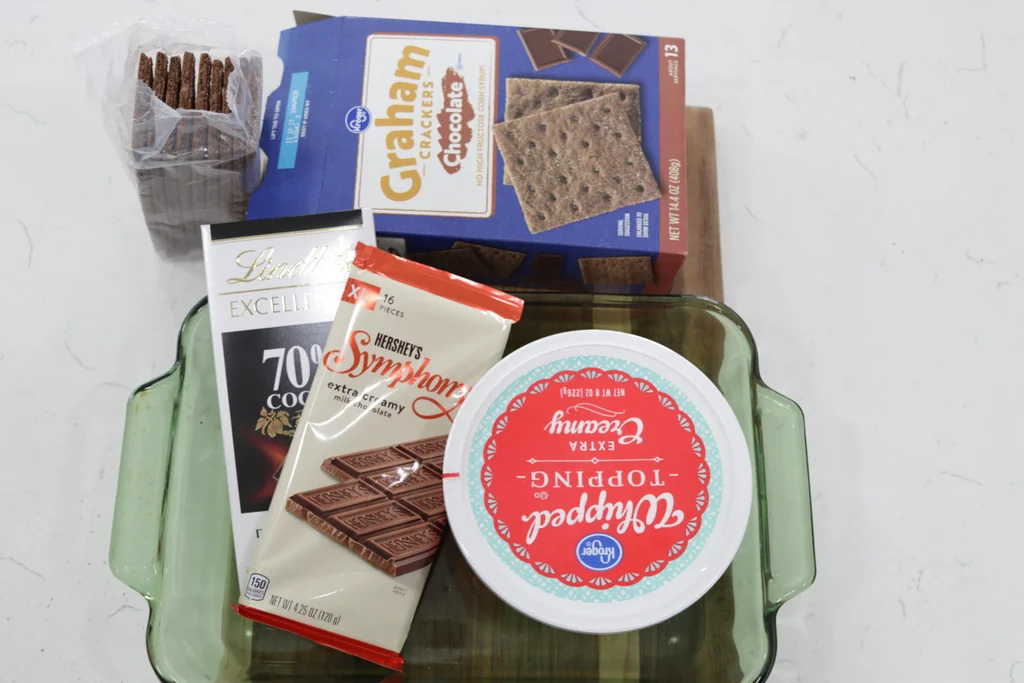 In order to make this easy chocolate icebox cake you only need three ingredients:
Chocolate Graham Crackers – I always use the chocolate graham crackers but you could use any thin chocolate wafer as well, it doesn't have to be graham crackers.
Whipped topping – I always buy the Kroger brand whipped topping because it is super cheap, and it really doesn't taste that much different than the Cool Whip brand which I do buy when it is on sale. You can also make homemade whipped cream, with heavy whipping cream, a bit of vanilla extract, and a bit of powdered sugar.
Chocolate – You can use chocolate bars, chocolate chips, etc. I like to use a combination of milk and dark chocolate but you can use all of one or the other.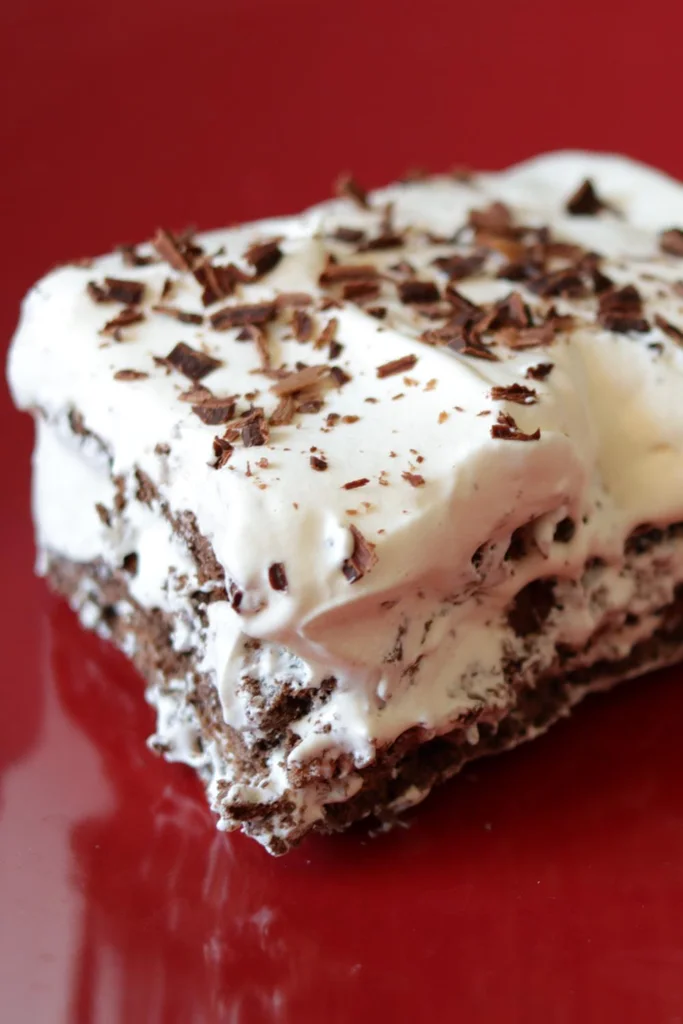 Tools/Equipment
8×12 dish or pan
Spatula
Box Grater for the Chocolate (optional)
How to make a no-bake chocolate icebox cake with just 3 ingredients
30 minutes before you want to make the chocolate icebox cake set the whipped topping out on the counter to thaw. This makes it much easier to spread.
Time to make the cake. This no-bake cake is made up of three layers.
Take an 8x11ish dish or pan and spread a thin layer of the whipped topping on the bottom. This will act like "glue" to hold the bottom layer of graham crackers in place.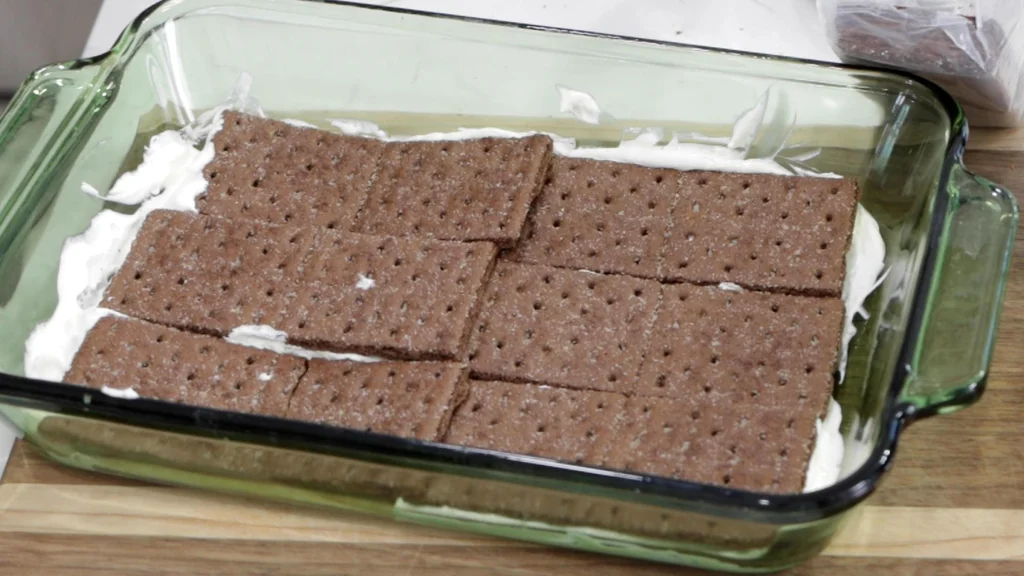 Now place 6 full sheets of chocolate graham crackers on the bottom and press them down a bit into the whipped topping. It is okay if they crack. They are just going to be covered in whipped topping anyway. And it is okay if they overlap a little bit.
Now spread more whipped topping over the graham crackers. You can be very generous with this layer of whipped topping. Follow that up by sprinkling chocolate shavings on top of the whipped topping. This is the first full layer of the no-bake chocolate icebox cake.
In order to get the chocolate shavings, take your chocolate, it helps if it is cold, and run it across the slicer on a box grater. It creates awesome chocolate shavings or chocolate curls.
The chocolate shavings are optional, you can just break the chocolate bar into small chunks or just use chocolate chips.
Repeat the layers for the icebox cake
Now all you need to do is repeat the steps for the layers until the dish is full. You can make it two layers, three layers, four layers, etc.
Again place the graham crackers over the whipped topping and chocolate shavings, then add another layer of whipped topping and chocolate, and repeat. My dish is perfect for three layers.
Once you are done cover the easy no-bake dessert and place it in the fridge for at least 4 hours or overnight. You can also place it in the freezer for a couple of hours if you are in a hurry.
I do like how it turns out when it sits in the fridge for a day or two. It just gives more time for the whipped topping to soak into the graham crackers.
Remove it from the fridge and slice it and serve it. I usually will make 12 servings and just roughly follow where the graham cracker squares are.
Enjoy!
How long does a chocolate icebox cake last?
These no-bake cakes will last 3 to 4 days in the fridge. You can also freeze them for a few months. Then just take it out of the freezer and allow it to thaw. Make sure it is completely covered in the freezer or the fridge.
Can I make this gluten-free or dairy free?
Yes of course. Just use gluten-free chocolate graham crackers or wafers and some sort of dairy-free whipped topping.
Here are other no-bake recipes you may like:
No-Bake Chocolate Oatmeal Cookies
3-Ingredient Chocolate Ice Cream
Chocolate Icebox Cake
Learn how to make a yummy no-bake chocolate icebox cake with just three ingredients!
Ingredients
18

Full sheets of chocolate graham crackers

16

oz

of whipped topping

Cool Whip, Store brand, or homemade whipping cream 450g

1

cup

of chocolate shavings/curls

milk, dark, semi-sweet, etc. 170g
Instructions
Set the whipped topping out for 20 to 30 minutes to soften.

Spread a thin layer of whipped topping on the bottom of an 8x11ish dish or pan. you can use other sizes as well.

Next, add 6 full sheets or 12 squares of chocolate graham crackers on top of the whipped topping, and press them down.

Spread a generous layer of whipped topping on top of the graham crackers.

Then sprinkle chocolate shavings, chunks, or chips on top.

Repeat the steps for two additional layers. Add the graham crackers, whipped topping, chocolate, etc. Until the dish is filled. 3 layers are the most common.

Cover the dessert with plastic wrap and place it in the fridge for at least 4 hours, overnight is best. It can also go in the freezer for a couple of hours if you are in a hurry.

Remove the plastic wrap then slice and serve! Enjoy!
Notes
Nutrition
Serving:
73
g
|
Calories:
257
kcal
|
Carbohydrates:
33
g
|
Protein:
3
g
|
Fat:
12
g
|
Saturated Fat:
7
g
|
Cholesterol:
2
mg
|
Sodium:
125
mg
|
Fiber:
2
g
|
Sugar:
19
g
Do you like this recipe? Please give it a rating and comment down below, I really appreciate it. Save the Pin to Pinterest! If you make it tag me on Instagram @inthekitchenwithmatt. Also, sign up for the newsletter so you won't miss out on any of my new posts and recipes.