Jump to Recipe
Did you know you can make your very own brown sugar at home with just 2 ingredients? This homemade brown sugar recipe is awesome and extremely easy to make. The whole thing comes together in about 5 minutes and it can be used in ANY recipe that calls for brown sugar. Pretty awesome, right?
This recipe is great for people who love making their own ingredients at home, or if you run out of it, and don't want to go specifically to the store to buy some. Whatever the case may be, this recipe will have you making brown sugar from scratch in no time. Let's get started!
What is Brown Sugar? And how is it traditionally made?
First of all, understanding exactly what this type of sugar is, will help you understand why this recipe actually works.
Brown sugar is simply a sucrose sugar that happens to look light or dark brown. Why is it brown? That brown color comes from the presence of molasses. It is unrefined or only partially refined sugar.
Commercially made light brown sugar has only about 3.5% molasses. Dark brown sugar has nearly double that amount at 6.5% molasses.
The reason why it is so soft and compacts together is because of the moisture in the molasses.
Usually, commercial producers extract sugar cane or beet juice from sugarcane or beets. That "liquid gold" is then further refined to make raw sugar which can be made into white granulated sugar which has the natural molasses removed, or brown sugar which leaves some of the molasses present.
The process is different than making it at home, of course, you could certainly buy your own sugarcane and do it the more traditional method.
How to make brown sugar at home using only 2 ingredients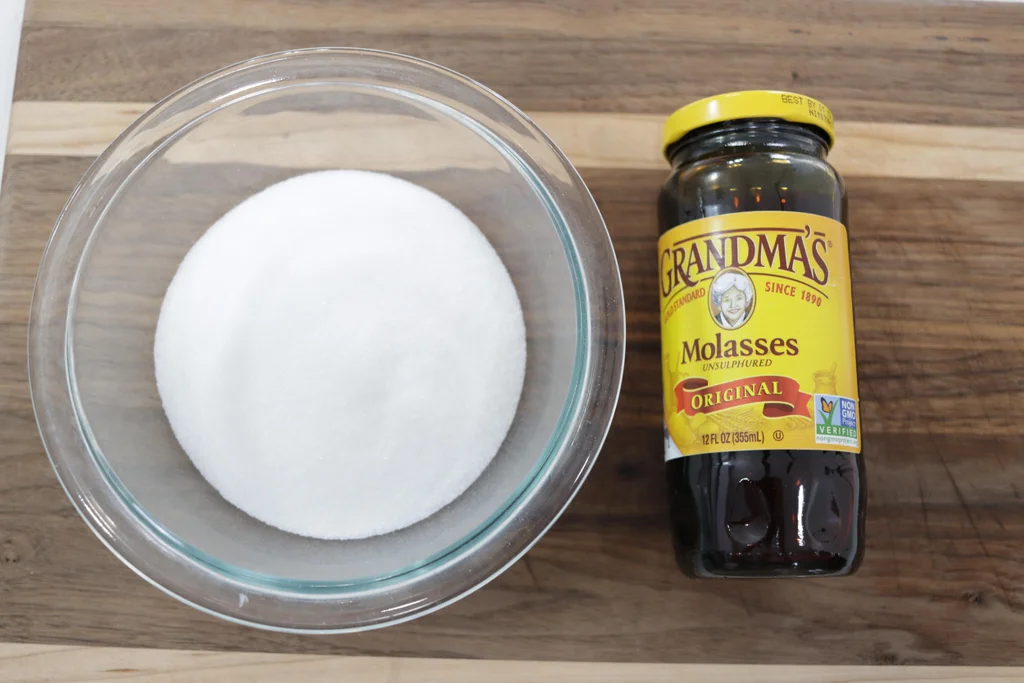 Now that you know what it is we can easily make homemade brown sugar with just 2 simple ingredients:
White granulated sugar
Molasses – You can use any type of molasses, there are several brands.
Tools/Equipment
Mix the ingredients!
And the process is extremely simple. Measure out the sugar and place it in a medium bowl. Then use a measuring spoon and measure the molasses and pour that on top of the white sugar.
NOTE: Most of the time I just eyeball it and don't use the measuring spoon, since this recipe does not have to be precise.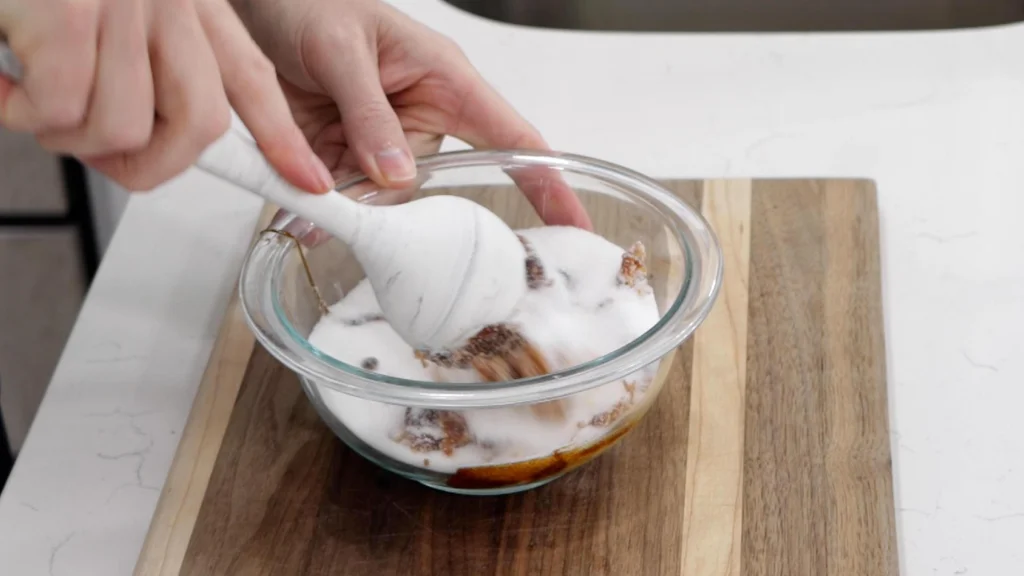 Now there are a few options you can use to mix the two ingredients together.
First option: Just use a spoon or fork and blend the ingredients together really well.
Second option: You can use a hand mixer or stand mixer.
Third option: You can use clean fingers or wear food prep gloves.
Eventually, the white sugar will turn color as the molasses gets thoroughly mixed in. Once that happens you can add more molasses to make the sugar a darker brown if desired.
And just like that you have made your own homemade brown sugar. Super easy, right?
Now you just have to use it! Try using it for all your baking needs.
How long does homemade brown sugar last?
It will last just as long as storebought. As long as it is stored properly. I have a whole article that talks about how to store brown sugar and what to do if it hardens up on you that you can check out.
Here are other recipes you make like:
Soft Chewy Chocolate Chip Cookies
Cookie Cups Stuffed With Nutella
White Chocolate Macadamia Nut Cookies
Homemade Brown Sugar
Learn how to make brown sugar at home with just 2 ingredients. This homemade brown sugar can be used in any recipe that calls for brown sugar.
Equipment
Bowl

Fork or Spoon

Food prep, optional
Ingredients
1

cup

of white granulated sugar

200g

1

tsp

to 2 Tbsp of molasses

5 to 30g
Instructions
Add the white sugar to a bowl along with the molasses and mix until well combined.

Use either a spoon, fork, mixer, or your fingers to mix the sugar with the molasses.

Add additional molasses a tsp or two at a time as desired for a darker brown sugar.

Once thoroughly mixed together it is ready to be used in all your recipes that require brown sugar.
Video
How to Make Brown Sugar At Home with 2 Ingredients | Brown Sugar Substitute
Notes
NOTE: Although you wouldn't normally just eat this as is, here are the nutritional facts for the homemade brown sugar by itself. 
Nutrition
Do you like this recipe? Share and Pin it! Please give it a rating and comment down below, I really appreciate it. If you make it tag me on Instagram @inthekitchenwithmatt. Also, sign up for the newsletter so you won't miss out on any of my new posts and recipes.