Jump to Recipe
Growing up I ate a lot of oatmeal, but usually, it was the quick instant oatmeal that came in the little packets. Classic homemade oatmeal doesn't take too much longer to make on the stovetop and you have complete control over what is added to it. You can make it as healthy as you want or as sweet and not quite as healthy, haha, which is usually the route I take.
If you are a fan of old-fashioned stovetop oatmeal, give this recipe a try. It is based on the classic Quaker Oats recipe that has been around for ages.
Let's get started!
Ingredients
In order to make yummy old-fashioned oatmeal on the stovetop you need just 6 simple ingredients:
Oats – For this recipe use the classic old-fashioned oats, not the quick oats.
Milk – I always use whole milk, but you can use any milk including non-dairy milk like almond milk. You can also just use water if you like. I think it turns out better with milk, but that is just my opinion.
Brown Sugar – I love adding brown sugar to my oatmeal. You can leave it out entirely or swap it for a different sweetener like honey, stevia, etc. And you can also use just plain white sugar.
Salt – Just a bit of salt to balance and enhance the flavors of the other ingredients.
Cinnamon – I LOVE cinnamon in my oatmeal so I always add it, but it is optional.
Berries – Usually I use blueberries because those are my favorite in oatmeal, but you can use slices strawberries, raspberries, blackberries, raisins, etc.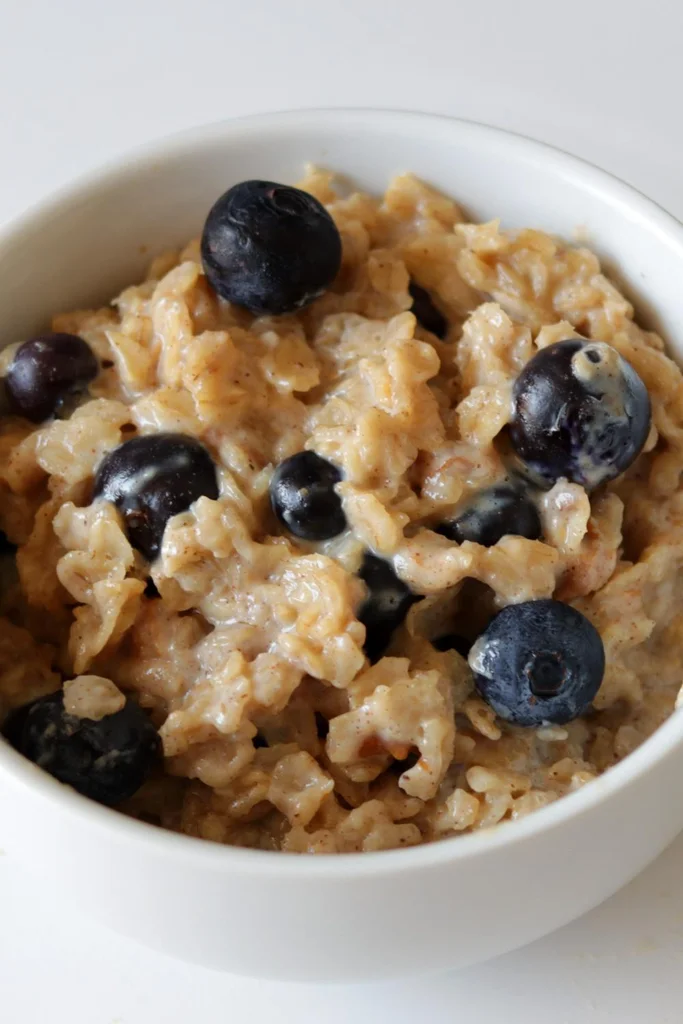 Equipment/Tools:
You don't really need any special equipment or tools, just the two things below will suffice and then any serving bowls you want:
How to make delicious oatmeal at home on the stovetop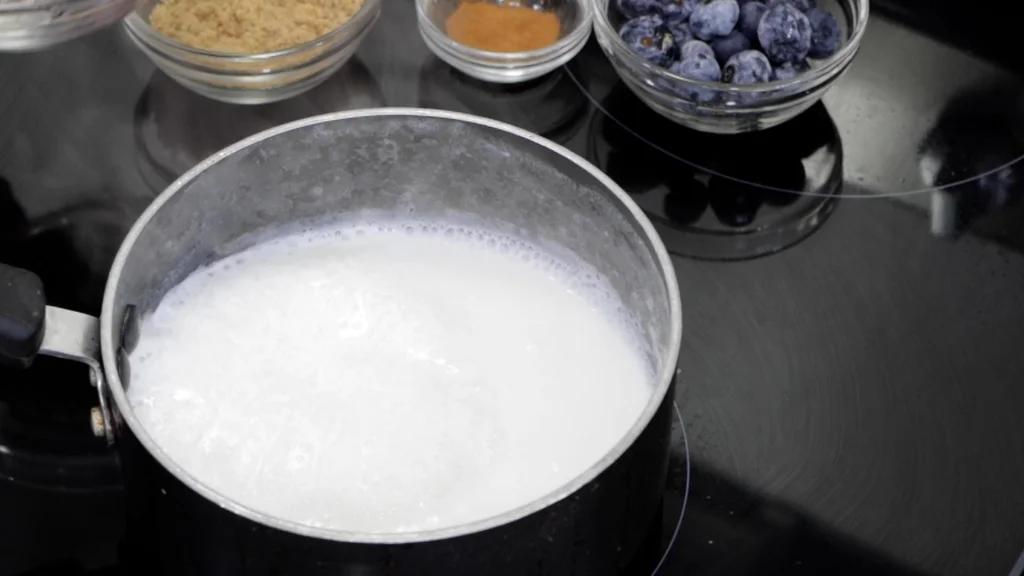 Pour the milk or whatever liquid you are using into a deep pot and place it on the stovetop burner. Set the heat to medium heat.
Bring the milk to a boil making sure to stir occasionally. If you don't stir it, especially when it starts to bubble it may boil over the sides, so keep your eyes on it!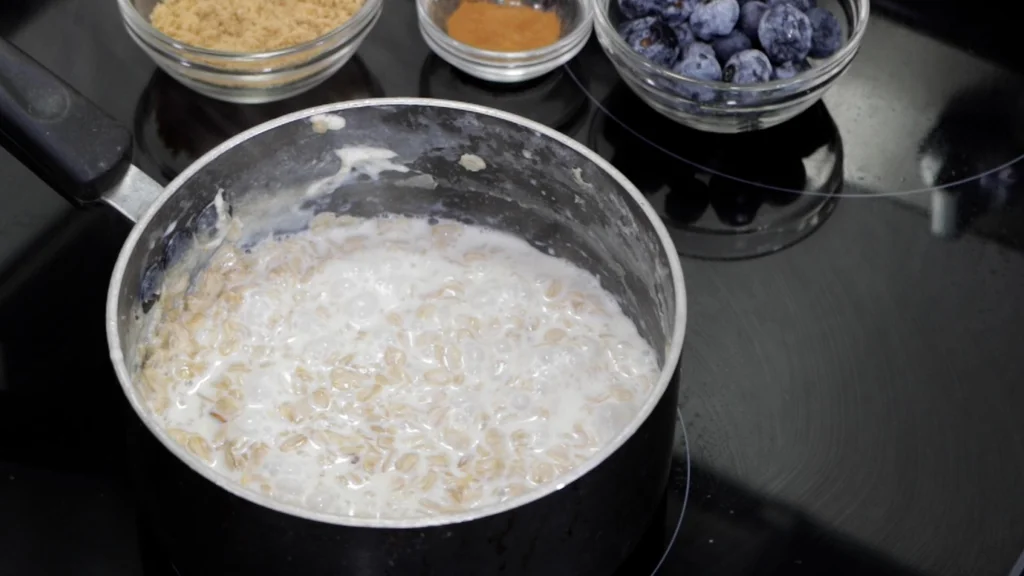 Once the liquid you are using starts to boil, add the oats and stir fairly regularly for 5 to 6 minutes until the liquid has reduced quite a bit.
At the 5-minute mark add the salt, sugar, cinnamon, and fruit and stir those in.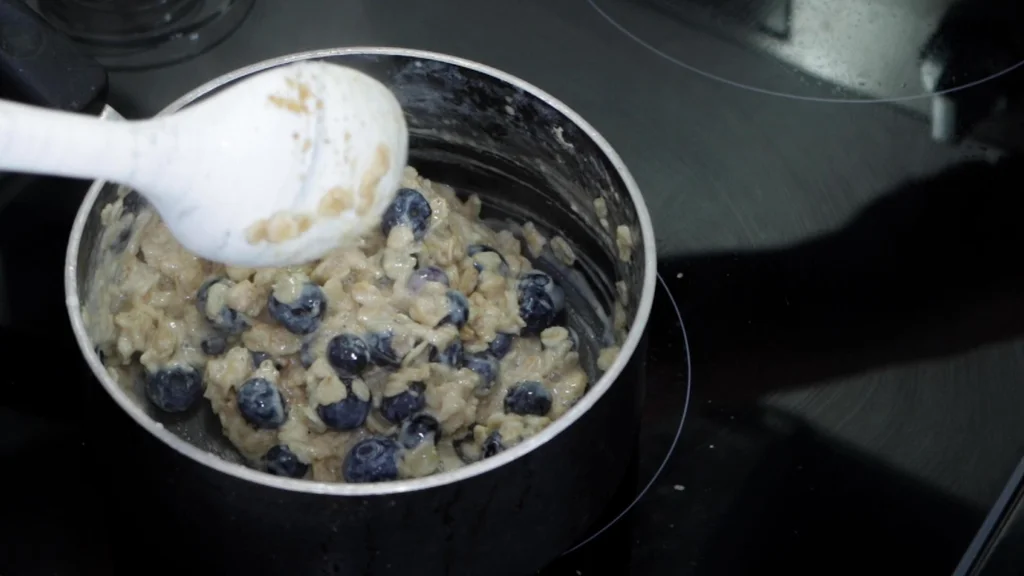 Also at 5 minutes, the oatmeal will be runny so remove it just after stirring in the other ingredients if you like runny oatmeal, otherwise let it cook another minute or 2 until it gets thicker.
Make sure to keep stirring so it doesn't burn on the bottom.
And just like that the oatmeal is done.
Serve those old-fashioned cooked oats
Add the oatmeal to a bowl and eat it. This recipe makes one large serving or two smaller servings. If you want to make more than that, use a larger pot and double, triple, or even quadruple the recipe. Scroll below to find the printable recipe card with all the amounts for the ingredients.
I love this recipe amount because I am single and live alone, so it is perfect for me.
Enjoy!
How long does homemade oatmeal last?
After being cooked oatmeal lasts 2 to 3 days in the fridge. Then it should be frozen for 2 to 3 months, or thrown out.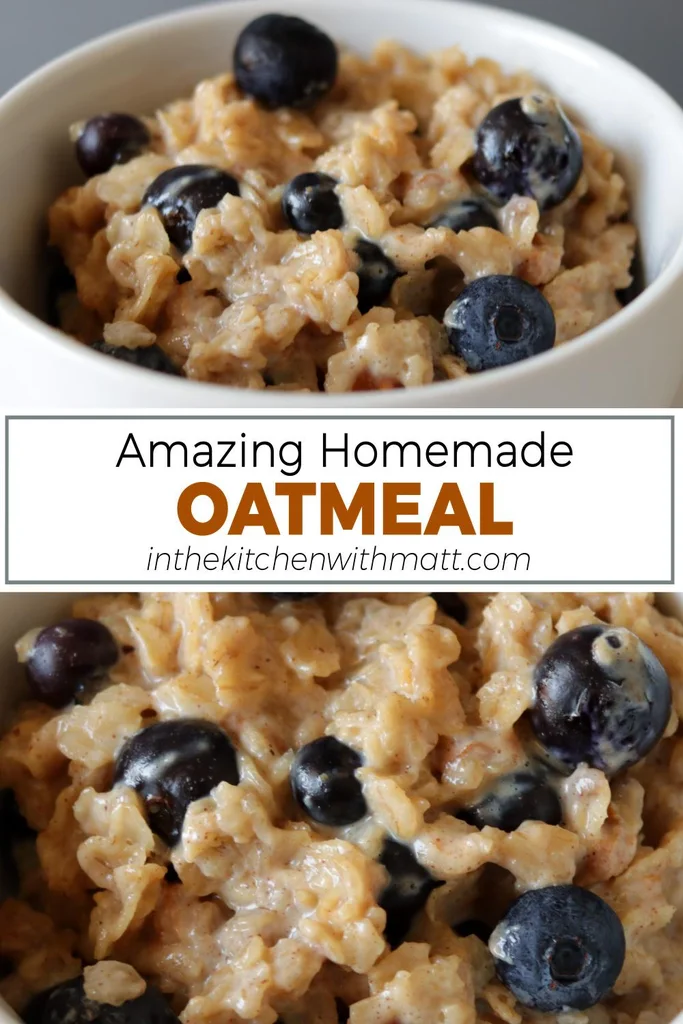 Here are other recipes you may like:
2-Ingredient Dough Cinnamon Rolls
Amazing Homemade Stovetop Oatmeal
Learn how to make super easy and delicious old-fashioned oatmeal on the stovetop.
Ingredients
1

cup

of milk

water, almond milk, etc. (237ml)

1/2

cup

of old-fashioned oats

45g

1 to 2

Tbsp

of brown sugar

white sugar, honey, stevia, etc. (14 to 28g)

1/4

tsp

of salt

1g

1/2

tsp

of cinnamon

1g

1/4

cup

of blueberries

raisins, raspberries, etc. (48g)
Instructions
Bring the milk or other liquid to a boil in a deep pot over medium heat, make sure to stir.

Once it boils add the old-fashioned oats. Stir and cook the oats for 5 minutes.

After 5 minutes, stir in the sugar, salt, cinnamon, and berries. If you like your oatmeal runny, remove it now. If you like it thicker, keep stirring and cooking for another minute or two.

Remove it from the heat and serve in a bowl or on a plate. Enjoy! Easy as that.
Notes
Nutrition
Calories:
395
kcal
|
Carbohydrates:
77
g
|
Protein:
16
g
|
Fat:
11
g
|
Saturated Fat:
5.2
g
|
Cholesterol:
24
mg
|
Sodium:
697
mg
|
Fiber:
9
g
|
Sugar:
44
g