Jump to Recipe
One of my go-to main dishes to make when I am hosting a get-together has got to be homemade barbecue pulled pork sandwiches. I absolutely love pulled pork. Whether plain and in some yummy tacos or with barbecue sauce in the form of a sandwich, I don't care. Give me that pork!
This is one of my favorite slow cooker recipes. I have been making it for over 20 years. It was a staple when I was at college and we wanted to have a bunch of people over but not have it cost a ton. You can't go wrong with this recipe when it comes to feeding a large group.
If you are a fan of pulled pork give this easy recipe a try! Let's get started!
Ingredients and Tools/Equipment for this Pulled Pork Recipe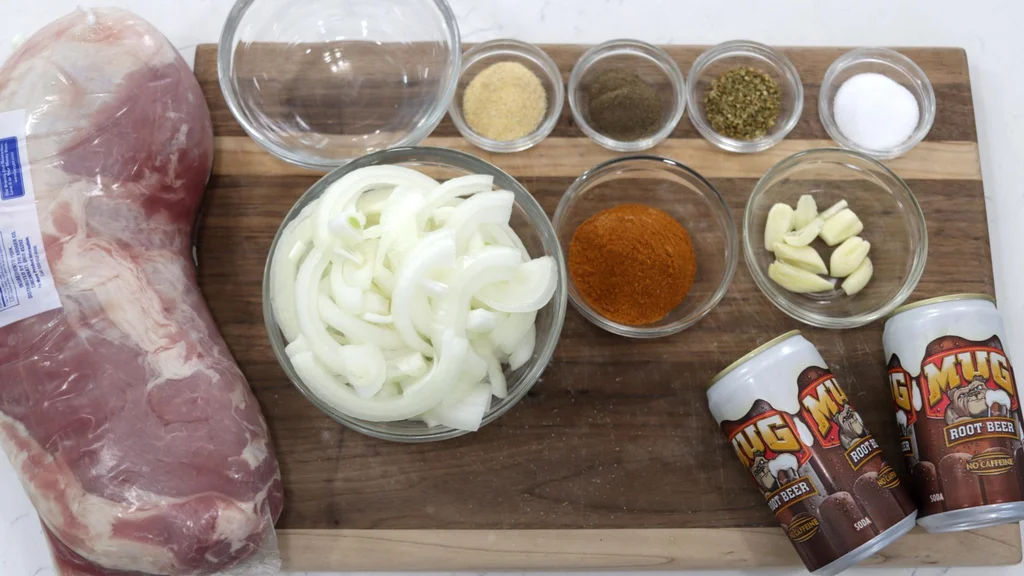 In order to make slow cooker pulled pork you need a handful of simple ingredients:
Pork – Traditionally boneless pork shoulder or pork butt like the Boston butt is used, but I also like using the pork loin. Honestly, I just buy whatever is on sale, haha. All three will work great. I don't recommend using pork tenderloin but if that is all you have you can certainly use that too. There just isn't much fat on it.
Onion – I normally use a yellow onion, but you can use white or purple/red as well.
Garlic cloves – Fresh garlic is always awesome with pork.
Garlic powder – I add this even when adding fresh garlic. I really love garlic with pork.
Black pepper
Oregano
Salt – Always adds flavor
Paprika – Either regular or smoked.
Root beer – Or you can use Dr Pepper, Orange Juice, and some people will use chicken broth. Each one brings a different flavor element.
Barbecue Sauce – You can use this homemade barbecue sauce recipe if you like or use something like Sweet Baby Ray's which is my favorite brand to buy at the store.
Tools/Equipment
Slow cooker – It doesn't have to be the Crock Pot brand, any large slow cooker will work just fine.
Forks
Tongs
Bowl
Ladle
Knife
How to make pulled pork in Crock Pot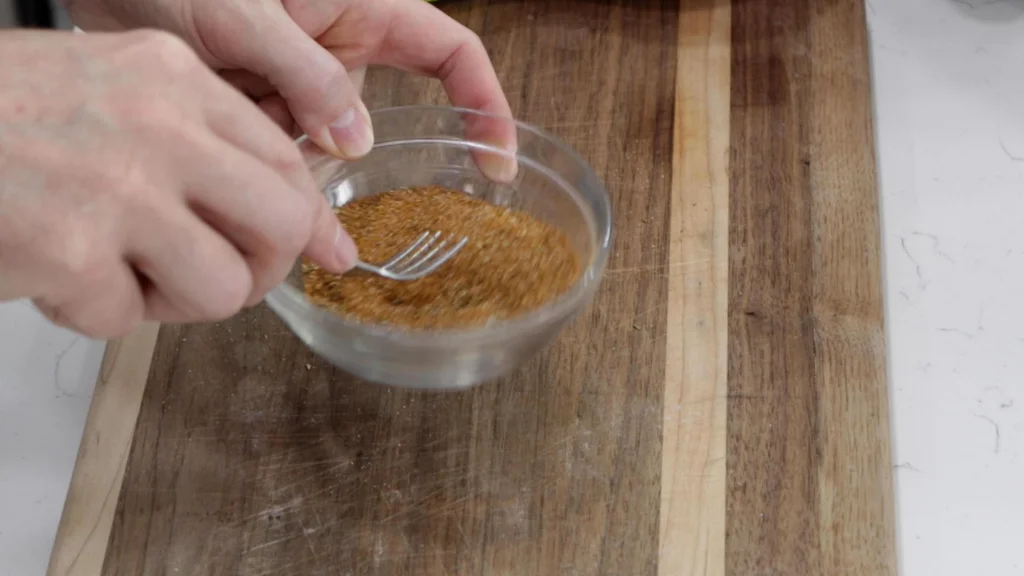 Start by prepping your onion. You can slice them or dice them, it is up to you. I like to do slices just because they are easier to grab with tongs and I like them in my pulled pork sandwich or tacos. But you can just dice them if you prefer.
Also, prepare the cloves of garlic by removing the skins and slicing them in half. No need to smash them or mince them.
Take all the dry ingredients, the paprika, garlic powder, black pepper, oregano, and salt, and add them to a bowl. Mix it well with a fork or whisk.
The dry homemade rub is ready.
Prep the pork
Remove the pork from the wrapper and drain any juices. Then place it on a cutting board and pat it dry with paper towels.
You may or may not want to trim the excess fat from the pork. Fat equals flavor, so I rarely trim it off. But if you have an overly fatty cut of pork, you may want to trim it a bit.
Next, sprinkle about half of the dry spice rub onto one side of the pork. Rub it in with your hand.
NOTE: You can wear kitchen/food prep gloves if desired. And of course, if you are making it to sell, then you should be wearing gloves, as per proper food handling requirements.
Flip the pork over, apply the rest of the dry rub, and pat it on the pork.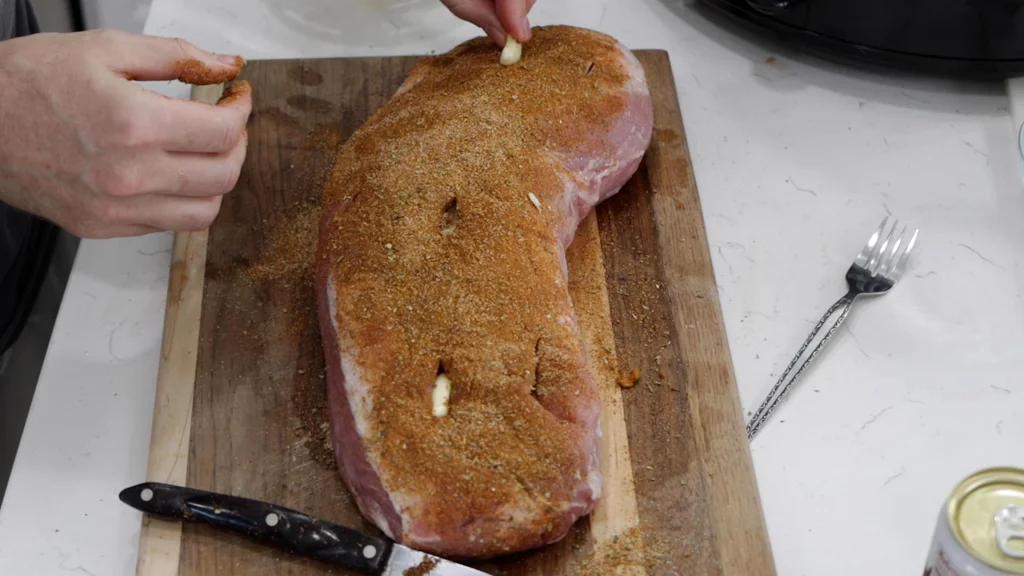 This next step is optional, but I always do it. Something I learned 20 years ago. Take a knife and cut deep slits into the pork. Then take your garlic pieces and press those into each of the slits.
Otherwise, you can just place the garlic in the slow cooker.
Cooking the Slow Cooker Pulled Pork
Slow cooking is one of the best ways to cook pork. Add the slices of onions (or diced) to the bottom of the slow cooker. Then add the dry-rubbed pork on top of the onions.
Pour the root beer, Dr. Pepper, or orange juice in as well. Each one of those adds a little different flavor profile, but you can't go wrong with any of them.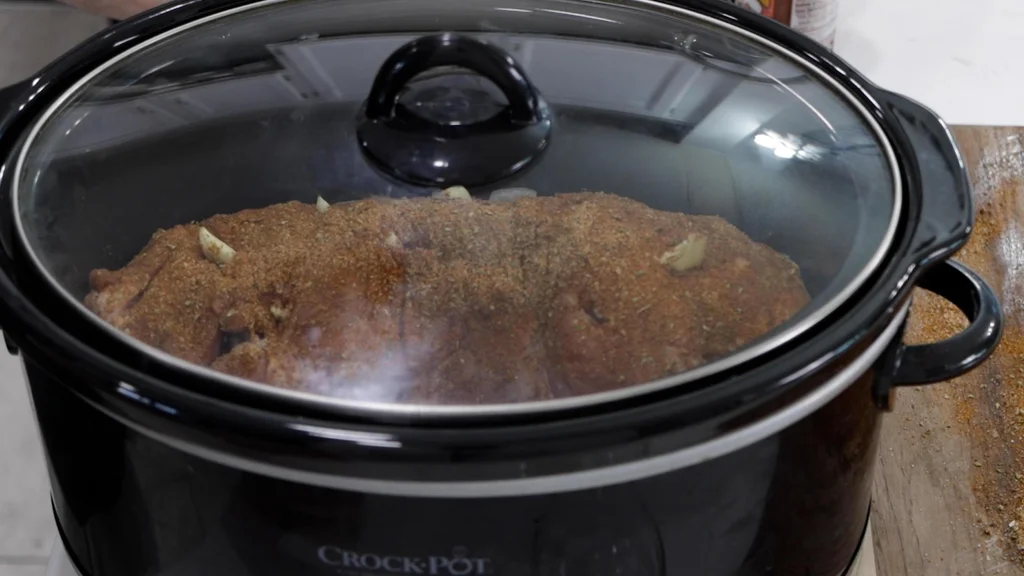 Cover the Crock Pot and cook. You have a few different ways to cook it:
1 – Set on high setting and cook for 4 hours.
2 – Set on high for 2 hours then low for 4 hours.
3 – Set on the low setting and cook for 8-9 hours.
Making pulled pork is very forgiving with several options for cooking it depending on your schedule. But it is an awesome recipe to make for those busy days because it only requires a few minutes of prep and feeds lots of people.
Shredding the Pork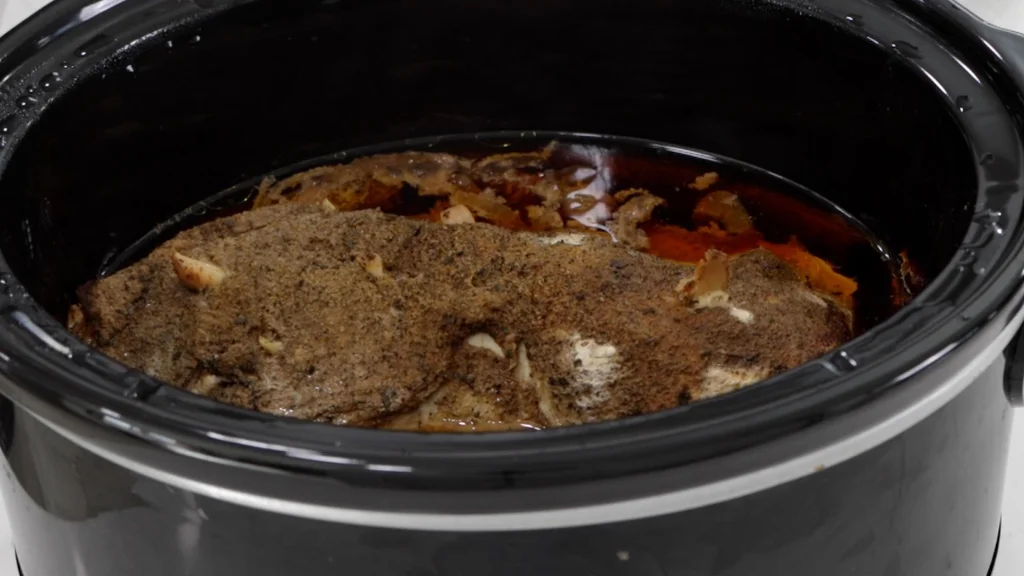 When the pork is done the internal temperature should be between 190F and 210F. (87 to 98C)
If you don't have a thermometer don't worry, if you follow the guidelines for cooking the pork it should be ready without checking it with a thermometer. If it shreds easily it is definitely ready.
There will be lots of extra liquid in the pot which will be too much for the pulled pork. You can use a turkey baster and suck up the liquid and then discard or save it for gravy, or make an Au jus with it.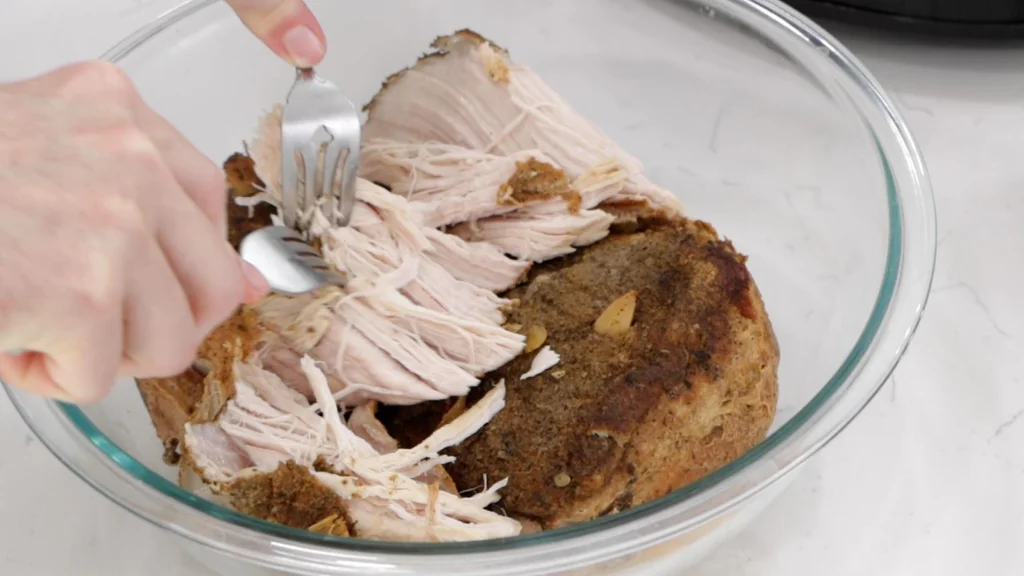 Or what I normally do is remove the pork with tongs from the slow cooker and put it in a large bowl. Then I shred it with two forks.
Next, take your tongs, grab those onions from the slow cooker, and put them with the meat. Along with a few ladles of juice. You want to keep some of the juice because it will keep the pulled pork from drying out.
Mix the onions, juice, and pulled pork all together. And then it is ready. You can serve it as is for sandwiches and pork tacos or whatever else you want to use it for or add barbecue sauce to it.
Maybe you want to keep half plain and then add barbecue sauce to the other half, totally up to you.
Serving the Pulled Pork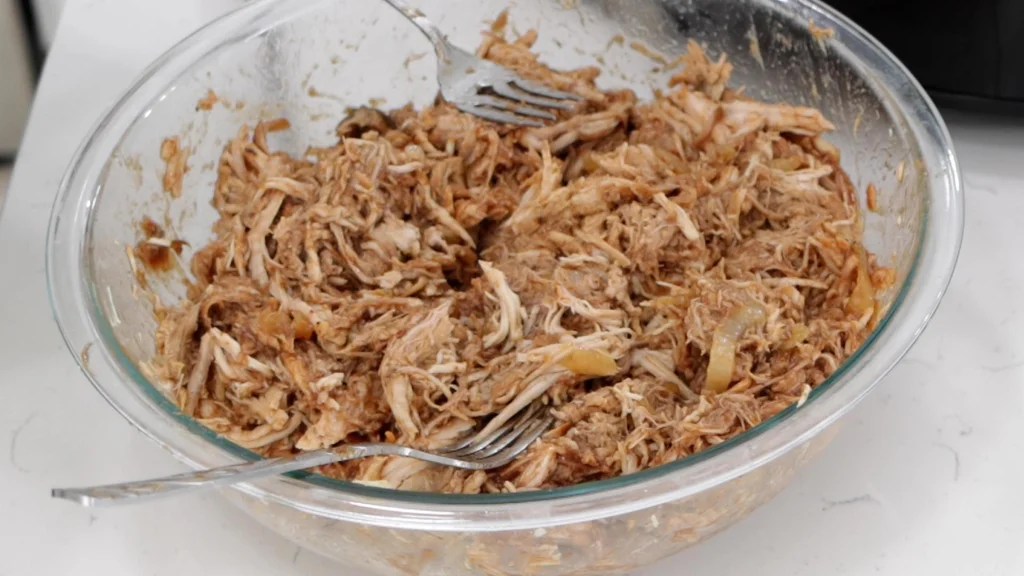 I like to mix in the barbecue sauce with the pork as opposed to just adding a bit on top of it. But you are welcome to do it however you like.
TIP: If you are waiting for a bunch of people to come over you can return the pulled pork to the Crock Pot and set it on warm. This will keep it nice and warm for your guests.
Now you can assemble a sandwich. Add a large helping of pulled pork on the bottom bun. Then add some sliced pickles if desired, followed by the top half of the bun and extra BBQ sauce as desired. Or you can make little pulled pork sliders with slider buns, perfect to feed a rowdy bunch on game day!
There you go, an awesome barbecue pulled pork sandwich. Enjoy!
How long does pulled pork last?
Keep leftover meat in the bowl covered with a lid or plastic wrap. Or use something like Tupperware or another type of airtight container then place in the fridge for up to 4 days. After that, you should freeze it in freezer bags.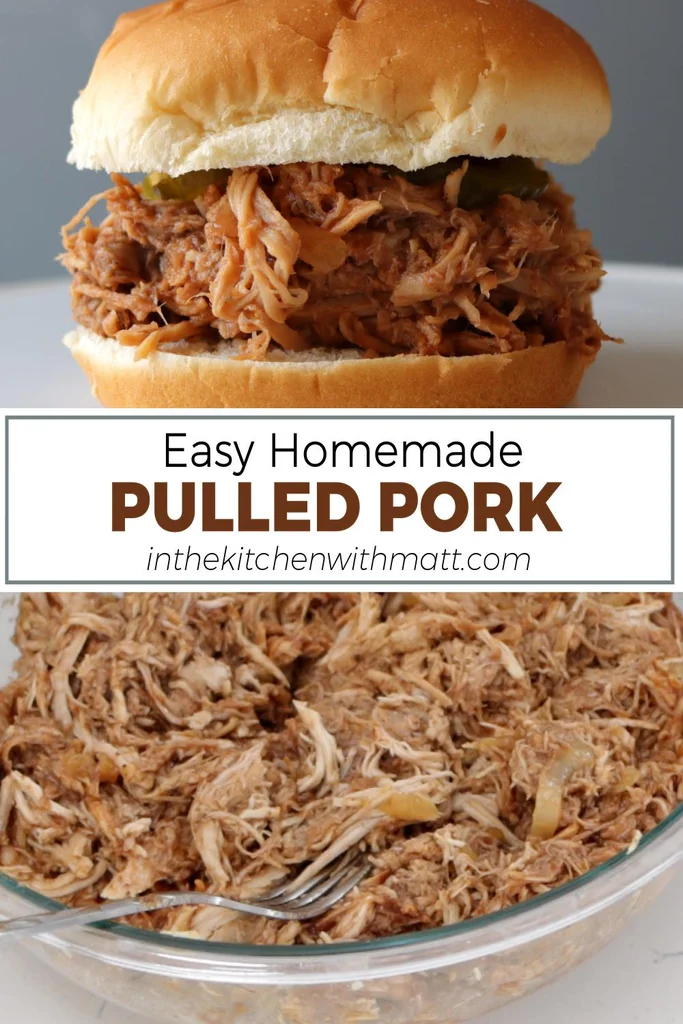 Here are other recipes you may like:
Pulled Pork in Crock Pot
Learn how to make pulled pork in a Crock Pot. It is so good and easy to make and feeds a lot of people.
Ingredients
4 to 5

pounds

of pork shoulder

pork butt, or pork loin

1

large onion

sliced or diced

2

Tbsp

of paprika

24g

1

tsp

of garlic powder

5g

1

tsp

of black pepper

5g

1

tsp

of oregano

3g

1

tsp

of salt

5g

4 to 5

cloves

of garlic

cut in half

12 to 15

oz

of root beer

dr. pepper, or orange juice

1 to 1 1/2

cups

of barbecue sauce, doesn't have to be exact

optional, leave plain for tacos
Instructions
Slice or dice 1 large onion

Slice 4 or 5 cloves of garlic in half and remove the skin.

In a small bowl whisk together the paprika, garlic powder, black pepper, oregano, and salt.

Remove the pork from the package and drain any excess juices. Pat the pork dry with a paper towel.

Sprinkle half of the dry rub onto the top of the pork and rub it in with your hand. Turn it over and put the rest of the dry rub on.

Cut slits in the pork with a knife and press the fresh garlic into the slits. This is optional

Add the onions to the Slow Cooker/Crock Pot. Then add the prepared pork on top of the onions.

Pour the root beer into the crock pot.

Cook on low for 8 hours or on high for 4 hours or on high for 2 hours and low for 4 hours. (Internal temp should be between 190F and 210F (87 to 98C)

Remove the cooked pork from the slow cooker and place it in a large bowl.

Shred the pork with two forks. Add a few ladlefuls of the leftover juice to the fork, along with the onions. Keep or discard the rest of the juice. And mix it all together. It is ready.

You can serve it plain like this for tacos or if you want to make pulled pork sandwiches you can add barbecue sauce and mix it in.

Add some pork to a bun along with some pickles then the top bun and you got yourself a yummy barbecue pulled pork sandwich. Enjoy the pork!
Video
How to Make Pulled Pork in Crock Pot | Easy Pulled Pork Recipe
Notes
NOTE: This recipe feeds 10 to 15 or more people depending on how much pork is put on each sandwich or taco.
NOTE: The nutritional facts are for just the pork itself with added barbecue sauce. It doesn't include a bun, pickles, coleslaw, etc. 
Nutrition
Do you like this best pulled pork recipe? Share and Pin it! Please give it a rating and comment down below, I really appreciate it. If you make it tag me on Instagram @inthekitchenwithmatt. Also, sign up for the newsletter so you won't miss out on any of my new posts and recipes.