Jump to Recipe
Did you know it is incredibly easy to make rice flour at home? Lots of people enjoy making ingredients at home because they know there are no preservatives added or simply because it is fun. Making rice flour is no different. It is incredibly satisfying to make and can be used in any recipe that calls for rice flour.
I was at the store the other day and I couldn't even find rice flour to buy. It may be more readily available at other stores and definitely is online, but at any rate, I just made it at home. From start to finish it takes less than 3 minutes or so. Let's get started!
Ingredients and Equipment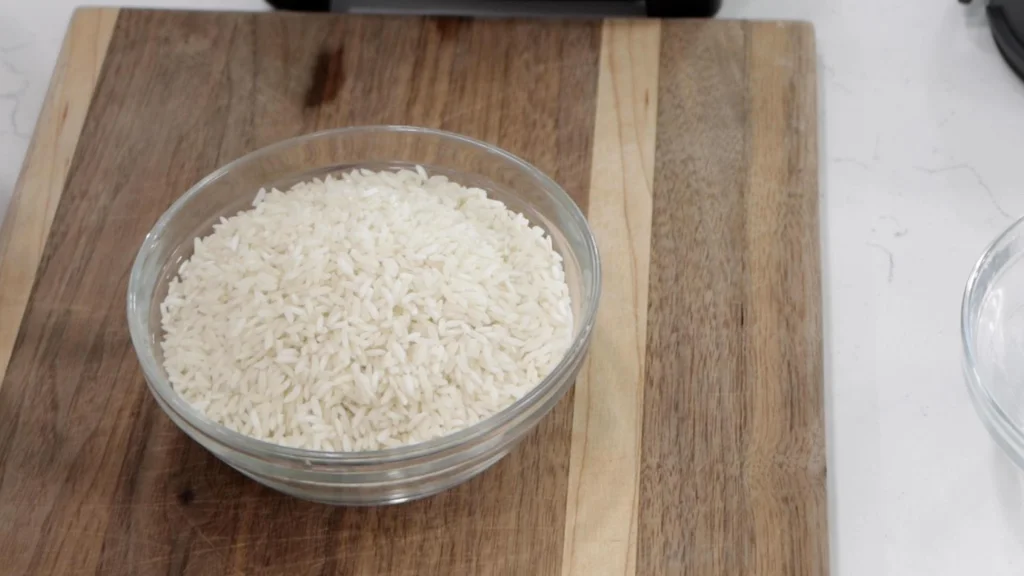 To make rice flour at home all you need is one simple ingredient:
Rice – You can use whatever rice you want. Long grain white rice, short grain, wild rice, etc. It all depends on the type of flour you want to make. I generally just use standard enriched long-grain rice when I am making it at home.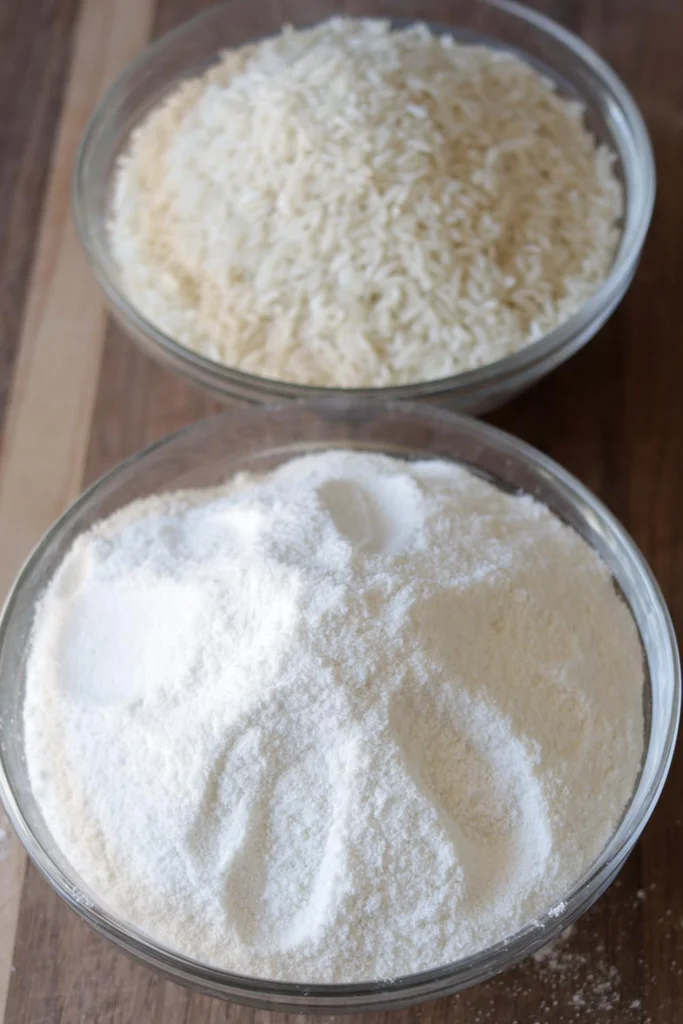 There is one main tool or piece of equipment that you need:
High powered blender – I love my Vitamix, it is amazing. Or if you already own something like a grain mill, then you can certainly use that.
Container – I normally use a mason jar with a lid.
How to make rice flour at home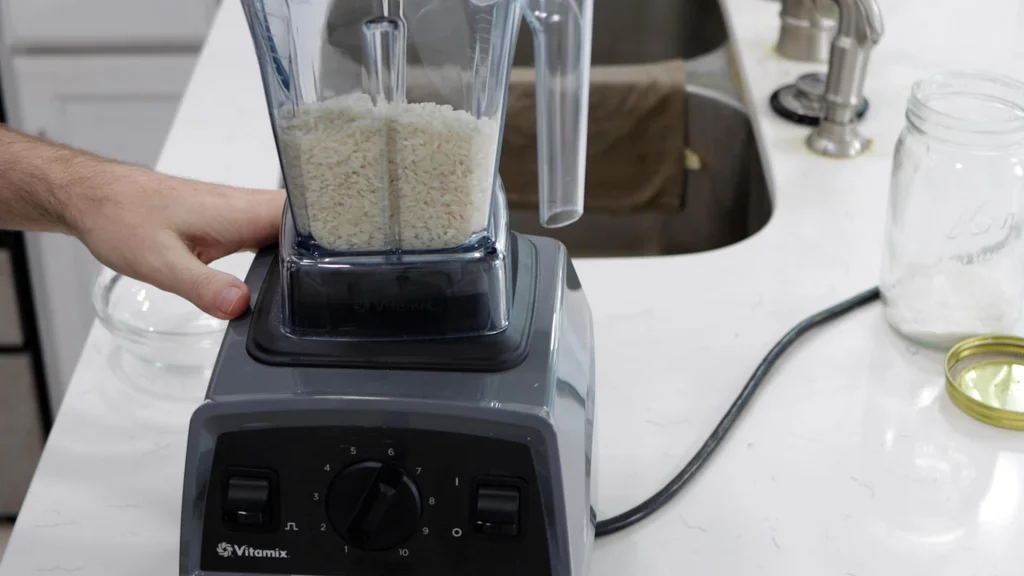 It couldn't be easier to make rice flour at home.
Add your rice to your high-powered blender. Something like a Vitamix, Blendtec, or maybe even the Nutribullet will work.
I own the Vitamix Explorian E310 and absolutely love it. I use it almost every day.
Try whatever blender you have first, it may work just fine. But usually, to grind up rice and other grains effectively into flour, a more powerful blender is needed. Or of course, if you have a grain mill just use that. I don't make my own flour at home that often, so the blender is perfect for me.
Start off blending with the lowest setting then gradually crank it up to the highest setting. Allow it to blend for 30 to 45 seconds on high. It should turn into a nice fine rice flour.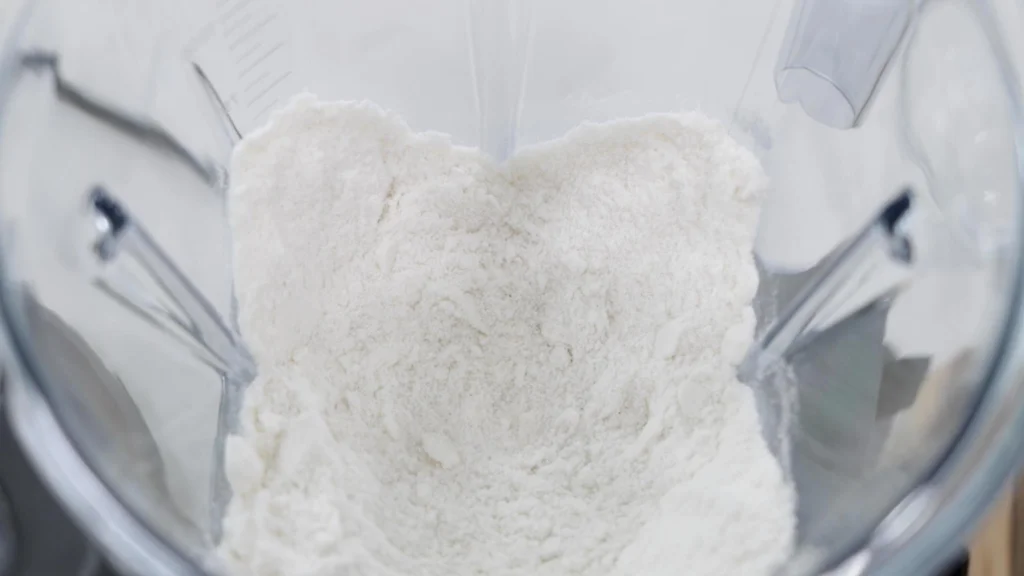 There you go, it is as easy as that. Now it is ready to be used in any recipe that calls for rice flour. I use it all the time when I am making my homemade sourdough bread. It works really well to keep the dough from sticking to my bannetons.
One thing you may want to make with it is your own homemade gluten-free flour mix. I show the recipe for that in this gluten-free muffin recipe. Of course, there are so many other uses for it.
Some people use it as a thickening agent in soups and stews, cakes, pastries, etc.
How do I store the homemade flour?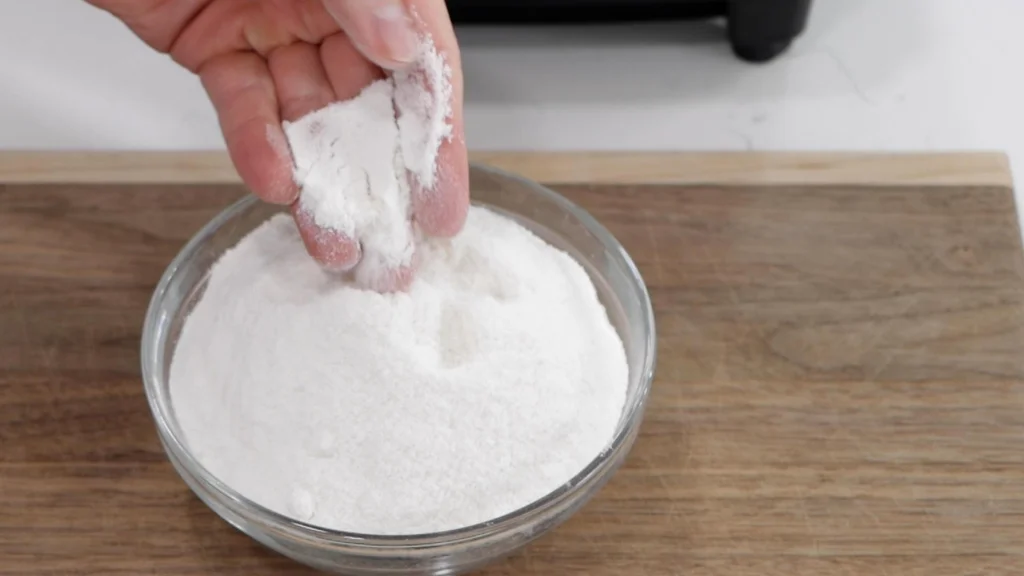 I usually store mine in a large mason jar with a tight lid. You can keep it in the cupboard for a few months or store it in the fridge for up to a year. Just check on it to make sure there is no mold or anything growing on it before use.
Here are other recipes you may like:
Homemade Rice Flour
Learn how to make rice flour at home in a blender. It is super easy and only takes a few minutes.
Equipment
1

blender

You can try a food processor or coffee grinder as well.

1 Container

I usually use a mason jar with lid
Ingredients
1

cup

white rice, brown rice, etc.
Instructions
Add the rice to the blender and blend. Start at low and then increase the speed gradually until it is at its highest setting. Blend on high for 30 to 45 seconds.

Remove rice flour and store it in an airtight container like a mason jar. It will last a few months in the pantry or about a year in the fridge.
Notes
The nutritional facts are based on 1.5 cups of uncooked rice flour as 1 serving.
Nutrition
Do you like this recipe? Share and Pin it! Please give it a rating and comment down below, I really appreciate it. If you make it tag me on Instagram @inthekitchenwithmatt. Also, sign up for the newsletter so you won't miss out on any of my new posts and recipes.