Jump to Recipe
Want to do something different for a birthday party or other gathering other than standard cupcakes? How about making these ice cream cone cupcakes. Instead of baking them in paper cups, bake the cupcakes in ice cream cones!
Ice cream cone cupcakes are nothing new, they have been around for several years, but I still don't see them being made that often. They are such a fun idea. It is a great activity to do with the family and kids. And the best part is you can use pretty much any cake or cupcake batter for these.
If you are needing a dessert or treat idea for your next birthday party or other gatherings, add a bit more creativity to your cupcakes with these cupcake cones. If I can do it, you can do it. Let's get baking!
Step 1: Gather the ingredients and tools for your cupcake cones
In order to make ice cream cone cupcakes, you need just a handful of ingredients. Depending on the cake batter recipe that you use:
Cake batter – And the neccesary ingredients for that batter. You can use your favorite from scratch recipe or a box cake mix. Like chocolate cupcakes? Use this chocolate cupcake recipe. Like vanilla? Use this vanilla cupcake recipe. Or if you love strawberry cupcakes try this moist strawberry cupcakes recipe. So many options to choose from.
Frosting – You will need quite a bit of frosting to frost the 24 cupcakes. Usually about two standard containers worth. Use whatever kind of frosting that you like. Here is an excellent homemade buttercream frosting recipe.
Sprinkles – The sprinkles are optional, but I always like to add them.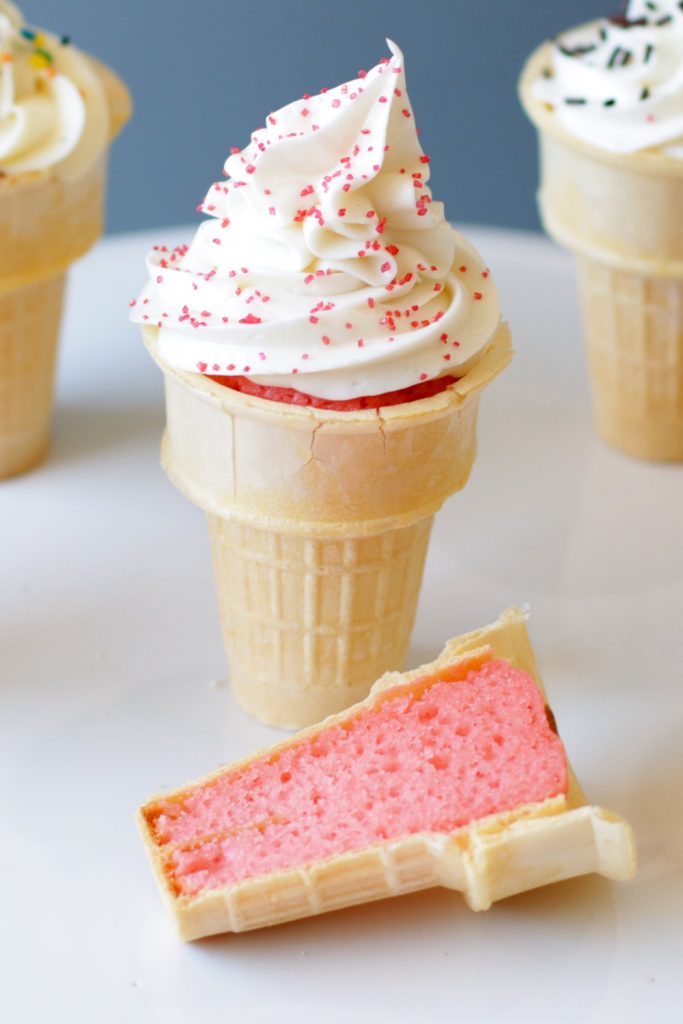 Tools
Piping bag with a star tip (Wilton 1M), optional
Plastic bag, instead of a piping bag
Scissors
Muffin pan or 13×9-inch baking pan or sheet pan
Bowl
Step 2: How to make ice cream cone cupcakes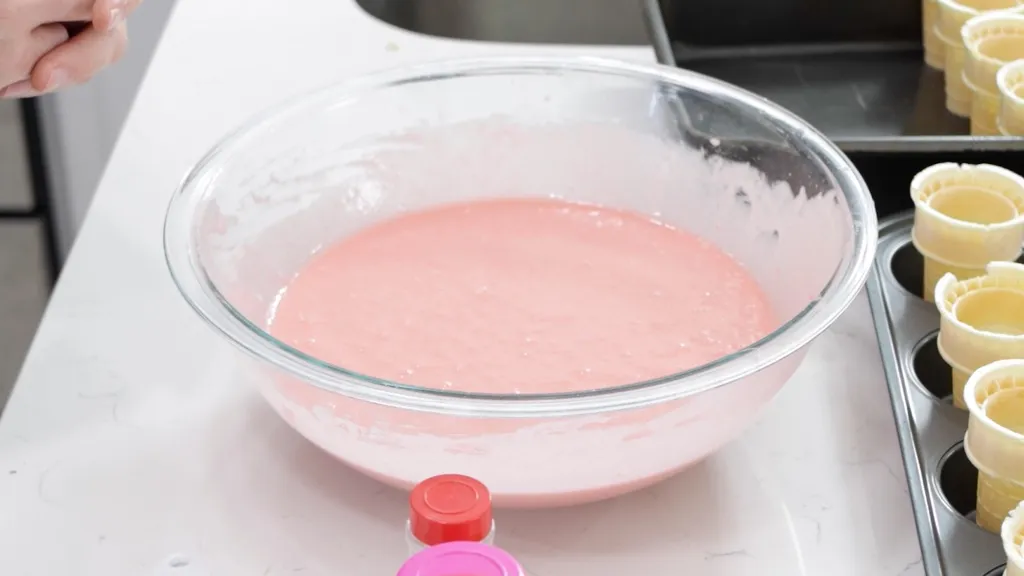 Preheat the oven to 350 F/176 C. Place the main rack in the middle position.
Now time to make your cake batter. You can use whatever cupcake or cake batter recipe that you want. Make it completely from scratch or just use a cake mix or cupcake mix box. I mentioned a few recipes above that you can try if you like.
You will of course need the extra ingredients for whatever cake batter that you make. For a box cake mix, it is usually water, oil, and eggs. Can't have eggs, try using Greek Yogurt or unsweetened applesauce instead.
Make the batter in a large bowl. Or if you like you could mix it in a pitcher, to make it easier to pour the batter later.
Take your cupcake cones (this recipe makes about 24 of them) and arrange them in either a muffin pan or in a 13×9-inch baking pan. You may be able to get all 24 in the baking pan. You can also use a sheet pan.
My preference is the baking pan because it seems to be more stable. But they work fine as well in a cupcake pan.
Next, use a little measuring cup and pour about 3 tablespoons of batter into each cone. It should be just above the ridge/handle part of the cone. Don't fill it up too much, because then it will overflow when you bake.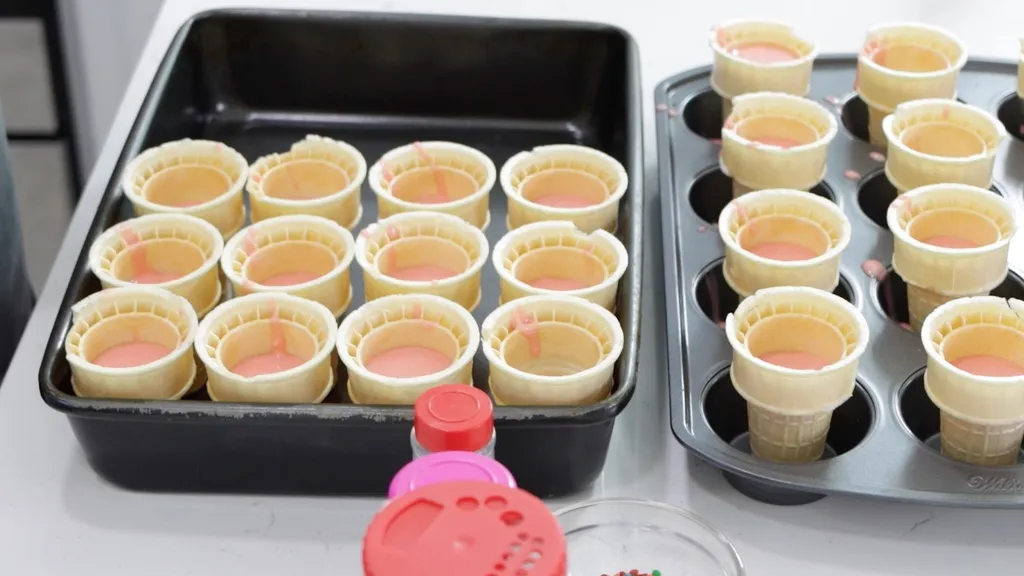 Or if you made the batter in a pitcher you can just pour the batter instead of scooping it. Depending on how thick or thin your batter is, you could even use a piping bag and pipe the batter into the ice cream cones.
Step 3: Bake and decorate the cupcake cones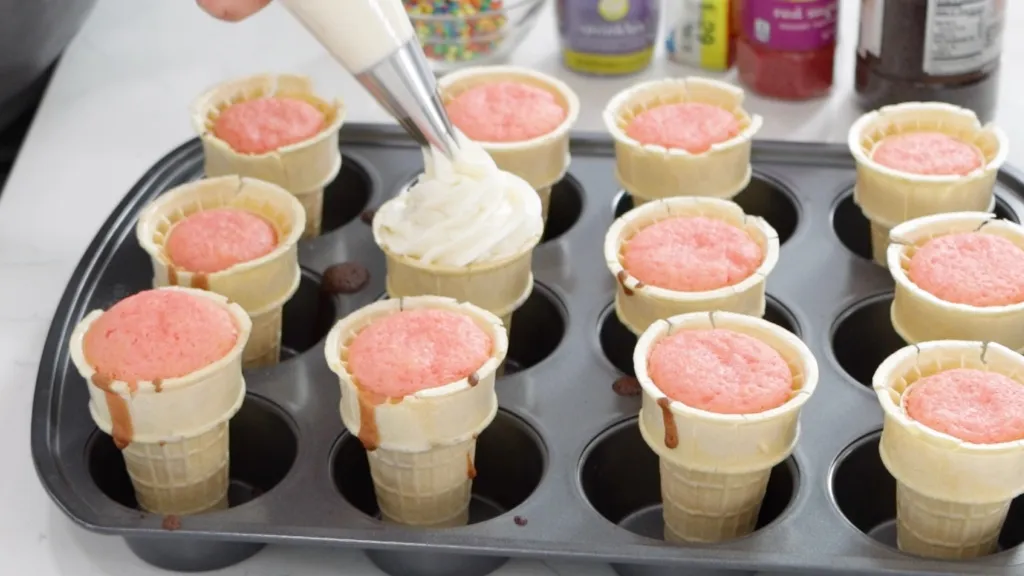 Now time to place those ice cream cone cupcakes in the oven and bake them for 19 to 22 minutes until when you poke them with a toothpick the toothpick comes out clean.
Once they have baked, remove them from the oven and allow them to cool completely.
Then you can decorate them. I like to put the frosting in a piping bag with a star tip (Wilton 1M) and then pipe the frosting on. It makes it look like a soft-serve ice cream cone.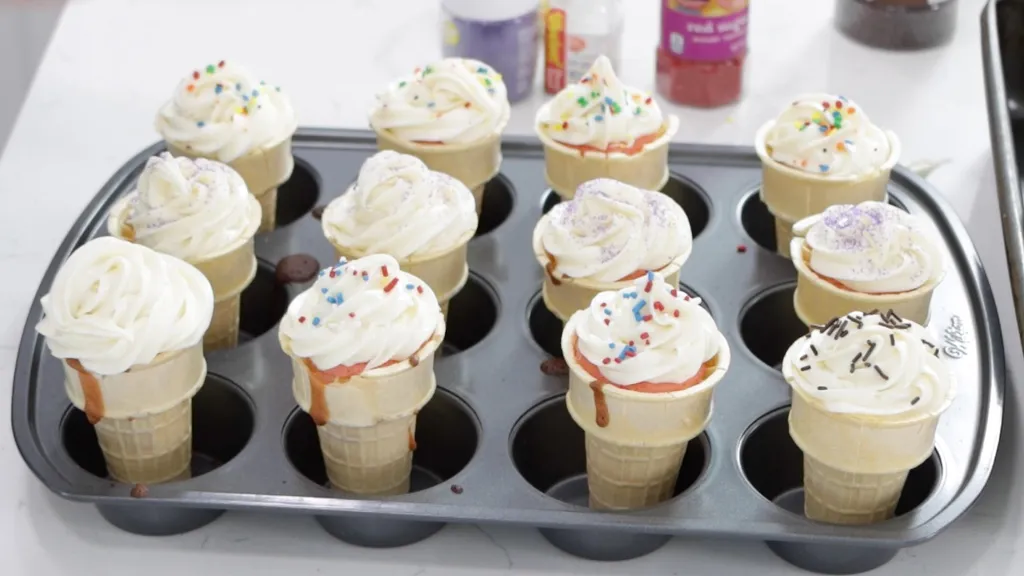 TIP: If you don't have a piping bag, just use a plastic storage bag and snip off the corner.
Once you have frosted the ice cream cone cupcakes, you can leave them as is, or add sprinkles to them.
If you want to see what it looks like on the inside, take an unfrosted one and cut it down the middle. Pretty awesome right?
There you go, your ice cream cone cupcakes or cupcake cones are done and ready to serve. Enjoy!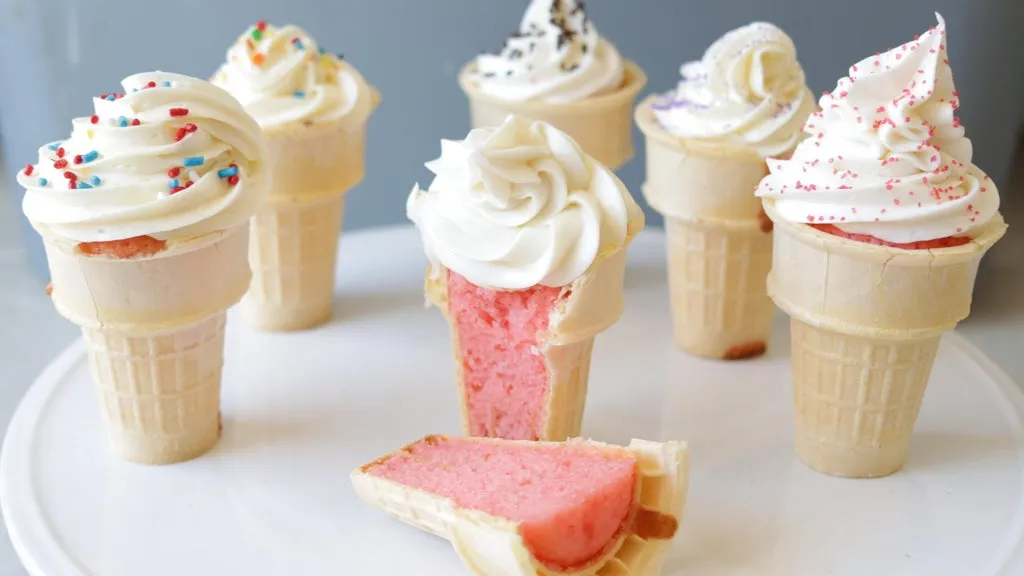 How long do ice cream cone cupcakes last?
Store them in the fridge until you want to take them to the party. You can bake them the night before for a party the next day. They will always be better fresh. As time goes on the ice cream cones will get a bit soggy and not as crunchy. But that won't happen until a few days later.
Here are other recipes you may like:
Ice Cream Cone Cupcakes
These ice cream cone cupcakes are perfect for birthday parties and other social gatherings. It is a fun twist on two classic treats. And they are incredibly easy to make.
Equipment
Piping bag with a star tip, optional

Plastic bag, instead of a piping bag

Scissors

Muffin pan or 13×9-inch baking pan or sheet pan

Bowl
Ingredients
1

standard cake recipe or cake mix along with ingredients to make it

32

oz

frosting

depends on how much you put on each cupcake cone

24

ice cream cones

Sprinkles

optional
Instructions
Preheat the oven to 350F/176 C.

Prepare your chosen cake batter with appropriate ingredients. You can use pretty much whatever cake or cupcake batter that you want.

Arrange ice cream cones in muffin pans or a baking pan. Use a measuring cup and scoop and pour some batter into each cone, just above the ridge of the handle. About 3 tablespoons.

Bake on the middle rack for 19 to 22 minutes until a toothpick comes out clean when inserted. Allow them to cool completely before decorating.

Decorate the ice cream cone cupcakes with frosting in a piping bag and star tip, or use a plastic storage bag and snip the corner off.

Add sprinkles on top too if you like. You are done, enjoy!
Video
How to Make Cupcake Cones | Ice Cream Cone Cupcakes Recipe
Notes
NOTE: If you want to reduce the number of calories you can reduce the amount of frosting per cupcake cone. The calories will also vary depending on the type of cake batter to use.
Tip: Don't fill the cones up too much, otherwise they will overflow when baking.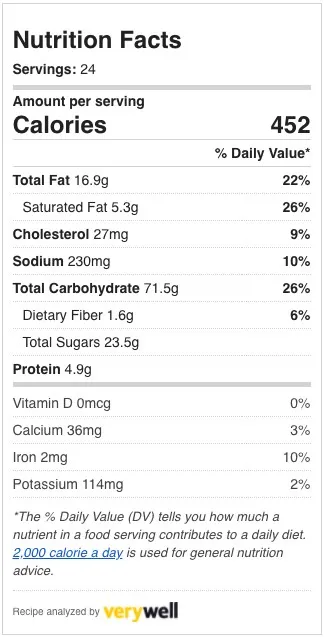 Nutrition
Do you like the recipe? Please give it a rating and comment down below, I really appreciate it.  If you make it tag me on Instagram @inthekitchenwithmatt. Also, sign up for the newsletter so you won't miss out on any of my new posts and recipes.
Check out my other website 101 Creative Dates for fun date ideas. Food and dating go hand in hand!