Jump to Recipe
I am a big fan of a good ice cream sandwich and also 3-ingredient recipes. Have you ever bought Cool Whip for something and were not able to use it all, and were wondering what to do with the rest? Or maybe you found a tub of Cool Whip whipped topping on sale for like $0.99? And then bought several of them thinking you would surely use them later. Well, this 3-ingredient cookies and cream ice cream sandwich is the perfect recipe to use up that whipped topping.
Technically these aren't really ice cream sandwiches because no actual ice cream is used, but when frozen the Cool Whip and Oreos, taste pretty similar to actual ice cream, hence the name.
These are so fun to make! It is a great activity to do with the kids or make them for a party, etc. Let's get started!
Ingredients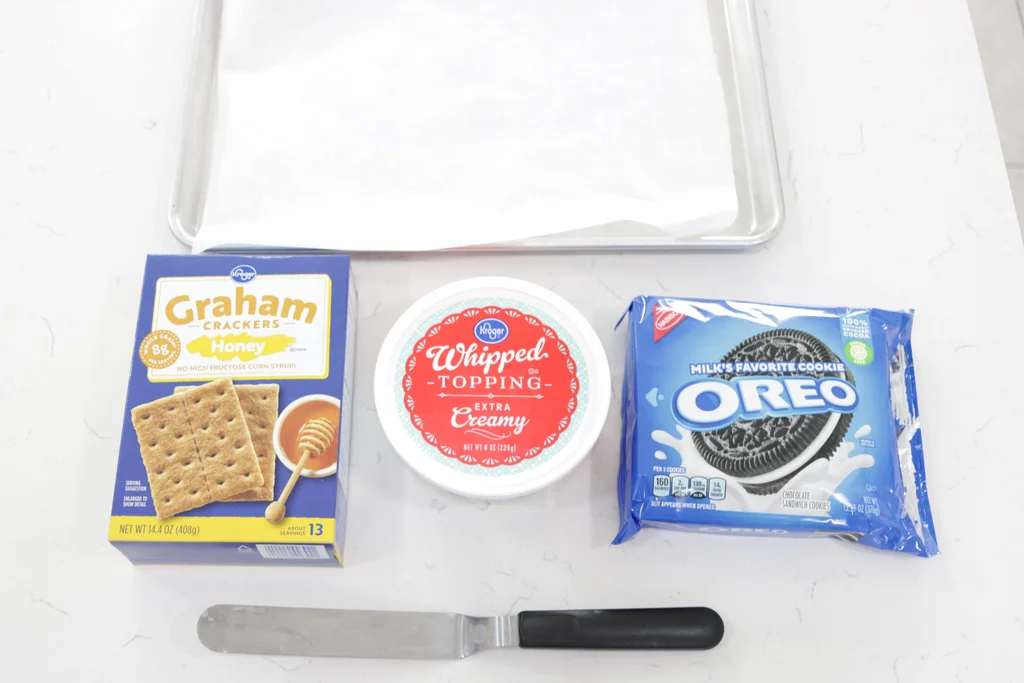 In order to make this 3-ingredient cookies and cream ice cream sandwich, you need the following:
Oreos – You can also use other types of cookies if you want, or even something like diced strawberries.
Cool Whip/Whipped Topping – I just always buy the store brand instead of the actual Cool Whip brand. They taste nearly identical and the store brand is cheaper, haha.
Graham Crackers – Again I usually just buy the store brand. While the popular Honey Maid brand is delicious, the store brand kind tastes nearly identical as well. You could use the normal kind or the cinnamon kind. Or use something else like a cookie. I prefer just plain classic graham crackers.
Tools/Equipment
Bowl
Bag
Meat tenderizer or rolling pin
Sheet pan
Parchment paper or a silicone baking mat
How to make a 3-ingredient cookies and cream ice cream sandwich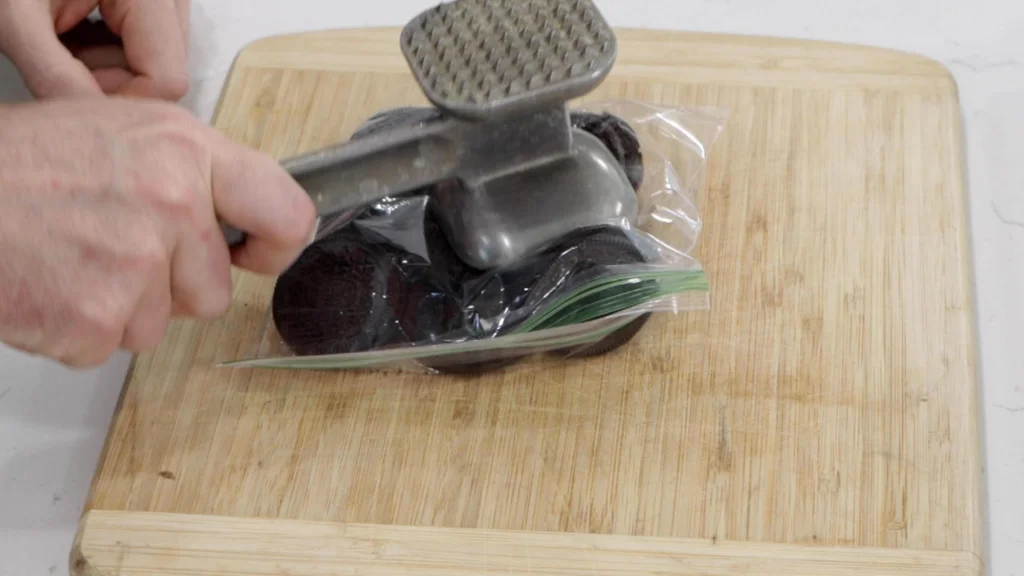 First, make sure to remove the Cool Whip from the freezer and allow it to soften, usually takes about 30 minutes depending on how warm your home is.
Now mash up those Oreo cookies. You can do it a few ways. Place them in a bag and then use a meat tenderizer or rolling pin and smash them into crumbs.
Or you can use something like a food processor or blender. I like there to be a few larger chunks so I usually just use the bag and tenderizer method.
Make the ice cream sandwich filling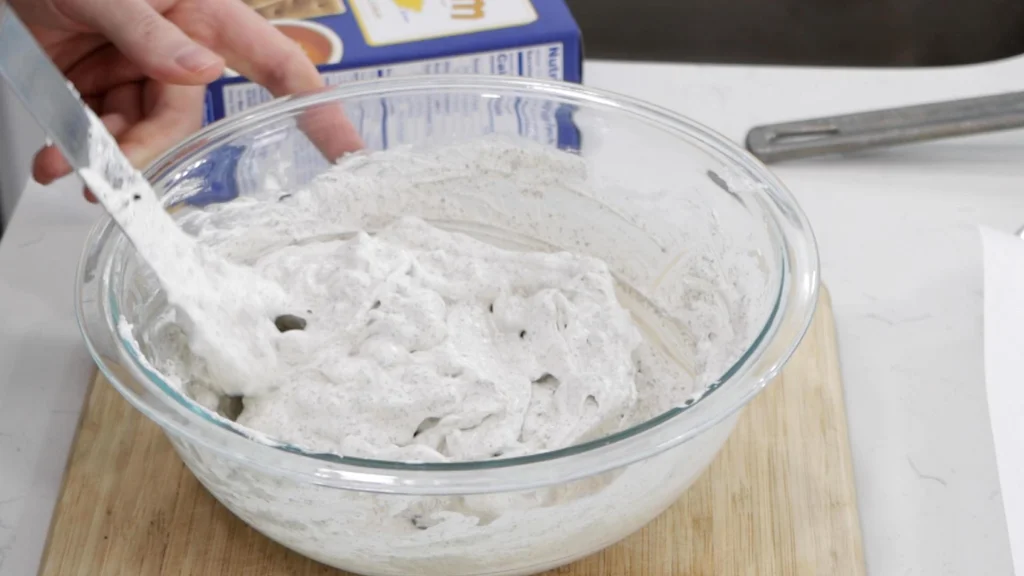 Add the softened Cool Whip or whipped topping to a large bowl along with the Oreo cookie crumbs. Then stir those together until well combined.
Break a sheet of graham crackers in half (or keep them intact for larger longer ones). Use a spoon or spatula and add a few heaping tablespoons of Oreo Cool Whip filling to one graham cracker half.
Press the other half on top then use a spatula to go along the edges to make the edges cleaner, if desired.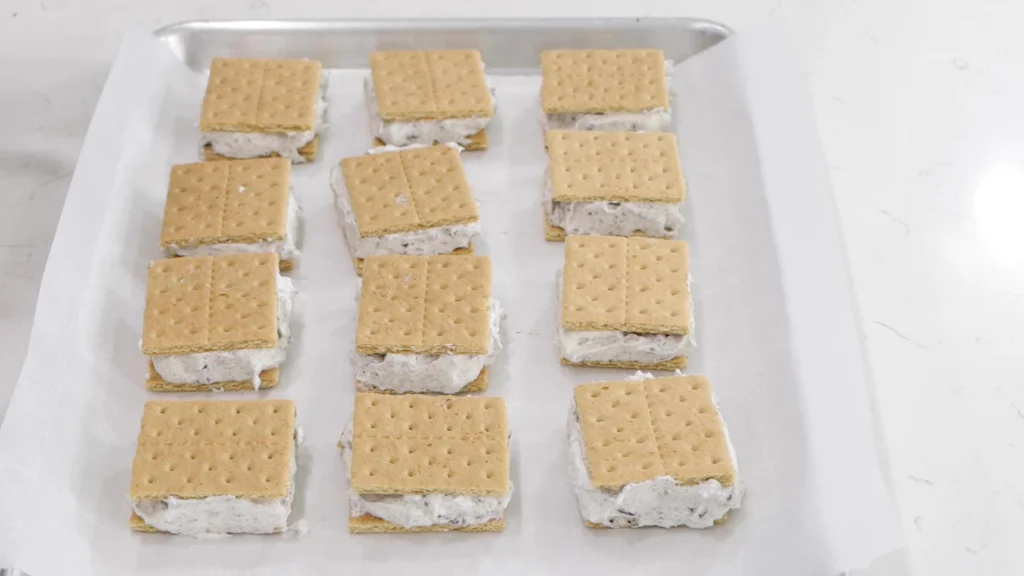 Place the sandwiches on a sheet pan or cookie sheet or even a plate lined with parchment paper (easy cleanup).
Now all you need to do is place them in the freezer and freeze them for 2 to 3 hours until nice and firm.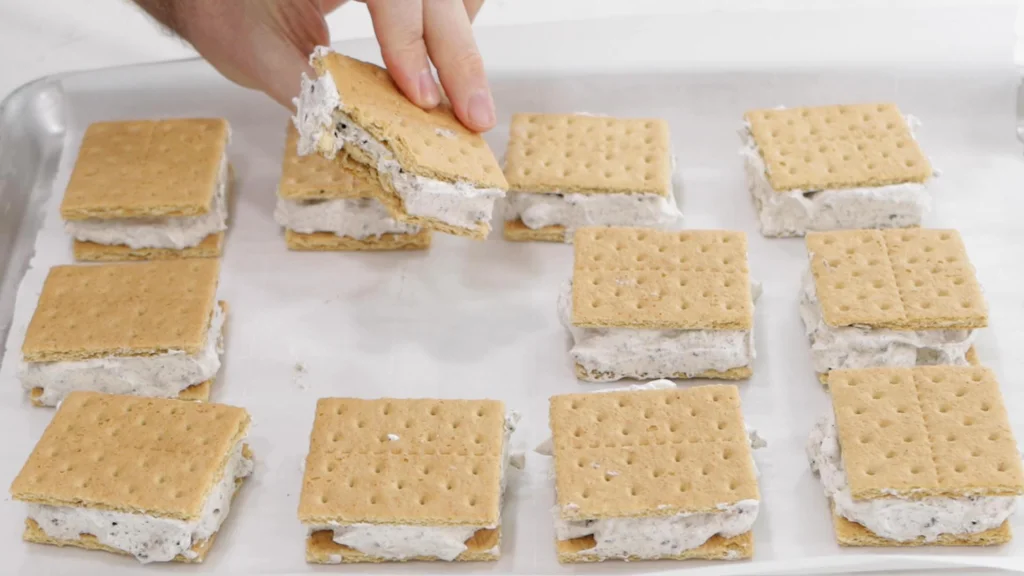 Once frozen, remove them and eat them. They taste amazing, lighter than a typical ice cream sandwich, and a little healthier.
For long-term storage, place them in a freezer bag and freezer for 2 to 3 weeks or even a bit longer.
Enjoy!
How long does the homemade ice cream sandwich last?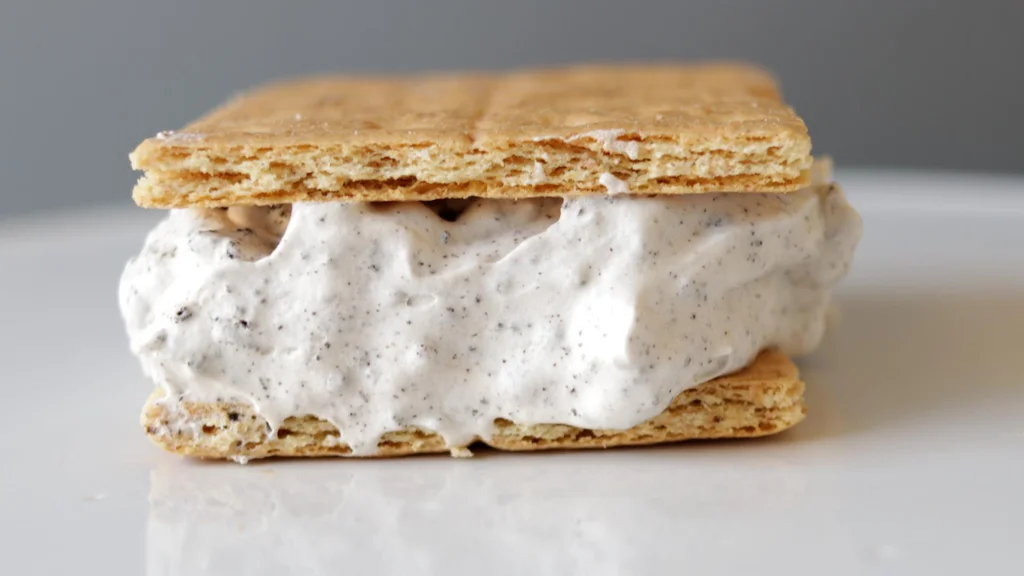 These homemade 3-ingredient cookies and cream ice cream sandwiches will last 3 to 4 weeks or longer in the freezer. Once frozen, you can place them in a freezer bag and put their bag in the freezer to snack on whenever you like.
Can I just use normal homemade whipping cream instead of Cool Whip?
While you can, they will turn out a bit differently. Cool Whip has added ingredients to it which give it that unique firmish texture and taste.
Here are other recipes you might like:
Copycat Chipwich Ice Cream Cookie Sandwich
Strawberry Icebox Cake Only 3 Ingredients
3-Ingredient Chocolate Ice Cream
3-Ingredient Cookies and Cream Ice Cream Sandwich
Learn how to make a super tasty and easy cookies and cream "ice cream" sandwich with just 3 ingredients. Not technically an ice cream sandwich, but tastes super close to one.
Equipment
Bowl

Bag

meat tenderizer or rolling pin

sheet pan

Parchment paper or a silicone baking mat
Ingredients
8

oz

of Cool Whip or store-brand whipped topping

226g

24

Graham cracker halves

12

Oreos
Instructions
Set Cool Whip/Whipped topping out at room temp for 20 to 30 minutes to thaw and get soft.

Smash up the Oreos either by putting them in a bag and mashing them with a meat tenderizer or rolling pin, or using a blender or food processor.

Add the softened whipped topping to a medium bowl then stir in the Oreo crumbs to make the filling.

Assemble the sandwiches. Break the large graham cracker into two squares, or leave it long. Then add two to three heaping tablespoons of filling on top of one of the crackers. Add the other cracker and press down gently.

Use a spatula if desired to smooth out the edges.

Place ice cream sandwiches on a sheet pan lined with parchment paper or wax paper and freeze for 2 to 3 hours until firm.

Once firm, you can serve them. Store them in a freezer bag in the freezer for 3 to 4 weeks or longer. Enjoy.
Video
Easy 3-Ingredient Cookies and Cream Ice Cream Sandwiches
Notes
Nutrition