Jackfruit is an amazing fruit. It is the largest tree fruit in the world and can get up to 100 pounds or more. Not only can you eat the delicious fruit pods and stringy "rags" on the inside, but you can also eat the jackfruit seeds.
In this post, you will learn about some of the health benefits of jackfruit seeds and a few ways to eat them. But first, if you want to learn more about the jackfruit itself heat over to this Jackfruit How to Cut and Eat it article.
The jackfruit seeds will vary in size depending on how large the jackfruit is that they come out of. Usually they are an inch to two inches in length.
What are the health benefits of jackfruit seeds?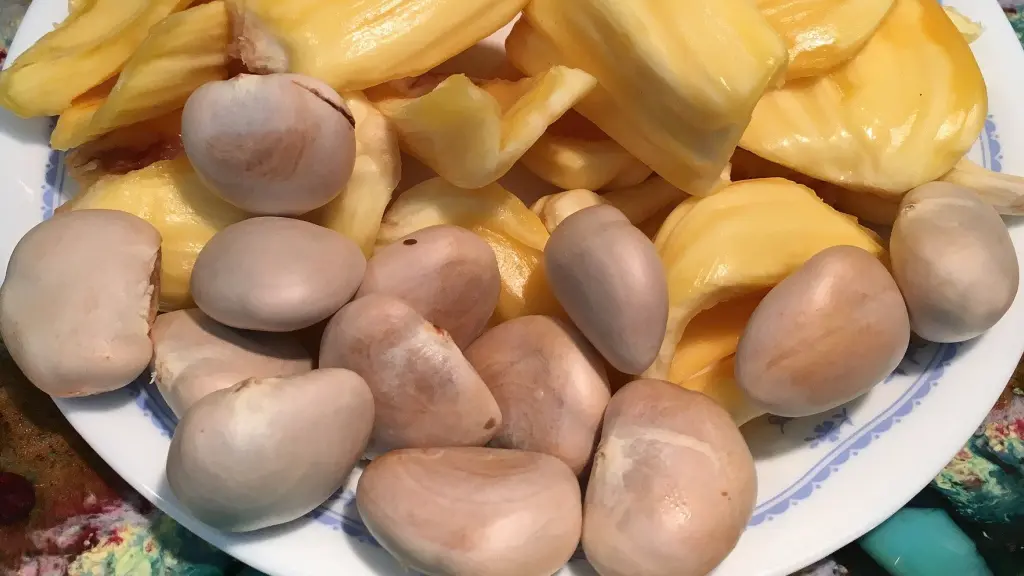 It is so awesome that the jackfruit seeds are edible, but not only that they are highly nutritious as well. Here are a few of the health benefits for them:
High levels of starch
Good source of protein, 2 grams per 1 ounce serving
Moderate level of Riboflavin
Good source of Thiamine
Moderate amounts of Magnesium and Phosphorous
Fiber-rich
Help with digestive issues
May help with cholesterol levels
This nutrient-rich seed packs a powerful punch and a great addition to your diet. Instead of just throwing them away!
For more health benefits of jackfruit seeds visit this healthine.com article.
Step 1: How to Eat Jackfruit Seeds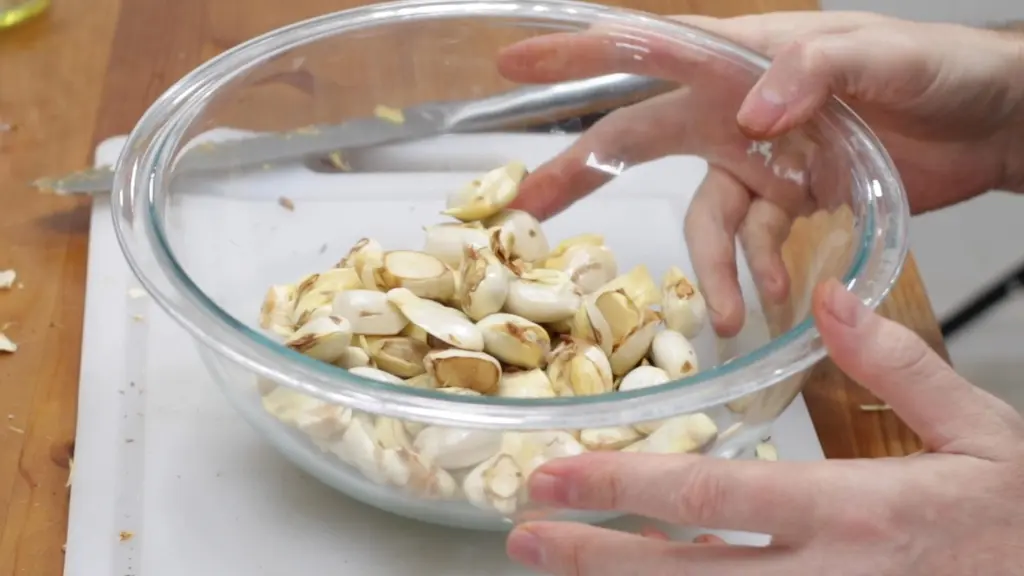 Begin by removing the jackfruit seeds from the edible fruit pods. Then just place them in bowl until you have removed all the ones that you want to eat.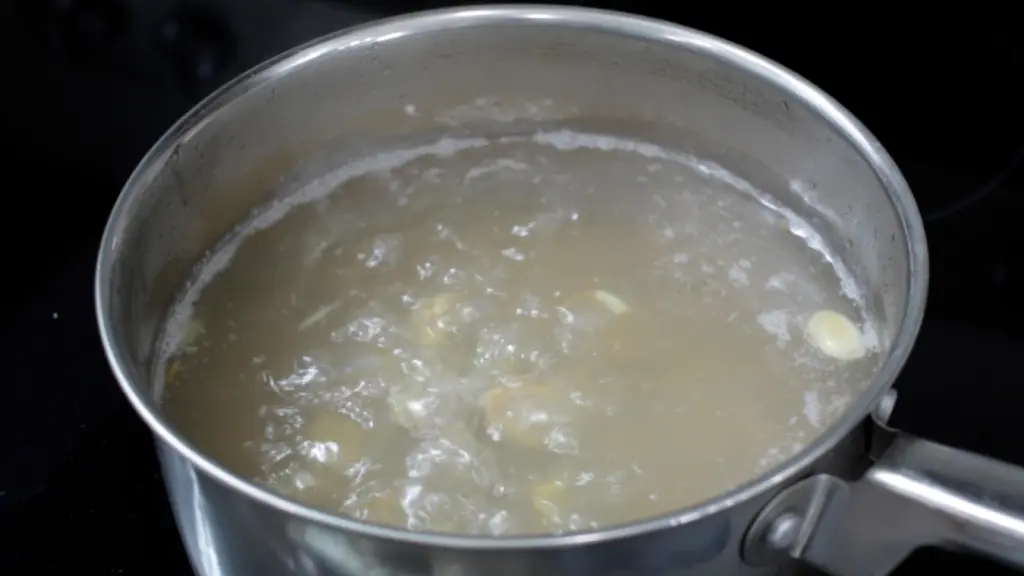 Take a pot and add it about half full with water. Place it on the stovetop and set the burner to high. Add the jackfruit seeds to the pot of water along with about 1/2 tsp of salt.
Bring the water to a bowl and then turn the heat down to medium and put on a lid.
Cook the seeds until they are fork tender. It will take 15 to 25 minutes. You may have some floating white shells, which are not edible that come off the seeds. This is normal and nice, because then you don't have to remove them after.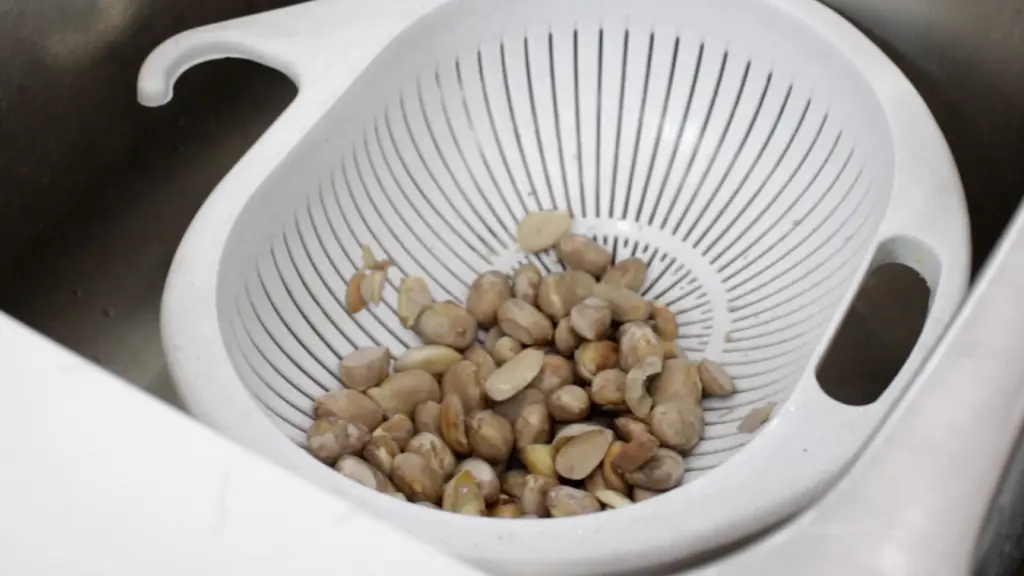 Once they have been cooked dump the jackfruit seeds and hot water into a colander to strain them. Allow them to sit and cool for a few minutes until they can be handled.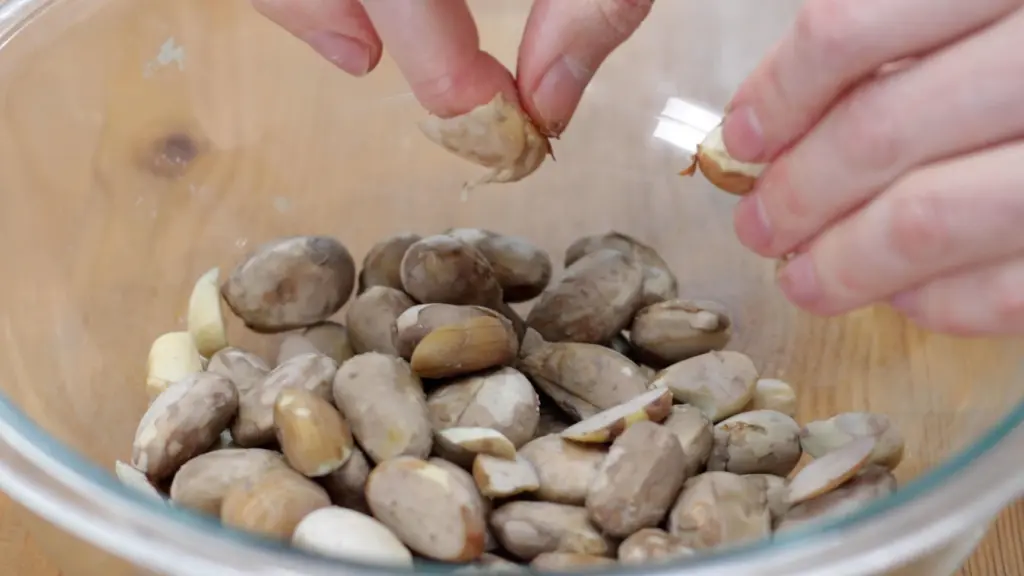 Now once they can be handled you need to remove the white shells that may be surrounding them. Those aren't edible. There are a couple of ways that you can do this. You can use your finger nail and try and peel it away from the seed.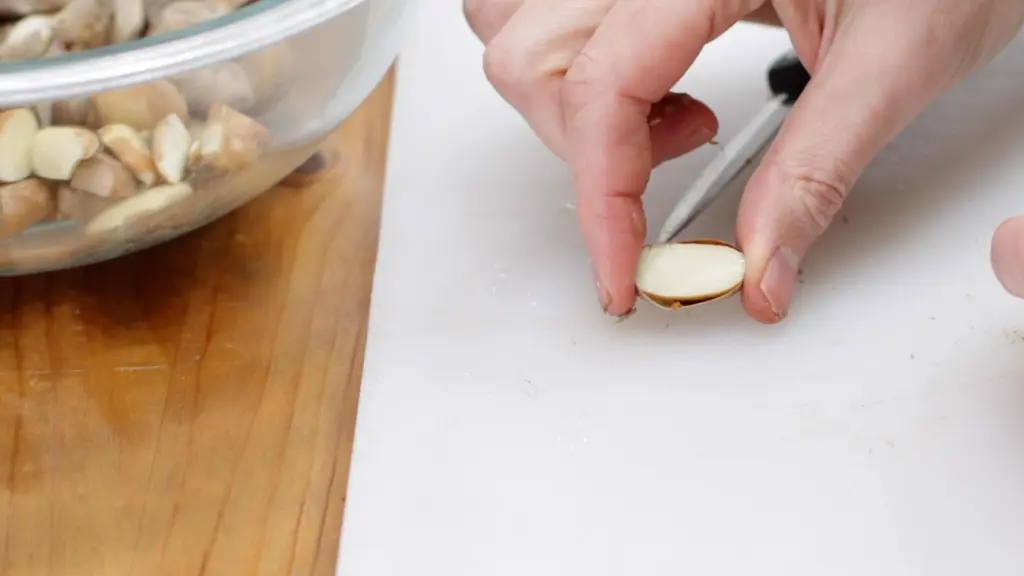 Or you can cut the seed in half. When you squeeze the ends it loosens the shell and it comes out really easy. But it is totally up to you how you want to remove the seeds.
Once done you can lightly salt them, add some pepper, maybe garlic powder and eat them as is for a snack. Or move on to the next step.
They taste a little bit starching and remind me of a potato and chickpea and maybe a hint of chestnut as well. Sometimes they taste a bit bland when eaten as is, so usually I will do this next step.
Step 2: Sauté the Jackfruit seeds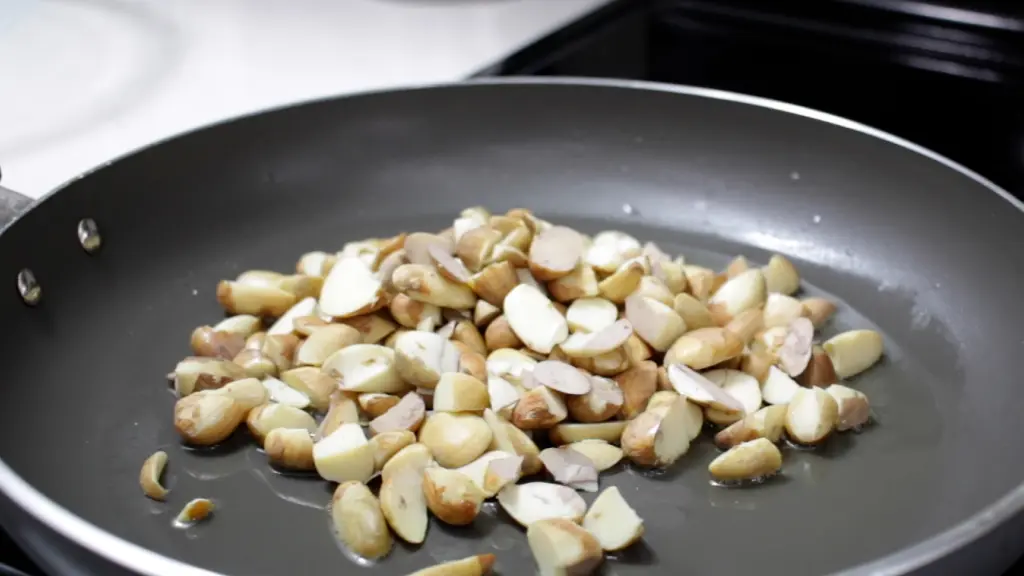 Next, sauté those seeds. Take a skillet and set the burner to medium heat. Add a bit of cooking oil, like coconut oil, vegetable oil, ghee/clarified butter, and let it heat up.
Then add the seeds and cook them until lightly golden brown. You can also cook them with onions and fresh garlic if you like.
Make sure to sprinkle on some salt, pepper, and garlic powder as well. Paprika is another excellent addition.
A lot of times a curry is made with it as well.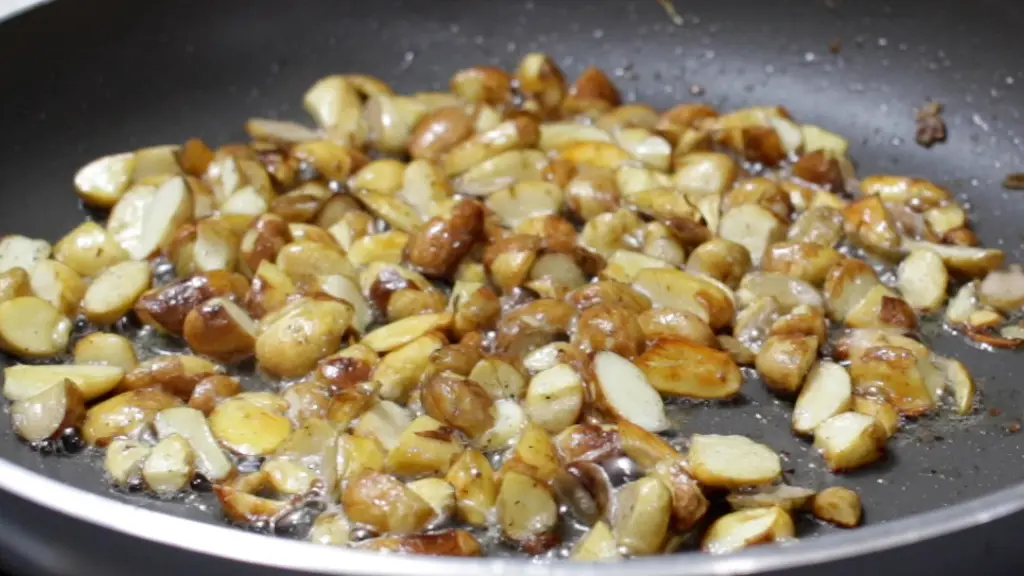 Make sure to stir and flip the seeds occasionally with a spatula so they brown evenly. This will give them a yummy flavor. Kind of like making hash browns, and I do love homemade hash browns and country fried potatoes.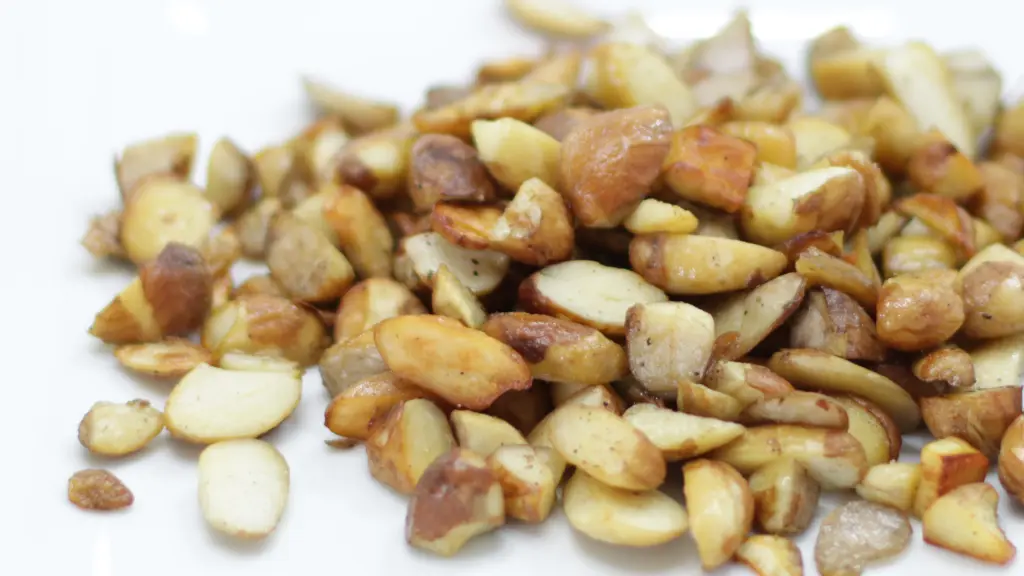 Once they are browned you can tilt the pan and allow the oil to fall to one side and then scoop them out onto a plate. Or place them on a paper towel to drain/dry.
And there you have it, super yummy, cooked jackfruit seeds, prepared two ways. Boiled, and boiled plus fried.
These are used commonly to top salads, eaten as is for snack, made into jackfruit seed hummus, dried and then ground into a flour and used in baking. So many great uses for jackfruit seeds. Again, don't throw them away, when you can eat them.
Here are some other recipes you may like:
Homemade Waffles Jackie Kennedy Recipe
How to Cook Jackfruit Seeds
Did you know jackfruit seeds are edible? Yes, they are, so don't throw them away. They can be used for so many dishes, but first, they need to be cooked. Let's get started!
Ingredients
Water

2

cups

jackfruit seeds

doesn't have to be exact

1/2

tsp.

salt

2

Tbsp

oil

coconut oil, vegetable, clarified butter, etc.

Salt

pepper, garlic powder to taste
Instructions
Add a pot half full with water to the burner. Set the heat to high. Add the jackfruit seeds along with the salt. Then bring to a boil.

Once they boil, reduce the heat to medium and cook for 15 to 25 minutes until fork tender.

Pour into a colander and drain. Allow them to cool for a few minutes so you can handle them.

Now remove the outer white shell with your fingers. Or cut the seed in half, which makes removing it easier. Add some salt and you can eat them as is, or fry them up.

Add some oil to a skillet. Set the heat to medium. Once the oil heats up add the boiled seeds. Sauté them for 8 to 10 minutes until golden brown. You may also cook them with onions, peppers, etc. Enjoy!
Video
How to Cook Jackfruit seeds | Easy Jackfruit Seeds Recipe
Notes
This will make 6 servings that are just shy of 4 ounces apiece. 
Each serving contains:
141 Calories, 29g of carbs, 5.3g of protein, 0 grams of fat, 1.3 g of fiber, 21% of RDI for Riboflavin, 18% RDI for Thiamine, 13% RDI for Magnesium, 10% RDI for Phosphorus
Nutrition
Do you like this recipe? Share and Pin it! Please give it a rating and comment down below, I really appreciate it. If you make it tag me on Instagram @inthekitchenwithmatt. Also, sign up for the newsletter so you won't miss out on any of my new posts and recipes.