Jump to Recipe
These Keto granola bars are amazing. They are healthy, low carb, gluten-free, and very satisfying. While they aren't true granola bars, because there is no granola in them, they are a great substitute!
I really enjoy these healthy alternatives to real granola bars. My brother has been on the Keto diet for a few years now and has so many good things to say about it. While I am not on it per se there are so many Keto-friendly foods that I enjoy eating. These keto bars are so easy to make. If I can do it you can do it, let's get baking!
What is the difference between success and failure on the Keto diet? Find out here.
Step 1: Gather the ingredients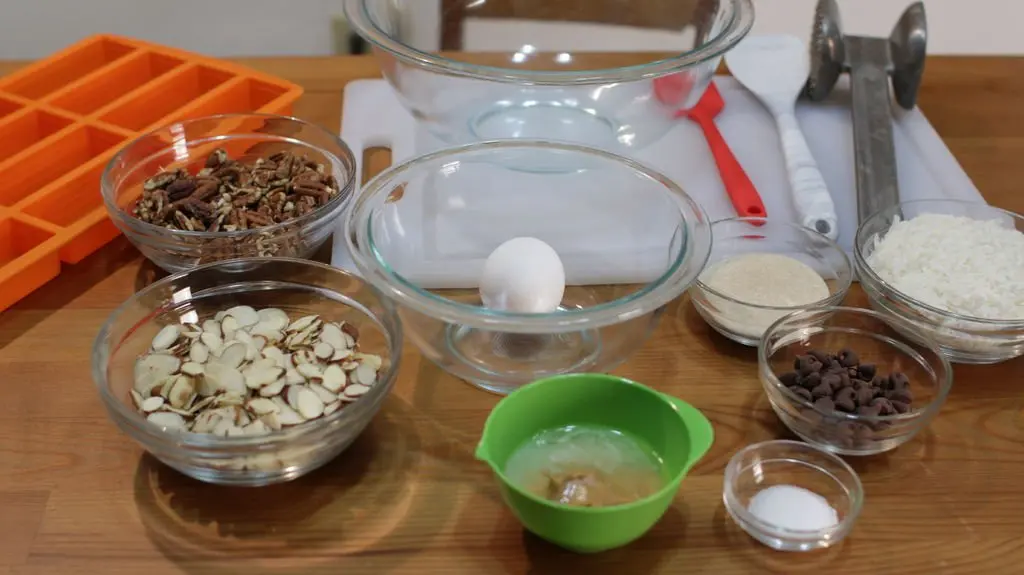 In order to make these yummy Keto granola bars you will need a handful of simple ingredients:
Pecans
Almonds (thinly sliced)
Coconut flakes
Stevia
Egg
Peanut butter or almond butter (sugar-free)
Coconut oil
Salt
Step 2: How to make Keto granola bars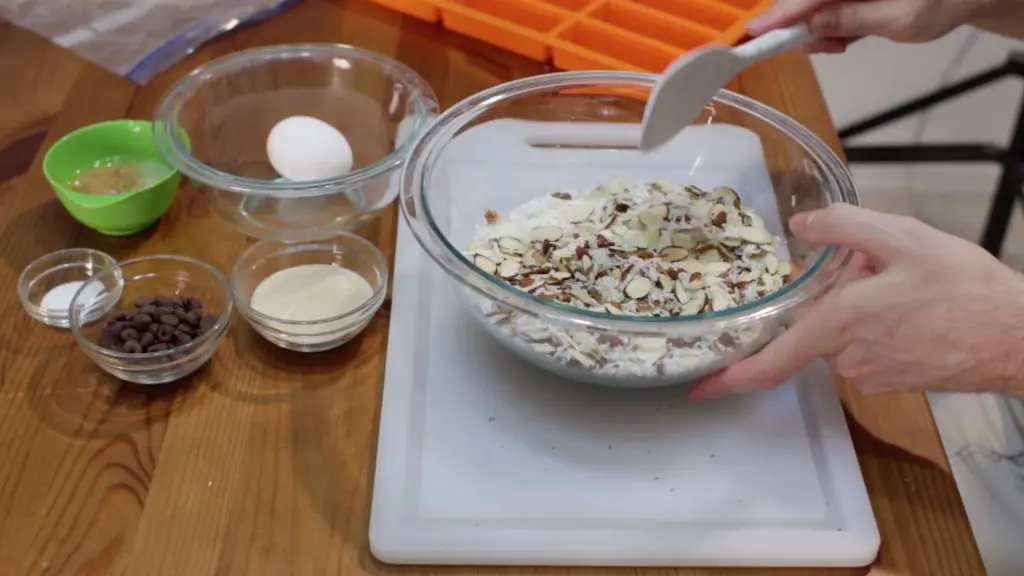 First preheat the oven to 350 F/176 C. Then in a bag add the pecans and then smash them with a rolling pin or meat tenderizer. You could also use a food processor if you wanted.
Next, add the crushed pecans to a large bowl along with the sliced almonds and the coconut flakes. Give them a good mix with a wooden spoon.
Step 3: Mix the wet ingredients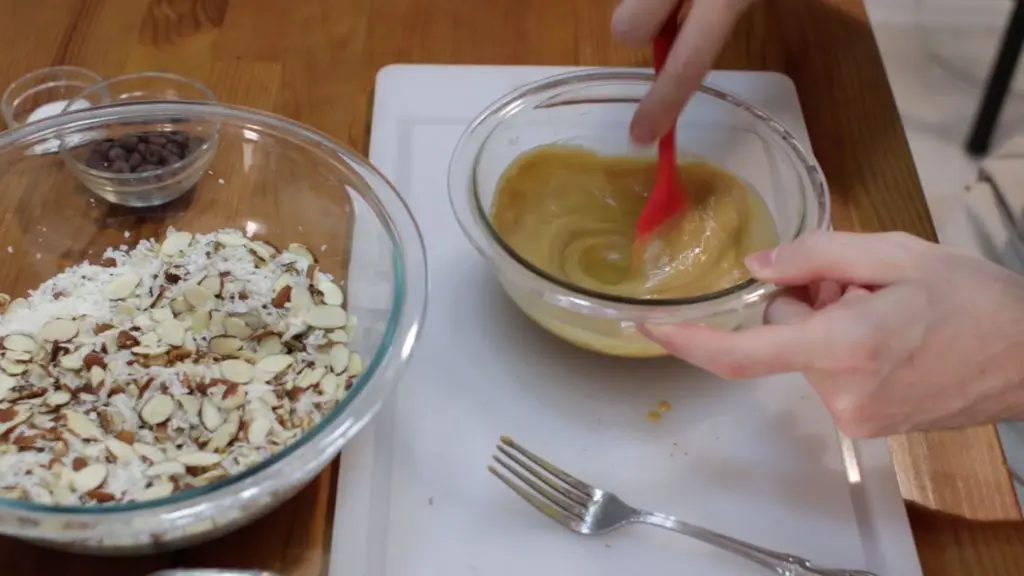 In a medium bowl add the egg and the stevia. Mix them together with a fork or whisk. Then add the peanut butter or almond butter and the coconut oil. Combine all those ingredients until smooth.
Step 4: Finishing off the Keto granola bars
Now add those yummy sugar-free chocolate chips and the salt to the bowl. Next, add the wet ingredients in with the nuts mixture and mix them together with a wooden spoon or silicone spoon.
Step 5: Baking those Keto granola bars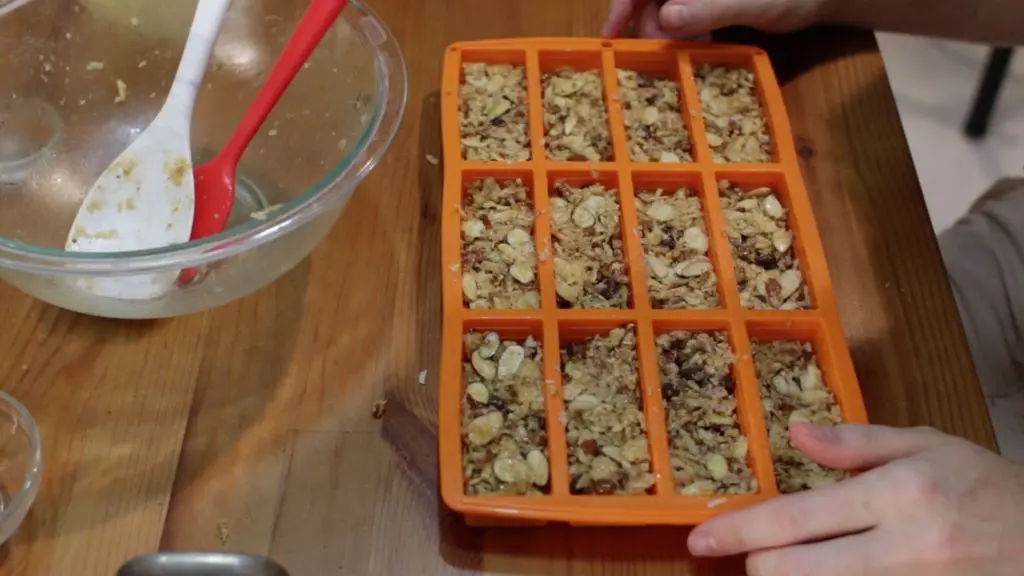 Next you need some sort of granola bar pan or silicone candy bar pan. You can also just use a normal baking pan and then cut them later. Another idea would be to use a muffin pan and make them round granola bars. Bread pans would even work.
Spread the Keto bar mixture into your chosen pan and pack it in a bit with the back of a spoon or your spatula.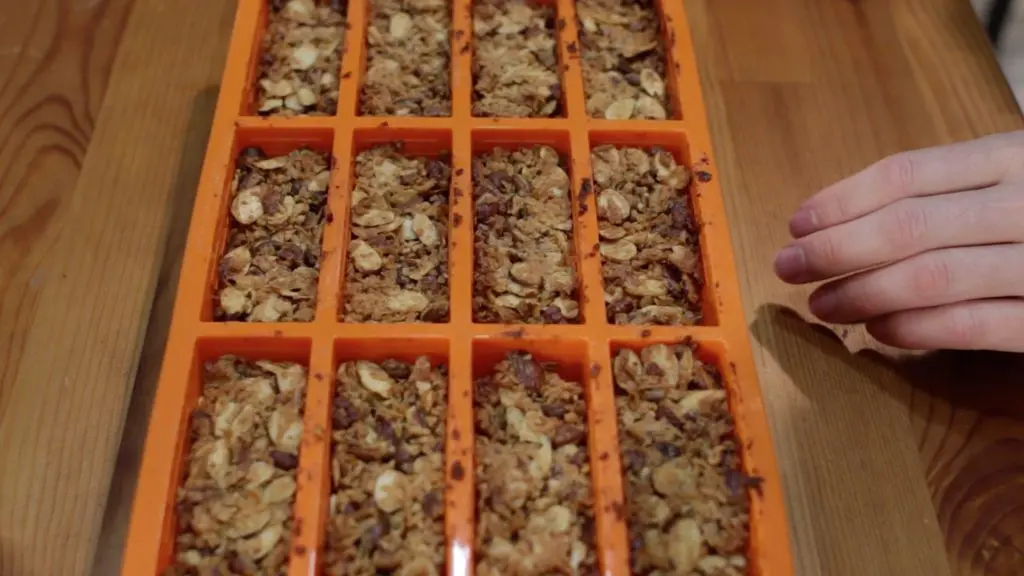 Bake them in the oven, middle rack position, for 18 to 20 minutes until they come out golden brown. Now just let them cool for a bit.
Step 6: Serve up those yummy Keto bars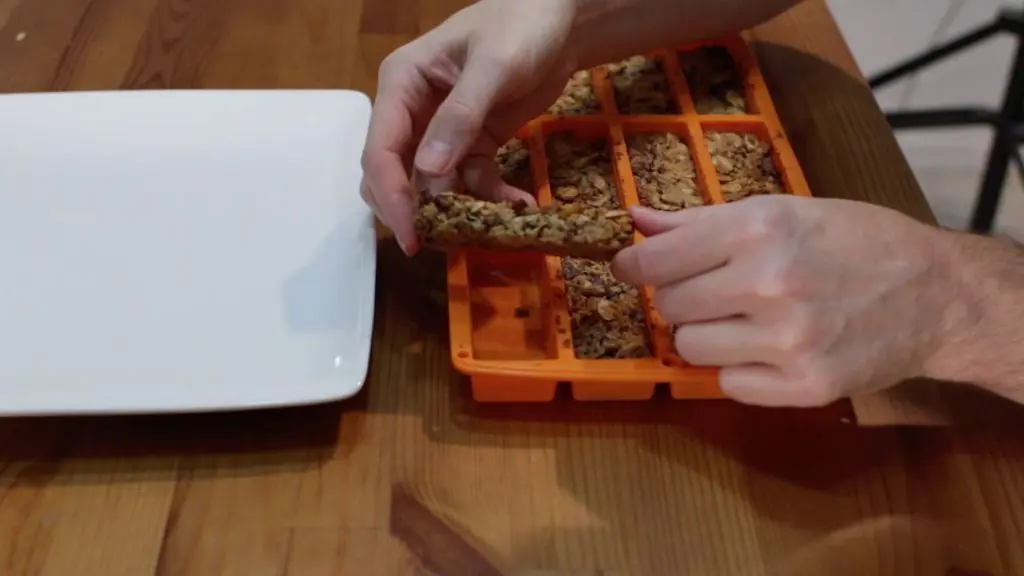 Next, after they have cooled remove the Keto granola bars from the pan and serve them. Enjoy!
Are you having problems being successful with the Keto diet or just want more information about it? Check out this awesome Keto resource.
How long do these Keto granola bars last?
These yummy granola bar substitutes will last about a week if stored in an airtight container. You can store them at room temperature or in the fridge.
Keto Granola Bars
If you are looking for an awesome granola bar substitute these Keto granola bars are a great choice. They are super easy to make and are healthy, low carb, and gluten-free.
Equipment
Bowls

Spatula

Bag

meat tenderizer or rolling pin

silicone granola bar pan or brownie pan or muffin pan
Ingredients
1

cup

chopped/smashed pecans

125g

1

cup

thinly sliced almonds

110g

1

cup

packed coconut flakes

unsweetened (75g)

1

large egg

3

Tbsp

of stevia

or stevia blend 2 parts stevia 1 part sugar (45g)

2

Tbsp.

peanut butter

sugar-free or almond butter

1

Tbsp.

coconut oil

15g

3/4

tsp.

of salt

4g

1/4

cup

sugar-free chocolate chips

45g
Instructions
Preheat the oven to 350 F/176 C.

Crush up the pecans in a bag or use a food processor. Then combine them in a large bowl along with the coconut flakes and the thinly sliced almonds.

In a separate bowl mix together the egg, stevia, peanut butter, and the coconut oil.

Add the salt and optional sugar-free chocolate chips with the nuts and then mix in the wet ingredients.

Evenly distribute the keto granola bar mixture into a granola bar or candy bar pan, normal baking pan, muffin pan, etc. They will look nicer if you use a bar pan. Pack them down a bit with the back of a spoon or use the spatula.

Bake them on the middle rack for 18 to 20 minutes until golden brown on top. Allow them to cool completely before serving. Enjoy!
Video
How to Make a Keto Bar | Granola Bar Substitute | Keto Recipes
Notes
NOTE: The nutritional facts may be a little bit off. If you have a nutritional calculator you like try that. But these are pretty close. 
Nutrition
Do you like this recipe? Please give it a rating and comment down below, I really appreciate it. If you make it tag me on Instagram @inthekitchenwithmatt. Also, sign up for the newsletter so you won't miss out on any of my new posts and recipes.
Here are a few more recipes you may like: