Time for another kitchen product review. I really enjoy testing out new products and adding them to my collection. In this article, I do a Kyoku Knife Review. Kyoku is a brand of Japanese-style knives that have been around for a while.
In this Kyoku knife review, I take a look at the packaging that the knives come in. I also talk about their website. I discuss how comfortable the knives are to hold and cut with, as well as do a sharpness test.
Following that, I give my final thoughts on the Kyoku knives and let you know where you can buy them if you are interested in upgrading your current knives.
Now let's get started with the Kyoku knife review.
NOTE: This is a sponsored post, but all opinions are my own. I don't hold back in this honest review.
Kyoku Knife Review – New Daimyo Series of Knives – Packaging
NOTE: Kyoko sells 3 different series of knives. The Shogun series which is their high-end more expensive knives, the Samarai series, which is their lower end of knives, and then their new release, the Daimyo Series. This knife review focuses on the new Daimyo series of knives.
First up, on my Kyoku knife review, is the packaging. When I first opened up the box that these knives were shipped in, I was immediately impressed by the individual boxes that each Kyoku knife came in.
The boxes were slick looking for sure. All white with their logo on it and a little decorated sleeve. It is probably one of the coolest-looking knife packages I have seen.
Inside the box, there is a little pamphlet that tells you about all of their knives, as well as gives you all of their contact info. Then a custom-fitted holder, which has some sort of felt on top, holds the knife in place.
The knife has a plastic guard on its point, to further protect you as you are pulling it out. And it comes with an awesome easy to use knife guard. Not all knives come with a cool knife guard.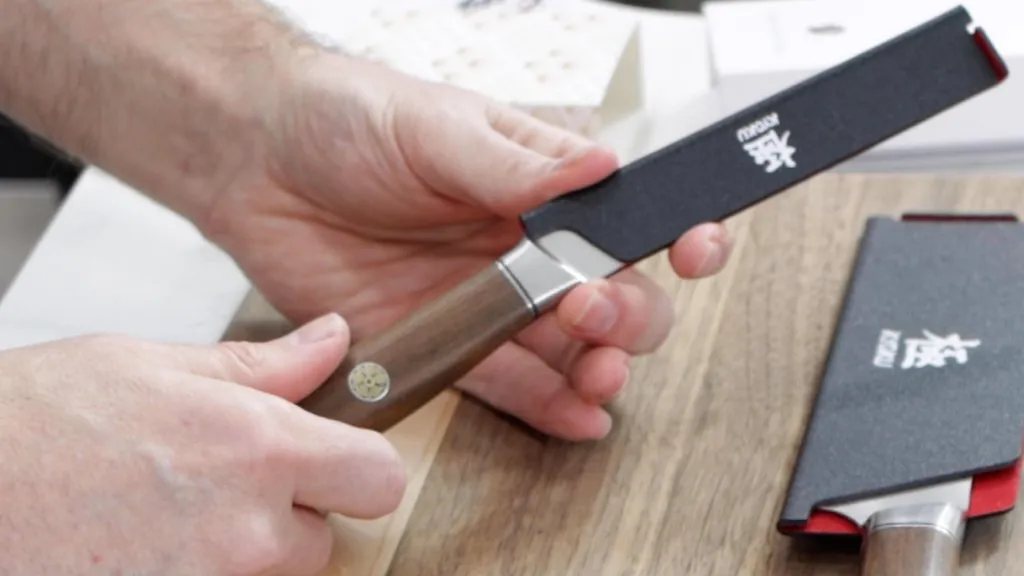 The knife guard is super handing for storing the knives as well as if you want to travel with them. It isn't as necessary if you store your knives in a woodblock, but still a bonus to have them, especially if you want to bring them with you somewhere and don't want to bring your hold knife block.
Overall I am thoroughly impressed with the packaging and the knife guard that comes with the knife.
Now I want to point out that an awesome package doesn't necessarily mean a knife is good, it does show that the company pays attention to details. If the packaging is completely horrible, it can be a bit of a turn-off. So for me, it gives the knife and the company brownie points or a notch up.
Kyoku Knife Review – The Company Website and Knife Details
I must say I really like the Kyoku website. As someone who is in the website game myself, this website is very well done. It is sleek looking, functions extremely well. It is easy to navigate around it and it touches on the main points of the knives.
Again an awesome website doesn't necessarily mean the knives are good. BUT, if you go to a company website to buy a product, and the website is super janky looking, you probably won't want to buy a product from them, no matter how good the product may be.
Kyoku Knives incoporate the precision craftsmanship of Japanese sword-making masters while utilizing modern forging techniques to enhance your experience on the board.

Kyoku Knives Website
The goal for these knives is to appeal to professional chefs as well as cooking enthusiasts. They are certainly a step up from the run-of-the-mill cheapo knives that you can buy at places like Walmart, Target, etc.
Their knives are forged from exceptionally high-quality stainless steel. Which gives them superior edge retention. Edge retention is huge, the fewer times you have to sharpen your knife, means more time doing what you need to do, like cutting ingredients, etc.
Kyoku offers three series of knives:
The Shogun Series
The shogun series of knives is their finest Japanese knives. They are made with 67 layers of Damascus steel. They look absolutely amazing.
The Daimyo Series
The Daimyo series is their middle-of-the-road series of knives and it was recently released. They use VG-10 globally-sourced steel. So keep in mind it isn't true Japanese VG-10 steel. Known for having fantastic strength, durability, and edge retention.
The Samurai Series
The Samurai Series brings comfortability and affordability. These are the knives that are meant to compete with the $25 chef knives at Walmart.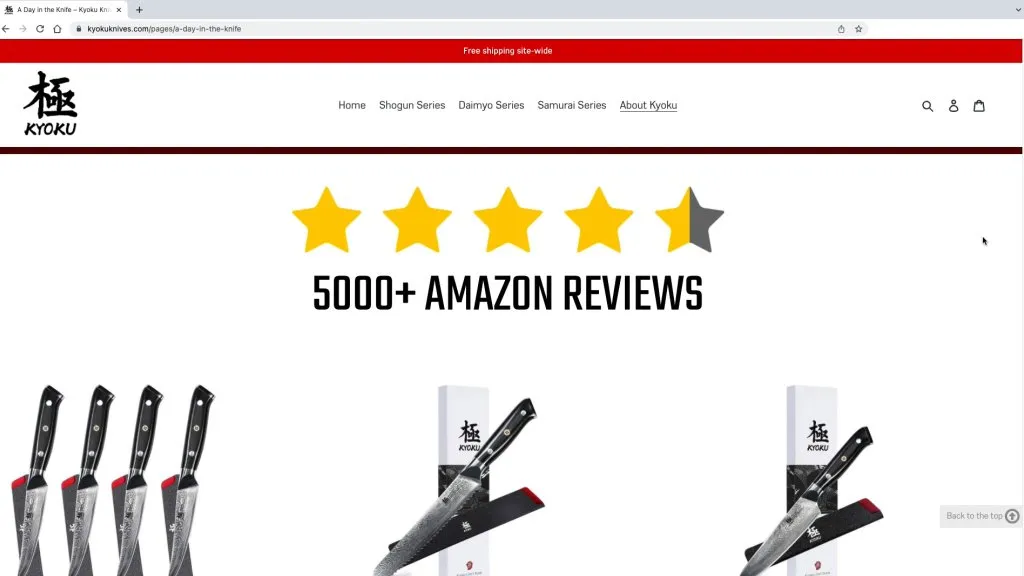 These Kyoku knives are highly-rated on Amazon which is a plus for me. I am always leary when I search for a product on Amazon and it has few reviews.
60-Day Money Back Guarantee and Lifetime Warranty
And finally, the last thing I wanted to point out about their website is that Kyoku offers a 60-Day Money back guarantee and a Lifetime Warranty.
That is a huge selling point! One thing I always liked about my super expensive Cutco knives is that they have a lifetime warranty. Not all knife companies do that. So that is a plus for me.
***Also, a potential CON for some people is that these knives ARE made in China.
Now back to the specific Kyoku Knife Review.
Kyoku Knive Review – Are these knives comfortable?
The Daimyo series of knives are made with a rosewood handle. And I will say these knives are comfortable to hold. It is easy to grip them, and they just feel good in my hand. The handle isn't too big and it isn't too small for me, they are just right.
Each knife that I have, the Utility Knife, Nakiri Knife, Santoku, and the Chef Knife all fit well in my hand and have a good balance to them. They do feel differently than my Cutco knives, but not worse, just different. The handles look really nice as well.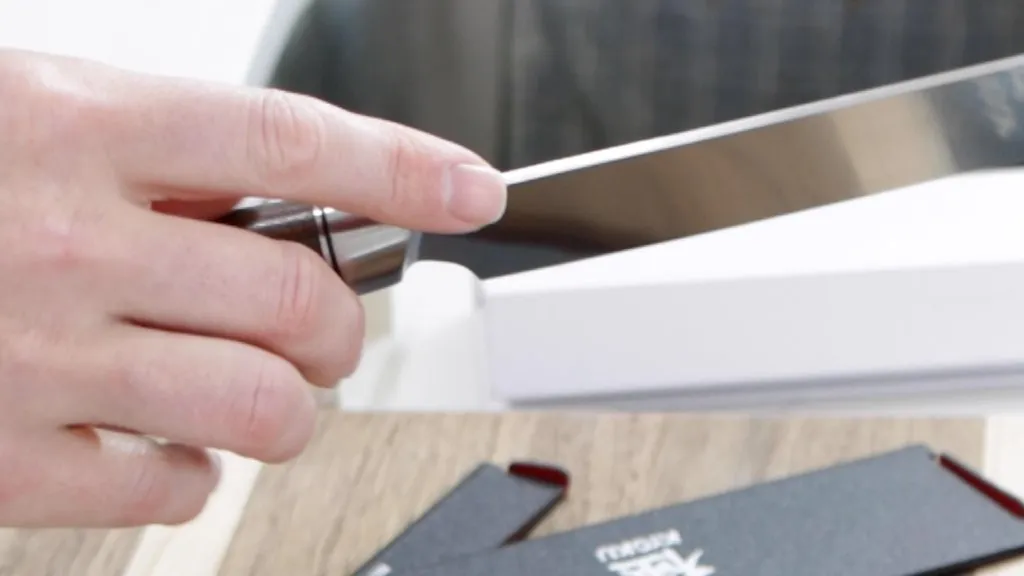 There is a minor drawback for me about these knives. The top of the blade has a fairly sharp edge to it. When I grip it, I don't hold only the handle, but I do a traditional chef grip which puts the thumb and index finger at the base of the blade. This grip gives you more control of the blade.
So when I grip, this Nakiri for instance, and cut with it, the top of the blade digs into my index finger a little bit, making it less comfortable.
Now with that said if you only grip the handle, you won't even notice it, and it won't be an issue for you. But if you use a chef grip, that may be a potential drawback for you.
You will just have to try them out, again that 60-Day money-back guarantee is huge. You can try the knives and if you don't like them, send them back.
Kyoku Knife Review – Are these knives sharp? Sharpness Test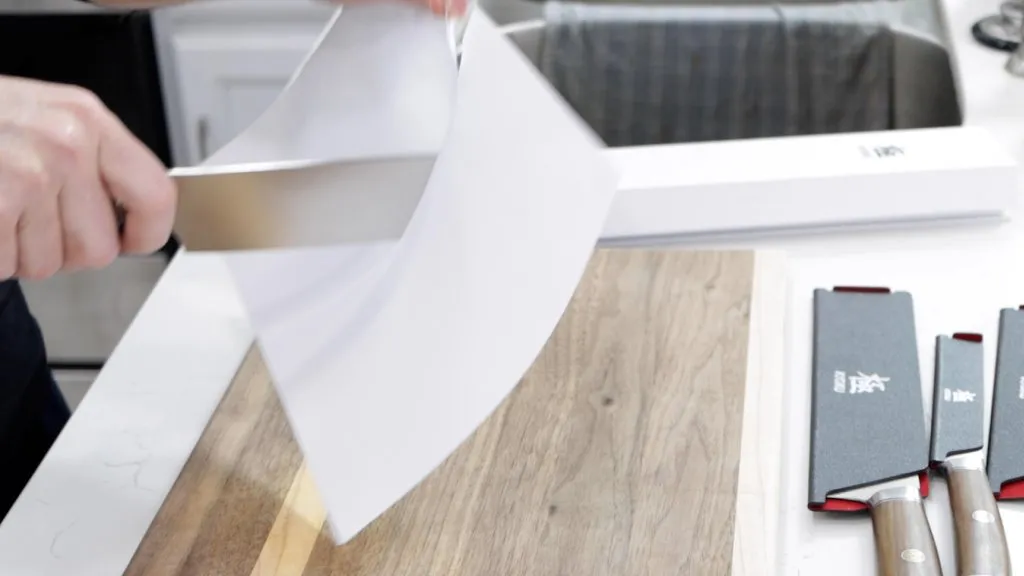 Now for my favorite part of this review, the sharpness test. Are Kyoku knives sharp? There are several tests that you can do to see how sharp a knife is. I just do a few here in this knife review.
For this demonstration, I am only using my Kyoku Nakiri knife, but I found the rest of the knives that I have function the same as far as sharpness goes.
Paper Slicing Test
A very popular method for testing the sharpness of a knife is to see how easily it slices through a piece of paper. Does it slice cleanly all the way through? Or does it slice a little way then tear it? Or does it just fold the paper over and not even really cut it? A dull knife, sucks at slicing paper, haha.
I am very impressed with these knives. Each of them sliced through a sheet of paper like butter. Yes! That is what I like to see. Now these knives are brand new so I expect them to be sharp, and they do not disappoint.
Vegetable and Chicken Slicing/Chopping Test
Another good sharpness test for knives is how well do they slice or chop vegetables and chicken, particularly hard or large dense veggies and thick chicken breasts. I tested this knife on carrots, onion, cabbage, and chicken breasts.
I had absolutely no issues slicing up these veggies. And it was so nice cutting the onion. Again, sliced and chopped it like butter. And because it is so sharp it didn't smash the onion when cutting. So far less juice was pressed out and far fewer fumes were released, meaning, my eyes didn't hurt! That is huge for me.
But I did notice that indeed the top edge dug into my index finger which made it a little uncomfortable.
The Nakiri knife made short work of the purple cabbage as well. That large thick dense vegetable didn't stand a chance.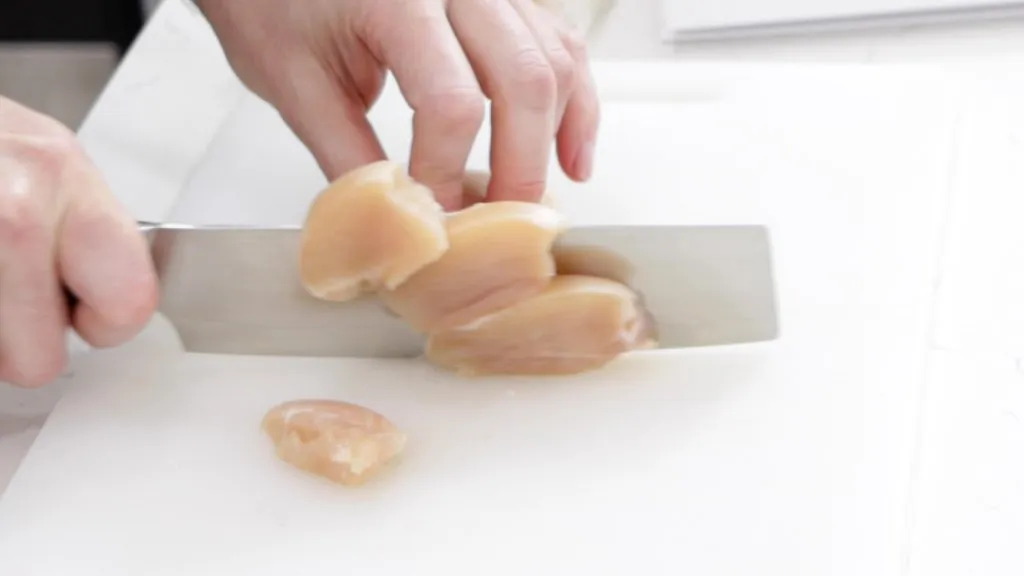 And finally, as I would expect this knife sliced through the thick chicken breast, again like butter.
Overall I am extremely happy with how sharp these knives are and how well they actually cut. Seriously good sharp knives make cooking more fun!
Final Thoughts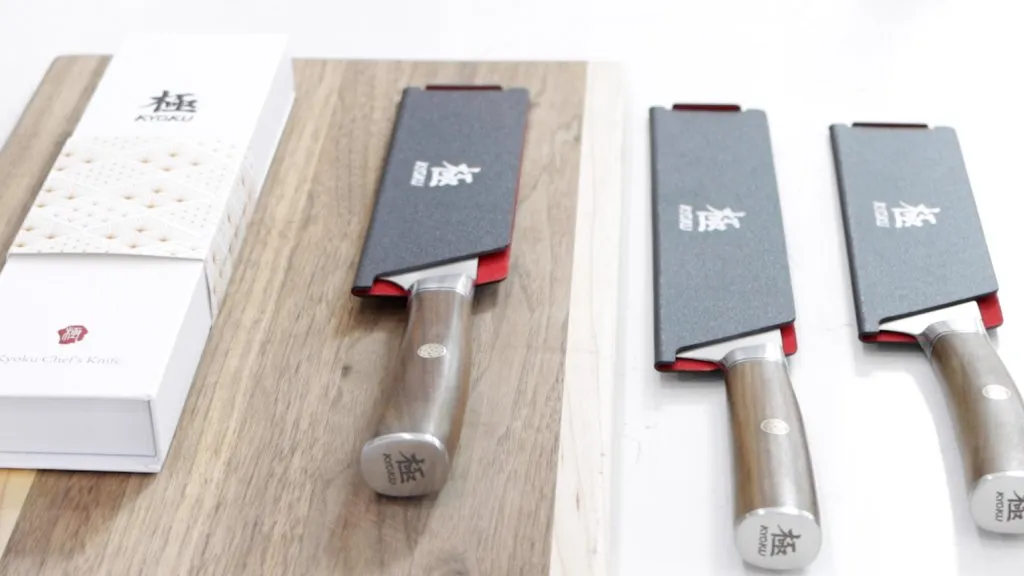 And now to finish my Kyoku Knife Review with my final thoughts. Here are my Pros and Cons.
PRO
I really like the top notch packaging. It really sets them apart from other knife companies. And the knife guard is an added bonus.
The website is awesome, super appealing to look at, sleek and repsonsive, and it is easy to find the information you are looking for.
The rosewood handles are great. They feel really nice in my hand and are not too big and not too small.
These knives are balanced extremely well.
Talk about sharp! I love how sharp these knives are.
Love the 60-Day Money back guarantee and that they have a lifetime warranty.
Price – The price point is super reasonable. $50 for a high quality chef knife is awesome. A perfect upgrade to old knives, without going for the super high-priced knives.
POTENTIAL CONS
The top of the blade is kinda sharp. If you use a classic chef grip, it may dig into your index finger, at lease it does for me. But that may not be a con for you, if you only grip the handle, you won't even notice it.
Made in China – This isn't really an issue for me, but it is for some people.
I do really like these knives. They are a great mid-range knife that I think most people will be happy with. Suitable for both professional chefs as well as homemakers and cooking enthusiasts looking to upgrade their $15 to 20 chef knives.
Watch My Kyoku Knife Review!
Where to buy them?
You can find them below on Amazon or on their website.
Check out these other reviews and recipes:
Natural Cut French Fry Cutter Review