I am a big fan of guavas. One of the most popular varieties found in the United States is the Mexican Guava, or White guava, or Mexican White Guava.
There are several different cultivars and varieties of guavas in the world, and I am excited to share some information about the Mexican guava. In this post, I will share information on where guavas come from and where they are grown. I will also share some health benefits for the Mexican guava as well as tell you what they taste like to me.
Fruit is amazing. I love how many different kinds of fruit are in the world, ready for us to enjoy. Make sure to check out the other posts about fruit that I have in the interesting info category here on my website. Now onto learning about the Mexican guava!
Where does the Guava come from and where does it grow?
The guava originated or is native to Mexico and Central America and parts of the northern part of South America, also the Caribbean.
But it is cultivated and grown all over the world in Hawaii, Florida, Southern California, tropical Africa, South and Southeast Asia, Southern Europe. They grow very well here in Arizona and also in places like India and China. They are actually the biggest producers of Guava as far as exports go.
If it is tropical or subtropical in that country, chances are they grow guavas there. They are favored among gardeners to grow. Because they are a fairly hardy tree and can also be grown in pots indoors, and they will still fruit! So don't let the lack of a backyard prevent you from growing these.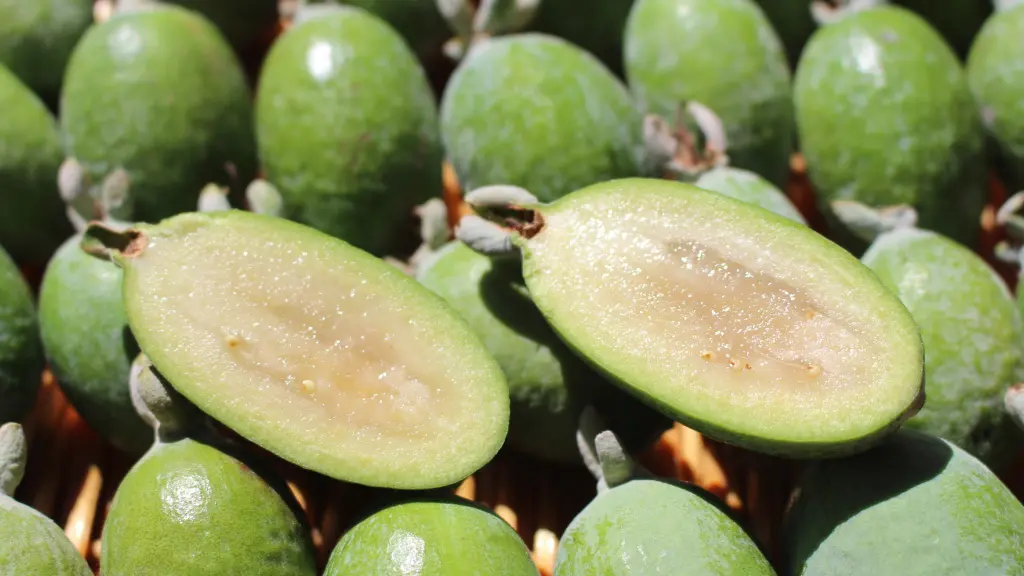 Growing up we had a pineapple guava tree (Feijoa) in our backyard in California. It was fun picking and eating the fruits off the tree when they were ripe. My mom also regularly made pineapple guava jelly with it. If I ever get my hands on some again, I will make sure to do a video and post about those particular guavas.
Guavas also grow fairly quickly, and they are one tree that you can grow from seed and it will actually fruit by year 2 or 3, pretty awesome!
What are the health benefits of Guavas?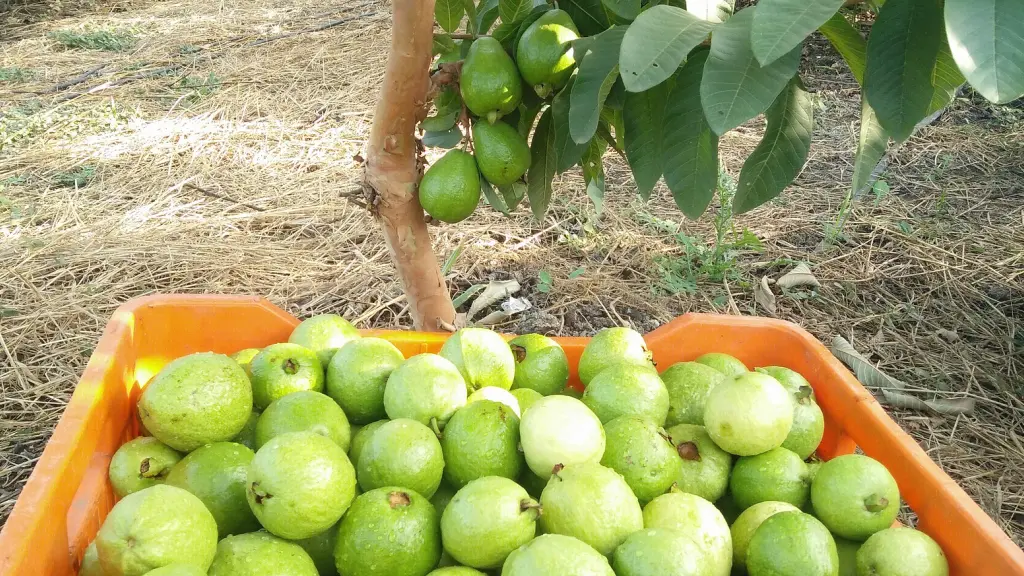 Guavas in general like the Mexican Guava have some wonderful health benefits:
Rich in dietary fiber – Which will help to improve digestion.
High in Vitamin C – A single guava contains over 250% of the recommended daily intake of Vitamin C. although it depends on the cultivar of guava.
Low in calories per serving
If you would like to learn more of the health benefits for guavas, check out this WebMD article.
How to eat Mexican Guava?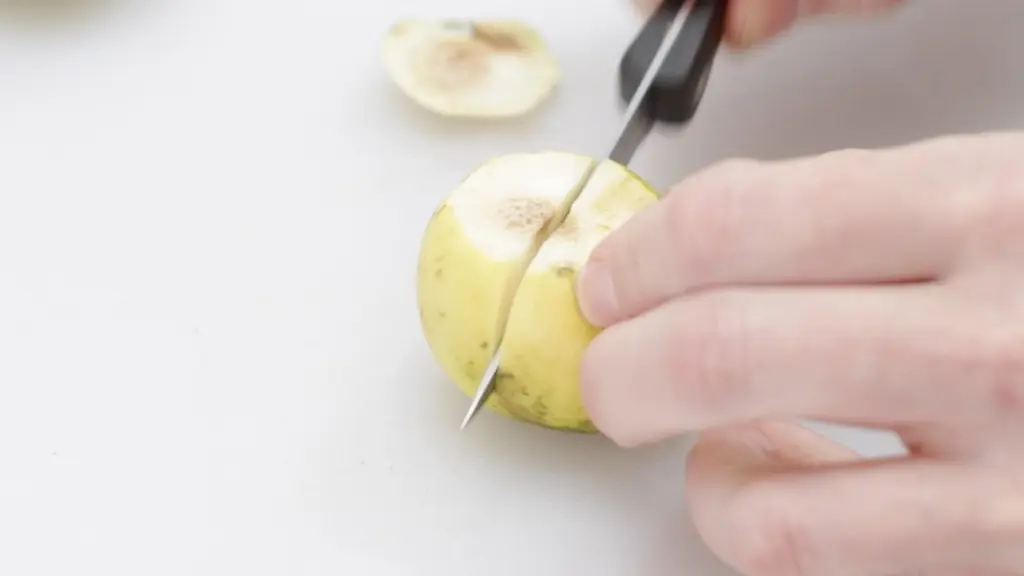 Generally if you are buying guavas from the supermarket they will be green. One thing that is nice about guavas is you can eat them at different degrees of ripeness. Although it is always best to pick them right off the tree when ripe, you can allow them to ripen on the counter.
Just rinse off the Mexican Guava and bite into it. Simple as that really, the skin, flesh, and seeds are all edible.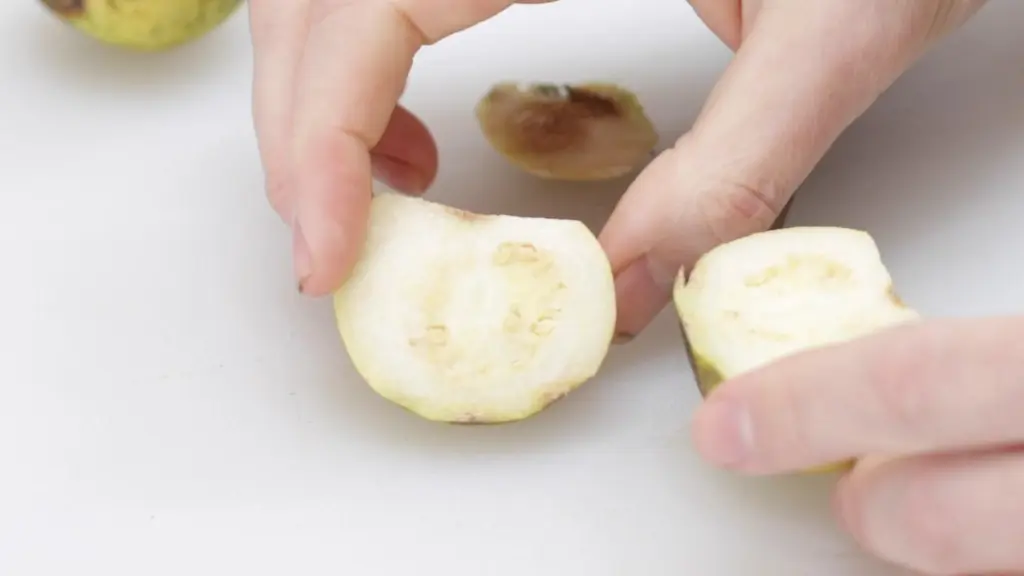 Most cultivars will have lots of tiny seeds on the inside. They are fairly crunchy but edible. It is a very simple fruit to eat. The riper they are the sweeter they will be.
What does the Mexican Guava taste like?
Now what do the Mexican guava taste like? Again, you can eat them at different stages of ripeness. This particular guava reminds me of a mix between a soft pear, some fruity tropical flavor and a strawberry.
It is very yummy, and the softer and riper ones are more juicy. The harder ones are less juicy and more crunchy with a hint of sweetness. So it is the perfect fruit to have if you like a varied amount of sweetness.
Common culinary uses are to eat them fresh as is, or to juice them, put them in beverages, sauces, candies, fruit bars, desserts and jellied or made into jam.
There you do I hope you enjoyed this post about the Mexican guava, now time to go eat one! Enjoy!
Mexican Guava Taste Test (Video)
Now check out the video I did for this delicious fruit.
Here are some other interesting info posts and recipes you may enjoy:
Date Caramel Healthy Caramel Substitute
Homemade Waffles Jackie Kennedy Recipe