Jump to Recipe
These microwave S'mores are awesome! No need to wait until you go camping to eat them. It is hard to beat this quick tasty treat of chocolate, marshmallow, and graham crackers.
I have fond memories growing up and eating S'mores around the campfire, but equally fond are the memories of doing them in the microwave.
As a little kid, it was so fun to watch as the marshmallow expanded like a balloon in the microwave while cooking. I may have been told once or twice not to stand so close to the microwave window.
Of course it was really fun catching them on fire and then blowing them out while camping. Good times! They are easy to make at home, only three ingredients. If I can do it, you can do it. Let's get started!
Step 1: Gather the ingredients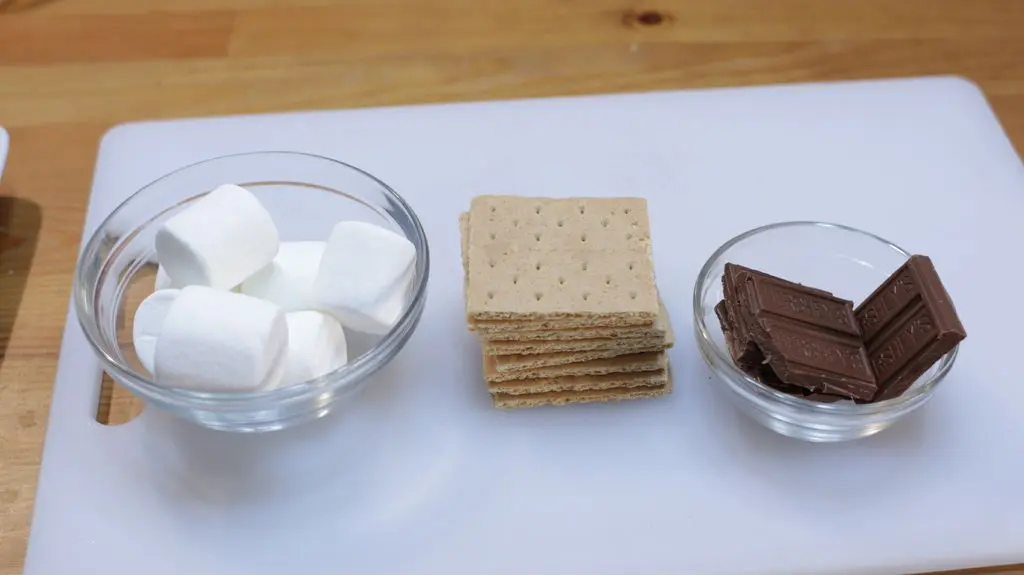 Making S'mores is super easy to do and only requires three ingredients. You will need:
Marshmallows – I usually just use the standard large marshmallow size, but a few companies actually make square, S'mores specific marshmallows. They sell them at my supermarket, but they can be found online as well.
Chocolate – The classic chocolate used is Hershey's milk chocolate, but you can use whatever chocolate candy bar that you want. If you like dark chocolate, use that, if you want white chocolate S'mores use that, etc.
Graham crackers – And completing the little yummy sandwich are the graham crackers.
Step 2: How to make S'mores in the microwave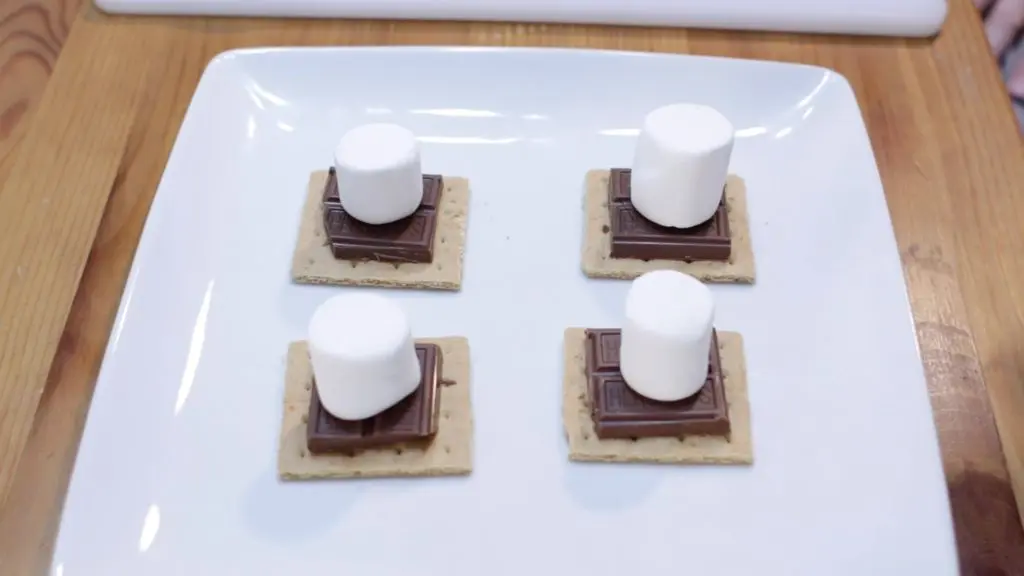 Traditionally when making S'mores while camping, you would sit around the campfire, and roast marshmallows using a long special S'more stick, made of metal, like a clothes hanger, or store-bought kind.
I even used wooden sticks found on the campsite before. If you co camping a lot I recommend just getting that store-bought kind. Those are nice because they can be used for hot dogs as well.
Begin, by placing down some graham cracker halves on a microwave-safe plate. Then place some chocolate on top of the graham cracker. Use whatever chocolate you like. Follow that up with the marshmallow. If you don't want the chocolate melted, leave it off.
Step 3: Cook those S'mores in the microwave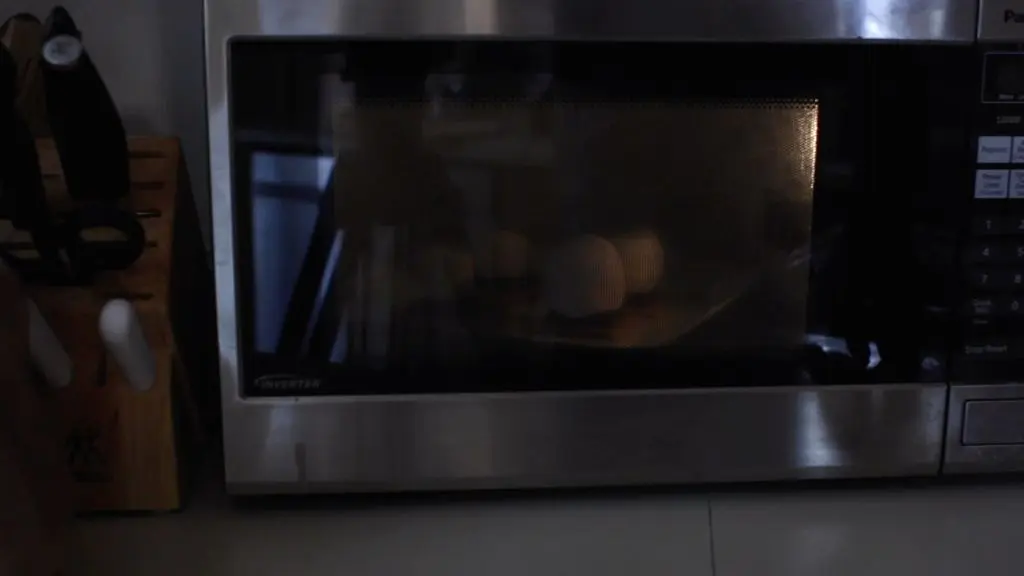 Now put the plate in the microwave and cook the S'mores on high for 20 to 30 seconds until the marshmallows puff way up about twice their size. This was my favorite part growing up.
If you don't have a turntable in the microwave and you are doing multiple at once, after 20 seconds rotate the plate and cook for another 10 to 20 seconds, to make sure all of the marshmallows puff up.
Next remove the plate from the microwave, be careful, the plate may be hot. If you are only doing a few, you can use a paper towel as well, if you like.
Step 4: Finish the S'mores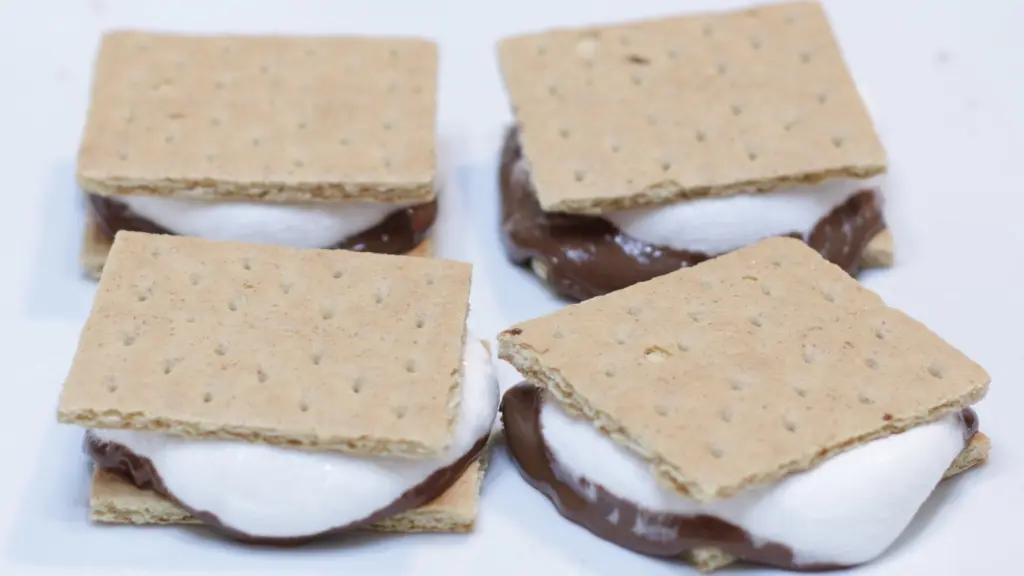 Now all you need to do is place another graham cracker half on top of the marshmallow and press down gently. If you didn't want the chocolate melted you would add the chocolate at this time as well. Enjoy!
How long do microwave S'mores last?
While they are best freshly made, if you make several and have some left over, you can just place them in the fridge for a day or two, and then reheat them for a few seconds in the microwave. They are so easy to make, just make them on demand, and you won't have any extras.
Here are some other recipes you may like:
Microwave S'mores
You don't have to be camping to enjoy this delightful treat. I have many fond memories making S'mores at home in the microwave. Plus it is always fun watching the marshmallows puff up! All you need are marshmallows, chocolate, and graham crackers.
Ingredients
4

large marshmallows

4

full graham crackers

2

oz

chocolate
Instructions
Take the graham cracker halves and place them on a microwave-safe plate. Add some chocolate and marshmallows to each half. Or if you don't want the chocolate melted, leave the chocolate off for now.

Now microwave them on high for 20 to 30 seconds until the marshmallows puff up to about double in size.

Next, remove the plate and place the other graham cracker half on top, completely the S'more. Or if you didn't want the chocolate melted, add the chocolate as well. Enjoy!
Notes
Nutrition
Do you like the recipe? Please give it a rating and comment down below, I really appreciate it. If you make it tag me on Instagram @inthekitchenwithmatt. Also, sign up for the newsletter so you won't miss out on any of my new posts and recipes.