It is candy time! I have been fascinated with candy ever since I was a little guy. One of my favorite times of year was of course Halloween. I loved getting dressed up and going Trick-or-Treating with my friends and of course, I loved bringing home piles of candy! In this article, I focus on the Top 10 most popular candy in America.
This of course is not a perfect list. I compiled the list from several different sources and sales data which all had similar findings but the term "popular" is somewhat subjective. Are we talking about how many different people bought it or how many in total were sold?
I also didn't want to just limit the list to the Most Popular Halloween Candy but wanted a more general list. I will share sales figures when possible and of course the sources.
Also, I will include links to recipes for homemade versions of those candies if I have them.
This way you can try making them yourself. Especially if you live outside of the US and want to try making some of the most popular candy in America at home. With that said many of these candies if not all are sold worldwide.
Fun Fact: The average American consumes 8 pounds of candy each year with children eating more. For better or for worse, we definitely love candy here in the US, keeps the Dentists busy, haha.
Let's get started!
If you like desserts make sure to check out this article for the most popular desserts in America. Or if you are a fan of food in general check out this list of the most popular foods in America.
Top 10 Most Popular Candy in America – Number 10 Candy Corn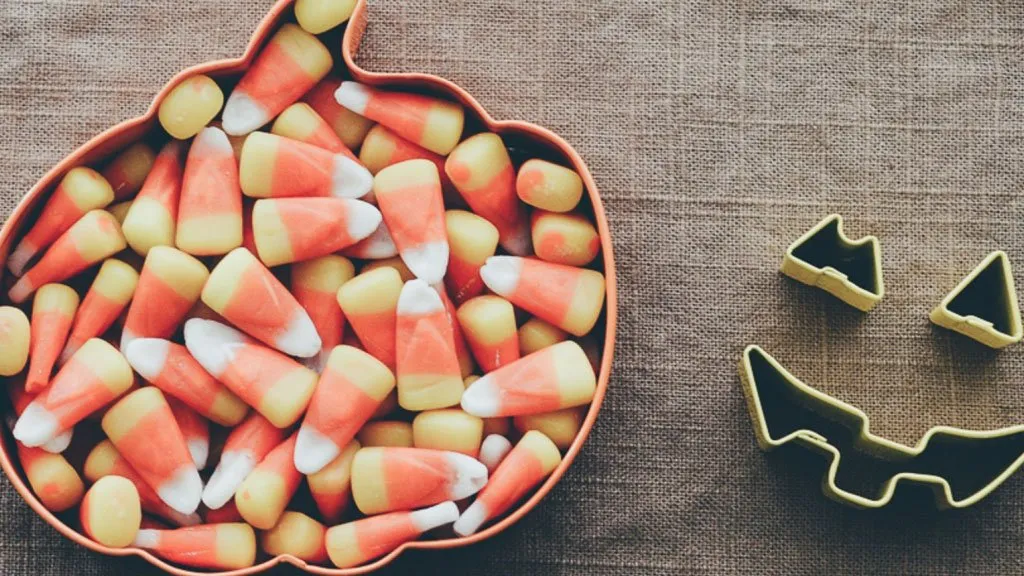 At number 10 we have one of the most divisive candies I think, and that is candy corn. Either love it or hate it, it is a very popular candy in the US.
At first, I wasn't going to include candy corn, but all of the candy lists I found included it for Halloween because candy corn is one of the most popular Halloween candies, however, overall sales for the year could keep it off this list altogether.
And to be honest it is hard to think about Halloween without thinking about candy corn. I am in the "I don't really like it" camp just to be clear. There are far superior pieces of candy I can spend my calories on, haha.
How popular is it? More than 35 million pounds of candy corn is produced and sold each year according to this article.
Candy corn was developed by George Renninger in the 1880s in Philadelphia. The Goelitz Candy Company later, Jelly Belly Company got the rights to it. Apparently, it was originally dubbed as "chicken feed" haha. Interesting stuff.
And no I don't have a homemade version of this candy, in case you are wondering.
Number 9 – Skittles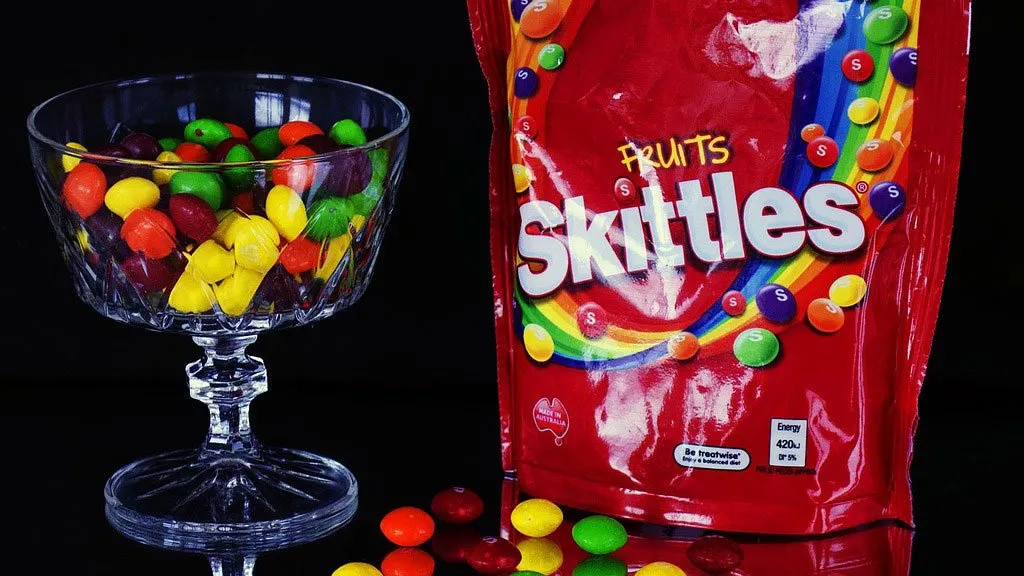 At number 9 we have Skittles. A popular fruity sensation. These are wildly addicting for me and it is hard for me to eat just a small handful of them, they are just so darn tasty. So it is no wonder they made the list.
This candy was developed and made commercially by the Wrigley Company in the U.K. Then in the early 1980s, the United States began domestic production.
The iconic "Taste the Rainbow" slogan was developed by a New York-based Marketing company. Source
There are several flavor varieties now, but I still prefer the classic flavors. Over 12.9 million people ate Skittles in 2020 in the US.
Number 8 – Starbursts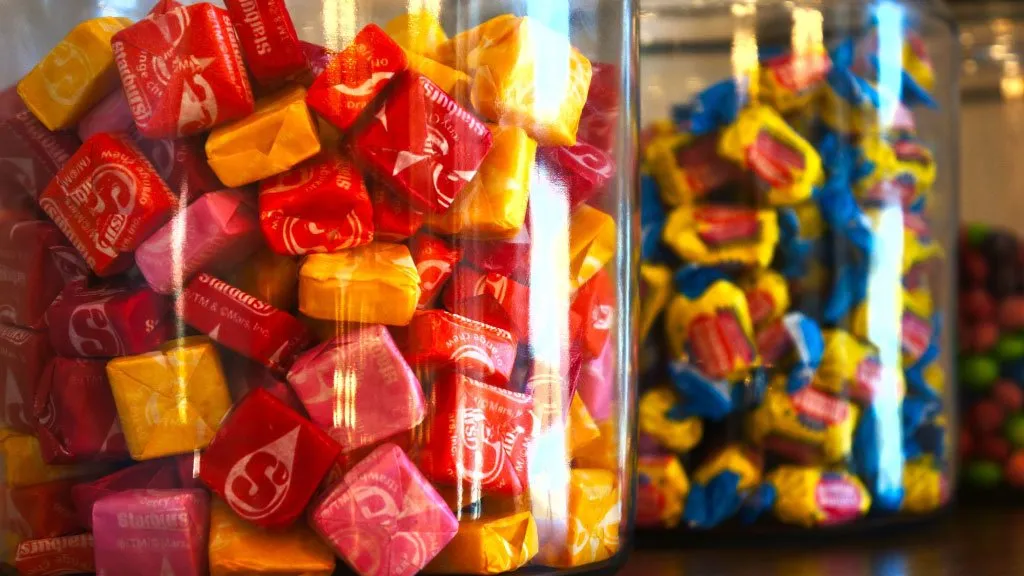 Coming in at number 8 we have the fruity sensation, Starbursts. I have always and still to this day enjoy Starbursts. I love the consistency and the flavor. My favorite flavor of course is Strawberry.
Starbursts were invented in the U.K. in 1960 by the Wrigley Company. Later they were sent to other markets, with the US being a top market for the candy.
Over 16 million people ate Starbursts in 2020 according to Statista.
Number 7 Most Popular Candy in America – Twix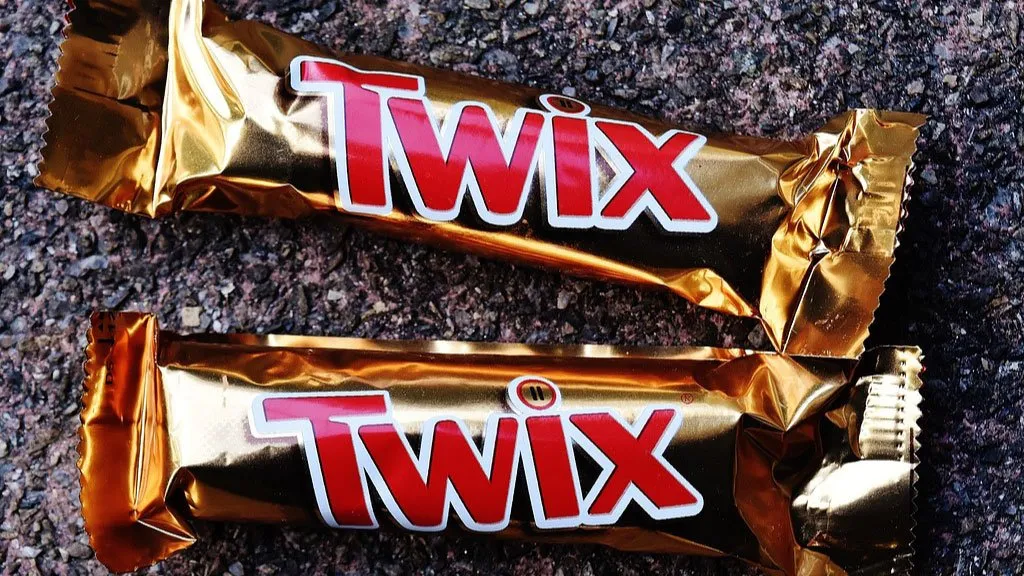 Next up at number 7, we have one of my favorite if not my favorite candy bars of all time, and that is the Twix. It is probably my favorite candy to hand out at Halloween because I love eating the leftovers, haha. I may or may not keep some just for me that I don't put in the candy bowl just to make sure I have leftovers.
20.5 Million people at Twix in 2020 and about 161 million bars sold a year. I know I ate my fair share for sure. I just love that combination of chocolate, caramel, and shortbread cookies.
Twix was also developed by the Mars, Inc. company and was first produced in 1967. Later in 1979, it was introduced in the United States.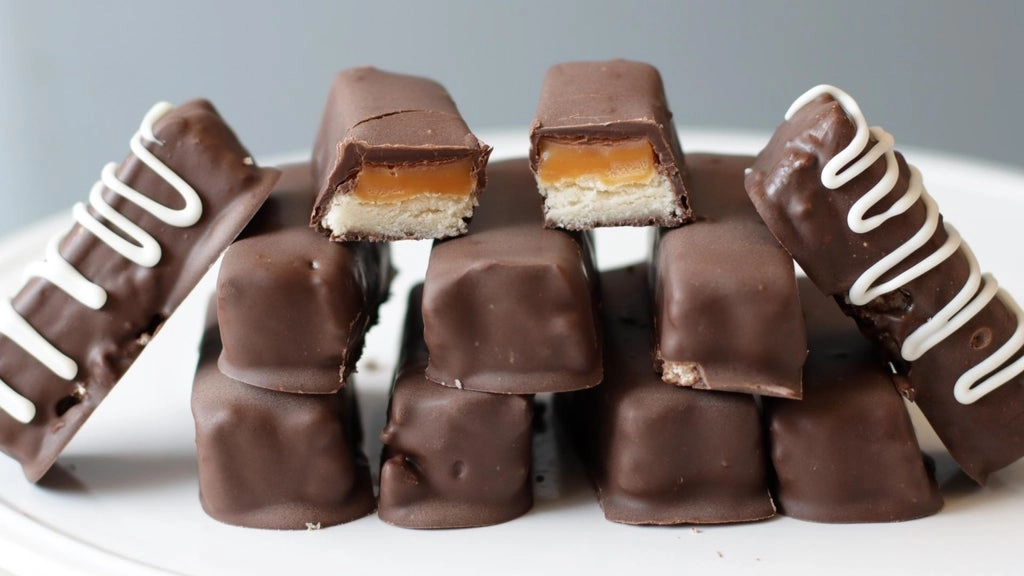 If you are a Twix lover you have got to try my homemade Twix recipe. I always get so many compliments when I make these and take them to a party. And if you love Oreos and Twix then try this Oreo Twix recipe.
Number 6 Hershey's Mini Chocolate Bars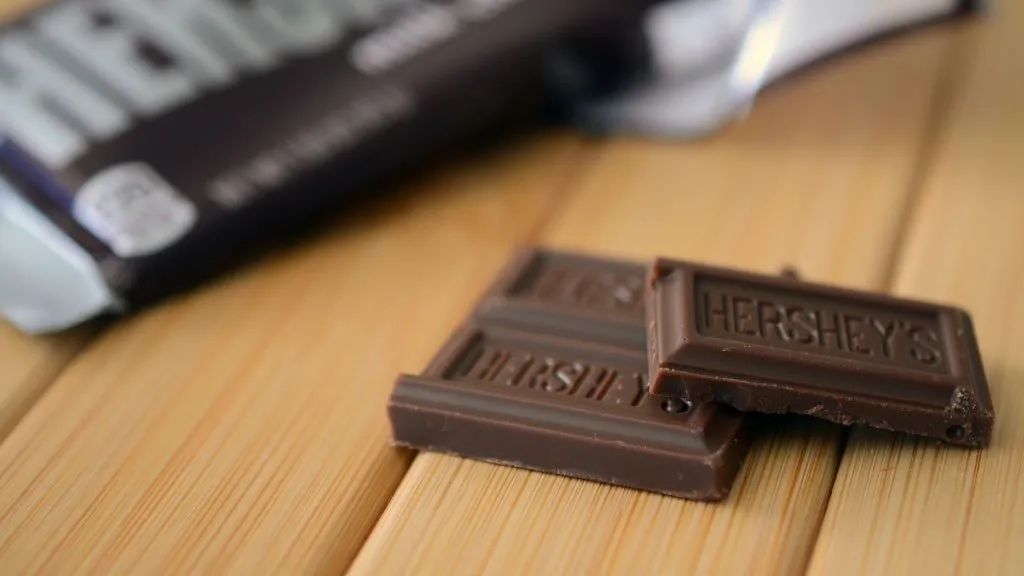 The classic American chocolate will always be a Hershey's bar. It is definitely not my favorite candy bar, but it sure is popular. I did like it more when I was younger and when I hadn't experienced eating better chocolate haha.
Just how popular is the Hershey's bar? According to Money Inc, there are over 250 million sold annually. That is quite a bit of chocolate bars!
The Hershey Bar was developed by Milton Hershey and the first bar was sold in 1900. It is owned of course by the Hershey Company.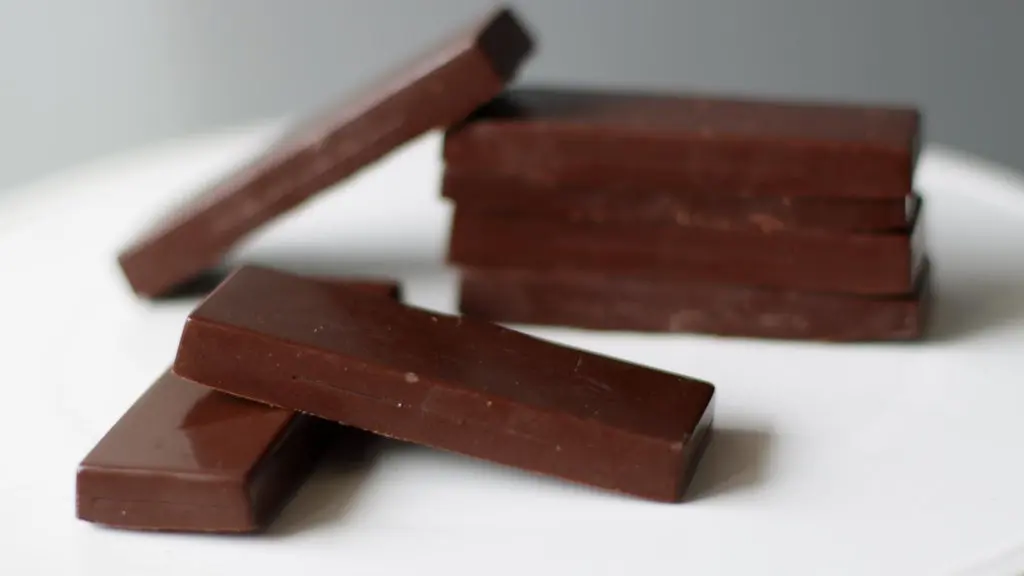 Want to learn how to make your own chocolate bars at home follow this homemade milk chocolate bar recipe. Just keep in mind these will taste different than the classic Hershey's milk chocolate.
Number 5 Most Popular Candy in America are Peanut M&Ms!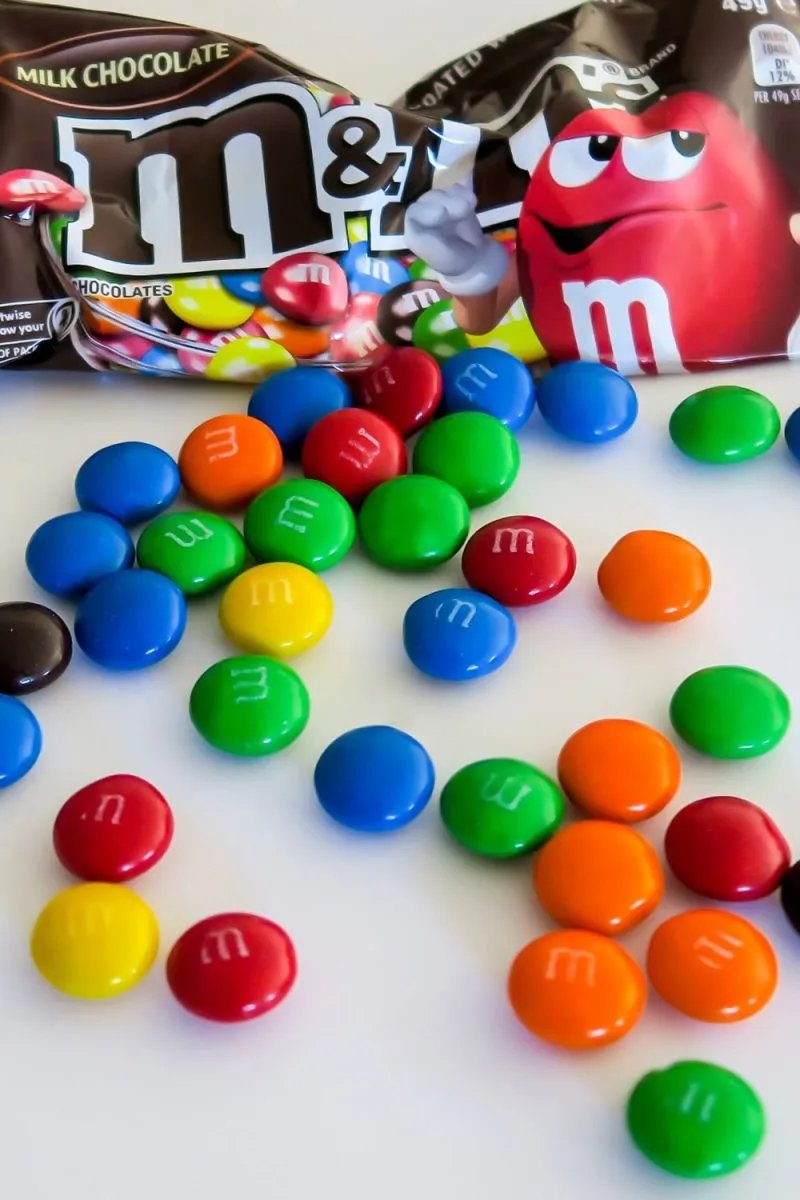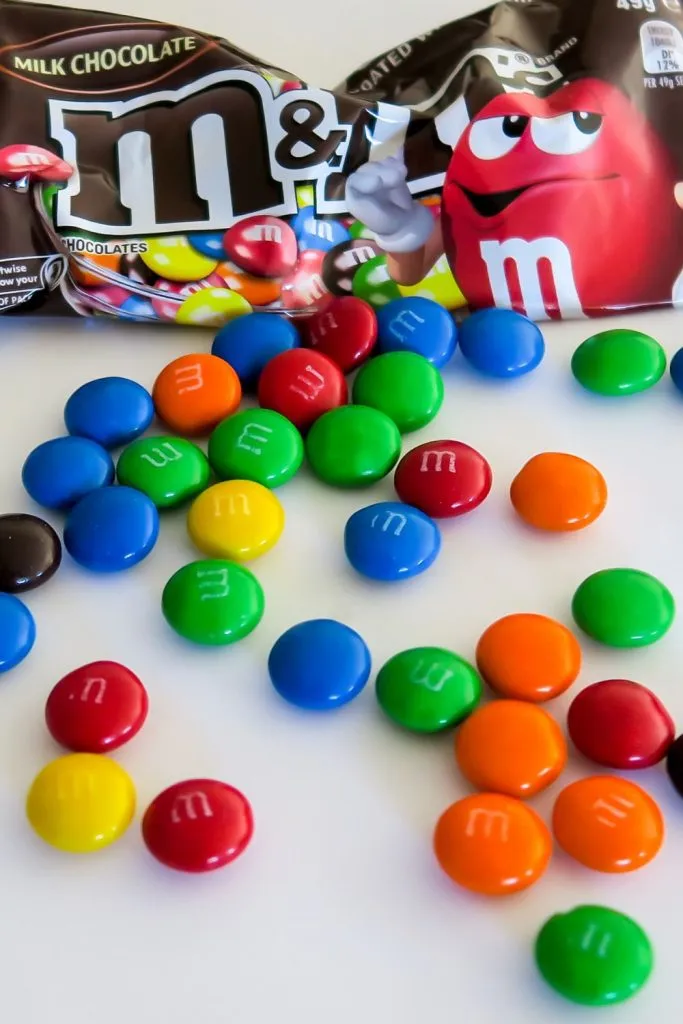 At number 5 we have the ever-so-popular M&Ms. And not just any M&Ms but the peanut M&M which are even more popular than the classic ones.
M&Ms originated in the United States in 1941 and is owned by the Mars Company. I am a fan of M&Ms as well. There are several flavors regular, peanut, almond, pretzel, caramel, crispy, etc.
And the Peanut variety is the most popular, with over 40 million people in the US eating them in 2020 according to Statista.
And according to this article, a staggering 400m individual M&Ms are produced daily.
Number 4 – Kit Kat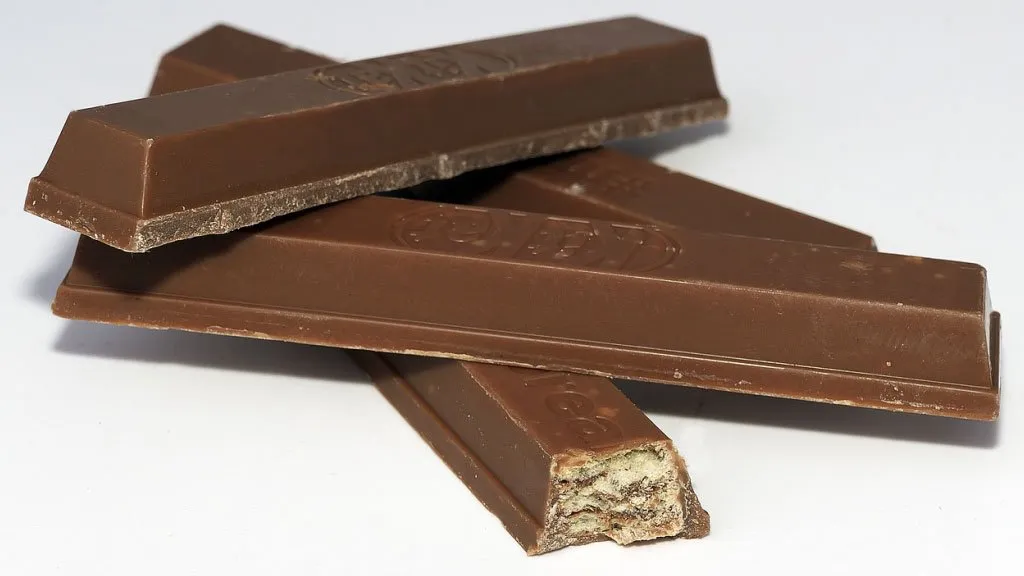 "Give me a break, give me a break, break me off a piece of that Kit Kat bar." Up next at number 4, we have the famous Kit Kat bar. And I will admit it is in my top 3 favorite candy bars of all time.
My favorite candy bars are Milk Way, Twix, and Kit Kat.
The Kit Kat is another candy bar that was developed in the UK. It is produced Globally under Nestle and in the US it is licensed under the HB Reese Candy Company a division of Hershey.
This classic chocolate bar with that wafer interior is amazing. Just how amazing? Over 41 million people in the US bought Kit Kats in 2020 with approximately 192 million kit kat bars sold in the US every year.
This is another candy bar that I have a recipe for. Follow this homemade Kit Kats recipe to make all kinds of different flavors of Kit Kat.
Number 3 Most Popular Candy in America are Hershey's Kisses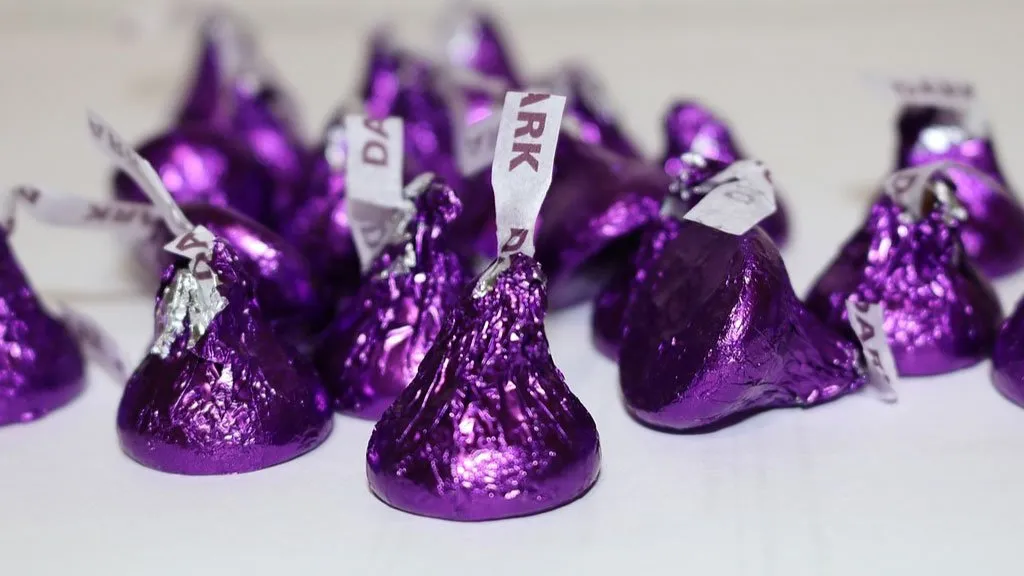 Shall I give you a kiss? No not that kind of kiss, silly, a Hershey's Kiss! At number 3 on the Popular American Candy list, we have Hershey Kisses.
Those individually wrapped chocolate morsels are enjoyed by millions upon millions of people. 42.5 Million Americans ate Hershey's Kisses in 2020.
Hershey makes a whopping 70 million kisses each day! They were first produced by the Hershey Company in 1907.
It is one of Hershey's most popular candies along with the Hershey bar.
Number 2 – Reese's Peanut Butter Cups

And coming in at number 2 should be no surprise, Reese's Peanut Butter Cups. This candy actually battles with Snickers for the Top spot and some lists actually have this beloved candy in the number 1 spot. Especially on America's Favorite Halloween Candy lists.
42.8 million Americans at Reese's Cups in 2020. They are actually the top-selling candy brand worldwide with more than $2 Billion in annual sales.
H.B. Reese created the Peanut Butter Cup in 1928. He was an employee of the Hershey Company. I wonder if he knew just how popular this candy would become.
To this day this is probably my most requested homemade treat to bring to parties. I have been making them from scratch for nearly 20 years now, and in my opinion, this homemade peanut butter cup recipe is better than the originals.
You can use your favorite chocolate, and use whatever peanut butter you want. If you love peanut butter cups, try this recipe!
The Number 1 Most Popular Candy in America is Snickers!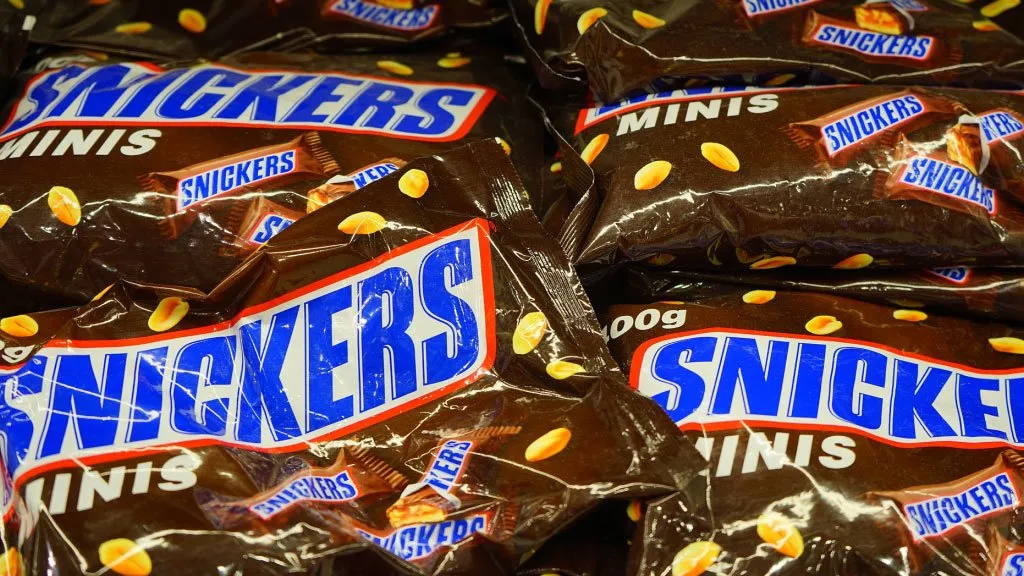 It is not surprising that Snickers made the list. In fact, I am not surprised at all that it is at the top of the list. Ever since I was little I loved eating Snickers bars, it has always been one of my favorites. I still prefer Milkway over Snickers, but I will never turn down a Snickers bar.
According to Statista more than 48 million people at Snickers bar in 2020, that is crazy!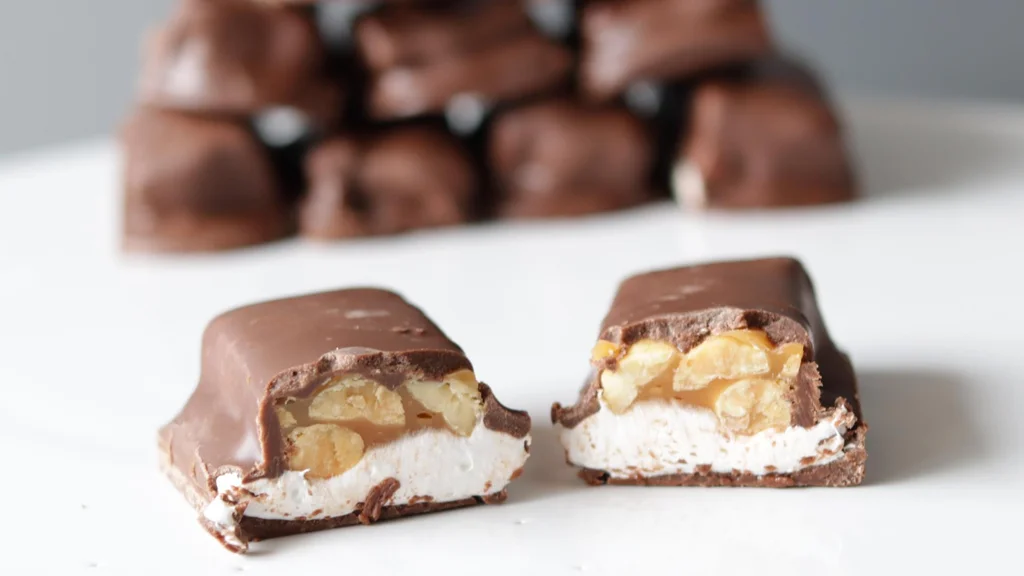 If you want to try making them at home, I have an amazing homemade Snickers recipe. In fact, I like these better than the originals.
To sum up, here are the Top 10 Most Popular Candy in America:.
Snickers
Peanut Butter Cups
Hershey's Kisses
Kit Kat
M&Ms
Hershey Bar
Twix
Starbursts
Skittles
Candy Corn
I hope you enjoyed learning about these popular American candies. There are other resources of "popular" candy lists that you can find, but they will all be fairly similar with a few showing up with different rankings.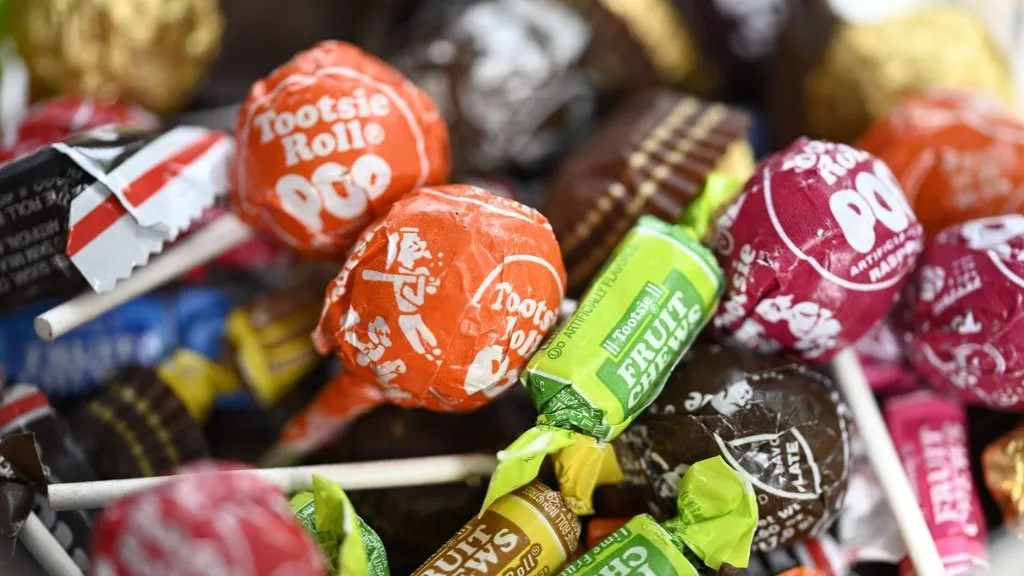 Here are some honorable mentions that made some lists and easily could be part of the Top 10:
Sour Patch Kids
Hot Tamales
Tootsie Pops
Almond Joy
Butterfinger
3 Musketeers
Milky Way
Baby Ruth
Time to go eat some candy! Let me know in the comments what your favorite candy is.