I am not going to lie, I like food statistics. In college, one of my favorite classes was Statistics. Learning about analytics and data fascinates me. Especially when it comes to food. I love finding out how popular different things like desserts and other foods are in the United States and the rest of the world. This particular article will cover the Top 10 Most popular desserts in America.
Top 10 lists can be subjective at times, so the ranking could be off a little bit, for example, my number 1 could be a number 3 or 4 on another list out there. With that said, it will still give you an idea of what the most popular desserts in America are. I of course will include links to my sources. I pulled this data from several other lists.
Also, I will include links to recipes for each popular dessert in case you want to try out my version of it. I am addicted to desserts, it's a good thing I exercise and use a bit of portion control, haha. I am often asked what I do with all the food especially desserts that I make since I am single and live alone. Well, I give a lot of it away! I also freeze it, and sometimes, I just eat it all over a period of a week. Anyways, I digress, let's get started with the list!
If desserts aren't your thing, I have another article entitled Most Popular Foods in America, that you can check out.
Top 10 Most Popular Desserts in America – Number 10 Carrot Cake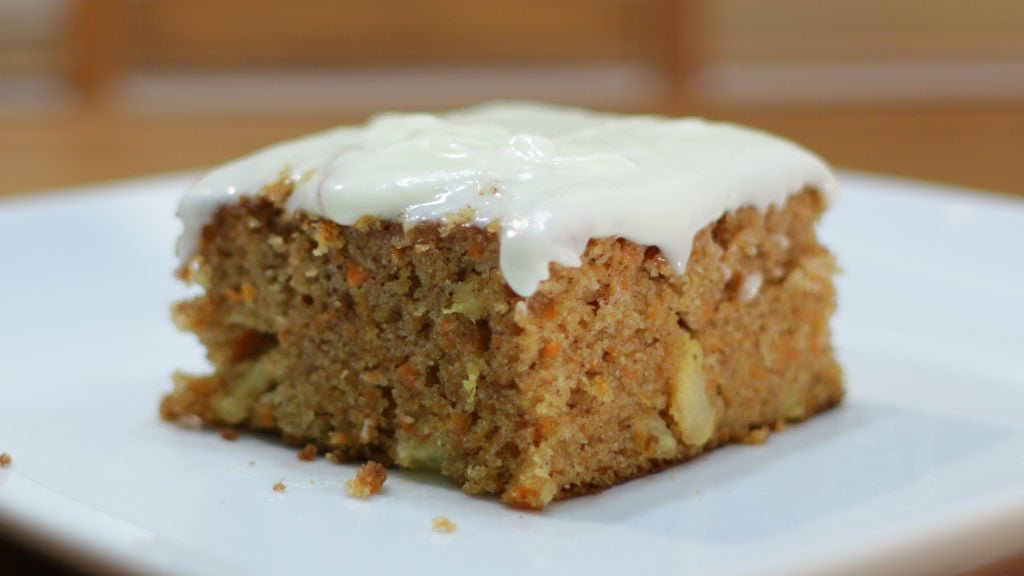 Love it or hate it, carrot cake is one of the most popular desserts in America. It was listed on nearly every list I could find from other sources. It also happens to be one of my favorite cakes.
According to this article, carrot cake is believed by many food historians to have originated in Europe and derived from puddings, nearly as far back as the middle ages, when things like carrots were used as sweeteners because sugar was too expensive.
Of course, carrot cake has come a long way since its origins and includes a few variations, one of which is the addition of pineapple chunks and cream cheese frosting. Most likely immigrants from Europe brought this famous dish to America, where if grew to become one of the most popular desserts in America.
Make sure to check out my Moist Carrot Cake recipe if you want to make your own.
Number 9 – Milkshakes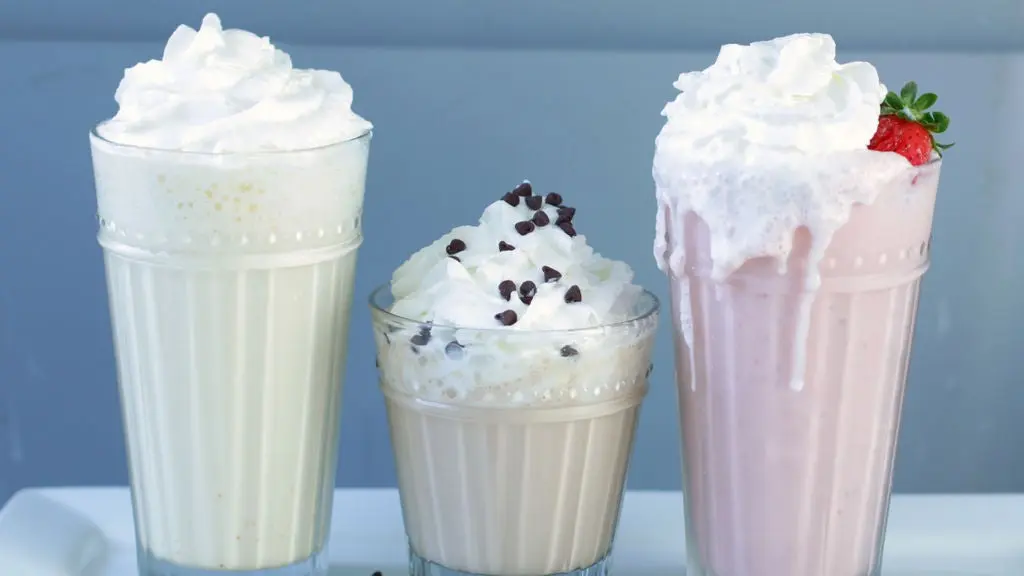 Vanilla, chocolate, or strawberry it doesn't matter, milkshakes are one of the most popular desserts in America and come in at number 9 on this list. My favorite just happens to be strawberry, I will get that out of the way right now.
An American classic, eating a Hamburger which happens to be the number 1 most popular food in America, with French fries, which are the 3 most popular food in America, and a milkshake.
Milkshakes became popular with the invention of the blender in 1922. It didn't take long for nearly every restaurant especially fast-food restaurants in the country to serve this iconic dessert. Let's be honest, it isn't a drink, it is a dessert, haha. Check out this article if you want to know what the most popular milkshake flavor is. I will give you a hint it is my favorite as well. If you like analytics, according to this article in 2018, the US market size for milkshakes was a whopping 238.6 million dollars! That is a lot of milkshakes.
If you want to learn how to make a milkshake check out my milkshake recipe. I show you how to make vanilla, chocolate, and strawberry milkshakes.
Number 8 – S'mores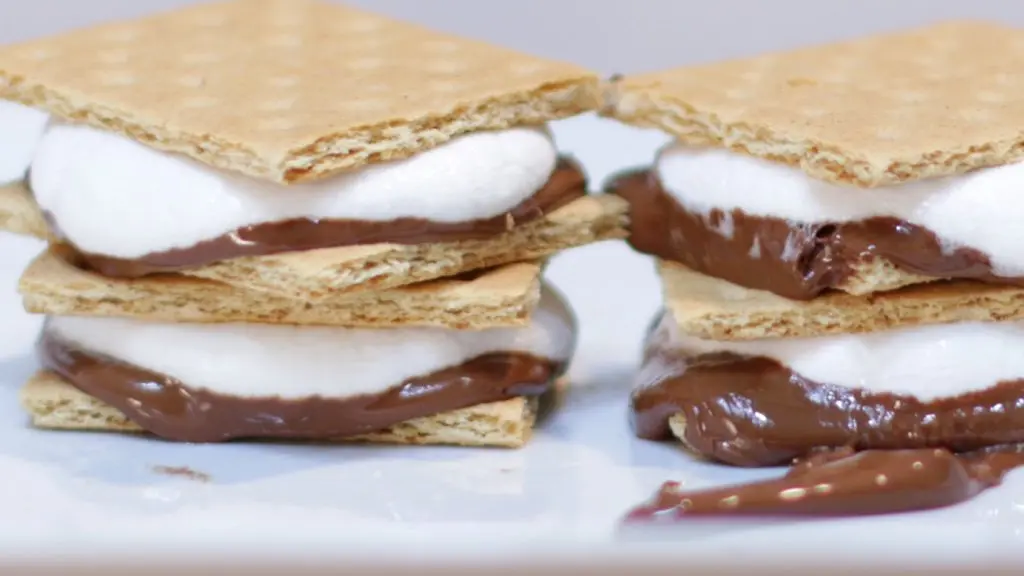 Hey, you want a s'more? Some more of what? No, do you want a s'more? I haven't had anything yest…so how can I have some more of nothing. You're killing me Smalls!….

– The Sandlot
Coming in at number 8 is the beloved S'more. If you are not familiar with the movie The Sandlot, you have got to watch it. It is classic Americana and good ole fashioned fun. The popular dessert, S'mores, is in it. S'mores are not only popular in the US, but also in Mexico and Canada.
I can see why they are so popular, how can you go wrong with graham crackers, marshmallows, and chocolate. Did you know August 10 is National S'mores Day here in the United States? It is so popular it has its own day, haha. While you can eat them at any time, this delicious dessert is a campsite staple. If you want some more fun facts about this treat, check out this S'mores article.
You don't have to be camping to enjoy S'mores. One of my most popular recipes here on my blog is Microwave S'mores.
Number 7 Most Popular Desserts in America – Cheesecake
Next up on the list, number 7, cheesecake. Cheesecake is definitely one of my all-time favorite desserts so I can see why it made the list. As a kid, I didn't enjoy it as much as I do now, in fact, I have several cheesecake recipes here on my website.
There is a whole restaurant here in the United States devoted to this beloved treat. If you love cheesecake, make your way to the nearest Cheesecake Factory. Now of course they have a plethora of other foods to enjoy there, but their cheesecake is what put them on the map.
The New York Style cheesecake is probably the most popular flavor, and it is one of my favorites. If you love cheesecake check out my classic cheesecake, pumpkin cheesecake, no-bake chocolate cheesecake, triple chocolate cheesecake, and cheesecake bites recipes.
Number 6 – Ice Cream
The next dessert on our list also made it on the Most Popular Foods in America list, and that is the ever so popular dessert, ice cream. Americans love ice cream! And I am one of the masses that enjoys that cold delicious treat.
Ice cream also has a National day, which is July 18, and July is National Ice Cream Month. According to this article, Americans consume about 23 gallons of ice cream each year, on average. Wow! I love ice cream, but I don't think I eat that much or do I? I did just eat some last night, haha.
As a side note, my favorite ice cream shop is called Sweet Retreat, in Mesa, and it sells the BYU Creamery ice cream. It is so incredibly good. Handels and Cold Stone are some of my other favorite places to get ice cream.
Number 5 Most Popular Desserts in America is Apple Pie!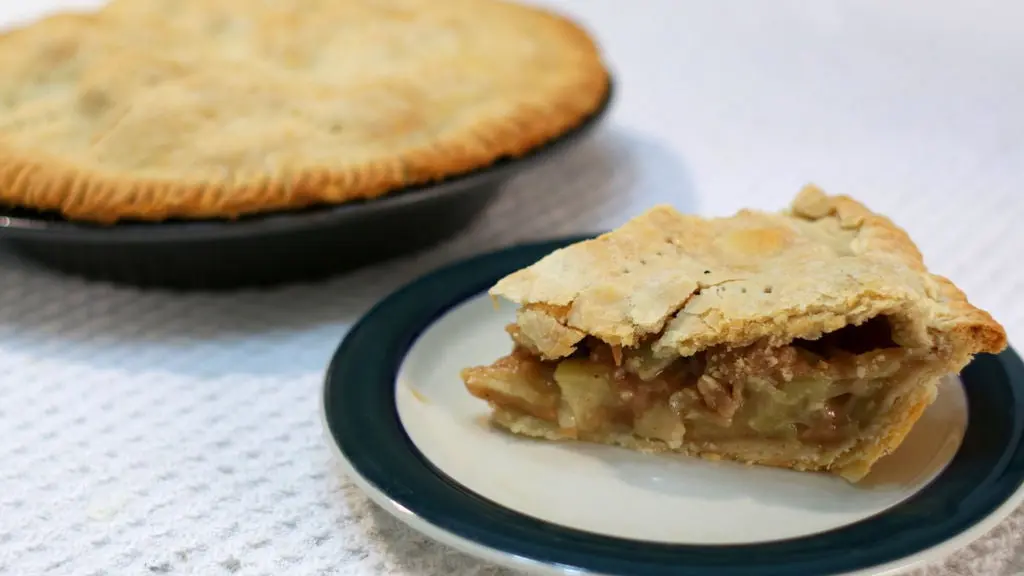 You can't bring up food and the Holidays without mentioning pie, especially Apple pie. Americans love apple pie! I too love pie, and apple pie is indeed my favorite kind of pie. We probably should just say pie in general, but this is the most popular of the pies.
And yes, apple pie has its own day as well. May 14th is National Apple Pie Day. Apple pie originated in England around 1380, or at least this was when the first printed recipe appeared. The bulk of the apple pies is eaten during the Holidays with Thanksgiving being the most popular with Christmas behind that.
Want some fun facts about apple pie? Check out this piecouncil.org article.
If you want to learn how to make apple pie at home, check out my apple pie recipe. This is one of several different ones I have here on my website.
Number 4 – Fudge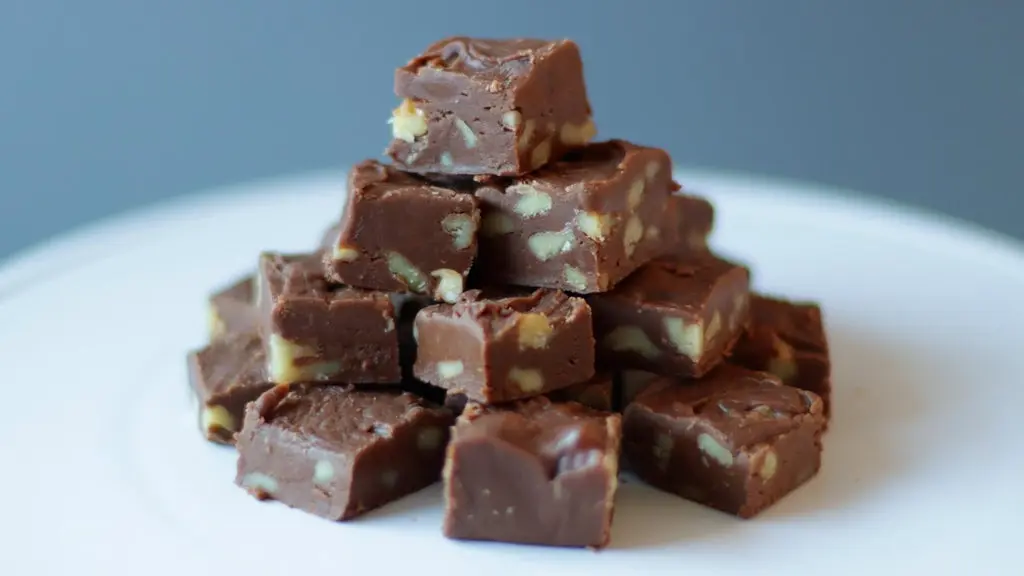 At number 4 on the most popular desserts in America list, we have fudge. There are several types of fudge, from old-fashioned fudge, microwave fudge, 2-ingredient fudge, peanut butter fudge, cookies and cream fudge, etc., but for this article, I am going to lump them all together as just fudge.
This popular dessert is another holiday favorite. I grew up eating this stuff. I remember watching my mom as she stood in the kitchen stirring the fudge so it wouldn't burn. This soft chocolatey dessert is absolutely amazing.
If you have never tried fudge you have got to give it a try. Here is my recipe for creamy old-fashioned fudge.
Number 3 Most Popular Foods in America are Brownies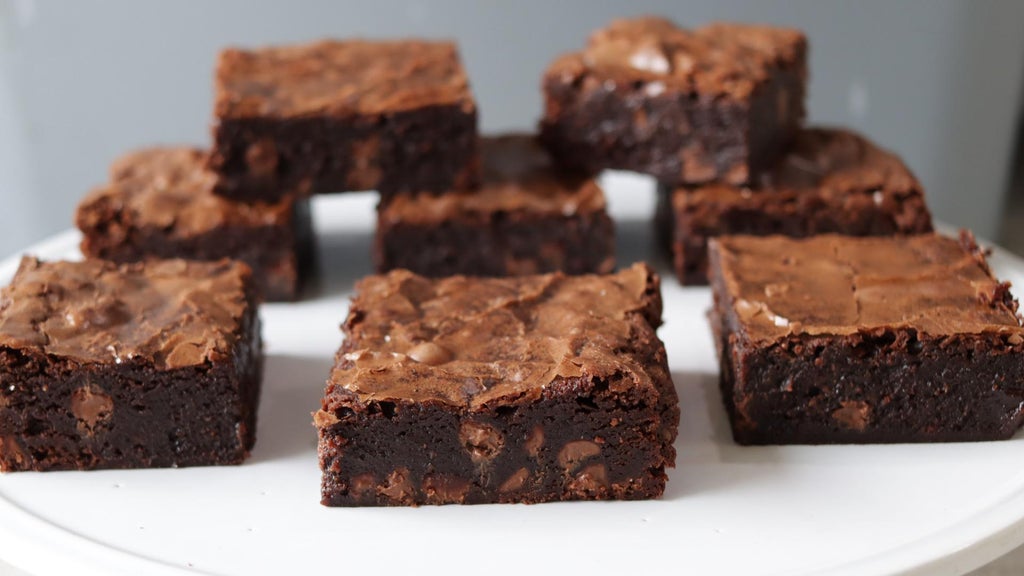 Time for the third most popular dessert in America, brownies. I am so on board with that ranking. Honestly, the top three could easily be rearranged, again this list is a little more subjective than objective. In my research of several "top lists" brownies were always on it and always near the top.
According to this article, the National Brownie Committee of America reported that Americans eat around 1.45 Billion brownies each year. That is a staggering amount of brownies.
Oh, and by the way, December 8 is National Brownie Day. Kind of funny how many National food days we have here in the United States.
Check out my fudgy brownies recipe and learn how to make amazing brownies.
Number 2 – Cupcakes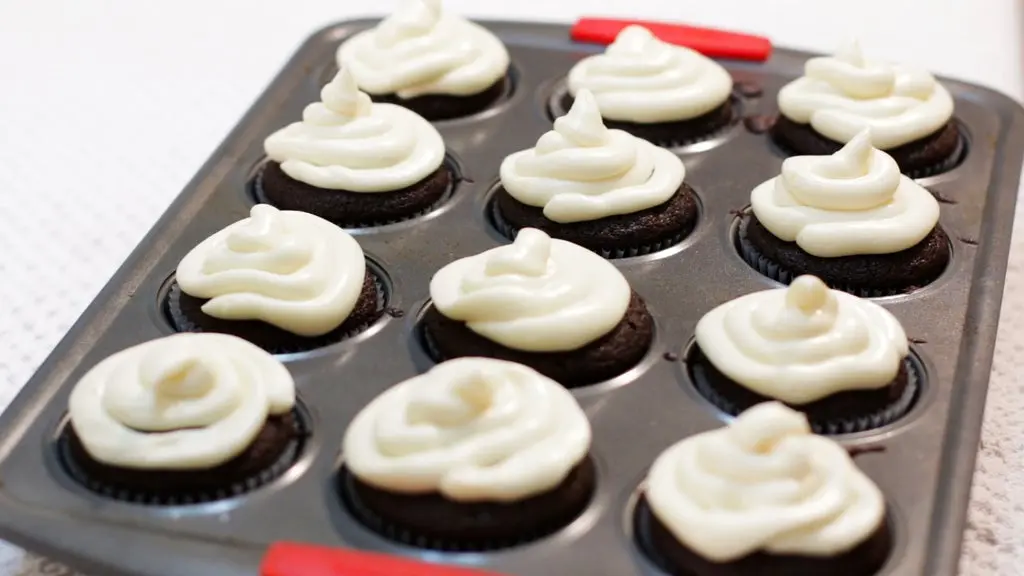 And coming in at number 2 on the list are cupcakes! I do love a good cupcake. Cupcakes are so popular because they are smaller portions, and perfect for bringing to birthday parties, game days, family gatherings, etc. You can get 24 cupcakes from a standard cake recipe.
Chocolate is the most popular flavor with vanilla next, then strawberry. Did you know over 800 million cupcakes are consumed every year? If we were going by just numbers, that would actually put cupcakes behind brownies, since more brownies are eaten. So that argument can easily be made. Either way, they are super-duper popular. I mean how can you not like cupcakes?
Need your cupcake fix? Check out my easy chocolate cupcake recipe.
The Number 1 Most Popular Desserts in America are Chocolate Chip Cookies!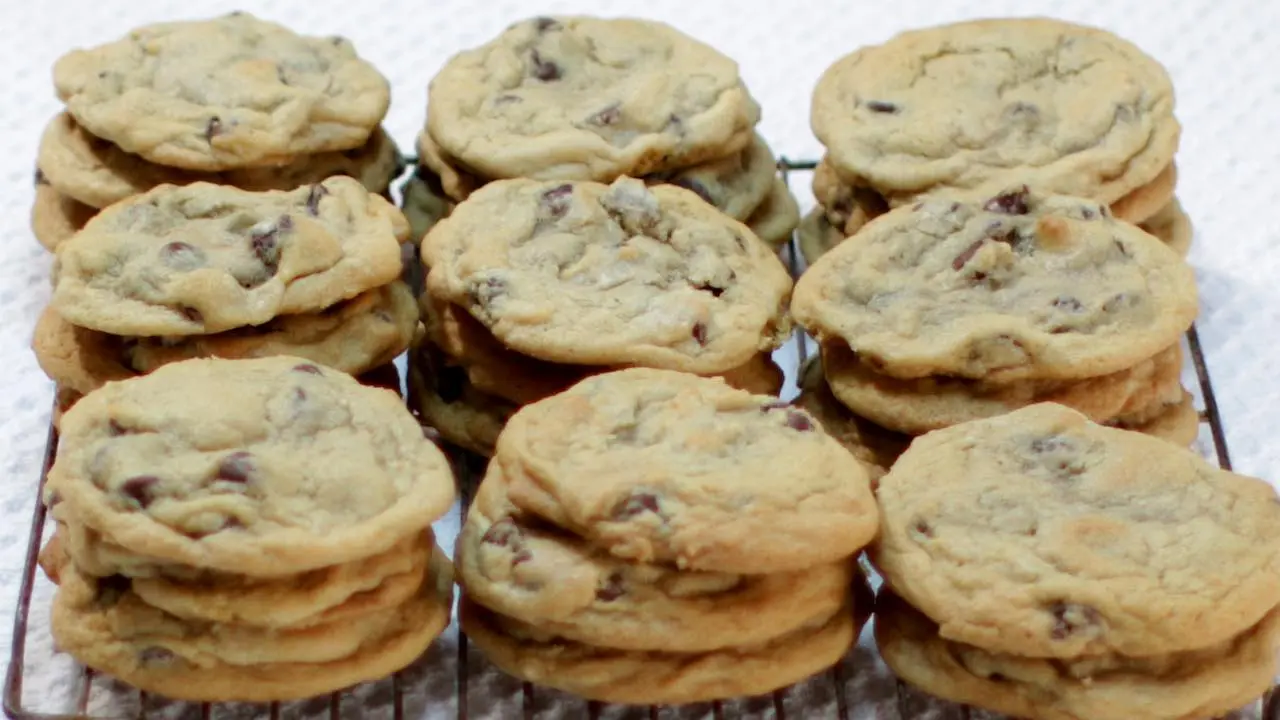 And finally, that brings us to the number one spot on the list of most popular desserts in America, chocolate chip cookies. In my research, pretty much every list I found had chocolate chip cookies list near the top if not at the top. I totally agree. They are one of my favorites if not my favorite desserts to eat.
And yes, there is a National day for chocolate chip cookies as well, it falls on August 4. There are an estimated 7 Billion, yes 7 Billion chocolate chip cookies eaten in the United States every year. 50% of which are homemade. That is a staggering amount of cookies. I definitely have made and eaten my fair share.
My chocolate chip cookie recipe and video are one of the most popular recipes on my website and my YouTube Channel. Check those out if you want to make some absolutely amazing chewy chocolate chip cookies.
To sum up here are the Top 10 Most Popular Desserts in America:
10. Carrot Cake
9. Milkshakes
8. S'mores
7. Cheesecake
6. Ice Cream
5. Apple Pie
4. Fudge
3. Brownies
2. Cupcakes
1. Chocolate Chip Cookies
Did your favorite dessert make the list? Let me know in the comments. I hope you enjoyed learning about these popular desserts.
Time to go out and make your own or I guess you could buy them if you wanted, haha.