Jump to Recipe
Nutella is one of those amazing creations that I can't seem to get enough of. That popular hazelnut spread is so yummy with a unique flavor and hint of chocolate. If you like Nutella and you like quick bread, you have got to try this Nutella bread recipe.
I am a huge fan of bread so, this creation of mine is right up my alley. It was a happy accident really. After making peanut butter bread one day, I thought, how would it taste if I swapped the peanut butter for Nutella. And oh wow, I was hooked. It turns out awesome, I may even like it better than the peanut butter bread.
Nutella bread is so simple to make, with just a handful of easy-to-find ingredients. If I can do it, you can do it. Let's get baking!
Step 1: Gather the ingredients
In order to make Nutella bread at home you need just 6 ingredients:
Flour – Use all-purpose/plain flour. You can use self-rising flour as well.
Baking powder
Salt
Sugar – Use white granulated sugar, brown sugar will work too.
Milk – I like to use whole milk, but any milk will work, including almond milk and powdered milk (mixed with water of course.)
Nutella – And of course Nutella! You can't make Nutella bread without Nutella. But in reality, you can use any brand of hazelnut spread.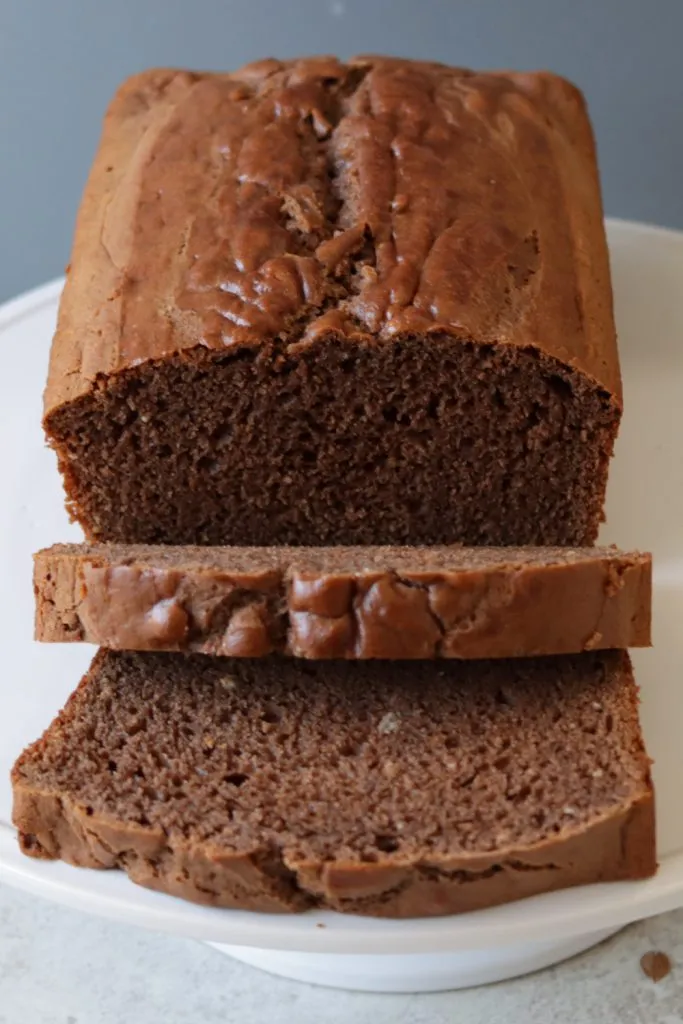 Tools
Large bowl
Wooden or Silicone spoon
Spatula
Whisk
5×9 or 4×8 bread loaf pan
Cooking spray
Wire rack
Step 2: How to make Nutella bread
Ok, this Nutella bread is extremely easy to make the batter comes together in less than 10 minutes.
Preheat the oven to 325 F/162 C.
Add the flour, sugar, salt, and baking powder into a medium to a large bowl and whisk until well combined.
Then pour all of the milk and stir. I don't recommend using the whisk at this point, because the batter gets super thick. You can certainly use a stand mixer or hand mixer as well if you like.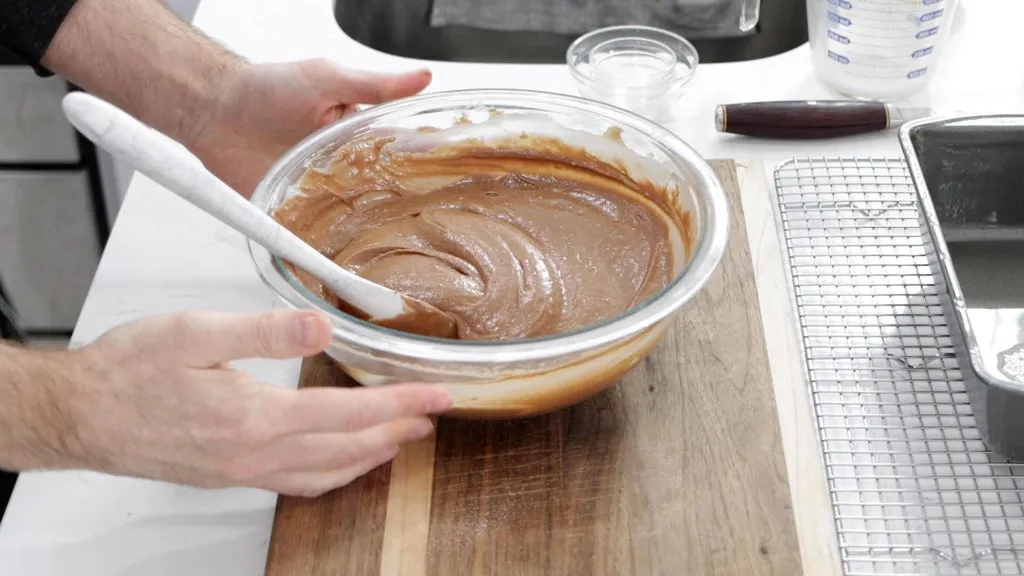 Now for the star of this dish, the Nutella. Add the Nutella or other hazelnut spread and stir it in, until combined.
And just like that, the Nutella bread batter is ready to go.
Step 3: Bake the Nutella Bread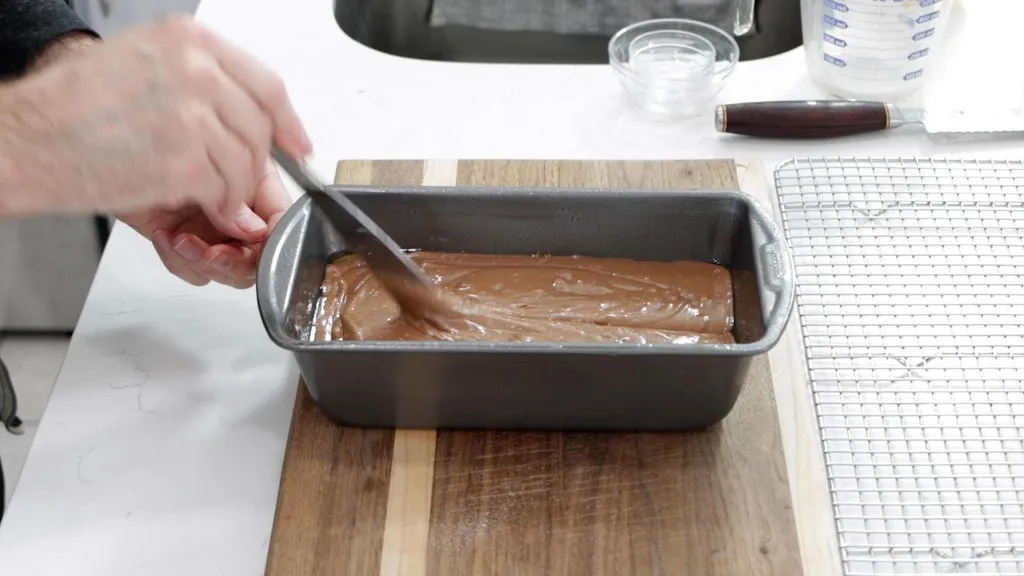 Pour the batter in a 9×5-inch or 8×4-inch bread loaf pan that has been sprayed with cooking spray. If you want the bread to rise taller use the 8×4-inch pan.
Run a butter knife down the center. This aids in the baking process. Although not really necessary.
Then bake the bread on the middle rack for 60 to 70 minutes until a wooden skewer or long toothpick comes out clean.
Allow the bread to cool for 10 minutes or so in the pan, then remove it from the pan and transfer it to a wire rack to cool completely.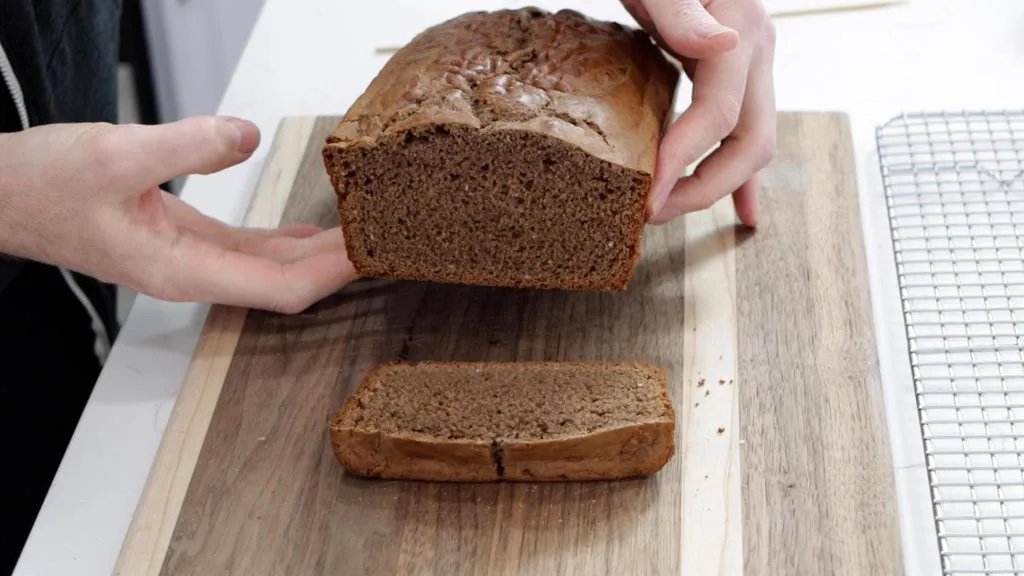 Slice and enjoy! Try putting some butter and strawberry jam on it, so delicious.
How long does Nutella bread last?
This bread will stay fresh for 3 to 5 days in a ziplock bag on the counter or about a week in the fridge. You can also freeze the bread if you like. When frozen it will last a few months. Then just remove it from the freezer and allow it to thaw out at room temperature before you want to eat it.
Can I add bananas to it?
Sure you can certainly add a few smashed ripe bananas if you like. Or you can follow this banana bread recipe and add 1/2 cup Nutella to that.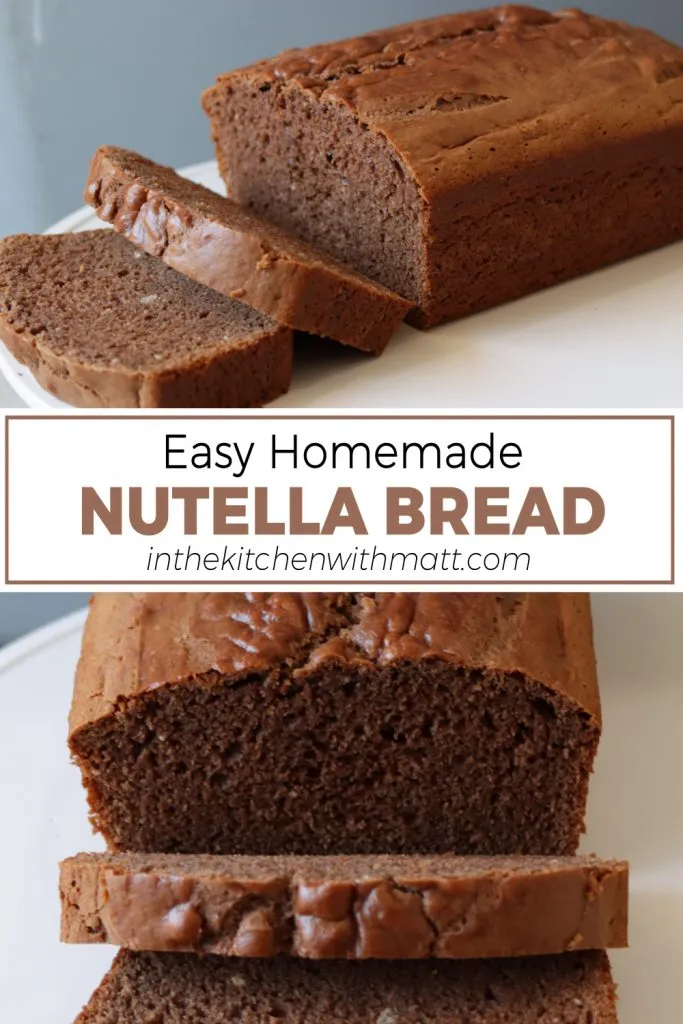 Here are more recipes you may like:
Nutella Bread
If you like bread and you like Nutella, give this recipe a try! It only requires 6 ingredients and is so easy to make.
Equipment
Large bowl

Wooden or Silicone spoon

Spatula

Whisk

5×9 or 4×8 bread loaf pan

cooking spray

Wire rack
Ingredients
2

cups

of all-purpose flour

240g

1

tsp

of salt

5g

4

tsp

of baking powder

20g

1/3

cup

of white granulated sugar

66g

1 1/3

cups

of milk

whole, 2%, skim, almond, etc. (316 ml)

2/3

cup

of Nutella

152g
Instructions
Preheat oven to 325 F/162 C, with the main rack in the middle position.

Whisk together the flour, salt, baking powder, and sugar in a large bowl.

Pour in all the milk and use a sturdy spoon to mix or mixer. It will be thick and sticky.

Stir/mix in the Nutella until well combined. The Nutella bread batter/dough is ready!

Spray a 9×5 or 8×4-inch bread loaf pan with cooking spray or grease with shortening. Then scoop all the batter into the pan.

Cut a slit down the middle with a butter knife or regular knife. Bake for 60 to 70 minutes until a toothpick or long wooden skewer comes out clean.

Allow it to cool in the pan for 10 minutes then transfer to a wire rack to cool completely.

Slice and serve! Enjoy! Try it with butter and strawberry jam, so good.
Video
How to Make Nutella Bread | Easy Homemade Nutella Bread Recipe
Notes
Nutrition
Do you like the recipe? Please give it a rating and comment down below, I really appreciate it. Save the Pin to Pinterest! If you make it tag me on Instagram @inthekitchenwithmatt. Also, sign up for the newsletter so you won't miss out on any of my new posts and recipes.
Check out my other website 101 Creative Dates for fun date ideas. Food and dating go hand in hand!