Jump to Recipe
I love making and eating pancakes, so time for another awesome pancake recipe. In this step-by-step recipe, I will show you how to make oatmeal pancakes.
Oatmeal pancakes are a perfect marriage between traditional oatmeal and classic American pancakes. If you are a fan of oats and pancakes give this easy homemade oatmeal pancakes recipe a try.
Let's get started!
Step 1: Gather the pancake ingredients
In order to make these yummy oatmeal pancakes from scratch, you will need the following ingredients, make sure to scroll all the way down for the printable recipe card and the exact amounts for each ingredient:
Milk – I usually use whole milk, but 2%, skim, etc. will work just fine. If you are dairy free, you can use almond milk or soy milk.
Oats – I always have classic traditional old-fashioned rolled oats in my house so I always use those. You can use quick oats as well if you like.
Egg – The egg acts as a binder as well as gives the pancakes structure, moisture, and a bit of richness in flavor.
Cooking oil – Any cooking oil like vegetable, canola, olive, avocado, coconut, peanut, etc. will work. Oil also helps to keep the oatmeal pancakes moist. You may use melted butter instead if you like.
Flour – Use all-purpose flour which is also called plain flour in other countries. You may use self-rising flour too if you like, if you do omit the baking powder.
Sugar – Just a bit of sugar to add a little sweetness as well as help with the color of the cooked pancakes. The sugar also helps with the structure and tenderness of the crumb.
Baking powder – The main rising agent which helps to make the pancakes lighter and fluffier.
Salt – This will balance out the flavors and enhance the flavors.
Cinnamon – I love cinnamon so I always add it, but this ingredient is optional.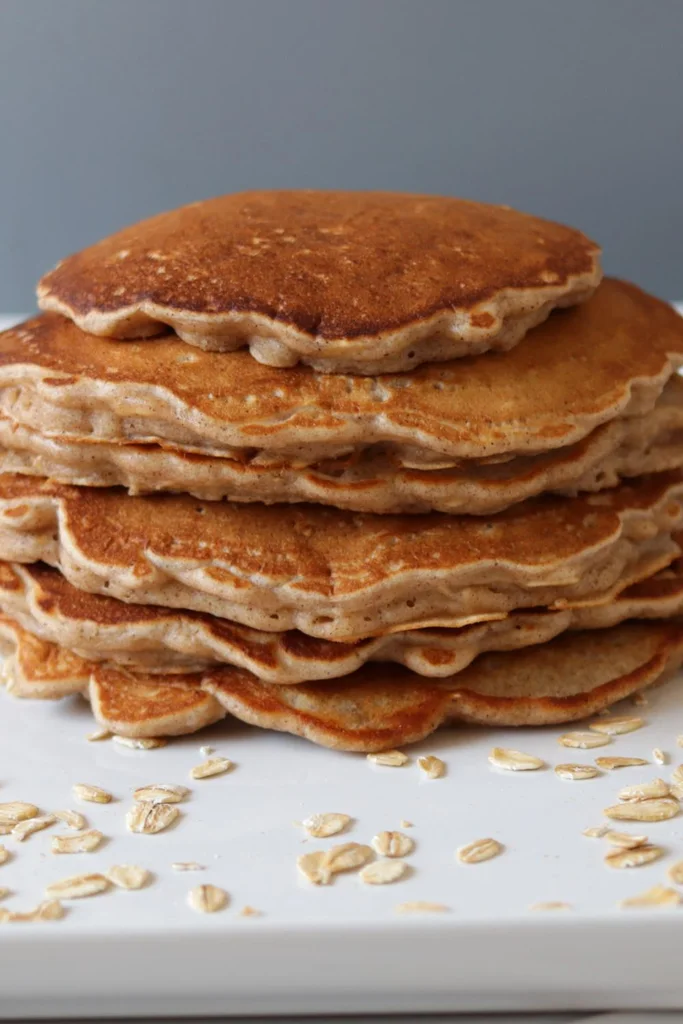 Tools/Equipment
Step 2: How to make homemade oatmeal pancakes
Begin by mixing together the flour, sugar, baking powder, salt, and cinnamon in a medium bowl. You can use a whisk, sifter, or fork.
Now add the oats and the milk to a separate bowl. Mix the oats a little bit so they are all covered with milk. Allow the oats to soak in the milk for at least 5 minutes.
Soaking the oats makes them softer and the resulting oatmeal pancakes have a better overall texture.
Now add in the egg and oil and give it a mix. Follow that up with the flour mixture. Mix with a spoon or spatula.
The resulting finished oatmeal pancake batter will be a bit soupy or thin. That is what you want.
Step 3: How to cook oatmeal pancakes in a pan or on a griddle
Now that the batter is finished it is time to cook up the homemade oatmeal pancakes. Lightly spray a skillet or griddle with cooking oil or you can use butter.
Set the heat to medium heat or 350F on your pancake griddle. Allow the pan or griddle to heat up completely.
Use a half-cup measuring cup and scoop some batter onto the hot skillet or griddle.
Allow the first side to cook until there are bubbles in the middle and it looks dry around the edges. This usually takes 1 min to 1 minute and 45 seconds.
You can always check under it with your spatula. When the pancake is golden brown on that side give it a flip and cook the other side.
The second side will take less time around 25 to 30 seconds. Once cooked remove and serve. I usually stack them on a plate first as opposed to serving them one by one to people.
For these particular pancakes, I like to drizzle honey on top, and a bit of powdered sugar. But you can totally use maple syrup, fruit syrup, fresh fruit, whipped cream, etc. So many pancake topping options.
Enjoy!
Oatmeal Pancakes Tips and Substitutions
Now for some tips and substitutions that you can use to make the right oatmeal pancakes for you and your family.
Can I substitute the egg?
Yes! If you don't want to use the egg you can use 1/4 cup of applesauce, 1/4 cup of mashed banana, or 1/4 cup of plain Greek yogurt. You can also try 2 Tablespoons of peanut butter or almond butter.
Can I make oatmeal pancakes gluten-free?
Yes! You can easily make these pancakes gluten-free by making sure you are using certified gluten-free oats as well as using a 1-to-1 gluten-free flour mix instead of the all-purpose flour.
Can I add fresh fruit or berries to the pancakes?
Of course! Add about 1/4 to 1/2 cup of blueberries to make blueberry oatmeal pancakes. Try other berries if you like them as well. And of course, you can always put them on the top.
Here are other amazing pancake recipes you can try if you like:
Easy Classic American Pancakes
Oatmeal Pancakes
This yummy step-by-step oatmeal pancakes recipe is the perfect blend between classic American pancakes and oatmeal. If you like both of those, you will love these! This recipe makes about 6 medium 5-inch pancakes.
Equipment
Whisk

spoon

Bowls

Spatula

Frying pan/skillet or pancake griddle
Ingredients
1

cup

of milk

237ml

1

cup

of old-fashioned rolled oats

80g

1

large egg

2

Tbsp

of cooking oil or melted butter

28g

1/2

cup

of all-purpose/plain flour

110g

1

Tbsp

of white granulated sugar

15g

1 1/2

tsp

of baking powder

6g

1/2

tsp

of salt

2g

1

tsp

of cinnamon

2g
Instructions
Add the flour, sugar, baking powder, salt, and cinnamon to a medium bowl and mix.

In a larger bowl add the oats and the milk. Give them a mix and then let them soak for 5 minutes.

Add the egg and the oil to the oats mixture and whisk.

Add all of the flour mixture and stir until well combined. The batter should be a bit thin or soupy.

Spray a skillet or griddle with cooking spray or use butter and set burner to medium heat or 350 F on the griddle.

Cook the oatmeal pancakes. Scoop batter onto the hot skillet or griddle. Allow the first side to cook until there are bubbles in the middle and it looks dry around the edges between 1 minute and 2 minutes. It should be golden brown on the bottom.

Flip it over and cook the other side until golden brown, about 30 seconds.

Serve them with honey, syrup, powdered sugar, fresh fruit, fruit syrup, etc. Enjoy!
Video
Oatmeal Pancakes Recipe | In The Kitchen With Matt
Notes
Substitutions:
Substitute the egg for 1/4 cup of applesauce, mashed banana, or plain Greek Yogurt.
Substitute the flour for gluten-free flour, for gluten-free pancakes.
Substitute the milk for almond or soy milk for non-dairy pancakes. 
Each serving is two pancakes.
The nutritional facts are for the pancakes themselves and not any additional toppings.
Nutrition
Do you like the easy shortbread cookies recipe? Please give it a rating and comment down below, I really appreciate it. Save the Pin to Pinterest! If you make it tag me on Instagram @inthekitchenwithmatt. Also, sign up for the newsletter so you won't miss out on any of my new posts and recipes.
Check out my other website 101 Creative Dates for fun date ideas. Food and dating go hand in hand!