Jump to Recipe
I just love eating this easy omelet or omelette for breakfast. It is packed with cheese, tomatoes, bacon, and green onion, but those can easily be substituted with other ingredients. Some other favorites are spinach, bell peppers, onion, mushrooms, ham, etc.
Breakfast foods are one of my favorite things to eat throughout the day, not just in the morning. I have no problems cooking an omelet for lunch or dinner. It is a delicious low-carb meal that is packed with flavor.
And omelettes are so incredibly easy to make, if I can do it, you can do it. Let's get started!
Step 1: Gather the ingredients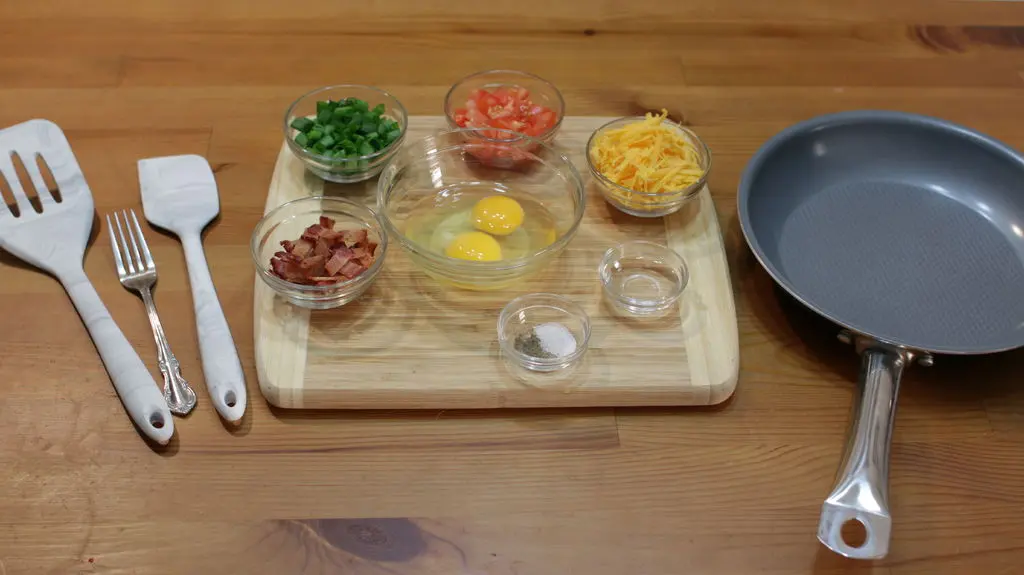 In order to make an omelet you need just a handful of ingredients. Really you only need eggs to make an omelet, but they taste much better with other things added.
Eggs
Salt
Pepper
Water
Cheese
Tomato
Green Onion
Bacon – Or use ham, sausage, etc.
Other options include bell peppers, spinach, mushrooms, etc.
Tools
Step 2: How to make an omelet or omelette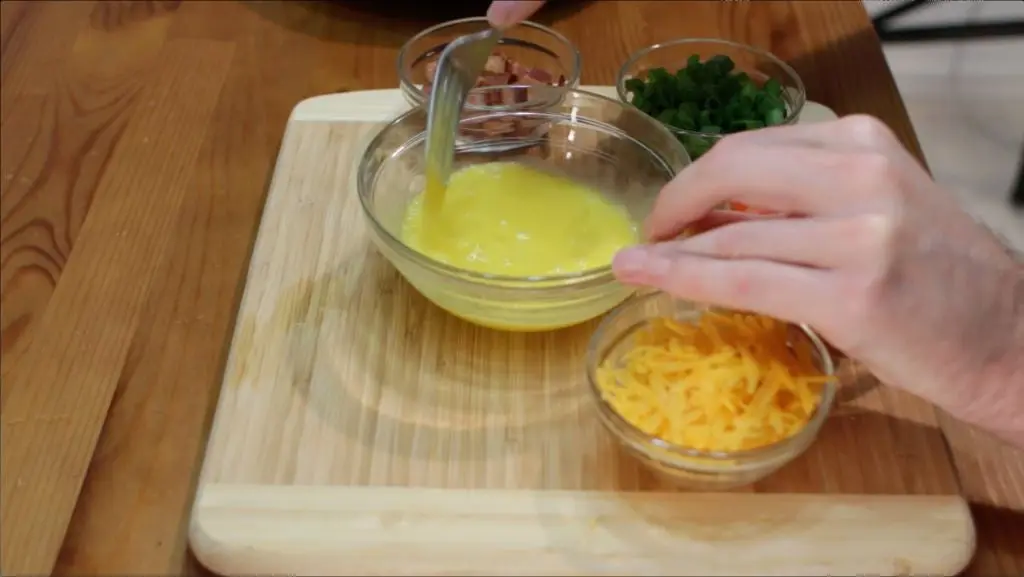 Start by cracking your eggs into a bowl. Depending on the size of your pan will determine how many eggs you should use. 2 to 3 eggs works well for an 8 to 9-inch pan, you can use more for a larger one.
Add the water and salt and pepper to the eggs and whisk them up. Some people don't add the salt at this point, you can certainly add it later if you want. There seems to be a debate among some foodie circles when to add the salt.
If you add the salt to the eggs now, and then walk away and come back 15 to 20 minutes later the eggs may turn orangish on you. I always just use them right away and like doing it this way because it gets mixed in better. Also if you are adding salty bacon later, you may not need much extra salt.
I don't always add the water, it is optional, and sometimes I use milk instead. The idea is the liquid makes the eggs more fluffy.
Step 3: How to cook an omelet in a skillet
Turn on the burner of the stovetop and set the heat to medium. Take a good nonstick pan or well-seasoned cast iron pan and add a bit of oil and butter to it. Once the oil and butter start to sizzle it is ready to go.
Pour the eggs into the pan, it should spread out and cover the bottom. Allow it to sit for a few seconds, and then use a spatula and go to the edge of the omelet and then pull in the edge toward the center. Angle the pan so more liquid egg fills in that open gap in the omelet. Continue doing this around the omelet.
This technique helps cook all of the liquid eggs. Once you no longer have a ton of liquid flowing to the edges, allow the omelette to sit and cook for about 30 seconds.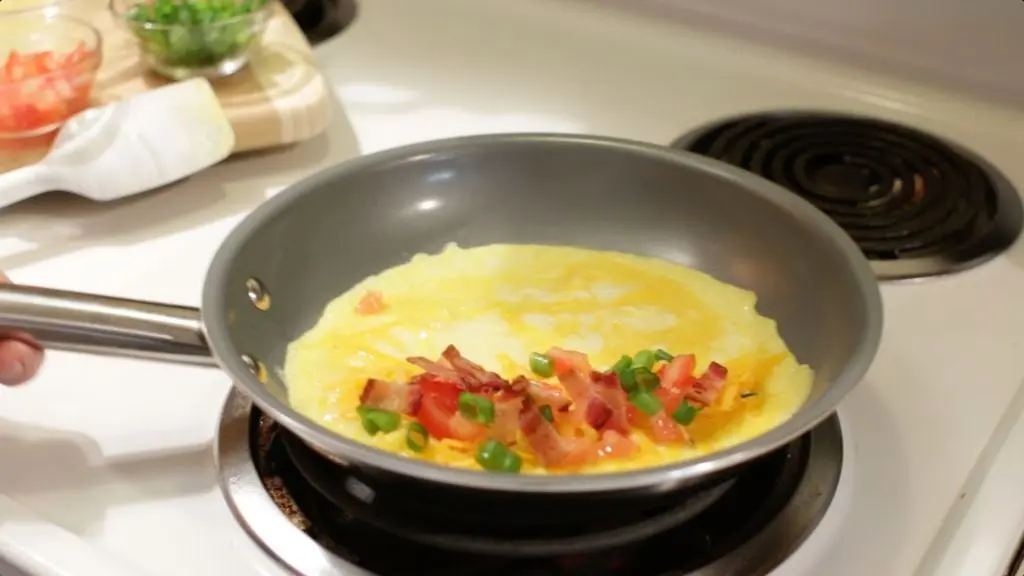 Finish the omelet by adding your favorite filling to one half of it. I love to use cheddar or jack cheese, bacon, fresh tomatoes, and green onion.
Then remove the pan from the stovetop and bring it over to a plate. Angle it so the omelet slides off and then move the pan angle up so it folds over. This is a classic Western style omelet. You can pour any extra oil or butter that is in the pan over it if you like.
Step 4: Finish off the omelette
Now finish the omelet however you like. I usually just add more of the same toppings. You can also sprinkle on more salt and pepper if desired. Make sure to serve it right away, because they aren't as good cold. Enjoy!
How long do omelets last?
An omelet if stored in an airtight container can last a few days in the fridge. Then just heat it up for a few seconds in the microwave when you want to eat it.
Here are some other breakfast recipes you may like:
Omelet
This easy homemade western-style omelet is so yummy and perfect for breakfast or any meal of the day. My favorite fillings are cheese, bacon, green onion, and tomatoes, but there are all kinds of yummy things you can fill them with.
Ingredients
2

large eggs

pinch

of salt

pinch

of pepper

2

tsp.

of water

optional (10ml)

2

tbsp.

shredded cheddar cheese doesn't have to be exact

28g

2

tbsp.

diced tomato doesn't have to be exact

25g

1

tbsp.

chopped green onion doesn't have to be exact

6g

1 to 2

strips of chopped bacon doesn't have to be exacy

or ham, sausage, etc.
Instructions
Begin by cooking the bacon and chopping up the onions, tomatoes, shredding the cheese, etc.

Place a nonstick skillet or well-seasoned cast-iron pan on the stovetop with the heat set to medium. Add some butter and oil to the pan and allow it to heat up.

While the pan is heating up, whisk the eggs in a bowl along with a pinch of salt and pepper and a bit of water or milk.

Pour the eggs onto the pan and allow it to spread out on the bottom. Allow it to cook for 15 go 20 seconds then tilt the pan slightly and use a spatula and pull the side of the omelet towards the middle, the liquid on top of the omelet will flow to that area of the pan and cook.

Continue doing this with other edges of the omelet until there isn't much liquid egg left on top.

Allow it to cook for 15 to 20 more seconds then add the fillings to one side.

Remove the omelet from the heat and tilt it so it slides so half of it is on the plate, more the pan up at a higher angle to allow the other half of the omelet to fold over. Top it off with more of the fillings, extra salt, and pepper as desired. Serve warm, enjoy!
Video
How to Make an Omelette | The Perfect Omelet Recipe
Notes
Note: The nutritional facts will vary depending on the toppings you use. 
Nutrition
Do you like the recipe? Please give it a rating and comment down below, I really appreciate it.  If you make it tag me on Instagram @inthekitchenwithmatt. Also, sign up for the newsletter so you won't miss out on any of my new posts and recipes.