Jump to Recipe
This easy overnight oats recipe is so awesome and perfect for a quick breakfast on the go.
If you are like me you don't always have a lot of time in the morning to make breakfast. Maybe you make do with a piece of toast, pop tarts, day-old leftover pizza, or a bowl of cold cereal.
Or do you skip breakfast altogether? Lately, I have been on a healthy smoothie kick but once in a while, I like to mix it up a bit with some bacon, eggs, and hashbrowns, crepes, cinnamon rolls, or for something really quick and healthy like overnight oats.
Oatmeal is a tried and true breakfast staple for many people in the United States and worldwide. I have heard countless stories where someone's grandparent ate a bowl of oatmeal for breakfast every day.
Why are oats and oatmeal so popular?
Oats are extremely healthy and are among the best grains to eat. They provide all kinds of nutrition, minerals, vitamins that the body needs. Not to mention carbohydrates for energy and they are gluten-free, for the most part.
Sometimes they can be milled in factories that mill wheat, so always maker sure they are certified gluten-free if you are gluten intolerant. They are a good source of fiber which helps you stay full longer. It's no wonder so many people eat it in the morning for breakfast.
Growing up I ate a lot of oatmeal as well. Usually, it was those one serving packets from Quaker Oats. I remember fondly eating the apples and cinnamon, maple and brown sugar, and cinnamon and spice. Instant oatmeal is not as healthy as old fashioned rolled oats or steel-cut oats. But they can be prepared quickly.
To make the oatmeal more healthy use old fashioned oats. They are less processed and are better for you. This way you control how much "extra" stuff you put in it.
What are overnight oats or overnight oatmeal?
Overnight oats are simply old fashioned rolled oats that have soaked overnight. Instead of cooking them with hot boiling water to soften them up, they have a good long soak in some sort of liquid.
Preparation is so easy and can be done in minutes the evening before. Then in the morning take it out of the fridge and eat it!
Step 1: What ingredients are required for overnight oats?
First, let's gather up the ingredients and tools. You will need the following.
Old Fashioned rolled oats – you can use the instant or quick oats as well if you like. The resulting texture will be a bit different. Steel Cut Oats can be used as well, again the texture will be a bit different.
White granulated sugar – to give it some sweetness. You can substitute with a number of other sweeteners as well if you like. Or maybe you prefer to use brown sugar. Maple syrup works well too.
Salt – Just a bit of salt to enhance the other flavors and provide a balance.
Ground cinnamon – this optional ingredient will greatly enhance the overall flavor.
Milk – you need some sort of liquid. I usually use whole milk, but you can use a variety of other liquids like water, almond milk, coconut milk, etc.
Fruit – some common fruits to add are strawberries, blackberries, blueberries, raisins, etc.
Nuts/Seeds – nuts and seeds will add some protein and make the oatmeal even more hearty.
Other – there are all kinds of different things you can add. What are some of your other favorites? Drop a comment down below and let me know.
Tools
Mason jar or bowl
Lid or plastic wrap
Spoon
Measuring cup
Knife to slice fruit
Step 2: How to Make Overnight Oats
I like to use a mason jar because it has a lid for it and it is very convenient. You can certainly use a bowl with plastic wrap as well.
Place your oats in the jar along with your sugar, salt, and ground cinnamon. Then stir them together with a spoon or fork.
Step 3: Liquid and Fruit
Now just add in your liquid, milk, water, etc. Next, add whatever fruit and nuts you would like to use. My favorites are strawberries and blueberries.
I like to add sliced strawberries then in the morning before eating top off the overnight oatmeal off with blueberries for an amazing combination.
Put on the lid to the jar or plastic wrap over the bowl and place it in the fridge and let the oats soak overnight. You want at least 8 to 10 hours of soaking.
Step 4: Serve up those overnight oats
Now in the morning open the fridge and grab those overnight oats. You can leave them in the jar and eat them that way or pour them into a bowl. I like to top them off with more fruit. Super duper easy right?
How long do overnight oats last?
They can be stored in their airtight container for up to 5 days in the refrigerator. So you can several ahead of time all at once.
Overnight Oats
Want a quick and healthy meal for breakfast? Make overnight oats! They only take a few minutes of preparation the night before and then in the morning they are ready to go!
Equipment
Mason jar that holds at least 2 cups (16 ounces or 480ml)

Lid

spoon

knife for slicing fruit
Ingredients
1/2

cup

old-fashioned oats

50g

1

tbsp.

white granulated sugar

15g

1/2

tsp.

ground cinnamon

2g

pinch

of salt

less than 1g

1

cup

whole milk

1%, 2%, Almond Milk, Coconut Milk, Water, etc.

Strawberries

Blueberries, Blackberries, Raisins, Chia Seeds, Nuts, etc.
Instructions
Place the old fashioned rolled oats in a jar or bowl. Then add the sugar, salt, and cinnamon. Mix them together with a spoon or fork.

Pour in your choice of liquid, milk, water, almond milk, etc. are all good choices. Give the oats a stir.

Add any fruit and nuts that you would like. 1/2 cup is a decent amount of fruit, you could use all of one kind of a variety. I like to use all of one and then top it off when another kind when I am ready to eat it.

Secure the lid on top of the jar or add a plastic wrap to the bowl and place it in the fridge overnight.

The next morning it will be ready to eat. Top it off with whatever else you like and enjoy! It is really that simple.
Video
How to Make Overnight Oats | Easy Homemade Overnight Oats Recipe
Notes
Note – the nutritional facts will vary depending on the sweetener you use and the fruit and other extras. The below facts are with 1/2 cup of strawberries and the rest of the ingredients that same.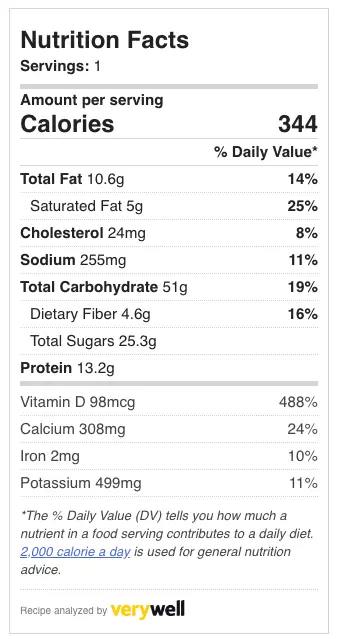 Nutrition
Do you like this recipe? Please give it a rating and comment down below, I really appreciate it. If you make it tag me on Instagram @inthekitchenwithmatt. Also, sign up for the newsletter so you won't miss out on any of my new posts and recipes.
Here are a few other recipes and posts you may enjoy: