Jump to Recipe
I absolutely love pan-fried asparagus or pan-grilled asparagus. It is so easy to make and a perfect side dish for any dinner.
Growing up I didn't not like eating asparagus. It was mushy and just plain gross. When I was in college I discovered grilled asparagus and was hooked ever since. Pan-fried is just as good!
I love eating it with some steak, grilled chicken, ribs, or hamburgers.
Pan-fried asparagus is super easy to make, if I can do it, you can do it. Let's get started!
Step 1: Gather the ingredients
In order to cook asparagus pan-fried or pan-grilled you will need the following ingredients:
Asparagus – washed and dried
Salt
Pepper
Garlic powder
Olive oil – You can use other oil too if you like, coconut, vegetable, etc.
Butter – (optional)
Step 2: How to make pan-fried asparagus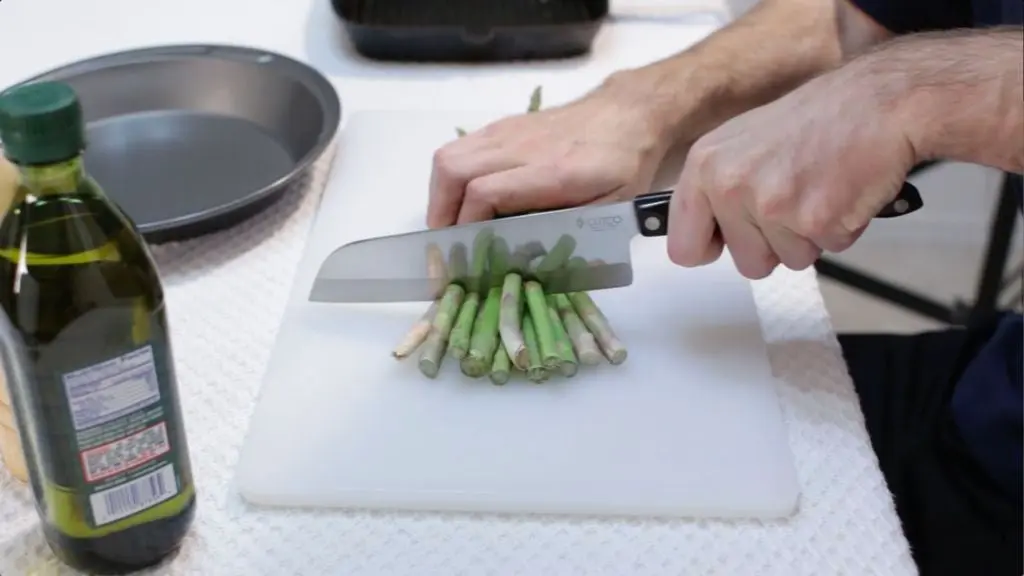 Being by placing your grill pan or skillet on the stovetop burner set to medium heat. If you are using a regular skillet add a couple of tablespoons of oil in the pan as well or some butter. Next, wash and dry the asparagus.
Cut the ends of the asparagus I usually do one and a half to two inches. These parts are woody, and just not very appetizing. It will also help them to cook evenly since the ends are a larger diameter than the rest.
Step 3: Seasonings and Oil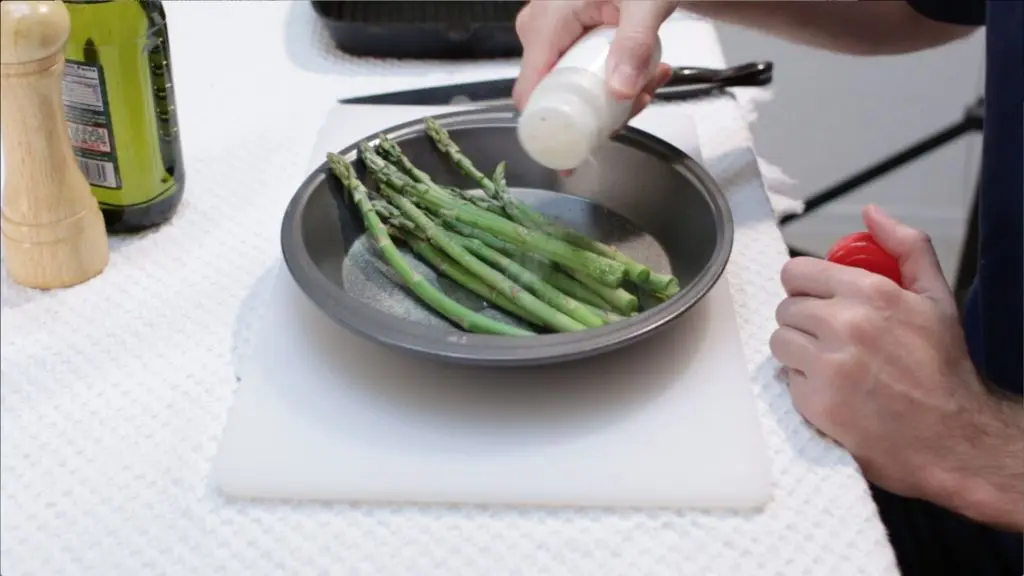 Place the trimmed asparagus in a bowl or pie plate. Then drizzle over some olive oil or your choice of oil. Then sprinkle on some salt, pepper, and garlic powder.
Use your clean hands or tongs to mix the asparagus around so it gets evenly coated with the oil and the seasonings.
Step 4: Pan-Fried or Pan-Grilled Asparagus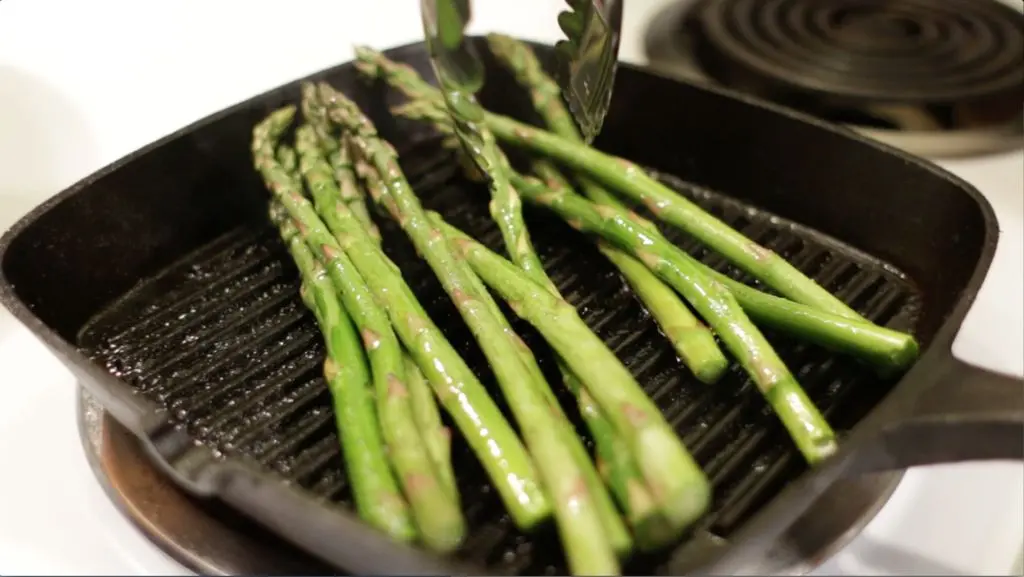 I normally will use my cast iron grill pan for my asparagus but the steps are identical if using a normal skillet. You may also cook these on the BBQ grill outside if you like.
Add the asparagus with the tongs and allow them to cook. Hear that beautiful sizzle sound, music to my ears, like a sweet symphony.
Turn them frequently while in the pan or on the grill. You will notice the asparagus will turn from a pale green to a dark green color. It usually takes somewhere around 8 to 10 minutes total to cook them.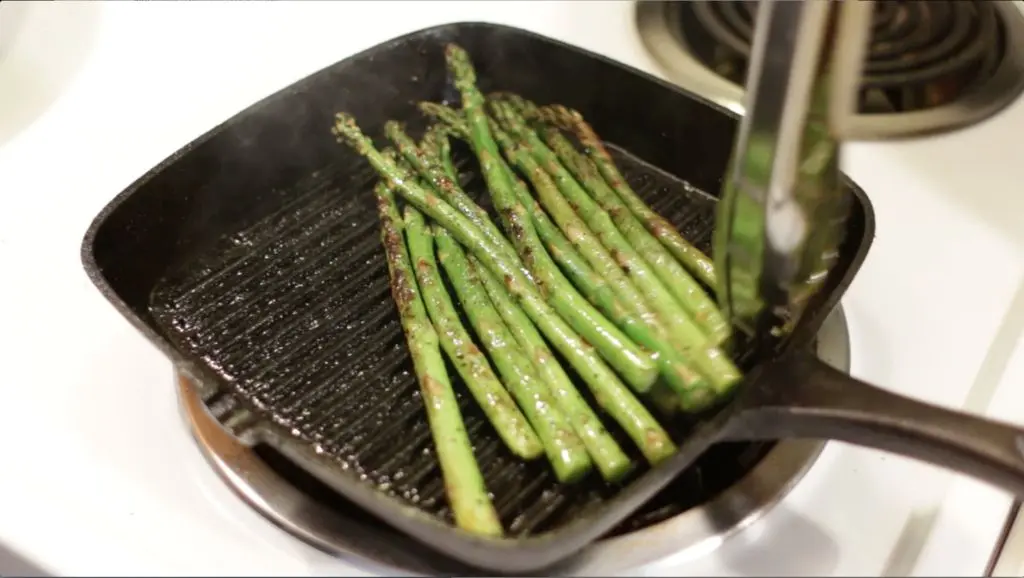 They will be done with they have some brown marks on them and they are a bit limp. You can cook them longer or leave them a bit crunchy if you like. I personally like them best right in between.
Remove them from the pan and serve them hot. They are best eaten warm. Enjoy!
How long will pan-fried asparagus last?
The asparagus after it is cooked will last 3 to 4 days in an airtight container in the fridge. Although I thing it tastes best eaten right after it is cooked.
Pan-Fried or Pan-Grilled Asparagus Recipe
I just love this pan-fried asparagus recipe. It is super easy to make and very flavorful. It is my favorite way to eat asparagus. Serve it with your favorite steak, chicken, pork, or ribs! If I can do it, you can do it.
Equipment
Grill pan, or sauté skillet, or use your BBQ grill

Tongs

Dish

Knife

Cutting board
Ingredients
1

lb

Asparagus

30 to 40 small or 20 to 30 medium spears (washed and dried)

3

Tbsp.

Oil

Olive, Vegetable, Canola, Coconut, etc.

pinch

of salt

pinch

of pepper

pinch

of garlic powder

pinch

of crushed red pepper

optional – for some kick
Instructions
Preheat a grill pan or skillet on a stovetop burner with medium to medium-high heat. Add 2 Tbsp. of butter or oil to the pan if using a skillet, don't worry about it if using a grill pan.

Wash and dry the asparagus. Trim the woody ends of the asparagus off. I usually do 1.5 to 2 inches worth.

Add the trimmed asparagus to a bowl or pie plate and drizzle about a Tbsp. of oil over them. Sprinkle on the salt, pepper, and garlic powder.

Cook the asparagus in a preheated grill pan or skillet for 8 to 10 minutes turning frequently to ensure even cooking. The asparagus will turn a darker green and go a bit limp when ready. They will also have some brown cook marks on them.

Enjoy the pan-fried/pan-grilled asparagus!
Video
How to Cook Asparagus - Easy Video Recipe
Notes
Note: Most of the calories come from the oil/butter. If you reduce the amount of oil and butter the calories per serving is significantly less.
Nutrition
Do you like this recipe? Please give it a rating and comment down below, I really appreciate it. If you make it tag me on Instagram @inthekitchenwithmatt. Also, sign up for the newsletter so you won't miss out on any of my new posts and recipes.
Here are a few more recipes you may like: