Jump to Recipe
I love peanut butter and I love bread. In fact, I have a whole post dedicated to the top peanut butter recipes, and I have a whole category here on bread. You could say I am a bread addict. One of my favorite easy breads to make is homemade peanut butter bread.
It is incredibly simple to make with just 6 ingredients and has a wonderful peanut butter flavor. The batter/dough comes together in less than 10 minutes and then in the oven, it goes.
If you are a fan of peanut butter and bread, you have got to give this recipe a try. If I can do it, you can do it. Let's get baking!
What is peanut butter bread?
Peanut butter bread is a "quick" bread that became popular during the Great Depression. A lot of families didn't have access to fresh ingredients during that time. But pantry ingredients like peanut butter, salt, flour, baking powder, etc. Were still readily available and inexpensive.
Hence the development of this yummy peanut butter bread Depression era recipe. A version of this recipe first appeared in a cookbook from 1932.
Now let's learn how to make it!
Step 1: Gather the ingredients and tools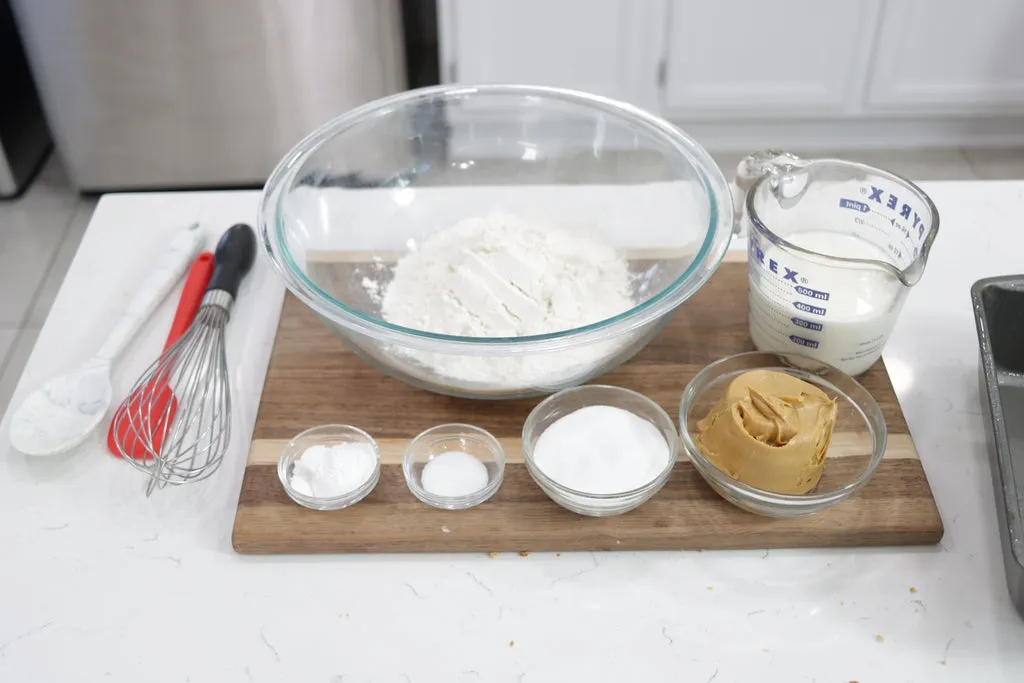 In order to make this amazing peanut butter bread from scratch, you need just 6 ingredients:
Flour – I always use all-purpose flour, but you could try bread flour if you like.
Salt – This will balance out the sweetness
Baking powder – The baking powder provides the leavening for the bread.
Sugar – I always use white granulated sugar, brown sugar will work too.
Milk – Whole milk is my preference, but any milk will work, including almond milk if you are lactose intolerant.
Peanut butter – And of course, you need peanut butter. Smooth or chunky peanut butter works great. Use natural peanut butter or standard creamy peanut butter, or of course, you can make your own homemade peanut butter. If you are allergic to peanuts you can make this with almond butter.
Chocolate chips – chocolate and peanut butter go really well together, so feel free to add some chocolate chips to this easy quick bread recipe.
Tools
Large bowl
Wooden or Silicone spoon
Spatula
Whisk
5×9 or 4×8 inch loaf pan. A metal or glass pan will work.
Non-stick spray or use shortening
Wire rack
Step 2: How to make easy peanut butter bread from scratch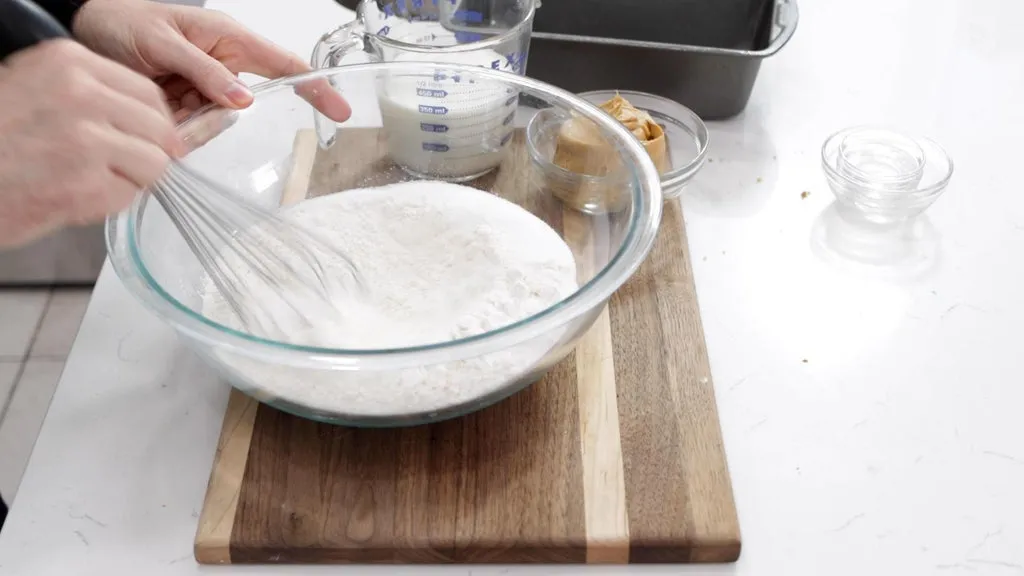 Begin by preheating the oven to 325F/162 C, with the main rack in the middle position.
Combine flour, salt, baking powder, and white granulated or brown sugar in a large bowl and whisk together really well. Then put the whisk aside, you won't use it anymore.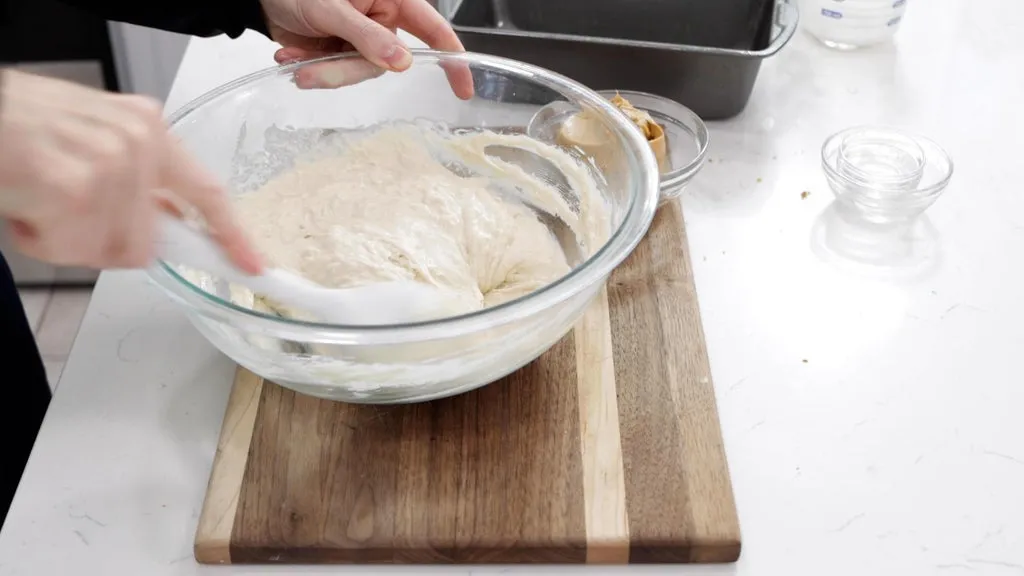 Then pour in all the milk at once and stir it with the flour mixture. It will be very thick, so you will need to use a wooden spoon or something sturdy instead of a whisk.
I always use my sturdy silicone spoon. It also allows me to scrape the sides of the bowl with it. A wooden spoon works great too. Make sure to scrape the sides of the bowl with a spatula as needed.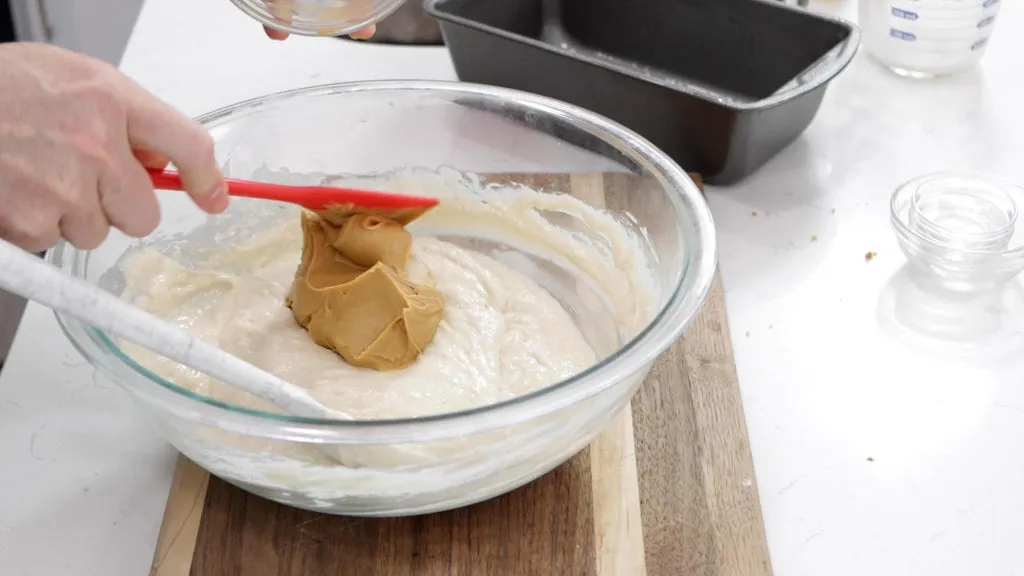 Now add the star of the dish, and the peanut butter, and stir it in until well combined. You get a bit of a workout stirring by hand. You can also use a stand mixer with a dough hook or you can try the standard whisk attachment as well.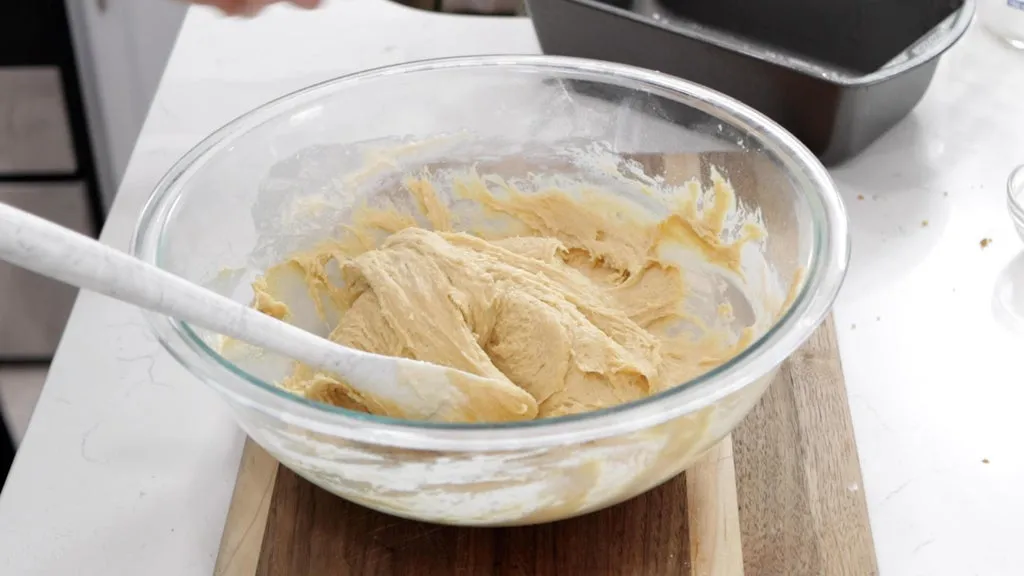 The resulting consistency should be a very thick sticky paste consistency.
And just like that, the bread batter is ready to go. Super quick and easy, right?
TIP: You can add 2 really ripe bananas to make a super yummy peanut butter banana bread as well if you like.
Step 3: Bake that delicious peanut butter bread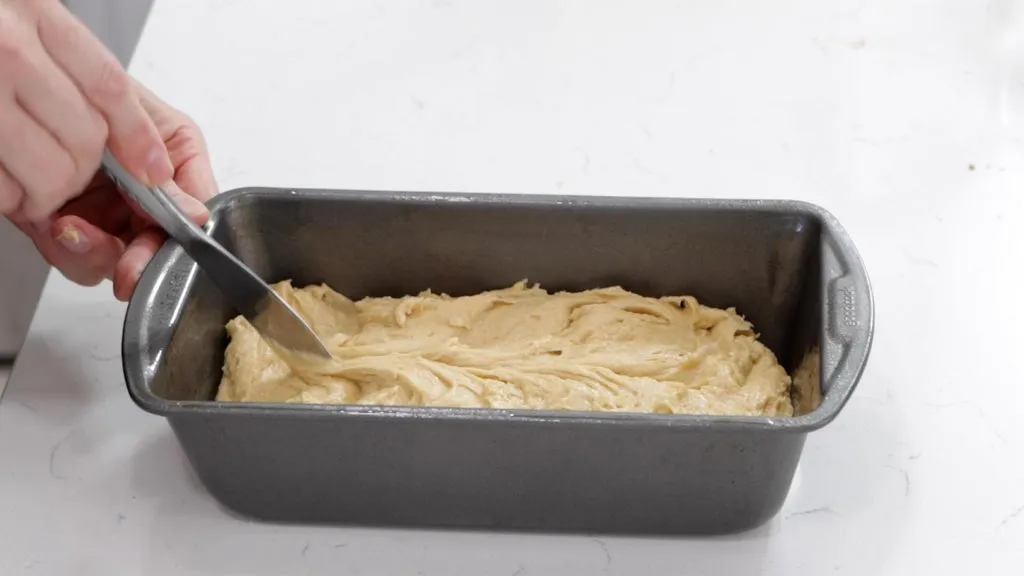 Scoop out the peanut butter mixture and place it in a 5×9-inch bread loaf pan or 4×8-inch pan that has been sprayed with cooking spray or greased with shortening. If you use the 4×8-inch bread loaf pan the resulting bread will be taller but not as wide. Or if you like you can line the pan with parchment paper.
Spread the batter/dough out evenly as best as you can with a spatula. Then run a butter knife down the middle. The slit in the middle helps it bake better but isn't actually necessary.
Bake for 60 to 70 minutes until a toothpick or wooden skewer comes out clean. It should be nice and golden brown on top. If for some reason after 35 to 45 minutes, the top is getting too brown cover it with aluminum foil and bake it the rest of the way.
And it will have a nice semi-crunchy outer crust.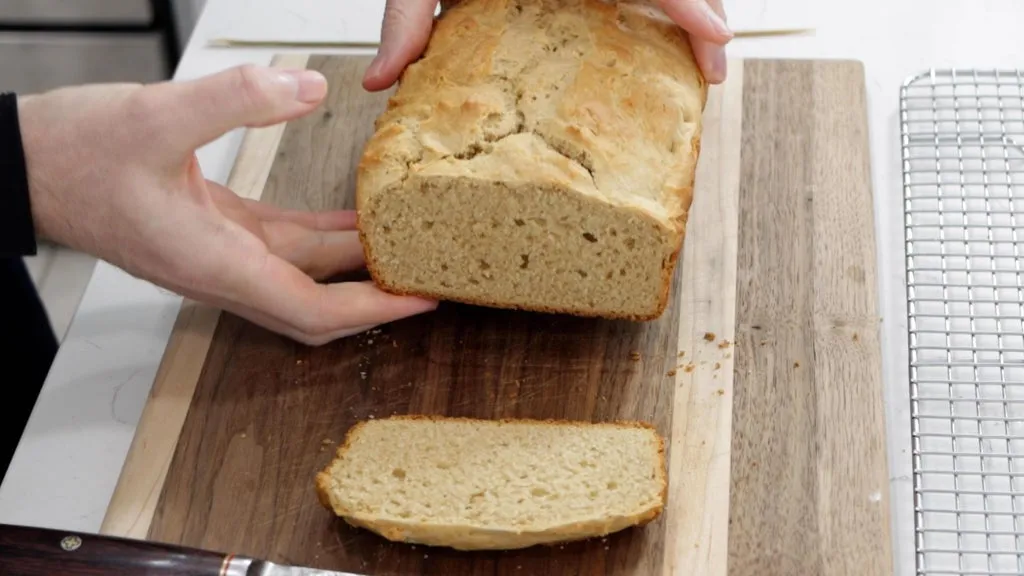 Let the bread cool in the pan for about 10 minutes then transfer it to a wire cooling rack to cool completely.
Slice and serve for breakfast or just as a snack. It will have a crunchy outer crust and be a little dense but soft in the middle. You could add some jelly which would then make it peanut butter and jelly bread haha. Just wrap the leftovers in plastic wrap or place them in a freezer bag and store them on the counter for a few days or in the fridge.
Enjoy!
How long does homemade peanut butter bread last?
If stored in an airtight container or ziplock bag the bread will last 4 to 5 days at room temperature up to a week in the fridge, and a few months in the freezer.
Can I use honey instead of sugar?
Yes, you can absolutely substitute the sugar for honey if you like, or maple syrup, or agave nectar.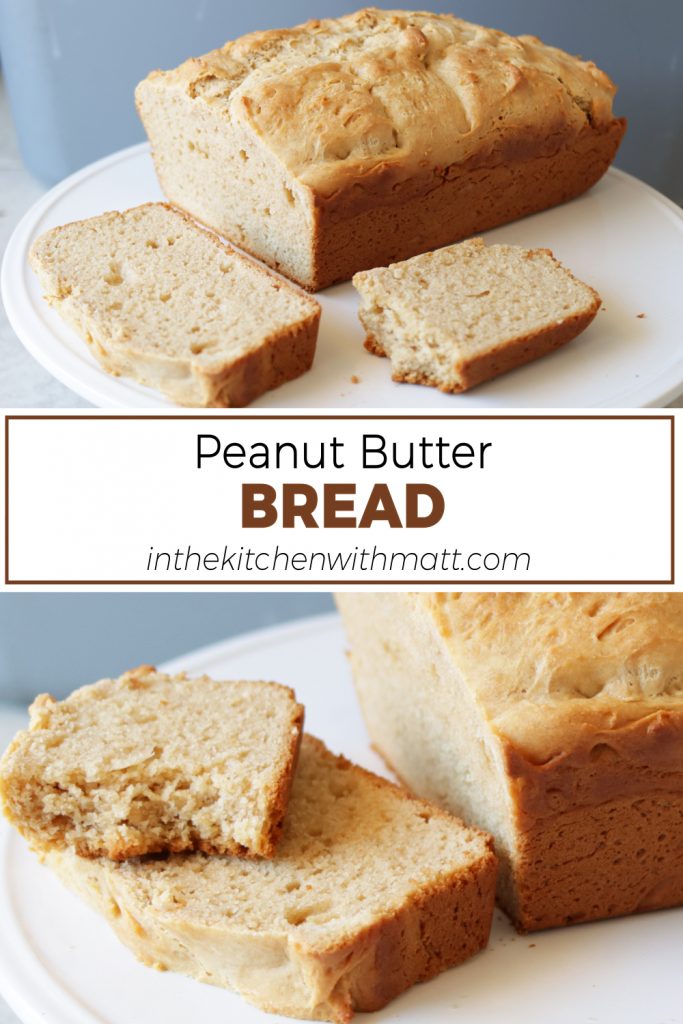 Here are other recipes you may like:
How to Make Ground Cinnamon from Cinnamon Sticks
Peanut Butter Bread
This homemade Depression-era peanut butter bread is so good and super simple to make with just 6 ingredients. It has a nice crunchy outer crust and soft crumb on the inside. If you like peanut butter and bread you will love this!
Equipment
Large bowl

Wooden or Silicone spoon

Spatula

Whisk

5×9 or 4×8 bread loaf pan

cooking spray

Wire rack
Ingredients
2

cups

of all-purpose flour

240g

1

tsp

of salt

5g

4

tsp

of baking powder

20g

1/3

cup

of white granulated sugar

66g

1 1/3

cups

of milk

whole, 2%, skim, almond, etc. (316 ml)

2/3

cup

of peanut butter

152g
Instructions
Preheat oven to 325 F/162 C, with the main rack in the middle position.

Whisk together the flour, salt, baking powder, and sugar in a large bowl.

Pour in all the milk and use a sturdy spoon to mix. It will be thick and sticky.

Stir in the peanut butter until well combined. It will be like a thick and sticky paste. The peanut butter bread batter/dough is ready!

Spray a 9×5 or 8×4-inch bread loaf pan with cooking spray or grease with shortening. Then scoop all the batter in the pan and level it out with a spatula.

Cut a slit down the middle with a butter knife or regular knife. Bake for 60 to 70 minutes until a toothpick comes out clean.

Allow it to cool in the pan for 10 minutes then transfer to a wire rack to cool completely.
Video
How to Make Peanut Butter Bread | Homemade Peanut Butter Bread Recipe
Notes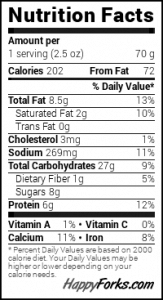 Nutrition
Do you like this peanut butter bread recipe? Please give it a rating and comment down below, I really appreciate it. Save the Pin to Pinterest! If you make it tag me on Instagram @inthekitchenwithmatt. Also, sign up for the newsletter so you won't miss out on any of my new posts and recipes.
Check out my other website 101 Creative Dates for fun date ideas. Food and dating go hand in hand!