Jump to Recipe
This perfect baked potato with the amazing outer skin, stuffed with butter, sour cream, cheddar cheese, bacon, and green onion is one of my all-time favorite comfort foods.
Baked potatoes are amazing and loved by millions of people around the world. How can you go wrong with a perfect baked potato? The outside skin is crispy and dusted lightly with kosher salt that clings to it beautifully and elevates the flavor of the skin. The inside is fluffy and soft smothered with butter and sour cream. I am getting hungry just thinking about it. I have always been a huge fan of baked potatoes ever since I was little.
Once you bake it there are all sorts of toppings that you can put on it. Some of my favorites are cheddar cheese, salt and pepper, green onion, and of course real bacon.
It is a great side dish to go with a bacon-wrapped steak, air fryer chicken wings, ribs, etc. They are really easy to make, if I can do it, you can do it. Let's get started!
Step 1: Gather the ingredients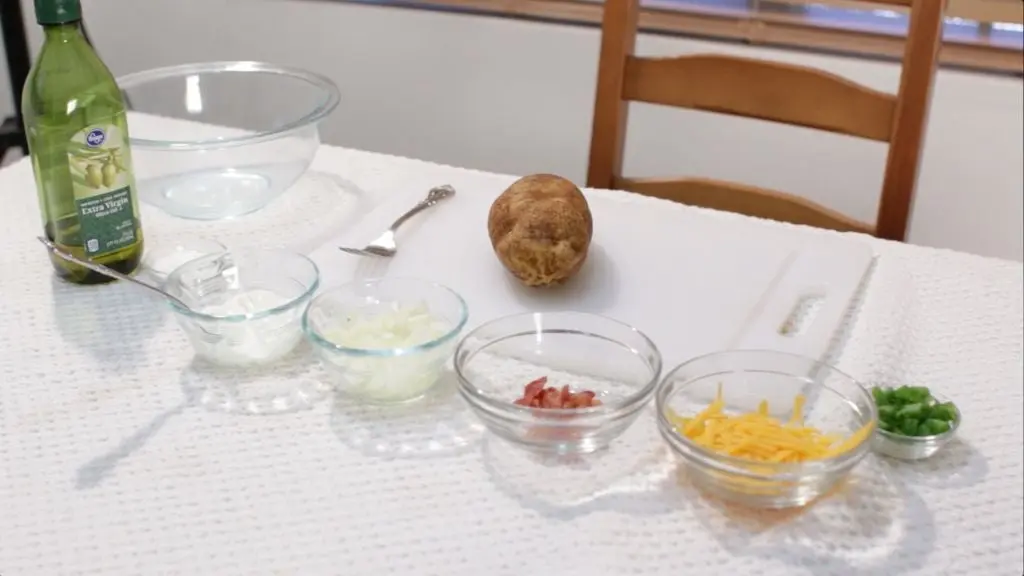 In order to make this perfect baked potato you just need a few ingredients:
Potatoes – I always use a large Idaho Russet potato. But there are a variety of potatoes that you can use.
Oil – I typically use olive oil or canola oil or vegetable oil, but you can use other oils as well if you like.
Kosher Salt – This coarse salt helps make the outer skin flavorful. Flaky sea salt also works really well.
Toppings
There are a number of different toppings you can put on your perfect baked potato, here are some of my favorites:
Butter
Sour cream
Chopped yellow onion
Cheddar cheese
Bacon, mmmm bacon
Green onion
Salt and pepper to taste
Step 2: How to make the perfect baked potato
First, preheat the oven to 350 F/176 C. Now wash and dry your potato or potatoes. Next poke holes in it with a fork. The reason why this is done is so the steam will be released while it bakes.
Step 3: Creating that perfect outer skin for your baked potato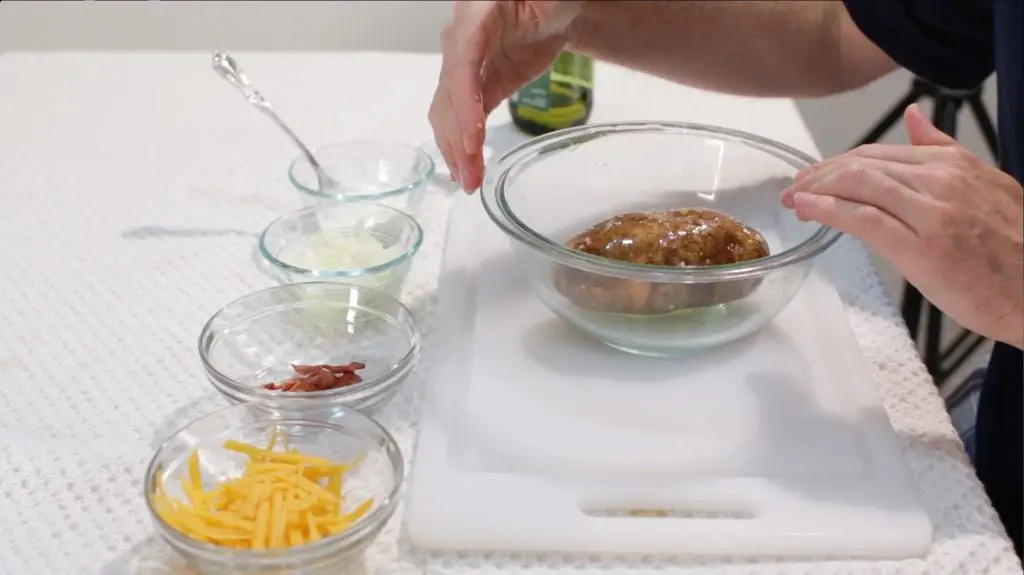 The skin of an oven baked potato is one of my favorite parts when prepared this way. Place the potato in a bowl and then drizzle some oil on it. Next, make sure the potato is evenly coated with the oil, and then sprinkle on some kosher salt or another coarse salt.
The combination of salt and oil makes a wonderful outer skin after the potato is baked. You won't want to leave this baked potato skin on the plate!
Set the potato or potatoes direct on the middle rack in your oven. Do not cover it with foil. For medium to large potatoes, it will take 75 to 90 minutes. You also might want to put a sheet pan on the rack beneath the potatoes to catch any oil that drips off.
Step 4: Fixings
Use tongs to remove the potato or potatoes from the oven. Place them on a plate or cutting board and allow them to cool for a few minutes.
Now slice a slit in the middle, lengthwise, of the potato. Grabbing each end of the potato squeeze inward a little bit which will cause the slit to open creating a nice cavity in the baked potato.
Then stuff that potato with your favorite toppings. Some popular toppings are butter, cheese, onion, and bacon. Now behold the perfect baked potato is ready to be eaten. Serve it up with a steak and a side of grilled asparagus or roasted Brussel sprouts and you have an amazing meal.
Or if you like this baked potato recipe can easily be a whole meal on its own, especially if you use a really large russet potato.
Enjoy!
How to store the baked potato?
You can store uneaten baked potatoes in an airtight container in the fridge for 3 to 5 days. The leftovers make perfect twice-baked potatoes or hash browns. You can even just reheat them in the oven or in the microwave.
What is the best potato to use for baked potatoes?
In my opinion, the very best potato to use for baked potatoes is Idaho Russets. They are the classic potato of choice. But you can certainly experiment with the potatoes available to you and find out what you like the best.
Here are a few more recipes you may like:
Perfect Baked Potato
One of my favorite comfort foods is a perfect baked potato. I love eating the outer skin along with all those wonderful toppings.
Equipment
Fork

Bowl

spoon

Tongs

Cutting board
Ingredients
1

large russet potato

you can use other kinds

2

tsp

of Olive oil

you can use vegetable or canola (8ml)

1

pinch

of kosher salt

or any coarse salt
Toppings
1

tbsp

butter

14g

2

tbsp

sour cream

30g

1

tbsp

chopped yellow onion

4g

2

tbsp

shredded cheddar cheese

12g

1

strip of bacon, chopped

salt and pepper to taste

a pinch of green onion
Instructions
Preheat the oven to 350 F/176 C. Set the rack in the middle position.

Wash and dry your potatoes. Then poke holes in them with a fork.

Place the potato or potatoes in a bowl and drizzle the oil on them. Make sure they are coated all over. Then sprinkle on the Kosher salt.

Place the potatoes in the oven directly on the rack and bake for 75 to 90 minutes. Until they are soft when poked with a fork. The outer skin will be a little crispy/crunchy. You may put a sheet pan on the rack below the potatoes to catch any drippings if desired.

Remove the potatoes with tongs and allow them to cool for a few minutes. Then slit them lengthwise with a knife and press on the ends to open up the potato. Top with your favorite toppings. Enjoy!
Video
Perfect Baked Potato - How to Make the Perfect Baked Potato
Notes
Note: The perfect baked potato's nutritional facts will vary greatly depending on your toppings. The below facts represent the recipe as is. 
Nutrition
Do you like the recipe? Please give it a rating and comment down below, I really appreciate it. Save the Pin to Pinterest! If you make it tag me on Instagram @inthekitchenwithmatt. Also, sign up for the newsletter so you won't miss out on any of my new posts and recipes.
Check out my other website 101 Creative Dates for fun date ideas. Food and dating go hand in hand!