Jump to Recipe
This perfect hard boiled eggs recipe will leave you with amazing boiled eggs that are great for whatever you need them for.
I love eating eggs! Ever since I was a little kid I enjoyed eggs. I didn't care if they were fried, hard boiled, over-easy, scrambled, as an omelet, or prepared as deviled eggs. And by the way, these hard boiled eggs are perfect for deviled eggs.
These perfect hard boiled eggs are great for egg salad, or just sliced and put in a salad, or maybe you just want to peel them and eat them plain. Whatever the need, they are super easy to make, if I can do it, you can do it. Let's get started!
Step 1: Gather the ingredients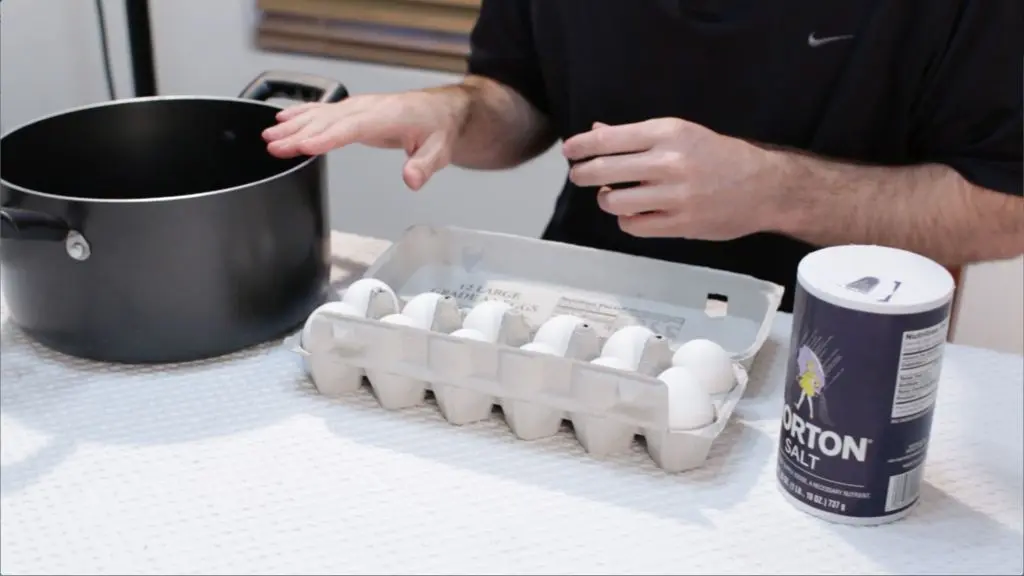 In order to make the amazing hard boiled eggs you need only a handful of ingredients:
Tools
Step 2: How to make the perfect hard boiled eggs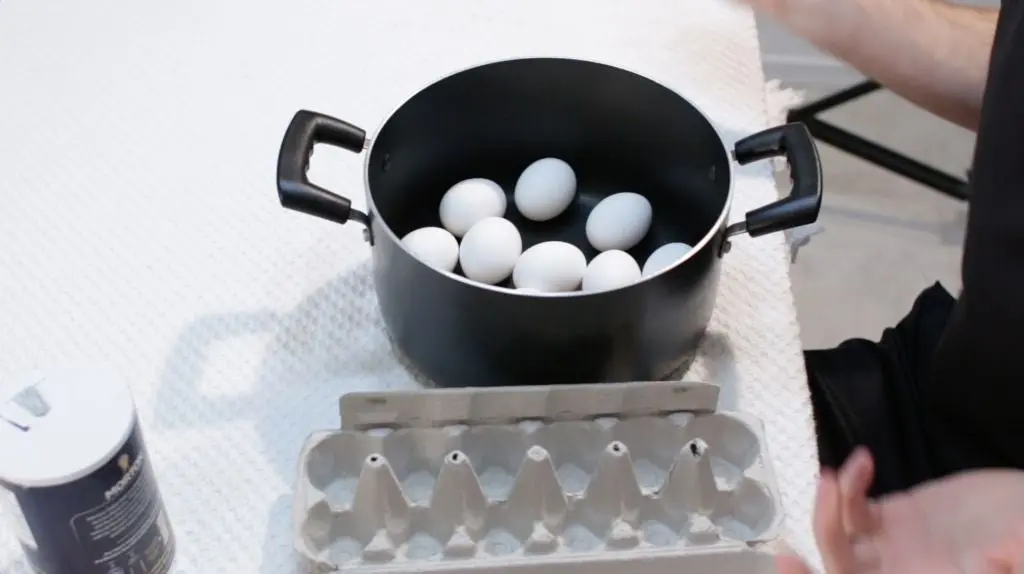 Place a dozen eggs, or however many you like, don't do too many for the pot, you can do a few more than a dozen at once, but not much more than that depending on your pot size.
Now add water to the pot enough to cover the eggs at least an inch. Next, add in the salt. Why do we add salt to the water? There is a little science behind that, the egg white will solidify much quicker if it touches the water, so if the egg shell cracks, not a lot of the egg white will escape.
Food science is cool. The salt in the water also helps to make the egg easier to peel. Set the heat to medium-high and bring the water to a full boil. Once the water starts to boil, let the eggs boil for 3 minutes.
Step 3: Hot bath to ice bath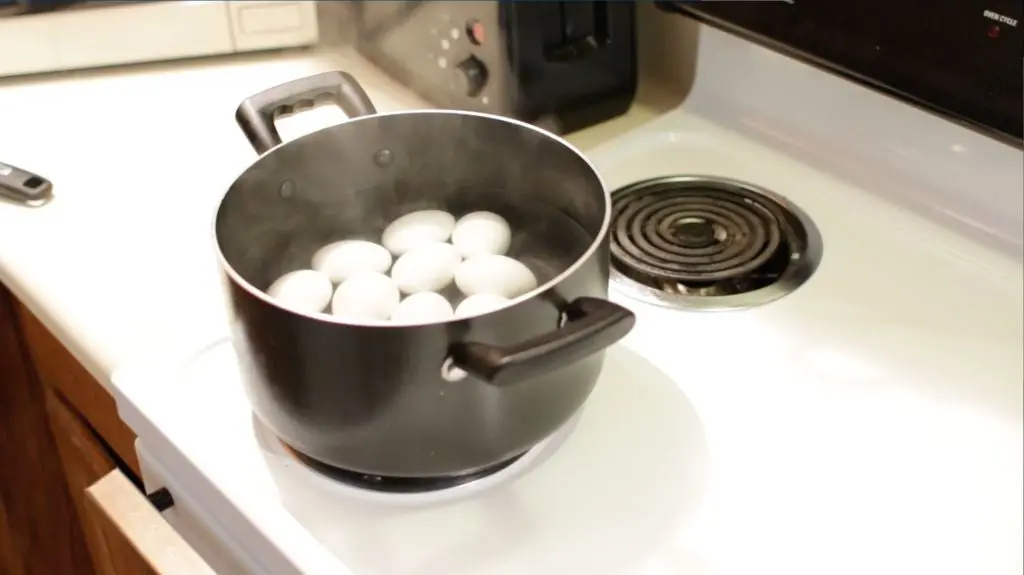 Now remove the pot from the heat and just let the eggs sit in that really hot water for about 12 minutes.
After that, pour out the hot water, the pour in cold water. The cold water will heat up from the heat of the eggs, drain that water, then fill up the pot once more with water. Then pour in a few cups of ice. The icy cold water will chill down the eggs and prevent them from overcooking.
Allow the eggs to sit in the ice bath for about 10 minutes.
Step 4: How to crack and peel perfect hard boiled eggs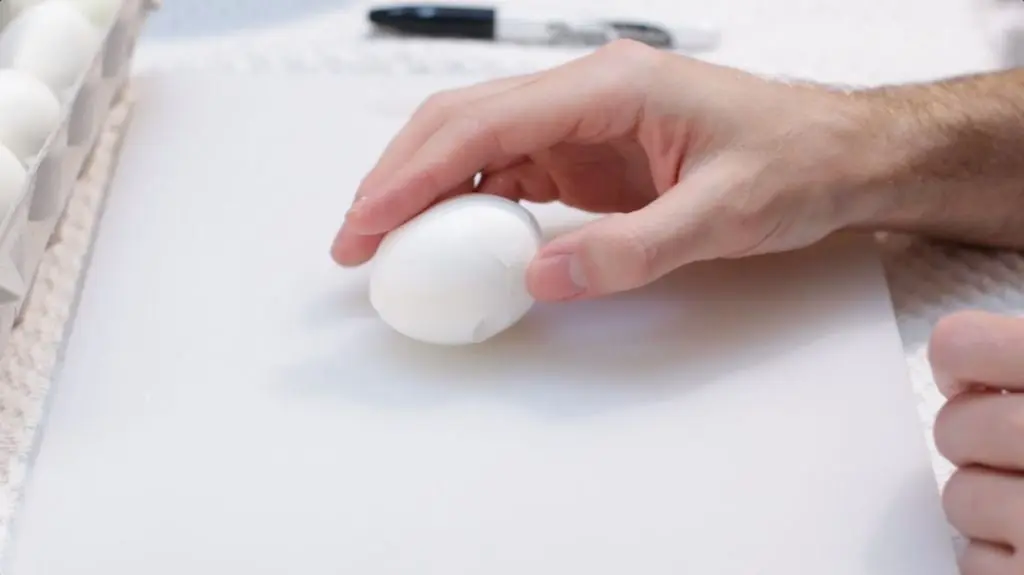 Time to crack those perfect hard boiled eggs. There are a variety of ways for cracking and peeling hard boiled eggs. The way I like to do it, is I will tap it on the counter and then turn it as I tap, which will crack it. Or sometimes I will roll it gently on top of the counter or table as well. This will loosen up the shell.
Then all you need to do is peel the egg.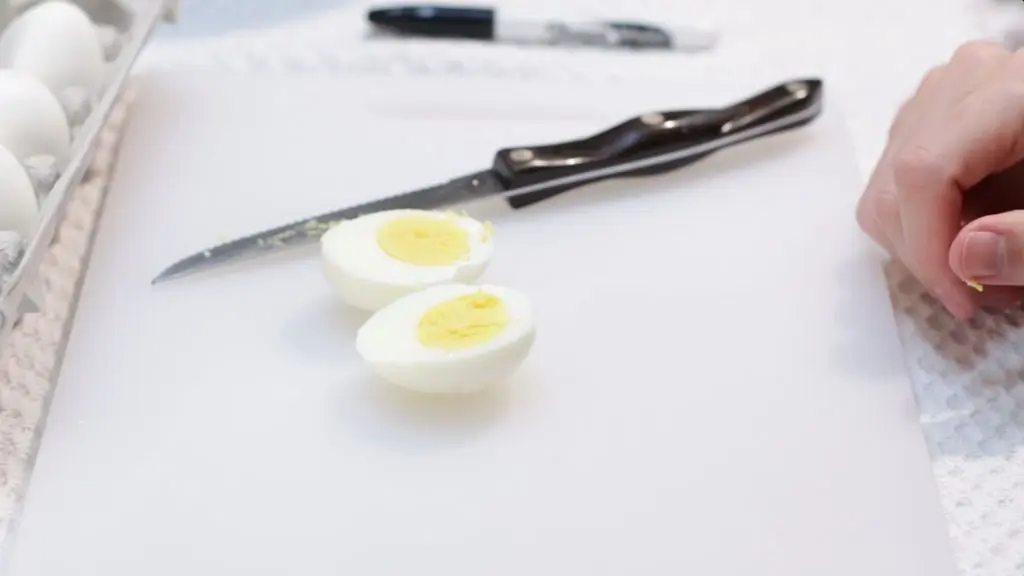 Next cut into one. The egg whites should be perfectly cooked and the yolk should not have any grey color around it. There may be a slightly softer middle, which is perfect fine.
Now they are ready to be eaten as-is with a little salt and pepper, or cut them up and put them in a salad, or egg salad sandwich. Or dig out the yolks and make some awesome deviled eggs. Enjoy!
How to store hard boiled eggs and how long do they last?
I store my perfect hard boiled eggs back in the egg carton they came in, unpeeled. I also will take a sharpie or another pen and right an "HB" on top of the carton so I can remember. Hard boiled eggs do tend to peel easier when freshly boiled.
Another way you can tell if the egg is hard boiled or not is to spin it on the table or counter. If it wobbles and doesn't spin well it isn't cooked. If it spins perfectly and quickly it has been hard boiled.
They will last about a week in the fridge.
Here are some other recipes you may like:
Perfect Hard Boiled Eggs
These perfect hard boiled eggs peel easily and are great for deviled eggs, egg salad, eaten as is, or whatever else you may need them for. There is no grey color around the yolk, either. They are easy to make, if I can do it, you can do it!
Equipment
Large Pot

Stove or hot plate

Pen

Egg carton
Ingredients
1

dozen eggs

1

tsp.

salt

5g

Water

enough to cover the eggs by one inch

Ice to chill the eggs
Instructions
Add the eggs to a large pot. If you are not making a dozen you can use a smaller pot. They should be in a single layer on the bottom of the pot.

Next pour in enough water to cover the eggs by 1 inch. Then add in the salt. And place the pot on the stovetop burner or a hotplate.

Set the burner to medium-high heat and bring the water to a full boil. Once it boils, allow it to boil for 3 minutes, then turn the heat off and remove the pot from the heat. Place the pot on another burner or a hot pad and allow the pot to sit undisturbed for 12 minutes.

Now after 12 minutes drain the hot water from the pot. Add more water and then drain that water. Once again, add water and then add a bunch of ice. This will create an ice bath and chill down the eggs and prevent them from overcooking. Leave the eggs in the cold water for about 10 minutes.

Store them back in the carton in the fridge for about a week, or peel them immediately and use them however you like. enjoy!
Video
How to make Hard Boiled Eggs - Easy Video Demonstration
Notes
Nutrition
Do you like the recipe? Please give it a rating and comment down below, I really appreciate it. If you make it tag me on Instagram @inthekitchenwithmatt. Also, sign up for the newsletter so you won't miss out on any of my new posts and recipes.