Are you looking for the perfect gag treat for Halloween or some other occasion? If so, why not make these pimple popping cupcakes?
Ewww! Those are so gross. I wanna pop one.
They are super easy to make and are an excellent gag. Most likely your friends or family members haven't tried popping their one pimple cupcakes and I know you are dying to give them the chance. You could even make them look like blackheads to add a bit of variety to the cupcake platter. The funny thing is they taste amazing. Don't believe me? Then you will just have to try them out for yourself.
Pimple cupcakes came along a few years ago in California. A bakery there named Blessed by Baking created them as a gift to give to Dr. Sandra Lee who is appropriately known as the "Dr. Pimple Popper" which is hilarious. Here is a link to her extremely popular YouTube Channel. She knows her way around pimples. So for your next Halloween party make sure to include these gross I mean incredible treats.
Step 1: Gather the tools and ingredients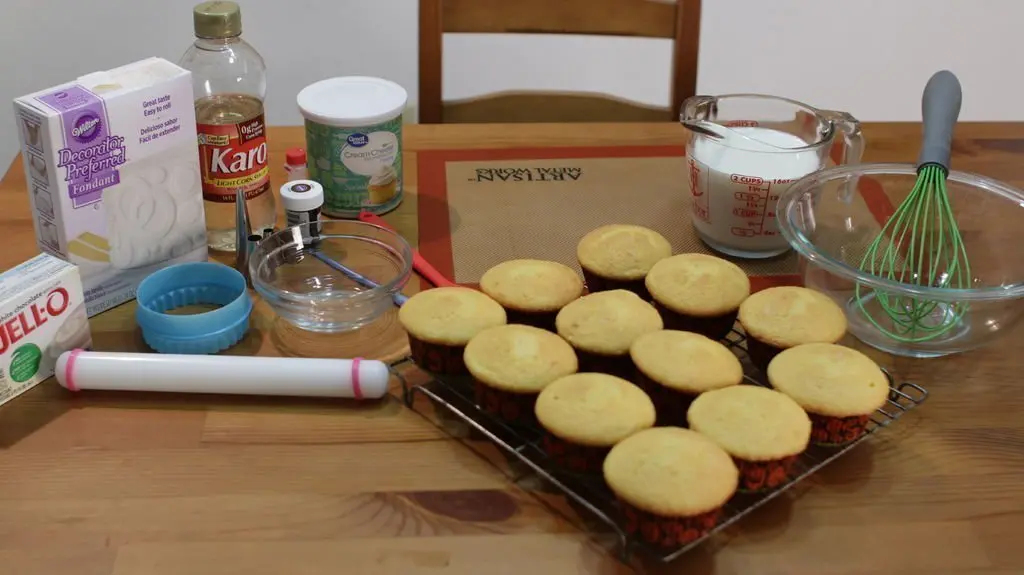 To make your very own pimple and blackhead popping cupcakes you need the following ingredients and tools:
Cake Mix or homemade cupcakes – you can also use this cake recipe.
Frosting (homemade or store-bought)
Pudding Mix – or make homemade vanilla pudding.
2 cups of cold milk
Fondant – this will act as the skin for our cupcakes. Use store-bought or homemade marshmallow fondant.
brown icing color for fondant – unless you buy flesh-colored fondant.
chocolate chips – to be the blackheads of course.
red food coloring – to add a bit of redness around the pimple.
Tools:
fondant roller (optional)
brush
bowls
piping bag or plastic bag
round cookie cutter
round cake tips
knife whisk
Step 2: Cupcakes and vanilla pudding
The very first thing you need to do is make the cupcakes. Follow the directions on the back of your cupcake mix box or make homemade cupcakes. You can use whatever flavor of cupcakes that you want. After your cupcakes are made let them cool on a wire rack. In the meantime make your pudding. Again you can use storebought pudding or make homemade vanilla pudding. What's nice about storebought is there are several light-colored flavors to choose from with vanilla and cheesecake being the most popular. Add the pudding mix to a bowl with your cold milk. Whisk them together and allow it to set.
Step 3: Get the right fondant color "skin"
Next, we need to work with white fondant to get the right "skin" color. I typically will buy white fondant and color it because it is cheaper. Or you can just skip this step and buy natural skin tone fondant. Take your white fondant and add some brown icing color to it using a toothpick. Then knead the fondant in your hands to work the color in. You may on to wear silicone gloves for this, sometimes the color can get onto your hands.
Step 4: Rolling and shaping the skin um I mean fondant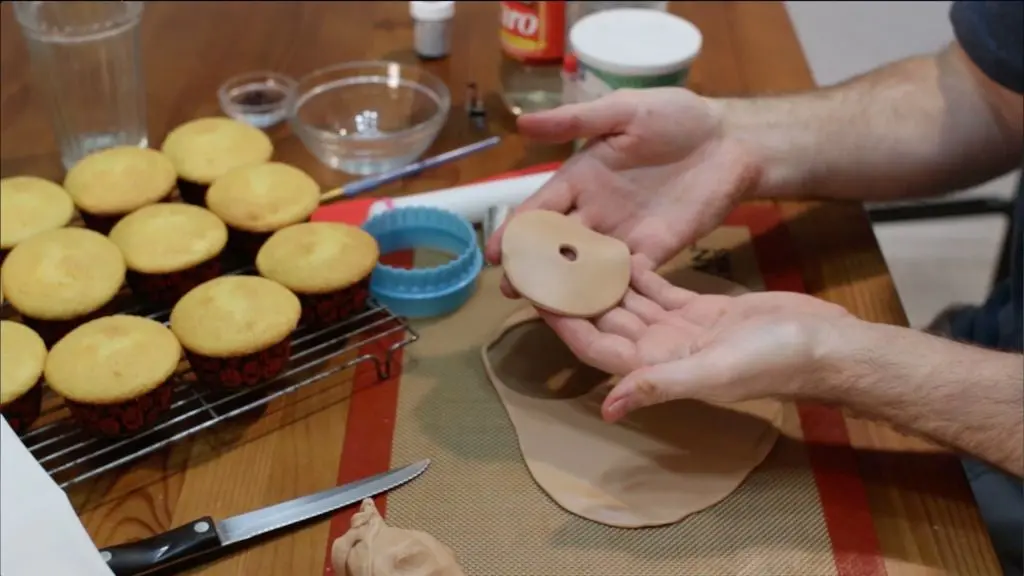 Now comes the really fun part, putting our pimple-popping cupcakes together. Roll out the fondant until it is about 1/8th of an inch thick. then use a round cookie cutter that is just the size of the top of your cupcake or slightly bigger. Use a cake round tip to poke out a hole in the middle. You can also use a straw if you don't have a cake tip. As long as you cut out some kind of hole in the middle you will be fine. This piece will be the top of the cupcake.
Step 5: Fill up a piping bag or plastic bag
After we have the tops of our cupcakes ready, take a piping bag with a round tip or injector tip on it and fill it up with the pudding. You can also use a ziplock bag for the piping bag. Even though I own several professional piping bags I don't always use them, electing to use a ziplock or plastic bag instead. Twist the top of the bag and you are ready to go.
Step 6: Cut and fill
Now we use a knife and cut out a cylinder piece of cake from the middle of the cupcake. Then use the piping bag and fill up the hole with pudding.
Step 7: Frosting and "Skin"
After the cupcake is filled up with pudding use a spatula and frost the top of the cake. This will act as glue to hold down the fondant or "skin". It also adds flavor to the cupcake. Next place the round fondant on top of the cupcake, gently pressing down around it so it sticks in place.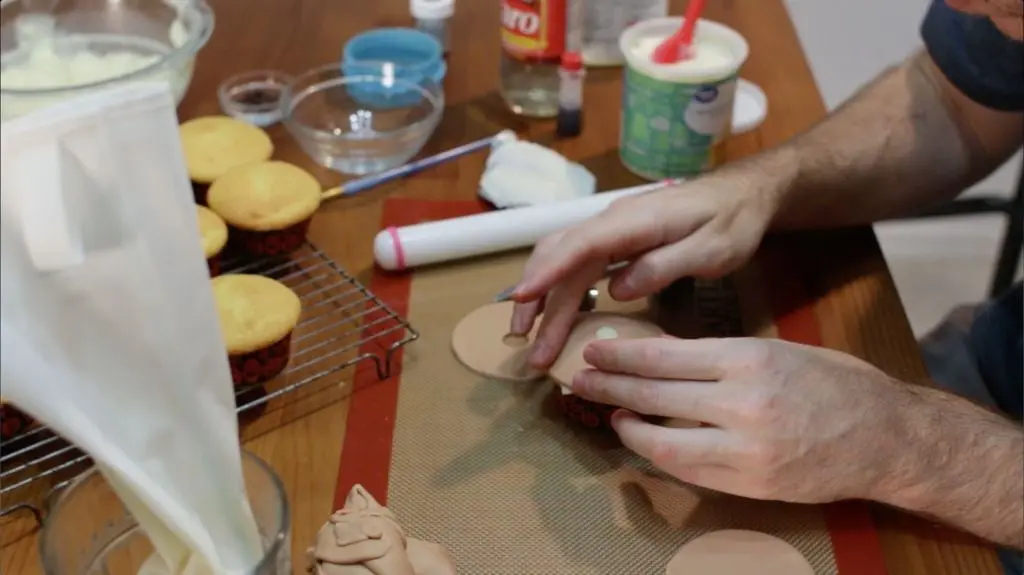 Step 8: Painting and Turning it into a "Blackhead"
Time for the finishing artistic touch. We could leave these as is and they will still be pretty awesome. But let's make them even cooler by adding some redness around the hole. Take a thin brush and dip it into some red food coloring then paint around the hole on the edges. This adds to the illusion that this darn pimple is ready to be popped. Now just place a chocolate chip point side into the middle of the hole plugging it up.
Kinda gross right? Isn't it amazing?
Step 9: Have some fun and pop one
Finally, it is time to pop one and enjoy your handy work. I would like to mention these cupcakes pop much better if you place the cupcakes in the fridge. This will allow the cupcake to get firm as well as the pudding to firm up. They will pop much better that way. Take them to a party and let your guests enjoy them! Happy Halloween or whatever the occasion is. 🙂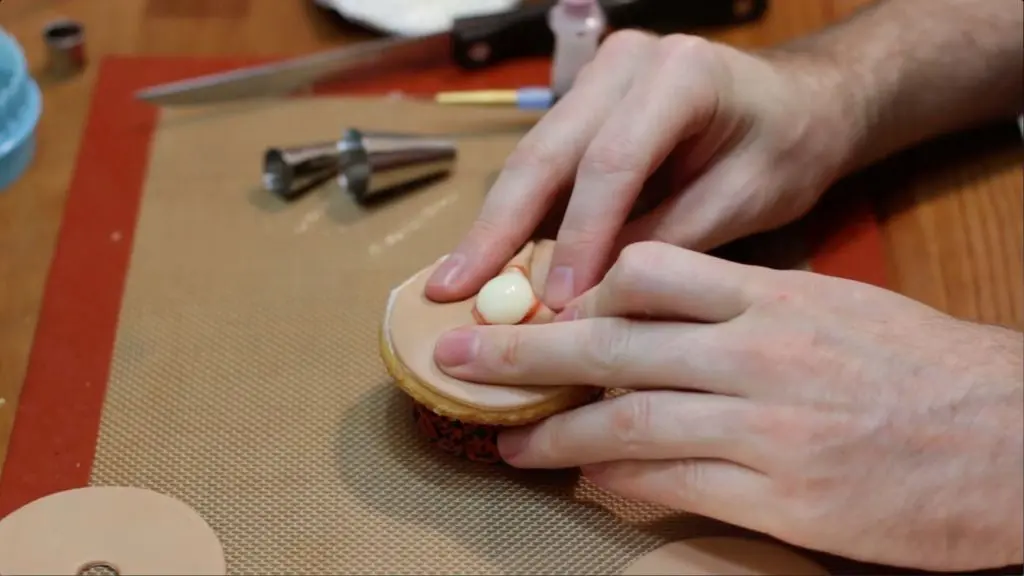 Pimple Popping Cupcakes
This is the perfect gag treat for Halloween or any occasion. Your friends and family members will have so much fun popping these cupcakes, or they will be totally grossed out, either way, these taste really good! And they are super fun to play with.
Equipment
fondant roller (optional)

brush

Bowls

piping bag or plastic bag

round cookie cutter

round cake tips

Knife

Whisk
Ingredients
Cake Mix or homemade cupcakes

Frosting

homemade or storebought

Pudding Mix

2

cups

of cold milk

Fondant

brown icing color for fondant

chocolate chips

red food coloring
Instructions
Bake the cupcakes following the cake mix box or a homemade recipe.

Make the pudding by following the back of the box which is usually just a couple cups of cold milk. Or use homemade vanilla pudding if you wish.

Let the cupcakes cool. Color your white fondant with brown icing color or just use skin-toned fondant. Fondant is usually sold at places like Walmart, Michaels, etc. Or you can certainly order it online. Either way, you will need to knead the fondant until it gets soft enough to roll out.

Roll out the fondant until it is about 1/8th of an inch thick. Then use a round cookie cutter that is roughly the same size as the top of your cupcake and cut out circles of fondant. Next cut out a small hole in the middle of those circles using a cake tip or straw.

Fill up a piping bag with an injector cake tip or normal round tip with the pudding. You may also use a plastic bag instead of a piping bag.

Cut a small cylinder shape of cake out of the middle of the cupcake then pipe in the pudding until it reaches the top.

Frost the whole top of the cupcake and then place down the fondant with the hole right over the hole of the cupcake with the pudding in it. Smooth out the edges of the cupcake.

Paint around the edges of the hole with a thin paintbrush and red food coloring. Then add a chocolate chip as a blackhead.

Place the cupcakes in the fridge for about an hour so the cake and filling and set. This will allow it to pop better. Bring them to a party and have fun popping and eating them! Kinda gross but lots of fun. 🙂
Video
Pimple Cupcakes | How to Make Pimple and Blackhead Cupcakes | Halloween Treats
Notes
*The nutritional facts will vary greatly for these cupcakes. It all depends on how much frosting you use, how much fondant, etc. But here are some estimates:
Calories: 415
Total Fat: 20 g
Saturated Fat: 12 g
Sugar: 50 g
Nutrition
Do you like the recipe? Please give it a rating and comment down below, I appreciate it. If you make it tag me on Instagram @inthekitchenwithmatt. Also, sign up for the newsletter so you won't miss out on any of my new posts and recipes.
Some other recipes you may like: