Jump to Recipe
If you love eating a classic monkey bread then you have got to try this pizza monkey bread. Instead of being sweet, it is savory with all kinds of pizza flavor.
It is so fun to tear off or pull apart pieces and dip them in marinara sauce or just eat it plain. Traditionally made with a biscuit dough, you can easily use a yummy homemade pizza dough as well, and make it a more authentic pizza experience.
And of course, you can use all your favorite pizza toppings to create your own pull apart pizza bread. Pizza monkey bread is fun for the whole family and easy to make. If I can do it, you can do it. Let's get baking!
Step 1: Gather the ingredients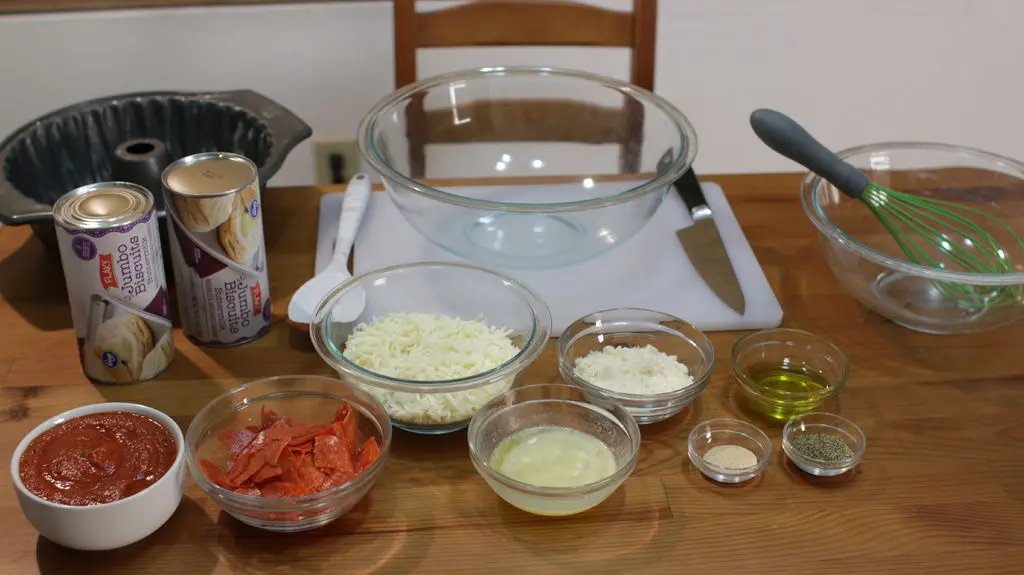 In order to make pizza monkey bread, you need just a handful of easy to find ingredients and tools:
Butter – Salted or unsalted
Oil – I generally like to use olive oil, but you can use other oils if you like.
Italian spice blend
Garlic powder
Parmesan cheese
Mozzarella cheese
Pepperoni
Biscuit dough – Either store-bought biscuits, homemade biscuit dough, or store-bought or homemade pizza dough.
Marinara sauce for dipping – This can be homemade or store-bought.
Tools
Knife
Bowls
Whisk
Spoon
Kitchen spray or shortening
Step 2: How to make pizza monkey bread
Begin by preheating the oven to 350 F/176 C. Place the butter in a medium bowl and melt it in the microwave or put it in a pot and melt it on the stovetop.
Next add the olive oil, Italian spices, garlic powder, and parmesan cheese. Whisk those ingredients together really well.
Now is where your cheese and other toppings come in. If using pepperoni it is recommended that you chop it up into smaller pieces. Add the pepperoni and mozzarella cheese to the bowl and blend with the butter mixture.
If you want to use ham, olives, onions, bacon, sausage, etc. you certainly can. Use whatever your favorite pizza toppings are.
Step 3: Prep those biscuits or pizza dough
If you are using the store-bought biscuits dough for your pizza monkey bread, open up those containers. It's always fun to start removing the outer wrapping and then have the container of dough pop.
Now cut the biscuit dough into fourths. They can be a bit sticky so I recommend rolling the chunks lightly in flour if that is the case. Or if you don't care, don't worry about it.
If using homemade pizza dough, just divide the dough into small chunks and roll them lightly in flour. Now place whatever kind of dough you are using in the bowl with the toppings.
Use a spoon or spatula and mix everything until coated really well.
Step 4: Bake the pizza monkey bread
Now spray a bundt cake pan with cooking spray and then arrange the mixed dough and toppings in the pan evenly.
An optional way to do this would be to skip mixing the dough with everything and just place a layer of dough down in the pan, then add a layer of the topping mix, then dough, etc.
No bake the pizza monkey bread in the oven for 35 to 45 minutes. Check it after about 20 minutes if the tops are getting too brown cover it with foil to bake the rest of the way through.
Allow the pizza monkey bread to cool for a few minutes after coming out of the oven. Then you can remove it from the pan and serve it up with some marinara or pizza sauce. Enjoy!
How long does pizza monkey bread last?
It will last 2 to 3 days if covered with plastic wrap or place in an airtight container.
Here are some other recipes you may like:
Pizza Monkey Bread
This pull-apart pizza monkey bread is a great savory twist on a sweet classic. It is so easy to make using your favorite pizza toppings. Use biscuit dough or pizza dough, it is totally up to you.
Equipment
bundt cake pan

Knife

Bowls

Whisk

spoon

Kitchen spray or shortening
Ingredients
1/4

cup

of butter

melted (55g)

2

tbsp.

of olive oil

28g

2

tsp.

of Italian spice blend

8g

1

tsp.

of garlic powder

5g

1/4

cup

of parmesan cheese

25g

2

cups

of grated mozzarella cheese

200g

chopped pepperoni

120g

2 16-

ounce

packages of biscuits or use homemade pizza dough

906g

Marinara sauce for dipping
Instructions
Preheat the oven to 350 F/176 C. Melt the butter and then place it in a medium bowl. Add the oil, Italian spices, garlic powder, and parmesan cheese and blend everything together with a fork or whisk.

Now mix in whatever pizza toppings you want to use, mozzarella, pepperoni, etc. It is a good idea to cut the pepperoni into smaller pieces.

Open up the containers of biscuit dough and cut each one into fourths. If you don't want them sticking together, roll each piece in a little bit of flour. If using homemade pizza dough, just cut up the dough into small pieces and roll lightly in flour.

Now mix the dough balls/chunks and pizza toppings together until well coated. Spray a bundt cake pan with cooking spray and then add the pizza mixture so it sits evenly in the pan.

Bake for 35 to 45 minutes until golden brown on top. Check it after 20 minutes. If it is getting too brown place foil over the top.

After it comes out of the oven allow it to cool for 10 to 15 minutes before removing it from the pan and serving it. Have some marinara or pizza sauce in a bowl to dip it in. Enjoy!
Video
How to Make Pizza Monkey Bread | Easy Pull Apart Pizza Recipe
Notes
Nutrition
Do you like this recipe? Please give it a rating and comment down below, I really appreciate it. If you make it tag me on Instagram @inthekitchenwithmatt. Also, sign up for the newsletter so you won't miss out on any of my new posts and recipes.