Time to give you a review of one of my new favorite snacks, the brand is called PopCorners. These "healthier" snacks came on the market several years ago and aimed to take a chunk out of the chips market. They are a healthier snack that kids and adults alike can enjoy.
I don't remember seeing or trying them before so they were not on my radar until I saw a Super Bowl commercial with the folks from Break Bad.
I am a huge Breaking Bad fan, so I am not going to lie, this commercial worked for me. When I was in the supermarket I noticed PopCorners in the snack/chips aisle, and I was like
I have got to try those!
So I picked up a party-size bag of White Cheddar flavored PopCorners, it wasn't too expensive right around $4. There were definitely other chip bags that were "party size" that were cheaper, but not necessarily as "healthy." I am not really on a diet or anything, and I wasn't really trying these to be healthier, but because of the commercial. Great branding and a great commercial!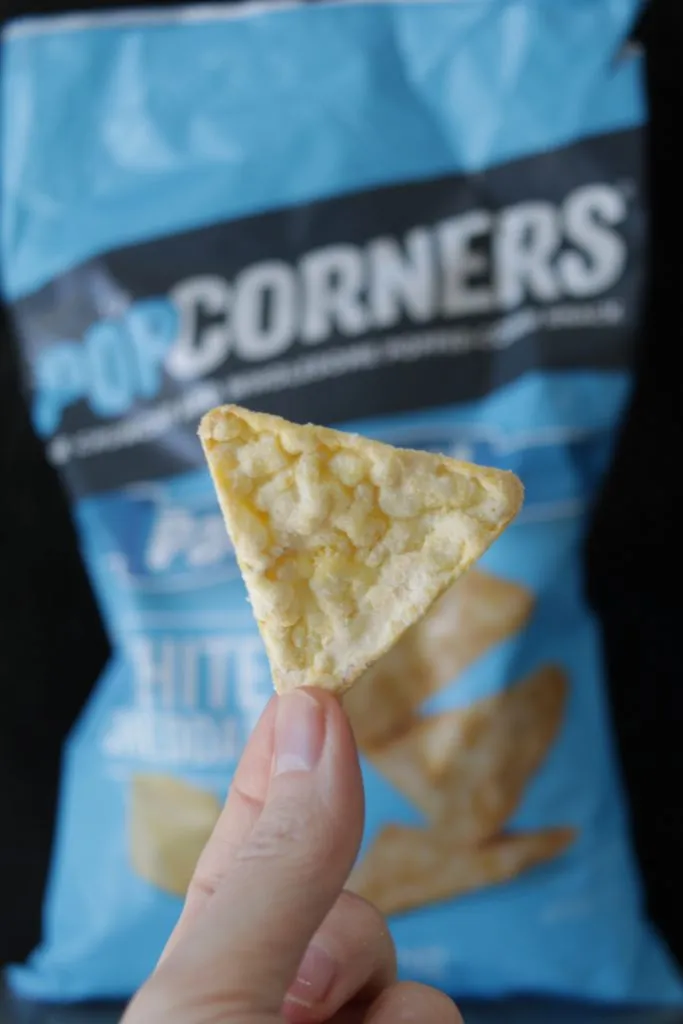 I am actually curious how many other people went out and bought a bag or two of these after watching it. In my opinion, it was the best Super Bowl commercial out of the lot.
How many PopCorners flavors and what are they?
Popcorners come in 7 different flavors which include:
Sea Salt
Cinnamon Crunch
White Cheddar
Kettle Corn
Spicy Queso
Sweet Chili
Sour Cream & Onion
They can be found in most Supermarkets in the United States, I am not sure where else in the world they are sold, you will just have to search for them. They can also be bought online here. There is a variety pack that you can get as well with smaller 1-ounce bags so you can try a bunch of the flavors without buying the larger bags.
Are PopCorners actually healthier than other chips? What are they made of?
The crunchy and wholesome popped-corn snack
Popcorners are supposed to be a healthier option than chips. Are they? For one thing, they are NEVER FRIED. They are made with very few ingredients with NO artificial flavors or colors.
The White Cheddar PopCorners contain:
140 Calories
Total Fat 6g, 0.5g of Saturated Fat and 0g from Trans Fat
Cholesterol 0mg
Sodium 160mg
Total Carbs 19g, Dietary Fiber 0g, Total Sugars 2g
Protein 2g
Calcium 30mg
Iron 0.2mg
Potassium 110mg
The above nutritional facts are for 1 serving which is about 16 crisps (28g).
They are made of yellow corn, sunflower oil, whey, reduced lactose whey, maltodextrin, natural flavors, canola oil, cheddar cheese, salt, citric acid, and lactic acid.
So they do indeed seem to be healthier, but probably not perfect as far as "healthy" goes.
If we compare these to the Simply Organic Doritos White Cheddar Tortilla chips which have:
150 Calories
Calcium 30mg
Carbs 17g
Cholesterol 0mg
Total Fat 8g, Monounsaturated Fat 3.5g, Polyunsaturated Fat 2.5g, Saturated Fat 1g
Fiber 1g
Potassium 36mg
Sodium 170mg
Protein 2g
1 serving is 12 chips or about 28g. It would appear even those these are the organic "healthier" type of Doritos, PopCorners still holds an edge, albeit a small one. And when compared to my favorite of all-time chip, Cool Ranch Doritos you can see PopCorners hold a greater edge.
How do White Cheddar PopCorners taste?
Again this review is only about the White Cheddar Flavor PopCorners since I haven't tried all the other flavors, but some of the things will be the same across all of the varieties.
The first thing I noticed is these are light and super crunchy. And it really is fun eating them. The white cheddar flavor is distinct, so if you like that particular flavor you will like this.
The actual taste reminds me of a mix between classic round rice cakes, popcorn, and a chip. With more emphasis on the first two. They are not overly salty, and actually taste healthier than other chips.
If you like crunchy snacks, white cheddar flavor, popcorn, and rick cakes, you will probably like these as well. They are one of my new favorite snacks. I can't wait to try the rest of the flavors!
Watch the PopCorners review video I made:
Here are other reviews and recipes you may like:
Carnival Cruise Review (First time on a cruise)