Have you ever heard of the quince fruit? The Quince fruit is similar to an apple or pear but belongs to its own genus, Cydonia. The Cydonia genus is part of the Rosaceae family which includes pears and apples. So they are close relatives.
The quince is quite an amazing fruit and has many culinary uses as well as being grown by landscape architects. They are a very attractive tree with amazing pink blossoms, so ornamental varieties are very popular. The fruit ranges in color from green to yellow, typically yellow is the color when they are ripe.
In this post I will tell you where they come from and where they grow. I will also give some health benefits of the quince fruit, and tell you how to eat it.
Finally, I will share my favorite baked quince recipe. If I can do it, you can do it. Let's get started!
Where does the Quince fruit come from and where does it grow?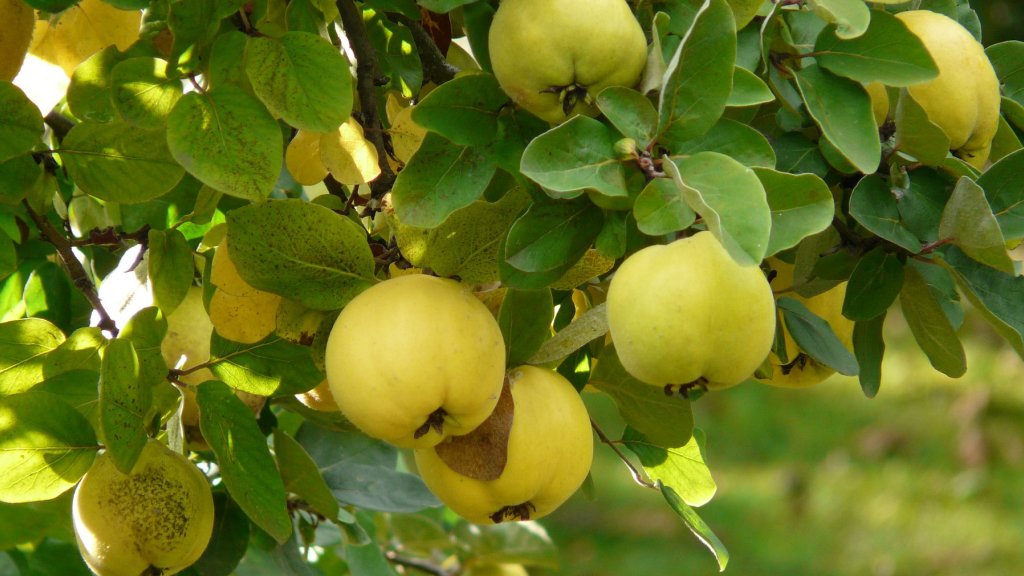 Quince is native to places like Western Asia, Turkey, Georgia, northern Iran, Armenia, and Afghanistan. However, it can be grown successfully and thrive in places as far north as Scotland. Turkey is the top producer, with China right behind it.
They do grow in the United States as well, but the only state that grows commercial quantities now is California, in the San Joaquin valley. It used to be grown commercially in the North-Eastern states. South America grows quite a few quince fruits too.
As far as the home gardener goes, the trees are hardy and can be grown in the agricultural zones 5 through 9. They can even be grown here in Phoenix.
What are the health benefits of Quince fruit?
The Quince is full of health benefits a few of which I have listed below:
Rich in nutrients, while no vitamin or mineral specifically stands out, his has a lot of them for very few calories per fruit which is only about 50 calories.
High in antioxidants
Some studies have shown they may help nausea associated with pregnancy.
It may help with digestive issues.
May support your immune system.
This ancient fruit is packed with nutrients, to find out more about the health benefits read this article from Healthline.
How to eat the quince fruit?
There are a variety of cultivars of quince. Some of them can be eaten raw like a pear or apple when they are ripe. But most of them are too hard and astringent to eat raw, so they are normally cooked.
Sometimes they are sliced and simmered in a pot of water, so essentially steamed until fork tender. Then topped or served with a variety of flavors.
They are also often roasted in the oven and used for jams, jellies, put in pies, etc. and also quince pudding. If eaten raw it tastes like a really tart hard apple. Most people will say it is better when cooked, which most of the time you will be doing anyways, unless you have the variety that can be eaten raw.
Easy Baked Quince Recipe
Now for my favorite quince recipe, which is just simply baking it.
All you need are 5 simple ingredients for this yummy baked quince fruit recipe:
Quince – They will ripen a little bit off the tree, but develop the best flavor when picked at peak ripeness off the tree.
Lemon juice or orange juice – which will help keep it from browning and give it extra flavor.
Sugar
Cinnamon
Butter
Tools
Cutting board
Knife
Peeler
Bowl
Pie pan or roasting pan
Begin by peeling the quince fruit and cutting off the ends. Cut them in half and then dig out the core. You can use an apple peeler/corer as well for these if you like.
Place the quince in a bowl and pour the lemon juice or orange juice over them. Especially while you are cutting/coring the other half.
Add the quince halves to a pie pan or roasting pan. Mix the cinnamon and sugar together and then sprinkle it on top of the quince halves.
Add a dollop of butter to each half.
Preheat the oven to 375 F/190 C. Bake them for 40 to 45 minutes until they are nice and soft and fork tender. Depending on the variety of quince when you cook it, it can turn an orangish color.
Allow it to cool for a few minutes before eating it. You can top it with ice cream or whipped cream as well, if you like.
This is just one of many quince recipes out there. Enjoy!
How long does baked quince last?
The cooked quince will last a few days if stored in an airtight container in the fridge. It will last longer if jellied, or made into jam, etc.
Here are some more recipes and articles you may like:
Mexican Guava How to Eat it and Taste Test
Baked Quince
This baked quince recipe is super easy to make and tastes delicious. One of many ways to prepare the amazing quince fruit.
Equipment
Cutting board

Knife

Peeler

Bowl

Pie pan or baking pan
Ingredients
1

Quince

peeled and cut in half

1

Tbsp.

of white sugar

15g

1/2

tsp.

of ground cinnamon

2g

1 to 2

Tbsp.

of butter

15 to 30g

1/4

cup

lemon juice or orange juice

60ml doesn't have to be exact
Instructions
Preheat the oven to 375 F/190 C. Rinse the quince.

Peel, core, and cut the quince in half. place in a bowl and pour the lemon or orange juice over them.

Place the halves inside up, on a pie plate or baking pan. Then mix together the cinnamon and sugar and sprinkle on top of each half.

Add half of the butter to each quince half. Then sprinkle on the rest of the cinnamon and sugar. The cinnamon and sugar are optional, you don't have to add them if you don't want to.

Bake in the oven for 40 to 45 minutes until the fruit is fork-tender. Enjoy as-is or with whipped cream or vanilla ice cream.
Video
How to eat a Quince | Easy Baked Quince Recipe
Notes
This makes enough for each person to have a half of one. 
Nutrition
Do you like this recipe? Share and Pin it! Please give it a rating and comment down below, I really appreciate it. If you make it tag me on Instagram @inthekitchenwithmatt. Also, sign up for the newsletter so you won't miss out on any of my new posts and recipes.