Jump to Recipe
One of my favorite things to eat, as a kid, were classic Rice Krispies treats. I couldn't get enough of them. I didn't realize how easy they were to make until I watched my mom make them. To say I was hooked is an understatement.
Enjoyed by kids and adults around the world classic Rice Krispies treats are a hit. Did you know they were invented way back in 1939 by two women named Malitta Jensen and Mildred Day who worked in the Kellogg Company Home economics department?
These treats are known by other names in other countries but they are all essentially the same thing. Rice Krispies or Crisped Rice cereal mixed with butter and marshmallows. It doesn't get any easier than that. If I can do it, you can do it. Let's get started!
Step 1: Gather the ingredients and tools
In order to make these classic Rice Krispies treats you need just a few ingredients and tools:
Rice Krispies Cereal – Snap, crackle, and pop. Although pretty much any dry cereal can be used, you can have the classic ones with out that classic cereal.
Marshmallows – You can use the large or the mini ones, I prefer to use the mini ones because they melt quicker. Jarred marshmallow fluff can also be used.
Butter – Although margarine can be used as well, real butter makes these taste that much better.
Tools
Large pot
Wooden spoon or silicone spatula
13×9 baking pan
Parchment paper
Step 2: How to make classic Rice Krispies Treats
Begin by placing the butter or margarine in a large pot on the stovetop. Set the heat to medium-low. Stir the butter occasionally until it is completely melted. If you are in a hurry you may also just melt it in a large bowl along with the marshmallows in the microwave.
Step 3: Melt those marshmallows
Now it is time to melt the marshmallows. Add all of the marshmallows in with the melted butter. Stir constantly until the marshmallows completely melt and a nice smooth consistency is left. If using the microwave, us a microwave safe bowl, add the marshmallows and use bursts of 30 seconds then stir, 30 seconds, then stir, etc. Until the marshmallows are completely melted.
Step 4: Add in those Rice Krispies Cereal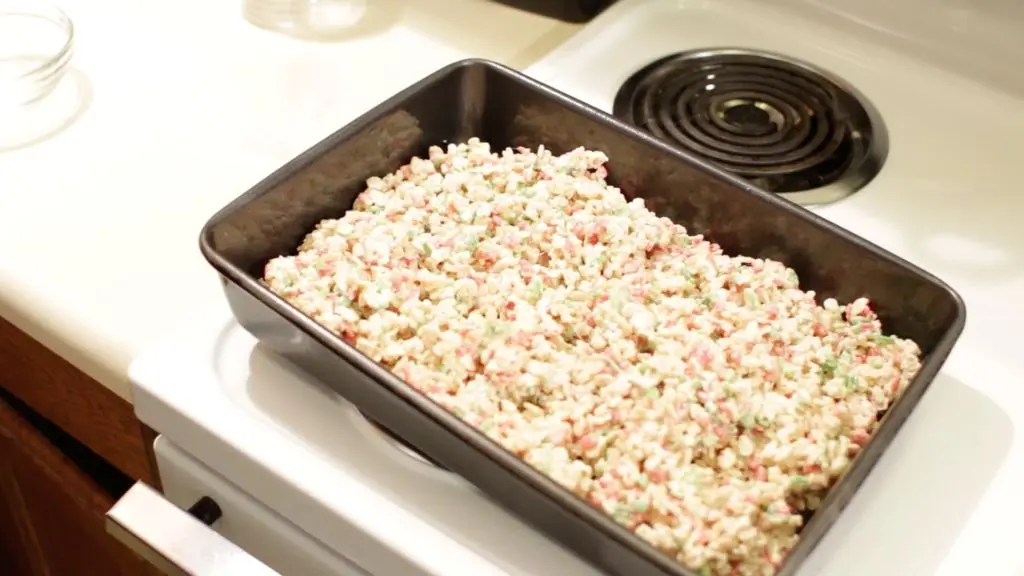 Next, add all the Rice Krispies or crisped rice cereal into the bowl or large bowl and mix the cereal until evenly coated. Spread them out evenly in a greased or sprayed 13×9 inch baking pan.
Then, use a sheet of parchment paper and smash down the Rice Krispies until nice and level and compacted. Leave the parchment paper in place on the top, and place the whole thing in the fridge until set. This usually takes 30 to 45 minutes.
Step 5: Cut and Serve those amazing classic Rice Krispies Treats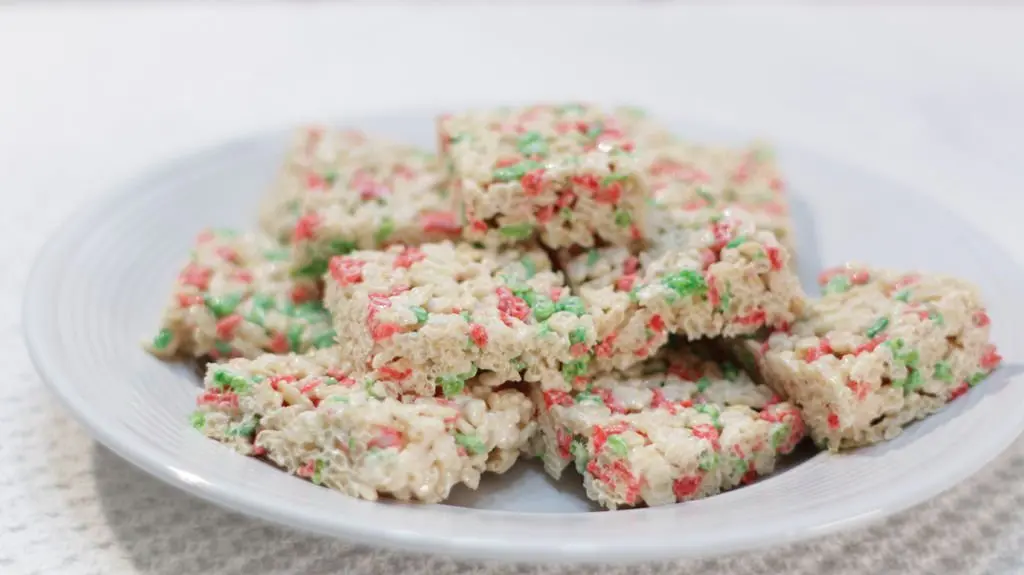 Once they have cooled, remove them from the pan. You will have one giant Rice Krispies treat. I have been tempted to just make it one serving and bite into like that, but, you probably want to cut it up into smaller squares. But you do you. Serve and enjoy! Pretty darn simple, right?
How do you store Rice Krispies treats?
You can store them at room temperature by placing them in a pan or ziplock bag with sheets of wax paper or parchment paper in between the layers so they don't stick. They will be good for up to 3 days. Rice Krispies treats always taste better when fresh, however.
Classic Rice Krispies Treats
One of my childhood favorite desserts, Rice Krispies Treats are so delicious and incredibly easy to make with just a few simple ingredients. Adored by children and adults worldwide, these treats are fantastic. Let's get started!
Equipment
Large Pot

13×9 pan

parchment paper

wooden spoon or spatula
Ingredients
1 – 10

oz

package of marshmallows

283g

3

Tbsp

of Butter

42g

6

cups

of Rice Krispies cereal

150g
Instructions
Melt butter in a large pot on medium-low heat. Or place the butter in a microwave-safe bowl and use the microwave.

Add the marshmallows to the pot and stir until completely melted. It will take 10 to 15 minutes. Or if you add the marshmallows and butter all at once to a large bowl and melt them in the microwave on high in bursts of 30 seconds, stirring in between, until melted.

Pour all the Rice Krispies cereal in the bowl or pot and mix them until evenly coated. Use a wooden spoon or spatula.

Place the coated Rice Krispies cereal in a 13×9 pan that has been sprayed with kitchen spray or buttered. Spread it out with a spatula. Then put a piece of parchment paper on top and smoosh it all down until level and compacted. Chill for 30 to 45 minutes until set.

Remove it from the pan and cut up into little squares. Enjoy!
Video
How to Make Rice Krispies Treats | Rice Crispy Treats Recipe
Notes
Nutrition
Do you like this recipe? Please give it a rating and comment down below, I really appreciate it.  If you make it tag me on Instagram @inthekitchenwithmatt. Also, sign up for the newsletter so you won't miss out on any of my new posts and recipes.
Here are a few more recipes you may like: