Jump to Recipe
If you are a potato fan like me you will love this roasted baby potatoes recipe. They are so good and a perfect side dish to go with steak, chicken, fish, pork, etc.
Also known as provencal potatoes, these roasted baby potatoes are incredibly easy to make with just a handful of ingredients. If you are vegetarian you can eat this as a whole meal instead of just as a side. It can be served warm or it is even good cold.
I really enjoy making sheet pan meals and dishes like this one. If I can do it, you can do it. Let's get roasting!
Step 1: Gather the ingredients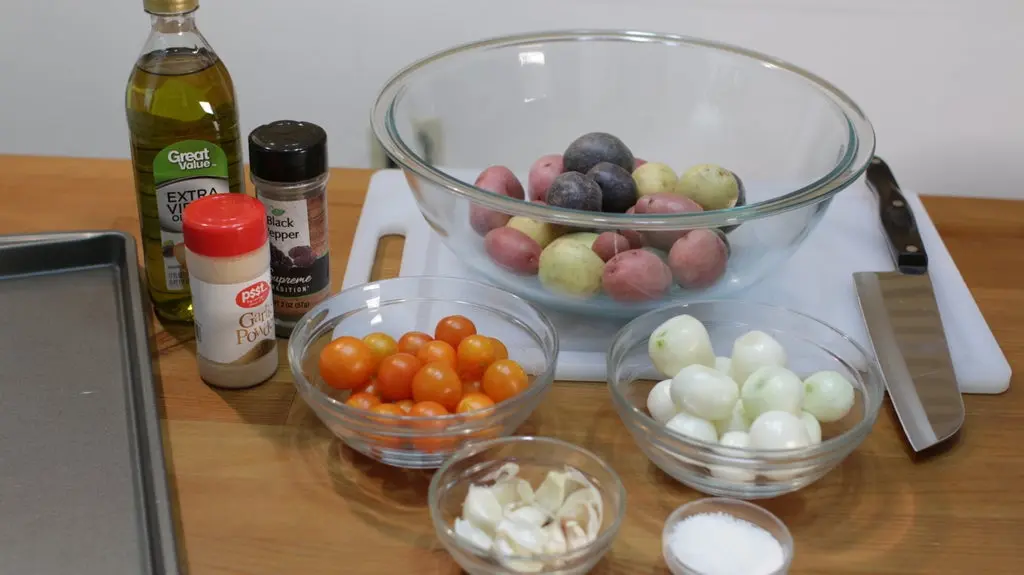 In order to make roasted baby potatoes you need a handful of easy to find ingredients:
Baby Potatoes – Also known has new potatoes, potato medley, etc. I like to use purple and red potatoes as well. These smaller potatoes taste so much better than the larger ones.
Onions – I like to use small onions like pearl onions, boiler onions, etc.
Tomatoes – Use cherry or grape tomatoes.
Garlic – Fresh garlic and garlic powder
Oil – I generally use olive oil, but canola, vegetable, avocado, coconut, etc, oils will work too.
Black pepper
Salt – For these I like to use a larger crystal salt, like Kosher salt.
Olives – optional
Rosemary – optional
Tools
Large bowl
Roasting pan or sheet pan
Aluminum foil or silicone baking mat (optional)
Step 2: How to make roasted baby potatoes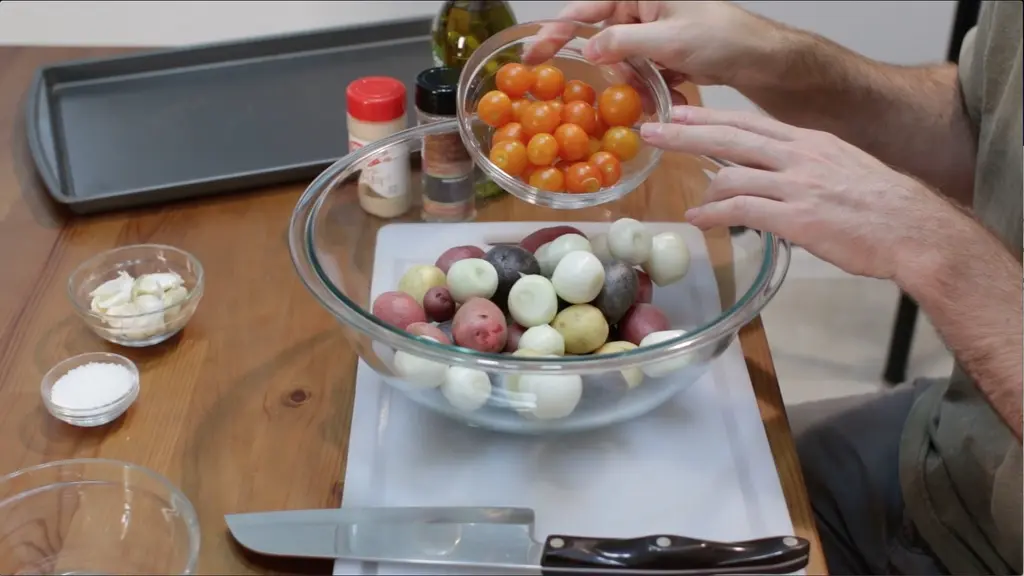 Preheat the oven to 400 F/205 C. Add the baby potatoes and cherry tomatoes to a large bowl. Peel all the onions and add them to the bowl as well. These particular tomatoes came from my patio garden! I wish I still had that garden, haha.
Smash the garlic with the flat side of a knife and then peel them. You can just leave them in the skins/shells too if you like and remove them after they are roasted.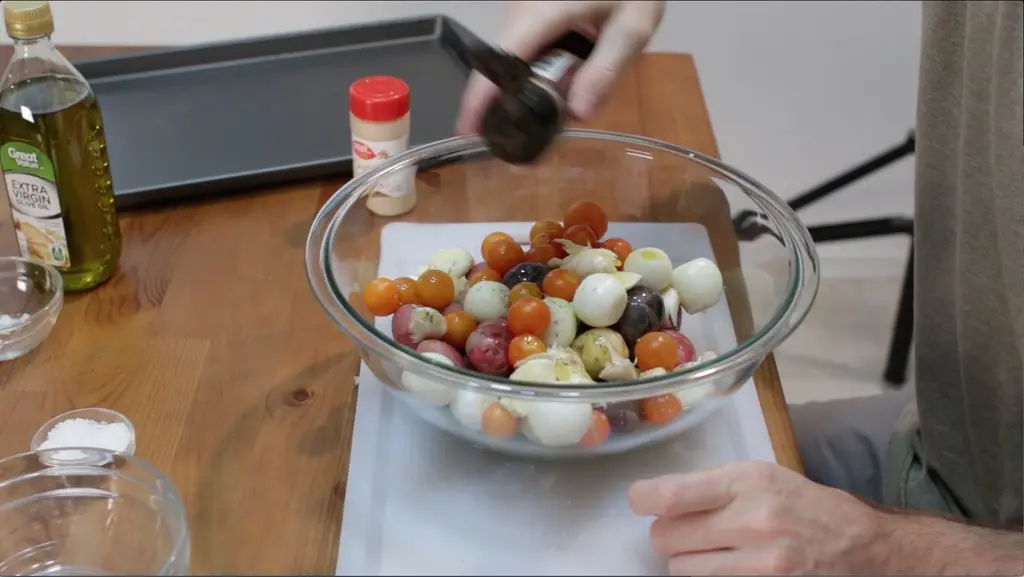 Now drizzle some oil over everything and then use clean hands or a spoon and stir them until evenly coated with oil.
Add seasonings like Kosher salt, pepper, and garlic powder. I like a stronger garlic flavor hence the garlic powder along with the fresh garlic. Mix everything again.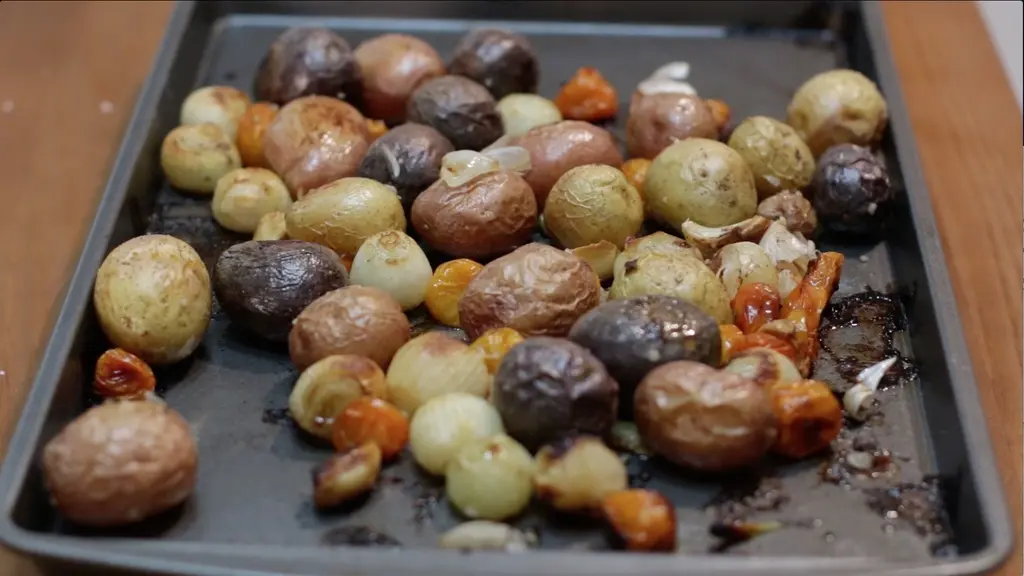 Pour out the potatoes blend onto a sheet pan or roasting pan. If you want to protect the pan and make it easier to clean use a silicone baking mat or aluminum foil.
Place the pan in the oven and roast the potatoes and everything else for 15 minutes. Turn down the heat to 375 F/190 C and continue baking for another 15 minutes.
Stir the potato mixture and then bake for another 30 to 45 minutes, until nice and roasted on the outside and soft when poked with a fork in the inside.
Allow them to cool for a few minutes before serving. I like them warm as well as cold. Enjoy!
How long do roasted baby potatoes last?
If placed in an airtight container, the roasted baby potatoes will last in the fridge for 4 to 6 days.
Here are a few other recipes you may like:
Roasted Baby Potatoes
These roasted baby potatoes are awesome and a perfect side dish to go along with chicken, steak, fish, pork, or eat it as a meal by itself. It is so easy to make too!
Equipment
Large bowl

Roasting Pan or Sheet pan

Aluminum foil or silicon baking mat (optional)

Wooden spoon

Tongs
Ingredients
1

lb.

about 3 cups new potatoes, potato medley. (purple, red, and yellow potatoes, washed, and unpeeled) (680g)

1

cup

of boiler onions or pearl onions

or any small round onions, or cut up a large one into chunks (125g)

1

cup

of cherry tomatoes or grape tomatoes

150g

6 to 8

cloves

of garlic

add more or less

1

tsp.

garlic powder

mmm extra garlic flavor (5g)

2

Tbsp.

of olive oil

may need more, just enough to coat everything (30ml)

1/2

tsp.

of ground black pepper

2g

1 to 2

tsp.

of kosher salt

5 to 10g

Olives

optional

Fresh rosemary

optional
Instructions
Preheat the oven to 400 F. or 205 C. Then combine the potatoes and tomatoes into a large bowl. Peel the small onions and add them in as well. If you are using regular sized onions, cut them into smaller chunks.

Smash the garlic cloves with the flat part of the knife then add them whole, with or without the skins on them. Drizzle on the oil and add the salt, pepper, and garlic pepper, and any other seasonings you may like to add. Mix with a spoon or clean hands until evenly coated.

Now add the potatoes mixture to a sheet pan or roasting pan and bake for 15 minutes. Then turn the heat down to 375 F or 190 C. Next bake for 15 minutes more, then stir the mixture, finally baking for another 30 to 45 minutes, until when you poke a potato it is nice and soft. After baking the potatoes let them cool a bit before serving. They taste good warm, room temp, or even cold. Enjoy!
Video
How to Make Provencal Potatoes | Easy Roasted Potatoes Recipe
Notes
Nutrition