Jump to Recipe
I can eat sheet pan chicken fajitas all day and every day. They are super easy to make and you can add different ingredients to give them some variety.
If you love Mexican food and like making it at home, grab some flour tortillas, and a few easy ingredients and spices and make these amazing sheet pan chicken fajitas. If I can do it, you can do it! Let's get started.
Step 1: Gather the ingredients
In order to make these easy sheet pan chicken fajitas you need the following ingredients and some optional ingredients:
Salt
Chili pepper
Black ground pepper
Ground cumin
Paprika
Bell peppers
Jalapeños (optional)
Onion (Sweet, white, etc.)
Fresh garlic
Oil (Olive oil, vegetable, etc.)
Lime juice (optional)
Cheddar cheese (optional)
Cilantro (optional)
Step 2: How to make sheet pan chicken fajitas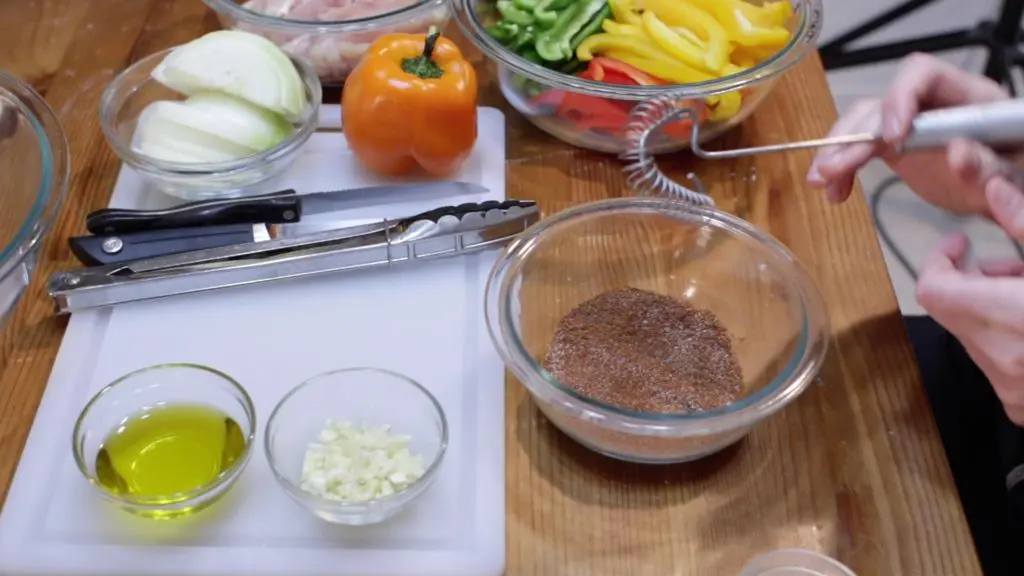 Begin by preheating the oven to 400 F/205 C. In a small to medium bowl add all of the spices, salt, chili pepper, ground black pepper, ground cumin and paprika. There are also other spices that you may want to add as well. Mix them well with a fork and whisk.
Step 3: Prepare the veggies
Take the bell peppers and Jalapeños (optional) and wash them and cut them however you like. I like to slice them lengthwise. Remove the skin from the onion and slice it however you like. Add them all to a large glass bowl. You can certainly add other veggies, these are the classic veggies used.
Step 4: Prepare the chicken for the fajitas
If you are using frozen chicken remove it from the freezer ahead of time and allow it to thaw. I prefer to use chicken tenderloins, but you can certainly use chicken breast and chicken thighs, etc. With the tenderloins I like to slice them into thirds lengthwise.
You can use more chicken if you like and more or less veggies if you like. Feel free to make these your own. The ratio of veggies to chicken is totally up to you. I really like lots of veggies in mine.
Step 5: Add the fajitas mixings to the sheet pan
Add the sliced chicken to the bowl of veggies and also add the minced fresh garlic and oil and spices. Next add a lid and shake it to coat the ingredients evenly. You can also use a large ziplock bag if you like.
You can also use tongs to mix everything together.
Add the chicken fajitas toppings to a sheet pan lined with a silicone mat or parchment paper or you can even spray the pan with kitchen spray.
Step 6: Cook the sheet pan chicken fajitas
Place the sheet pan in the oven and bake the ingredients for 10 minutes. Then stir them around with tongs or a wooden spoon. The idea is to make sure everything, specifically, the chicken cooks evenly.
Then replace the pan in the oven and continue cooking it for 10 to 15 minutes longer. 20 to 30 total minutes should be enough to cook everything thoroughly. Allow the pan to cool for a few minutes while you prep the additional toppings.
It is important that the middle of the chicken is at least 165 F. If you don't have a meat thermometer you can also check the chicken by cutting it in half and making sure there is no pink, and any juice comes out clear.
Take a flour tortilla and add the fajitas toppings to it. You can also add other things like avocado, sour cream, cheddar cheese, cilantro, lime juice, etc. Now time to take a big bite out of those sheet pan chicken fajitas. Enjoy!
How long to sheet pan chicken fajitas last?
You can save any leftovers in an airtight container for up to 4 to 5 days in the fridge. This meal works wonderfully as a food prep dish for the week.
Sheet Pan Chicken Fajitas
I love chicken dishes and these sheet pan chicken fajitas are on point! They are so full of flavor and perfect for lunch or dinner. The cool thing is they are super easy to make and the cleanup is easy too!
Equipment
Tongs

Bowls

Knife

Cutting board

sheet pan

Silicone mat or parchment paper or use kitchen spray
Ingredients
2

tsp.

table salt

10g

1/2

tsp.

chili powder

1g

1/2

tsp.

black ground pepper

1g

2

tsp.

ground cumin

6g

2

tsp.

paprika

5g

4

large bell peppers

1

large onion

8

chicken tenderloins

about 2 lbs, approx 900g

3 to 4

garlic cloves

3 to 4

tbsp

of oil

olive oil, vegetable oil, etc.

Cheddar cheese

optional

Lime juice

optional

Cilantro

optional

Flour tortillas
Instructions
Preheat the oven to 400 F/205 C

In a small bowl combine all the spices and blend them well with a fork or small whisk.

Wash and slice the bell peppers and any jalapenos you may wish to use. Remove the outer skin of the onion and slice that as well.

Cut the chicken tenderloins (or other chicken) into long strips. And add them to the bowl with the veggies. Or add them all to a bag.

Cut up the garlic and add it to the bowl along with the oil. Add the lid to the bowl and shake it so all the ingredients get coated evenly. Or shake them all in a bag or use tongs to mix them all.

Line a large sheet pan with a silicone mat, parchment paper, or spray it with kitchen spray. Then add the chicken fajitas mixture to the pan and spread them out evenly. Bake them in the oven for 10 minutes then stir. After stirring them, cook them for an additional 10 to 15 minutes until the veggies are soft and the chicken is done. The chicken should be at least 165 F in the center. Use a thermometer or just cut a piece open and as long as there is no pink it is ready to go.

Allow the chicken fajitas mixture to cool for a few minutes while you prep the other ingredients like the cheese or avocado. Take a tortilla and pile up some of the fajitas mixture and top with cheese, avocado, sour cream, lime juice, etc. Enjoy!
Video
How to make Fajitas | Easy Sheet Pan Chicken Fajitas Recipe
Notes
The nutritional facts will vary depending on anything extra you add. These are based on if you were to eat 2 of the fajitas.
Nutrition
Do you like the recipe? Please give it a rating and comment down below, I really appreciate it. If you make it tag me on Instagram @inthekitchenwithmatt. Also, sign up for the newsletter so you won't miss out on any of my new posts and recipes.
Here are a few more recipes you may like: