Jump to Recipe
This shortbread cookies recipe is so awesome. The cookies are perfect for the holidays, or any time you want a basic but flavorful cookie.
And talk about easy! Shortbread cookies only need 4 ingredients, of course, you can even make them with only 3! They are perfect to eat as a snack, or as a dessert. You can fancy them up a bit with some jam, powdered sugar, glaze, and chocolate if you like. Or of course, they are awesome, plain!
My brothers and I always joke that shortbread cookies are the Elven equivalent of Lembas bread, from The Lord of the Rings.
If I can do it, you can do it. Let's get baking!
Step 1: Gather the ingredients
In order to make shortbread cookies you only need 3 ingredients with a couple optional ingredients.
Flour – All-purpose or plain flour
Butter – Softened room temp unsalted or salted butter
Sugar – White granulated sugar
Salt – optional, don't add additional salt if using salted butter
Vanilla extract – Traditional authentic shortbread cookies do not have vanilla extract, but I add it to boost the flavor a bit. But it is optional.
Optional Toppings – Jam, powdered sugar, glaze, melted chocolate.
Tools
Hand mixer or stand mixer
Spatula
Bowls
Cookie sheet
Parchment paper or silicone mat
What are shortbread cookies?
Shortbread comes from Scotland. It is often referred to as a biscuit instead of a cookie. They are made of three basic ingredients, flour, butter, and sugar. But many people add salt and or vanilla extract as well.
One main thing is they do not contain any leavening, such as baking powder or baking soda. This amazing little cookie or biscuit is popular around the holidays.
How to make shortbread cookies
First preheat the oven to 350 F/176 C. Now add the flour, softened butter, sugar, salt (optional) and vanilla extract (optional), to a large bowl. Mix with a hand mixer until well combined.
You can use a stand mixer, food processor, or even a pastry blender or fork to mix the shortbread dough. The idea is to incorporate all that butter until the mixture gets crumbly.
Now using very clean hands bring all the dough together and knead it into a ball. Then cover the bowl and chill the dough for 15 to 20 minutes. While chilling the dough isn't necessary, I usually do it. It makes it a little easier to work with.
Step 3: Form the cookies
Classic shortbread is usually in the shape of a rectangular flat biscuit or a round flat cookie. You can roll the dough out and use a round cookie cutter to get that shape if you like, or shape the dough into a bread loaf shape and then cut 1/4th inch biscuit shapes from it.
Then poke holes in the top with a bamboo skewer for a classic Scottish shortbread cookie look. I like to get a little more fancy. Take a glob of dough, roll it into the ball and then press down in the middle with your thumb creating a nice cavity for jam.
Once you are done shaping them place them onto an ungreased baking or cookie sheet. They won't spread out much so they can be about an inch apart.
If using jam scoop some jam into each cavity. I love to use strawberry preserves, but you can use any jam or jelly that you like.
Step 4: How to bake shortbread cookies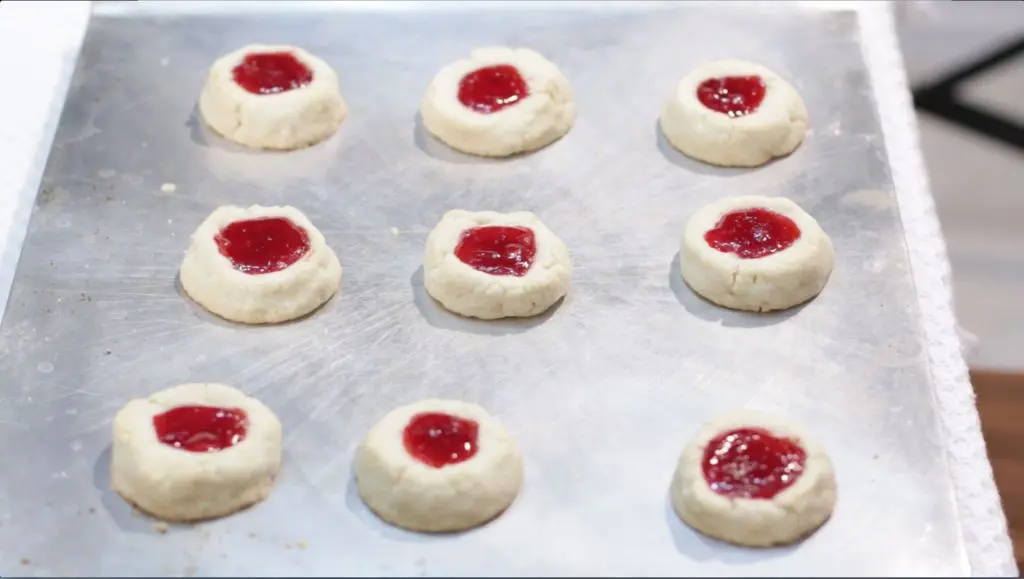 Place the cookies in the oven and bake them for 12 to 18 minutes for thicker cookies like these. If you make really flat traditional style cookies they only need 10 to 11 minutes to bake.
They are done when they are slightly golden brown on the bottom edges of the cookies. If you bake them too long they will be super crumbly. Allow them to cool for a few minutes, then move them to a cookie rack to cool completely.
Step 5: Decorating the finished shortbread cookies
If you want to get fancy, you can dip your shortbread into chocolate, like just half of it. Or you can drizzle chocolate over the top. You can sprinkle powdered sugar on top, or make a simple glaze with milk and powdered sugar and put that on top. Easy as that, enjoy!
Can I make the shortbread cookie dough in advance?
Yes! You can make the dough in advance and just keep it covered in an airtight container in the fridge until you want to use it. The dough will last about a week in the fridge. Or you can freeze the dough as well.
How long does shortbread last?
Shortbread cookies will last about 1 week if kept in an airtight container at room temp for about 3 to 4 weeks in the fridge, or even a few months if frozen.
Here are a few other cookie recipes you may like:
Shortbread Cookies
These yummy homemade shortbread cookies are so easy to make with very few ingredients. Make them plain or make a thumbprint style filled with jam. They are so easy to make!
Equipment
Hand mixer, stand mixer, food processor, fork, or pastry blender

Spatula

Bowls

Cookie sheet or baking pan

cookie rack
Ingredients
1

cup

of all-purpose or plain flour

120g

1/3

cup

of granulated sugar

66g

1/2

cup

of softened butter

113g

1/4

tsp

of vanilla extract

optional – classic shortbread cookies don't use vanilla extract (1ml)

1/8

tsp.

of salt

optional (1/2g)
Extra Toppings
Jam, jelly, powdered sugar, etc.
Instructions
Preheat the oven to 350 F/176 C. In a large bowl mix together the flour, butter, sugar, and optional salt and vanilla extract, using a hand mixer, stand mixer, fork, food processor or pastry blender. Mix until the dough is all crumbly, and blonde in color.

Bring the dough together and knead it a little bit, then shape it into a ball or log. Cover it and chill it in the fridge for 15 to 20 minutes. While chilling the dough isn't necessary, I usually do, because it helps when shaping it.

There are several ways to form the cookies. Roll out the dough until it is about 1/4th of an inch thick and use a round or rectangle cookie cutter, or take a couple of tablespoons of it and roll it into a ball and then press your thumb into it. If doing the thumbprint kind, fill each cavity with about a tsp. of jam or jelly.

Now bake the cookies on the middle rack for 12ish to 16ish minutes for the thicker thumbprint style cookies or 10ish minutes for the smaller flatter classic style of shortbread cookies. They are done with slightly brown on the bottom edges.

Remove the cookies and allow them to cool on the cookie sheet for a few minutes, then transfer them to a wire rack to cool completely.

You can eat them as is, or dust them with powdered sugar, dip them in chocolate, or drizzle a powdered sugar and milk glaze over them. Up to you. Enjoy!
Video
How to Make Shortbread Cookies | Easy Shortbread Cookies Recipe
Notes
These nutritional facts only pertain to the cookies themselves and not any additional toppings.
Nutrition
Do you like the recipe? Please give it a rating and comment down below, I really appreciate it.  If you make it tag me on Instagram @inthekitchenwithmatt. Also, sign up for the newsletter so you won't miss out on any of my new posts and recipes.