Jump to Recipe
These soft, fluffy, tender homemade strawberry cupcakes are so delicious. If you love strawberries and you love cupcakes you have got to try this recipe.
Time to amp up that basis vanilla cupcake recipe with some awesome strawberry flavor. Sure you can buy a strawberry cupcake mix from the store, but making it from scratch is so much better.
Top them off with swirls of homemade buttercream frosting and then some strawberry slices and you are in for a real treat.
This moist strawberry cupcake recipe from scratch is so easy to make too. If I can do it, you can do it. Time to impress your friends and family. Let's get baking!
Step 1: Gather the ingredients
In order to make these divine strawberry cupcake recipe you will need the following easy-to-find ingredients:
Flour – I like to use cake flour, but you can use all-purpose/plain flour as well if you like. The cake flour will produce a lighter and more airy cupcake.
Baking powder
Salt
Butter – Either salted or unsalted butter. If you don't want to use butter you can use something like vegetable oil.
White granulated sugar
Eggs
Vanilla extract – Strawberry extract can also be used to amp up that flavor
Sour cream – This is optional or can be substituted with Greek yogurt. It helps the cupcakes to be moist. If you don't care about moistness, then you can certainly leave it out. Can't find sour cream? You can make homemade sour cream.
Milk – You can use whole milk, 2%, 1%, almond, etc.
Strawberries – Of course, the star of this dish. You can't have strawberry cupcakes without real strawberries, that would just be silly.
Red food coloring – This is an optional ingredient for added color.
Step 2: How to make fresh strawberry cupcakes at home
Begin by preheating your oven to 350 F/176 C. If you are using a convection oven, I would set it to 3255/162 C. Now let's make that cupcake batter.
In a medium bowl whisk together the dry ingredients, the flour, baking powder, and salt. You can easily just use a sifter too if you want. I do like to sift my cake flour.
Then in a large bowl cream together the softened room temp butter with the sugar using medium speed. If you forget to set the butter out you can just put it in the microwave for a few seconds to soften it up, or in the oven.
Now add in the vanilla extract and one of the eggs and mix those in until just combined, followed by the last egg. Once you are done you can add in the sour cream followed by the milk. That takes care of the wet ingredients.
Don't have sour cream? You can use Greek yogurt too if you like, or try using this homemade sour cream substitute. But if you don't mind your cupcakes a bit more on the drier side, leave it out altogether.
Once you are done, put the electric mixer or stand mixer away and use a spatula or spoon to mix in the flour mixture a third of it at a time. This ensures the batter doesn't get over-mixed. Over-mixing the batter can cause more dense, and chewy cupcakes. Scrape the sides of the bowl as needed.
Step 3: Gotta love strawberries
How do strawberry cupcakes get their name? Well because of the fresh strawberries of course. Chop up a bunch of fresh strawberries until you get roughly a cup's worth.
You can also just throw the strawberries in a food processor You can even do a little more if you like. I also just cut them up with a knife because I like the bits of fresh strawberries in my cupcakes.
Fold those strawberries into the batter. Then if you would like to add some drops of red food coloring to the batter you can, or you can leave it out, totally up to you. The cupcake batter is complete.
Step 4: How to bake strawberry cupcakes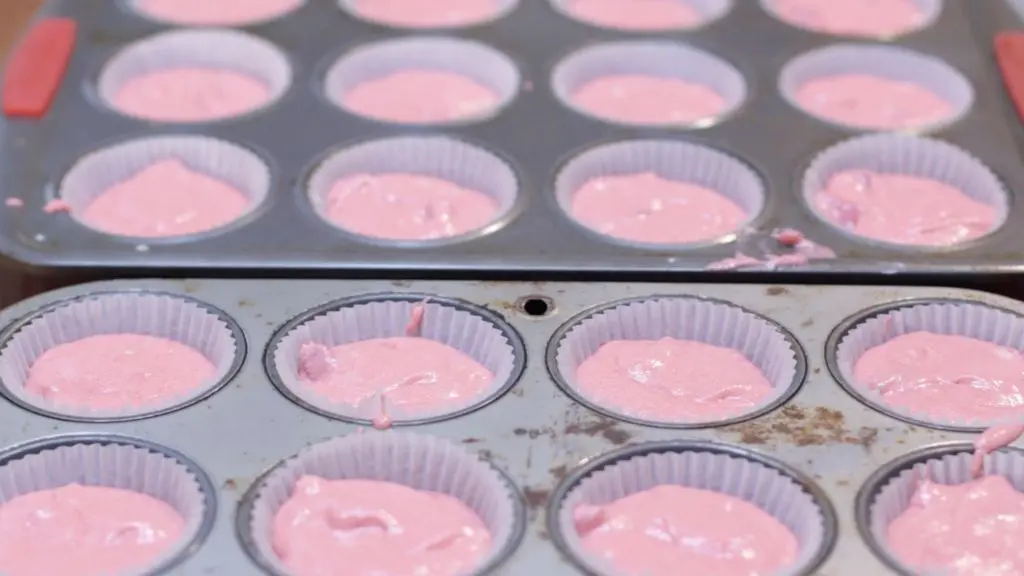 Time to fill up those cupcakes/muffin pans with paper cups or silicone cupcake liners. I usually use a 1/2 cup measuring cup and scoop in enough cupcake batter to fill them up about 3/4 of the way full.
You should be able to get at least 24 cupcakes out of the batter.
Bake the strawberry cupcakes on the middle rack for 16 to 24 minutes until when you poke them in the middle with a toothpick it comes out clean.
Once they are done baking, allow the cupcakes to cool in the pan for a few minutes before removing them and placing them on a wire rack to cool completely. Your unfrosted cupcakes are done! Or are they? Time to decorate them.
Step 5: Decorate the strawberry cupcakes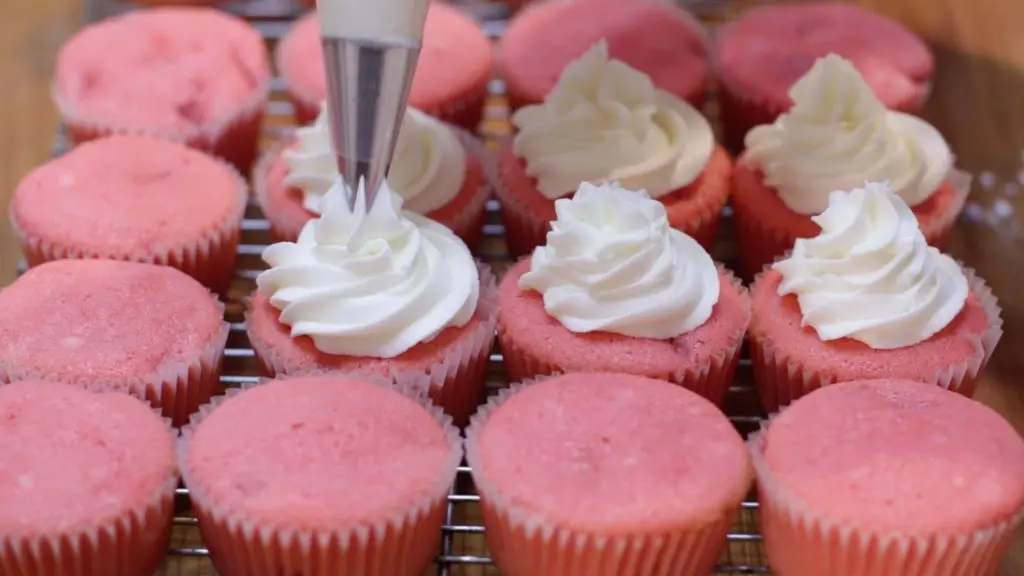 You can decorate the cooled cupcakes however you like. I like to use this homemade buttercream frosting in a piping bag with a star tip.
If you like make it strawberry buttercream frosting by adding some pureed strawberries or strawberry extract to the classic buttercream. And of course, you can just buy a store-bought strawberry frosting.
Maybe you want to leave out the red food coloring and leave the cupcake white in color and then use a pink strawberry frosting on top. Have fun with it!
I also like to add slices of strawberry on top with the frosting. You could do some red sprinkles if you wanted or maybe add red food coloring to the frosting. Maybe you want to add a little strawberry puree to the frosting as well. So many options you can try out with this delicious strawberry cupcakes recipe. Enjoy!
FAQs
Can I make a strawberry cake instead of cupcakes?
Of course! To make a strawberry cake take two 9-inch round cake pans. Grease and flour them, and then divide the same exact batter equally between the two pans.
Bake them in a preheated oven at the same temp, for 25 to 30 minutes until the toothpick comes out clean. Allow them to cool for a bit and then remove the cake layers from the pan to cool on the rack completely. Then layer and frost and decorate to your heart's desire.
How long do homemade strawberry cupcakes last?
If placed in an airtight container or ziplock bag they will last 1 to 2 days at room temperature or 3 to 4 days in the fridge. They will last 2 to 4 months in the freezer. However, if you are going to freeze them, it is better to leave the frosting off.
Can I use freeze-dried strawberries instead of fresh whole strawberries?
Yes, you sure can. In fact, blending them up into a powder and then adding them to the batter will definitely enhance this easy recipe and still produce wonderfully pink strawberry cupcakes without the need for red food coloring. Of course, you can still add the food coloring if desired.
How can I fill the center of the cupcake?
To fill the center, after the cupcakes have cooled, use a paring knife cut a small hole on the top, and go down about halfway. Dig that center cake piece out and then you can fill the center with fresh strawberry puree, frosting, whipped cream, pastry cream, etc.
Here are some other cake recipes you may like:
Strawberry Cupcakes
If you are a fan of cupcakes and strawberries then this recipe is for you. These homemade strawberry cupcakes are light, fluffy, airy, moist, and oh so delicious. Time to impress your friends and family with these amazing cupcakes. If I can do it, you can do it!
Equipment
Bowl

Mixer

Sifter

Whisk

Spatula

Paper cups

Muffin pan

Piping bag or plastic bag for decorating with a star tip

Wire rack
Ingredients
2 1/2

cups

of cake flour or all-purpose/plain flour

320g

2 1/2

tsp.

baking powder

12g

1/2

tsp.

of salt

2g

3/4

cup

unsalted softened butter

170g

1 3/4

cup

white granulated sugar

337g

2

large eggs

1

tsp.

vanilla extract

5ml

1/2

cup

sour cream

optional (123g)

1 1/4

cups

of milk

whole, 2%, 1%, almond, etc. (312ml)

1

cup

diced strawberries

doesn't have to be exact (166g)

Red food coloring

optional 5 to 10 drops or more as needed
Instructions
Preheat the oven to 350 F/176 C. In a medium bowl whisk together the flour, salt, and baking powder. Or use a sifter.

In a large bowl, cream together the softened butter with the sugar, using a mixer. Then add in one of the eggs and the vanilla extract and mix those in, followed by the final egg.

Now mix in the sour cream until just combined, followed by the milk.

Next, put the mixer away and finish the batter by hand. Fold and stir the flour mixture in the batter a third of it at a time. Scrape the sides of the bowl as needed. Follow that up with the diced strawberries and the optional food coloring. Start with about 5 drops of food coloring and go from there.

Prepare two standard muffin pans with muffin/cupcake liners. Then fill each up about 3/4ths full. I normally use a 1/2 measuring cup for this. Bake both pans side by side on the middle rack in the preheated oven for 16 to 24 minutes until a toothpick comes out clean.

Once they come out of the oven allow them to cool in the pans for a few minutes, then transfer them to a wire rack to cool completely. You can leave them like this and eat them plain or decorate them with frosting and other things like sliced strawberries, sprinkles, etc. Enjoy!
Video
How to Make Strawberry Cupcakes | Easy Moist Homemade Strawberry Cupcake Recipe
Notes
Note: These nutritional facts are based on just the cupcakes as is plain, and don't reflect any frosting or additional toppings. 
Nutrition
Do you like the recipe? Please give it a rating and comment down below, I really appreciate it. If you make it tag me on Instagram @inthekitchenwithmatt. Also, sign up for the newsletter so you won't miss out on any of my new posts and recipes.