Jump to Recipe
If you are a strawberry lover like me you will really like this strawberry sauce recipe or compote. It is sweet and bursting with strawberry flavor.
Tired of always putting maple syrup on your pancakes or waffles? Use this amazing fruit sauce. Kick that homemade cheesecake up a notch by spreading this on it.
There are so many different dessert recipes and breakfast recipes that you can use this homemade strawberry sauce on. And it is super easy to make. If I can do it, you can do it. Let's get started!
Step 1: Gather the ingredients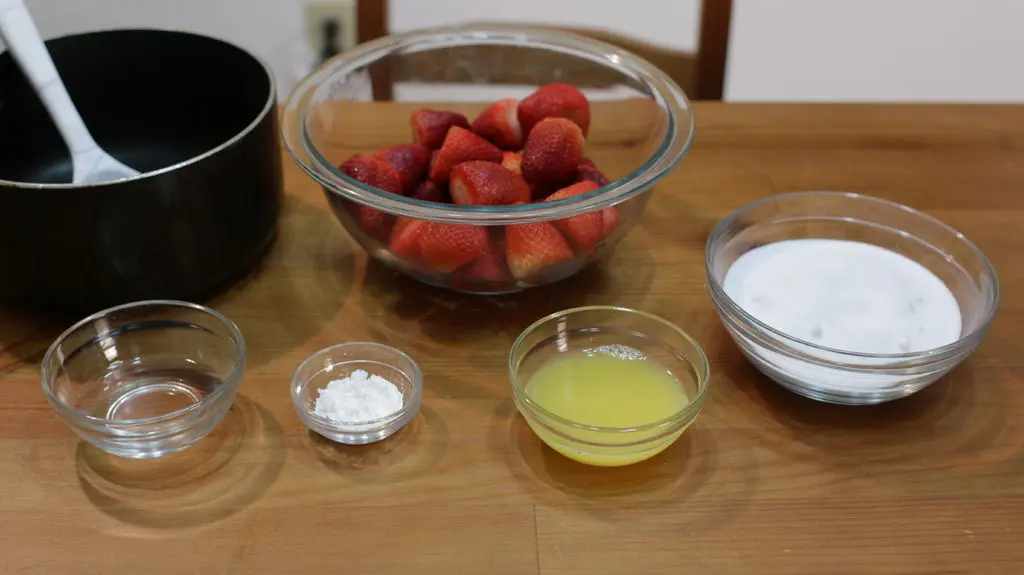 In order to make this delicious strawberry sauce you need just a few ingredients:
Strawberries – The star of the dish.
White granulated sugar
Orange juice or lemon juice
Water – I always used filtered water.
Cornstarch
Step 2: How to make this strawberry sauce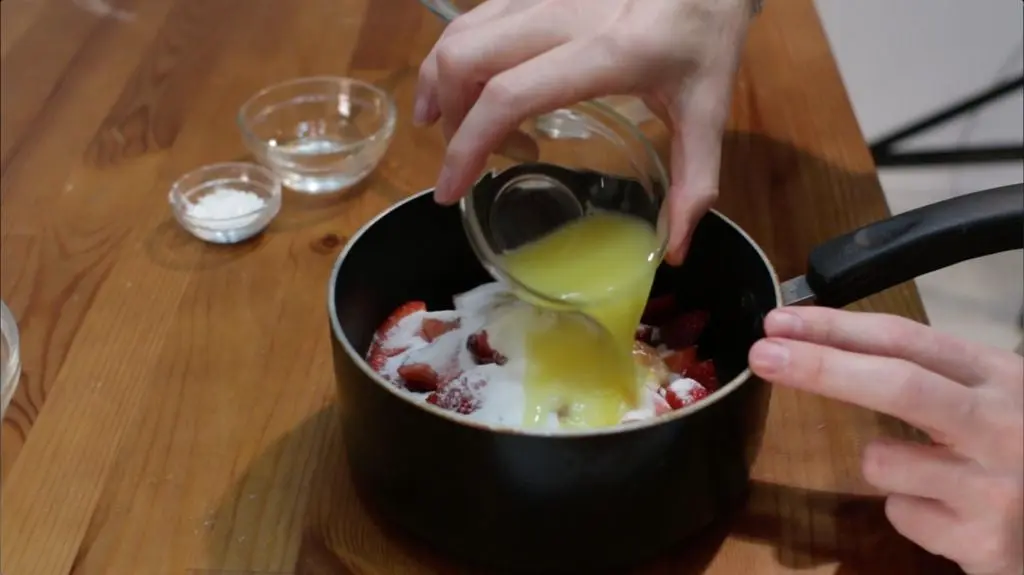 Begin by washing the whole strawberries. Cut the green tops off and then slice them into quarters and place them in a medium sauce pot.
Next, add in the white granulated sugar and the lemon or orange juice. If you want an extra punch of flavor add the zest from one orange or one lemon as well.
Step 3: Cook the sauce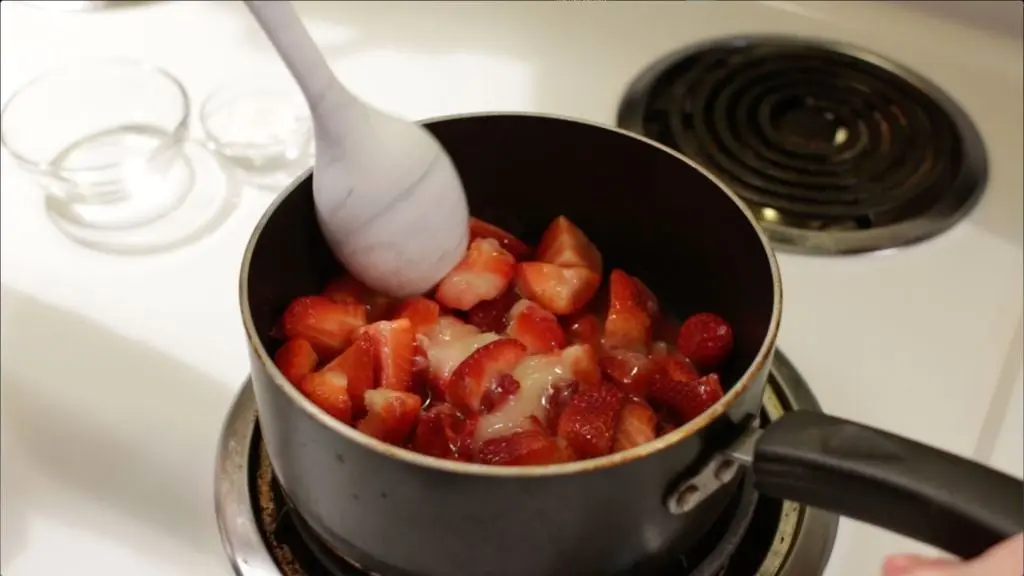 Set the stovetop burner to medium head and then place the pot of strawberry mixture on the burner. Stir the mixture occasionally with a spoon, to keep it from burning. The sugar will melt and the strawberries will start to break down.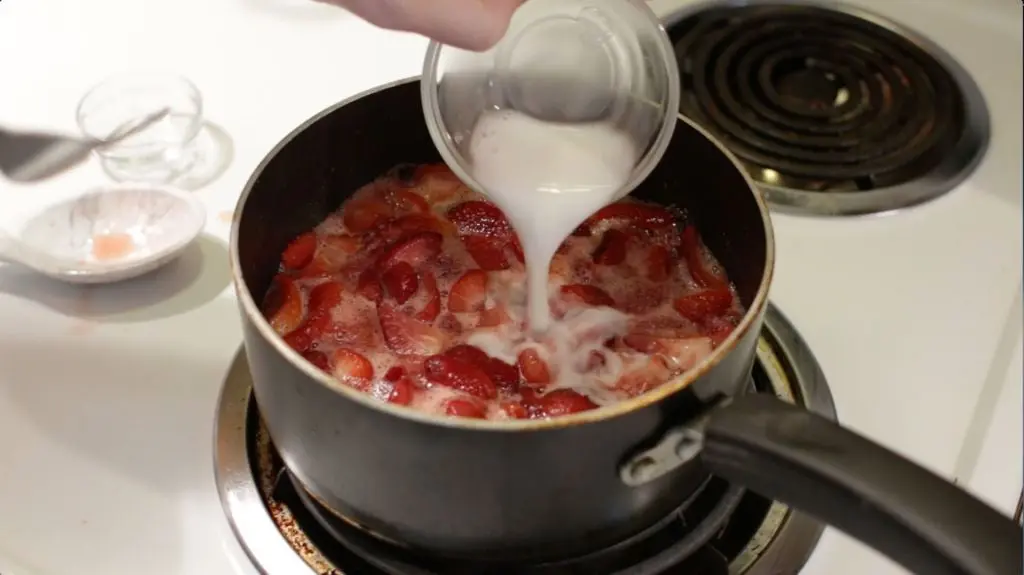 After about 5 minutes of cooking and stirring the strawberry sauce will be runny. Time to thicken it up. Take a small bowl and mix together the cornstarch and the water. Then pour that into the sauce.
Step 4: Finish the strawberry topping sauce
Next, just keep heating and stirring the sauce for a few more minutes until the cornstarch works its magic and the sauce thickens up.
Now the sauce is done! Remove it from the heat and allow it to cool for 10 minutes. It can be used like this with strawberry chunks, or if you want it to be nice and smooth, add it to a blender.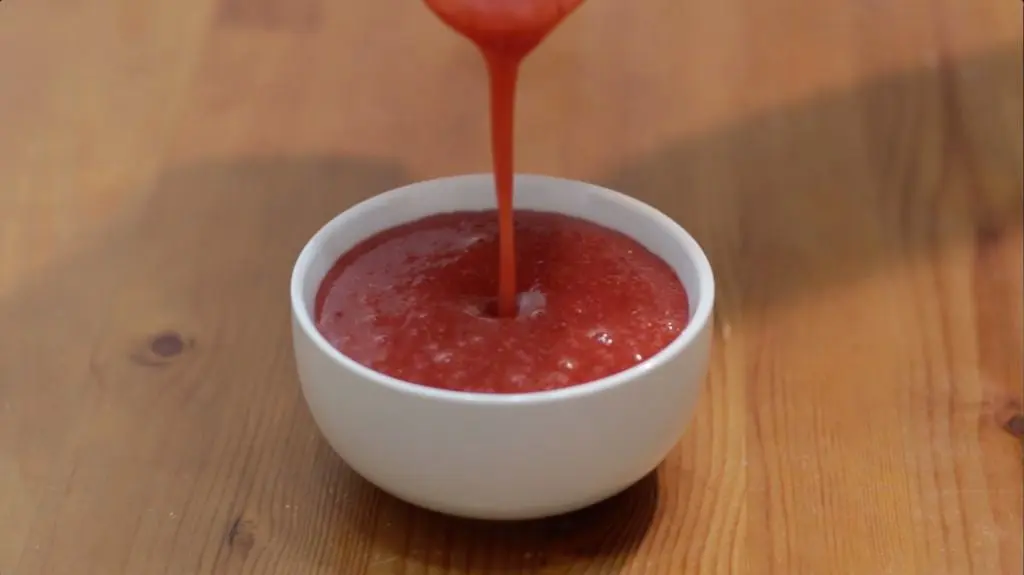 I normally pour the sauce into a nice little serving bowl so it is more presentable. But it can be left in the pot, especially if you don't plan on blending it. About fifty percent of the time I will blend it and the other fifty I leave it chunky.
This strawberry sauce is so yummy on pancakes, waffles, crepes, cheesecake, ice cream, and so many other dishes. Enjoy!
How to store this strawberry sauce topping?
Once the sauce cools completely, you can store it covered in the refrigerator for about a week. It will get even thicker when chilled. All you need to do is just heat it up for 10 to 15 seconds in the microwave to serve. You may also freeze it for 4 to 5 months.
Can I use less sugar in this sauce?
Yes! You can reduce the sugar all the way to 1/4 cup if you desire, if it winds up being too sweet for you.
Easy Strawberry Sauce (Topping)
I love strawberries they are my favorite fruit. This easy homemade strawberry sauce topping is my favorite thing to put on pancakes, waffles, crepes, popovers, and cheesecake. It is so yummy and easy to make. If I can do it, you can do it!
Ingredients
1

lb.

of strawberries

454g

1

cup

of white granulated sugar

200g (may reduce to as much as 1/4 cup)

2

Tbsp.

of lemon juice or orange juice

30mL

2

Tbsp.

of water

30mL

1

tsp.

of corn starch

5g (to help thicken up the sauce)
Instructions
Wash and cut off the tops of the strawberries then quarter them and place them in a medium saucepot.

Add the sugar and orange or lemon juice to the pot. If you would like a less sweet strawberry sauce you can reduce the sugar all the way up to 1/4 cup. I recommend making it as is first and then adjust from there.

Heat the sauce on medium heat stirring occasionally. After about 5 minutes of heating and stirring it will the sugar will be melted and the strawberries will have broken down a little. The sauce will be very runny.

In a small bowl mix together the cornstarch and the water. Then pour that into the sauce. This will thicken it up.

Keep stirring and heating until the sauce thickens. Another 5 to 10 minutes. Once it is to your desired thickness, remove it from the heat and allow it to cool for 10 to 15 minutes. As it cools it will get a little thicker.

The sauce is ready to be used. You can leave it fairly chunky as is, or place it in a blender and blend it up smooth. Serve it on pancakes, waffles, ice cream, cheesecake, etc. Enjoy!
Video
How to Make Strawberry Sauce or Compote for pancakes, waffles, crepes, etc.
Notes
The nutritional facts will vary depending on how much you use. This is based on a total of 8 servings. And if you use less sugar the total calories will go down.
Nutrition
Do you like this recipe? Please give it a rating and comment down below, I really appreciate it. If you make it tag me on Instagram @inthekitchenwithmatt. Also, sign up for the newsletter so you won't miss out on any of my new posts and recipes.
Here are a few more recipes you may like: