Jump to Recipe
I will admit growing up I wasn't the biggest sweet potato fan, nor did I pay much attention to sweet potato fries. I figured they were a "healthy" wannabe "true" French fry. Times have changed, now I absolutely love homemade sweet potato fries.
They turn out slightly crispy on the outside and nice and soft on the inside. And this baked sweet potato fry recipe is also fairly healthy. I still love classic homemade French fries, I mean how could I not. But now I appreciate and enjoy sweet potato fries as well.
If you are a fan of sweet potatoes or even if you are not, give this recipe a try. They are super easy to make and taste amazing. If I can do it, you can do it. Let's get baking!
Step 1: Gather the ingredients
In order to make these delicious baked sweet potato fries you need just a handful of ingredients:
Sweet Potatoes – You can't make sweet potato fries without sweet potatoes!
Olive Oil – If you would like to use vegetable, canola, coconut or avocado oil you can.
Salt
Black pepper
Garlic powder
Other spices you may want to try include paprika, chili powder, onion powder, etc.
Cornstarch – This helps them to get a little crispier.
Tools
Bowls
Peeler
Knife
Cutting board
Sheet pan
Parchment paper or silicone baking mat
Paper towel or clean kitchen towel
Step 2: How to make baked homemade sweet potato fries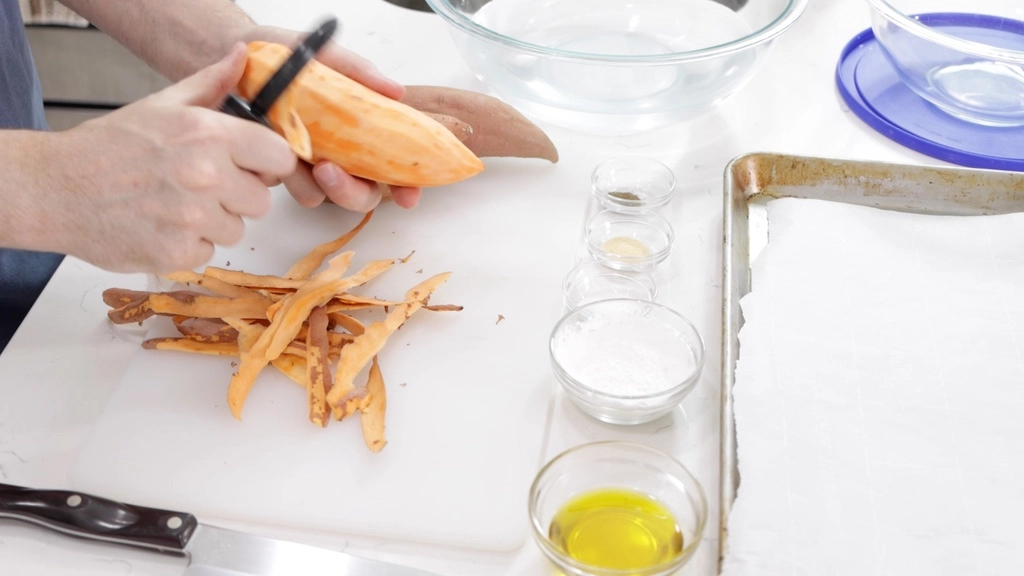 Start by washing and drying the outside of the sweet potato. Then peel it, use a knife or potato peeler. Next, cut it into fry shapes. Try and keep them around the same size, which will help them bake more evenly. The thinner they are the crispier they will get.
I usually cut it directly in half lengthwise, then turn it over on the flat size and cut long strips, then, if they are still too wide, cut them again lengthwise. You can cut them however you like.
Place them in a large bowl with cold water and some salt. The salty cold water will help to bring out the starch which in turn will help them get a little crispier.
Let them soak in the water for 30 to 45 minutes.
Step 3: Dry and season those sweet potatoes
Preheat the oven to 400 F/205 C. Place one rack on the upper middle rack and one in the middle position.
Once the sweet potato pieces have soaked, drain the water from the bowl, you can just pour the bowl of potato strips into a colander if you like.
Then dry them on a paper towel or a clean kitchen towel. Place the dried strips of sweet potato in a medium bowl or zip lock bag.
In a small bowl combine the spices, salt, pepper, garlic powder, and any additional spices like a bit of paprika or chili powder, for some kick.
Drizzle the olive oil or optional oils over the potatoes, and then sprinkle the spices on, and dump the cornstarch over them as well. The cornstarch will help the sweet potato fries to get a little crispier as well.
Step 4: Shake and bake those sweet potato fries
Put a lid on the bowl and shake the bowl to get the fries coated. Or if you put them in a zip lock bag you can shake that. Either way works great!
After seasoning the sweet potato strips, place them on a sheet pan lined with parchment paper or a silicone baking mat. You may need two sheet pans depending on how many you are making.
Then place the pans in the oven one on the upper-middle rack and then the other on the middle rack. Bake for 10 to 12 minutes, and then rotate and switch the pans on the racks. This will help the sweet potato fries bake as evenly as possible.
Bake for another 12 to 15 minutes until golden brown and slightly crispy. The thinner you cut them and the longer you bake them, the crispier they will get. However, if you have more pointy potato ends, those are prone to burning easily. But I actually don't mind them that way, haha.
Let them cool for a moment and then they are ready to serve.
I usually serve them on a plate with a bowl of ketchup in the middle, but you can serve them however you want. Make these for you next game day party, family get together, barbecue, etc.
Now you know how to make super yummy baked sweet potato fries. Enjoy!
How long do sweet potato fries last?
They will last a few days in the fridge. You can reheat them in the oven or the microwave. They always taste better when fresh however.
Here are some other recipes you may like:
Sweet Potato Fries
These homemade baked sweet potato fries are super easy to make and taste amazing. If you like sweet potatoes, give these a try!
Equipment
Bowls

Peeler

Knife

Cutting board

sheet pan

parchment paper or silicone baking mat

Paper towel or clean kitchen towel
Ingredients
2 to 3

sweet potatoes

2 to 3

tbsp

of olive oil

28 to 42 ml

1

tsp

of salt

5g

1/4

tsp

of ground black pepper

1g

1/2

tsp

of garlic powder

3g

2 to 3

tbsp

cornstarch

24g

Optional ingredients also include paprika and chili powder

for a bit of a kick.
Instructions
Wash and dry the sweet potatoes then peel them.

Cut the potatoes into fry shapes. The thinner the crispier they will be.

Place them in a bowl of cold water with a bit of salt. Soak them for 30 to 45 minutes. This will help remove the starch. Which will help them get crispier. But this step is optional.

Preheat the oven to 400 F/205 C

Drain the potatoes and then dry them with paper towel or clean kitchen towel. Add them to a medium bowl or large ziplock bag. Drizzle the oil over the potatoes. Then combine all the seasonings together and add that to the potatoes, and finally the cornstarch.

Add a lid to the bowl and shake, or close the bag if using a bag and shake. This will help evenly coat all the fries.

Line a sheet pan with parchment paper or a silicone baking mat. You may need two pans. Then spread out the sweet potato fries on the pans, don't put them too close to each other. Bake for 12 minutes. Then flip the fries over and swap and rotate the pans to encourage even baking. Bake for 12 to 15 more minutes until golden brown.

Allow them to cool for a few minutes then serve. Enjoy!
Video
how to make sweet potato fries | Easy Baked Sweet Potato Fries Recipe
Notes
The nutritional facts will vary depending on the size of sweet potatoes you use. This nutritional information is based on 2 5-inch long sweet potatoes
Nutrition
Do you like this recipe? Share and Pin it! Please give it a rating and comment down below, I really appreciate it. If you make it tag me on Instagram @inthekitchenwithmatt. Also, sign up for the newsletter so you won't miss out on any of my new posts and recipes.